Florida is a great sailing destination because it gives you so many options to choose from. Boaters and sailors love it because they have their pick of destinations in the Florida Keys, the Gulf, and the Atlantic. Perhaps this is why Florida is the boating capital of the world.
However, having so many destinations poses a major problem: where do you even begin? Where do you go if you want to experience the best that Florida has to offer? Well, if you have been planning to sail in Florida sometime soon, you are in luck because this article will make things easier for you. Here are the best places to sail in Florida.
---
Best Time to Sail in Florida
Before we dive into the destinations, you should know when the best time is to head to Florida if you want the best sailing experience.  Florida is a state on the Southernmost part of North America. It is very close to the Bahamas, so it experiences nearly perfect weather all year round. Overall, you get around three hundred days of ideal sailing weather along the Florida coastline. 
Florida experiences a mix of humid subtropical and tropical climates. The north and central parts are humid subtropical regions, while South Florida experiences tropical climate. The best time to sail is in spring and late fall, which makes the best time to visit there between December to April.
Although the months of July to November are sailable, they are prone to on-and-off bouts of tropical storms and hurricanes. Now that you know when to go there, here is a list of the best Florida sailing destinations.
---
1. Tampa
Tampa's claim to fame is the largest estuary in Florida State. While in Tampa, expect some of the best sailing experiences in Florida, perfect for the novice sailor and the expert alike. Perhaps what makes Tampa so fascinating is the fact that it has a series of hidden rivers and bays that make for every sailor's paradise. 
Activities in Tampa Bay
Downtown Tampa has a huge selection of restaurants and hotels that you can sample on your downtime. If you want an even wider variety, all you have to do is sail a short distance across the bay and see what St. Petersburg has to offer. 
Beer Can Island is also a popular spot. You can also set anchor near Shell Key or Egmont Key, where you will find the ruins of a 19th Century army fort, which is perfect for exploring if you are an adventure lover. 
---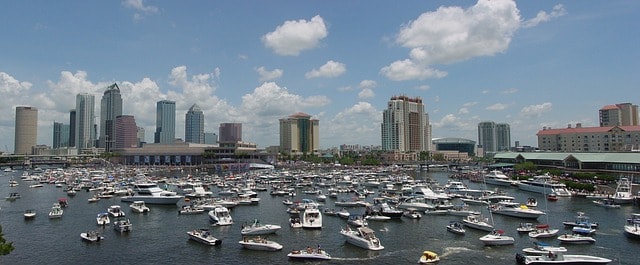 ---
2. Jacksonville
Jacksonville is known as the main gateway to the St. Johns River. St. John's River is Florida's largest interior waterway. It has a great selection of marinas, supply stores, hotels, and restaurants to cater to the boating crowd. You can also dock in downtown Jacksonville at Metropolitan Park Marina. 
Activities in Jacksonville
Jacksonville hosts a world-famous kingfish tournament. Its salt marshes are also a great shallow-water fishing destination. If you are not a fishing enthusiast, you can still enjoy any one of the numerous waterfront festivals held in the city at various times of the year. 
---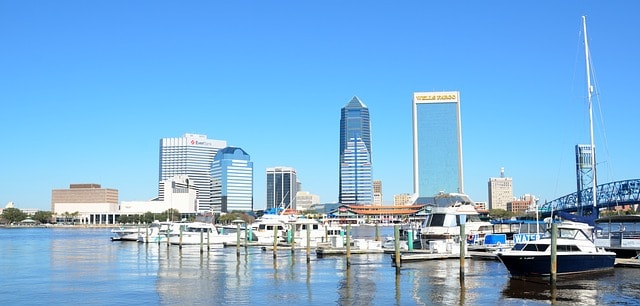 ---
3. Florida Keys
The Florida Keys are some of the best sailing waters in the East Coast US. They are also home to the only coral reef in the continental United States. There is so much to experience in the Florida Keys, and you will definitely enjoy sailing through the small islands of the keys, such as Marquesa, Garden Key, and the Dry Tortugas. 
If you are feeling up to it, you can even sail all the way to the Bahamas and experience a taste of the Caribbean lifestyle. Once you sail through them, it immediately becomes really easy to see why the keys are called paradise. 
Activities in the Florida Keys
The one thing that makes the Florida Keys stand out is that each key has its own personality and set of activities you can enjoy. It is a great way to constantly discover new things to do at every destination.
For instance, if you are a scuba diver, Key Largo is full of reefs and shipwrecks that will elevate your diving experience far beyond anything you have ever done before. Islamorada, on the other hand, is the sportfishing capital of the world, so if you are a deep-sea fisherman, there is literally no better place to enjoy your passion on the planet. If you are a bird lover, you will love sailing through Largo Sound and Hawk Channels.
There is so much marine bird life to see, including a few rare large birds, especially when you get to the mangroves.  There are also many restaurants to explore in the keys, all offering some great seafood and a wide selection of drinks to choose from. 
---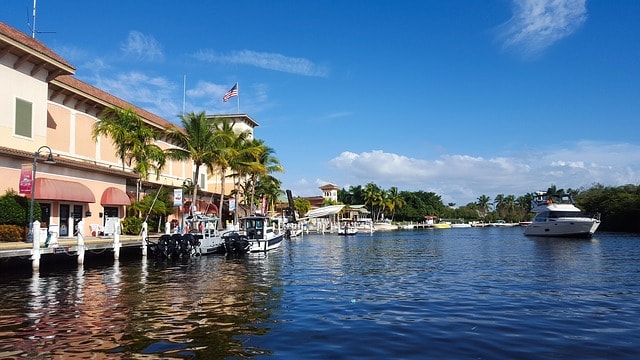 4. Punta Gorda
Sailing in Punta Gorda out in Charlotte Harbor and in the Gulf can be hands down one of the best things you will ever experience in Florida. The entire region is one huge body of water with varying depths, so it takes someone with a bit of experience to navigate it efficiently. And that is what makes it so exciting. There is also some nice anchorage within Pelican Pass south of Boca Grande that is very well protected, and various state parks for digging in. 
Activities in Punta Gorda
The entire region is very popular with powerboats. It is also very rich in history, with almost every building having a story to tell. For instance, after Hurricane Charley in 2004, every building was rebuilt to resist hurricanes, and this can be seen in the way they preserve the past while at the same time showcasing the future. Some of the most popular activities for holidaymakers in Punta Gorda include visiting Laishley Park, where you will experience the waterfront, marina, and a wide selection of restaurants. There is also Ponce de Leon Park, the Peace River Wildlife Centre, and Gilchrist Park. 
---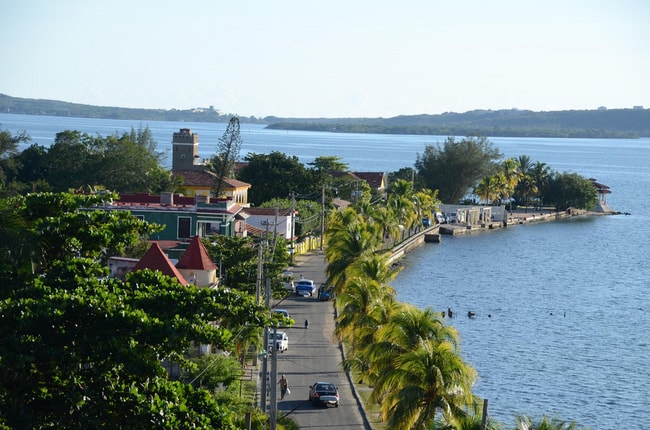 ---
5. Key West
Key West is arguably Florida's crowning jewel. It is the southernmost city on the island, and from here, you will be able to see one of the best sunsets in all of the US. Key West, along with the rest of the Florida Keys, offers sailors and boating enthusiasts more opportunities than any place in the world. The best part is that you can enjoy them almost all day, every day throughout the year. 
Activities in Key West
Key West is a region full of breathtaking sights and sounds. You will also find world-class snorkeling right here, where you can experience a whole new world under the water. If you simply just want to unwind and relax, be sure to sample some of the best cheeseburgers you will ever taste at Margaritaville, just a short crossing from Key West.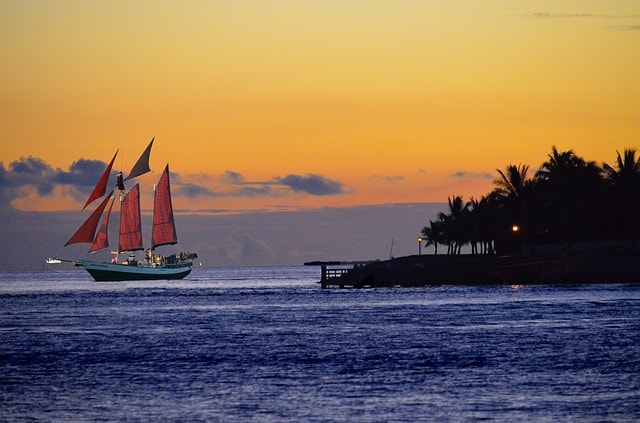 ---
6. Panhandle
The Florida Panhandle is a region that includes several boating destinations. Tallahassee, Fort Walton Beach, and Panama City all fall within the Florida Panhandle area. The vastness of the region means that there is so much opportunity for new and exciting experiences for sailors and boating enthusiasts. There are also several boating trips and excursions that you can join from any one of the numerous marinas throughout the Panhandle region. 
Activities in Panhandle
A sailing yacht charter trip through the Panhandle region is the best way to experience marine life up close. If you love dolphins, you can also enjoy swimming with them in various destinations. If you are a fishing enthusiast, you absolutely have to get the fishing experience of fishing in the Gulf of Mexico. There is nothing quite like it. 
---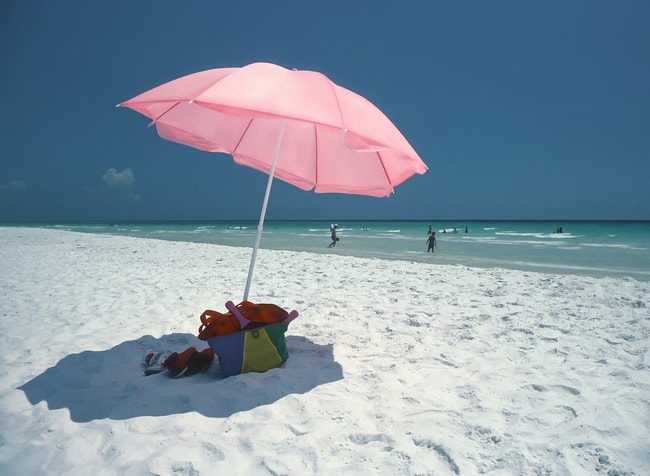 ---
7. Apalachicola
Apalachicola is a great sailing destination because it offers so much more than just the opportunity to sail. Located a very short distance from St George Island, the waters in between them are great for fishing, with lots of shallow bays and amazing state forests for you and your crew to explore. 
Activities in Apalachicola
If you are looking for some of the best seafood in all of Florida, this is where to find it. You will also find impressive waterfront parks, a series of glorious restaurants and inns, and a chance to immerse yourself in Florida's rich fishing history.
---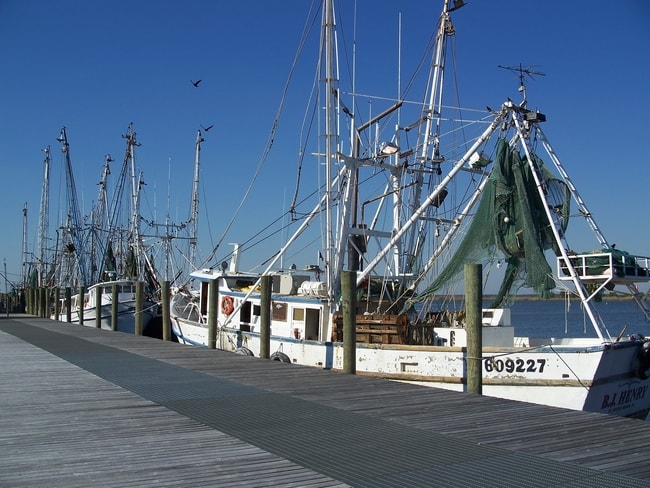 ---
8. Sarasota
Sarasota is a breathtaking sailing destination. You will have the time of your life as you watch dolphins leap alongside your boat as you glide along these smooth waters. It is the perfect place for a laid-back, champagne-in-hand cruise as you take in the beautiful sunsets and experience the amazing breezes.
Activities in Sarasota
Sarasota is known for being Florida's home of culture and environmental amenities and for its beautiful beaches. You absolutely have to experience all these before you leave. With performing arts theatres, visual arts films on the cultural coast, and a series of aquaria, zoos, and botanical gardens, Sarasota has a way of making you leave feeling smarter and more enlightened.
---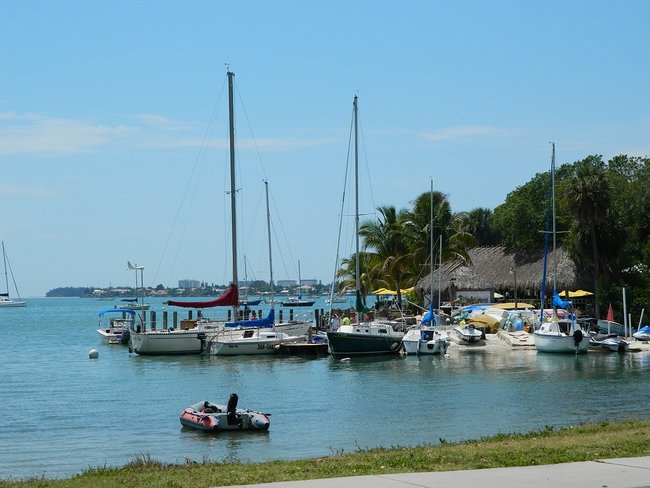 ---
Conclusion
Whether you are just getting into boating or you are a seasoned sailor, Florida has something for you. There is a reason why it is a world-famous sailing destination; you just have to head on down there to see it for yourself. The great weather all year round, together with the host of many, many amazing sailing destinations, will ensure that you will never run out of opportunities to create new, fun memories. If you are looking for one of the best places to sail in all of the United States, this is it!
Want More Sailing Destinations?
Sign up for Cruising Sea newsletter to receive every two weeks the latest post straight to your inbox!
Do you know other beautiful destinations in Florida? If so, you are welcome to share them in the comments below.
Daniella has been passionate about travel, the sea, and nature for many years. As a child, she frequently traveled throughout the Mediterranean and continued with her journeys throughout her adult life.
Her experiences have created the desire within her to share her love for traveling with other passionate and adventurers who want to discover beautiful horizons and new cultures.