Traveling to Rome soon and need some useful tips to plan your trip easily? If so, you are in the right place! Planning a trip can be extremely fun and exciting if you know exactly what you'll do and where you'll go.
Otherwise, it can become overwhelming, especially if it's your first time in Rome. To help you have an enjoyable and free-stress trip. Here is the best Rome travel guide that you can take everywhere. Read on!
---
Why Visit Rome?
Well, there are many reasons to travel to Rome. This place is home to history, full of beautiful architecture, charming cobblestoned streets, and impressive Palaces from the old centuries. Not to mention, the food and Gelato are delicious!
Rome attracts millions of tourists from all over the world every year, making it one of the most popular places in Europe. Rome is simply magical. When you stroll around, it's like you are stepping back in time. You can still feel the ancient life Roman atmosphere in the air.
Whether it's to relax in an authentic-style café-cafeteria at the Trevi's Fountain, relive the gladiators' history in the Colosseum, stroll around the Vatican City, or eat a real Italian pizza or crostata ricotta, Rome will enchant you!
Rome is the capital of Italy and is also well renowned for its historical structures like the Roman Forum, Pantheon, Marcello theater, St Peter's basilica, among others. If you are a foody or an art enthusiast, you'll love Roma as it's packed with art museums and local Italian eateries.
Although Rome is a historical city, it's also a fast-paced, bustling, modern city, with contemporary design hotels and cutting-edge cafes, bars, and restaurants.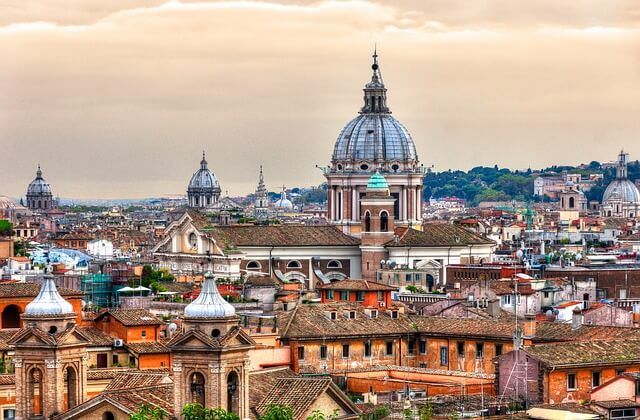 ---
Weather in Rome
Rome has a Mediterranean climate with warm, humid summers and cold, wet winters. In July and August, it's excessively hot. The temperatures can reach up to 27.8°C (82°F) and exceed 90 °F
It's quite freezing during winter (December, January, and February), especially in the evening. The temperatures can drop to 2.8°C (37°F). There are some sunny days, with temperatures reaching 12/15 °C (54/59 °F), but most of the time, it's raining and cloudy.
Spring (March, April, May) and fall (September, October, November) is mild and extremely pleasant during the day, but it gets a little chilly in the evening. The average temperatures are 17°C at midday until around 4 pm.
---
Best Time To Visit Rome?
During the summer, which is between June to September, Rome is crowded with tourists. This means you will have to do the queue if you want to see Rome main's attractions unless you book a skip the line ticket. Also, take into account that everything is more expensive.
The off-season in Rome is in the winter, which is between December and February, prices are lower, but all the attractions are open, and although there are fewer crowds, the place is still busy.
Spring and fall are an excellent time to visit Rome as the weather is agreeable and it's still not too crowded, and the rates are relatively decent.
---
Best Activities to Do in Rome
1.Colosseum
The Colosseum is the largest amphitheater in the world and is one of the most popular tourist attractions in Rome. This impressive amphitheater was built in 80 A.D. by the three famous emperors, Vespasian, Titus, and Domitian, known as the Flavian Dynasty.
The Colosseum could welcome about 50000 spectators and was mainly used to entertain Roman people with gladiatorial games, wild animal fights, mock naval battles, and executions.
Although the marble facade of the Colosseum was stolen over the years to build the St. Peter's Basilica, it remained entirely intact 2000 years later. Since it is one of Rome's most visited places, you can expect long lines almost any time of the year.
To jump the queues, you can buy a skip the line ticket at the Roma forum, which allows you to explore all three sites, which include the Palatine Hills, Colosseum, and Roman Forum.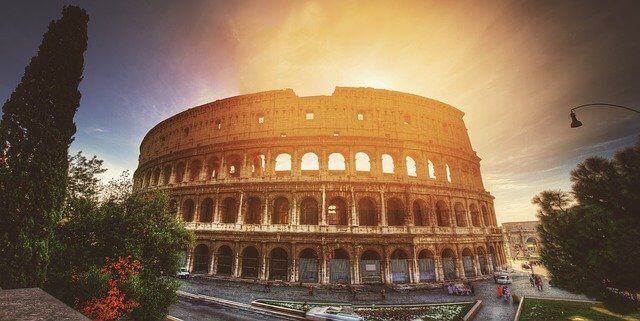 ---
2.Roman Forum & Palatine Hills
The Roman Forum and Palatine Hill are located just in front of the Colosseum, and although they are less popular, they attract more than 4.5 million visitors every year.
The Roman Forum, " Forum Romanum in Latina," was once the center of Rome's ancient city that comprised temples, markets, courts, and government buildings.
While all that remains of the complex today are ruins, the Roman Forum is one of Italy's most famous historical sites. The Colosseum, Paleta Hills, and Roman forum are three separate sites, but you can access all of them via one entrance ticket.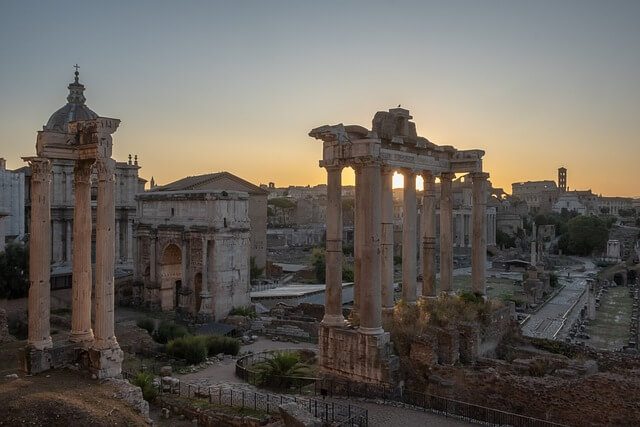 ---
3.Spanish Steps
The Spanish Steps is situated in the Piazza di Spagna, near the main tourist attractions, and it's one of the most visited places in Rome.
In the 19th century, the famous writers Byron and Balzac climbed the 135 steps to find inspiration. In springtime, the steps are surrounded by beautiful flourishing azaleas.
All around, there are stunning fountains, architectures, buzzing cafes, restaurants, ice cream shops, and designer boutiques like Gucci, Balenciaga to name a few. A must-see place while visiting Roma!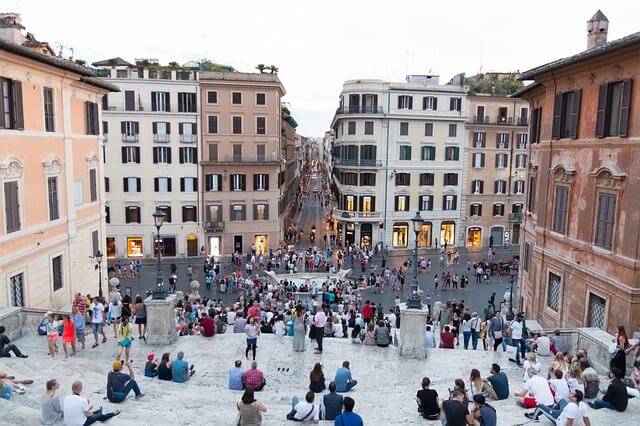 ---
4.Vatican Museum
The Vatican City (Citta del Vaticano) hosts some of the world's greatest artistic and architectural gems, such as St Peter's Basilica, the Sistine Chapel, the Vatican museum, and the St Peter Square.
The Vatican Museum is immense and often has long lines, like most other attractions, especially in the summer. So if you want to avoid the crowds, you may consider buying a small Vatican group guided tour or a private tour; it will allow you to jump the long queues and enter the sites quickly.
These guide tours make you visit the most famous places, including the Pinacoteca, Peter's Basilica, Sistine Chapel, and the Vatican Gardens.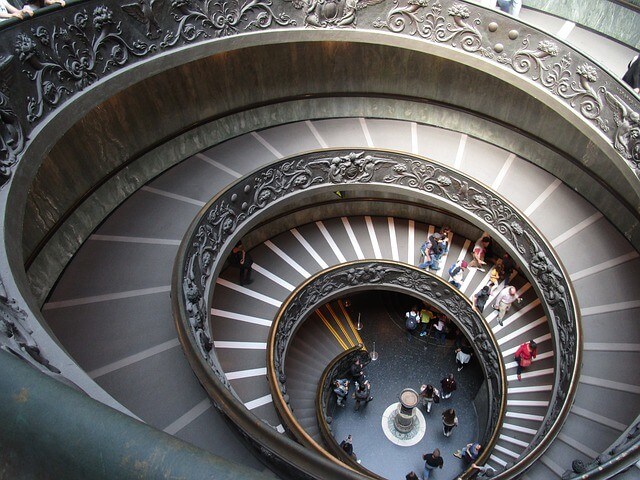 ---
5.St Peter Basilica
St Peter Basilica (Basilica di San Pietro) is located in the Vatican city and was designed by Italian architects and sculptors. One of them was the famous Michaelangelo.
The St Peter Basilica was built over the tomb of St Peter Pope years after his death. It's the largest church in the world and the most renowned work of Renaissance architecture, and the most visited site in Rome.
Hundreds of popes are buried below the St. Peter basilica, including Pope John Paul II, making it the most remarkable and significant church of Christendom.
One of the most outstanding parts of St Peter Basilica is its dome. Many visitors come to enjoy the spectacular landscapes of Rome from the top of St Peter Basilica. You can either climb 551 steps to the peak or take an elevator to climb only 320 steps.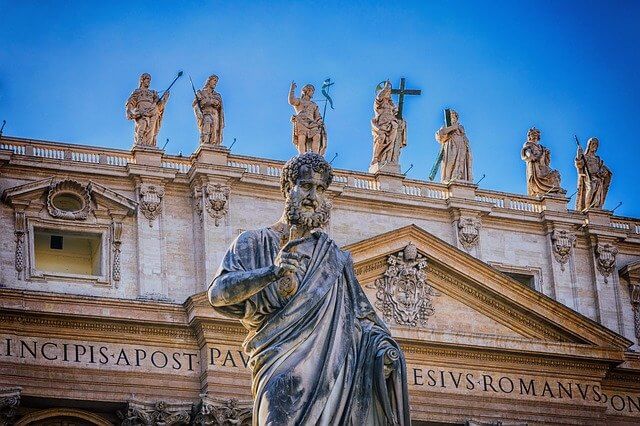 ---
6.Roman Catacomb
The Catacombs of Rome (Catacombe di Roma) are the oldest and longest burial underground tunnels in the world. They were used as a burial place from around the first to fifth centuries by Jews and Christians on Rome's outskirts.
The oldest Catacombs were built by the Jewish communities in the first century and then by the Christian communities a century later. It's comprised of thousands of tombs, but only several of them are open to the public.
The Catholic churches own them, and no one can explore them without the permission of the Vatican. The Christian artwork, sculptures, paintings, and mosaics dating back to the 2nd-century line the tunnel walls depicting ancient Roman life.
Today, tourists from all over the world visit Rome to explore these long narrow tunnels of catacombs.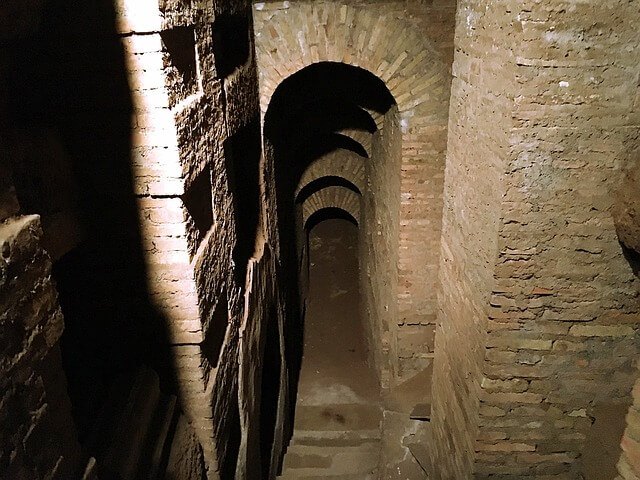 ---
7.Trastevere
Situated south of Vatican City, Trastevere is home to local restaurants, craft beer pubs, artisanal shops, and friendly budget Hotels.
Trastevere means "Beyond the Tiber," which comes from the Latin trans Tiberium. You can feel a peaceful and bohemian atmosphere in the air when wandering the ancient narrow winding cobbled streets of this venerable part of the city.
This lovely city also hosts many famous attractions such as Galleria Corsini, Villa Farnesina, Botanical garden, and the most ancient Rome's churches, the Titulus Callixtus (Basilica di Santa Maria), and Titulus Cecilae (Santa Cecilia).
There is a tiny bridge called "Pons Sublicius" that separates Trastevere from the rest of the city- it's the quieter side of the river. Visitors come to unwind after long hours of walking and standing in long queues in tourist sites.
There are many cobblestone streets in Trastevere, so you better get a comfortable pair of walking shoes if you visit the place on foot.
---
8.Trevi's Fountain
Your trip to Rome wouldn't be complete without visiting the Trevi's Fountain. It's a must-see place to put on the top of your bucket list. The Trevi's Fountain is located in Rome's center and is surrounded by hotels, shops, restaurants, and pubs. So you'll never get bored here.
This fountain was built in 1762 by the architect Giuseppe Pannini and then renovated by Fendi's Italian in November 2015, which spent 2.2-million-euro, making it the most thorough restoration in the fountain's history.
According to the Roman legend, throwing one coin with the right hand over the left shoulder into the fountain means you'll return to Rome, throwing two coins means that you will fall in love with a Roman, and throwing three coins means that you'll get married to that Roman.
If you want to see the Trevi Fountain in all its splendor, it's better to visit it at night when all the lights eliminate the whole monument.
---
9.Piazza Navona
The Piazza Navona is one of Rome's most popular public squares that dates back to the 15th century. It is built on the famous Stadium of Domitian (Circus Agonalis) and was mainly used for athletic events. Many cafes, shops, restaurants surround the square.
The Piazza Navona has the same atmosphere as in Montmartre in Paris. All the artists and street performers are gathered in the square's center to paint visitors' portraits.
People sit at the terrace of a cafe to watch the passer-by's strolling between the painters' artworks. There are two other beautiful fountains called the Fontana del Moro and the Fountain of Neptune. Lovely place to visit!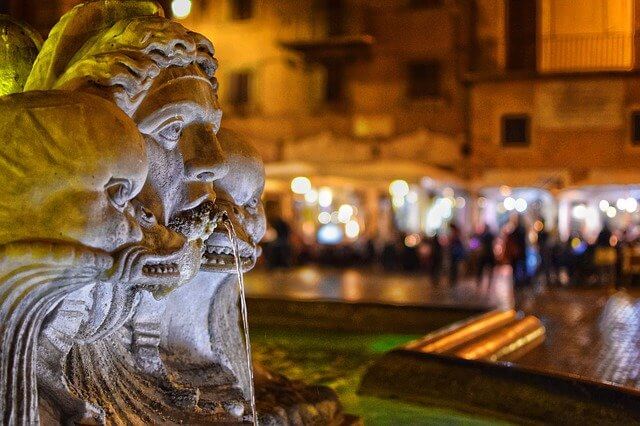 ---
10.Pantheon
The Pantheon is a former Roman temple built around 25 B.C. by the architect Marcus Agrippa. In AD 125, the Pantheon turned into a catholic church, attracting millions of visitors due to its impressive architecture, Roman history, and outstanding art.
The Pantheon was once used as a tomb for Italy's King, Victor Emmanuel II, his son, Umberto I, and Renaissance artist Raphael. It's also one of the most preserved of all Ancient Roman buildings.
Right outside the Pantheon, you'll find the Piazza Della Rotonda's square, where tourists stop to admire the structures from a cozy Italian establishment while degusting a delicious Gelato or a slice of Pizza.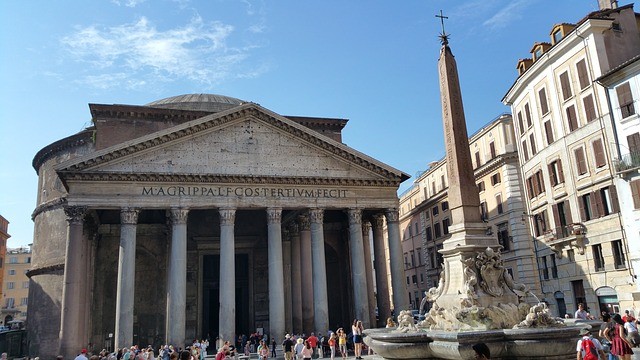 ---
Tips to Save Money in Rome
Rome is extremely popular, but also very expensive, like any other tourist place. And as you are on vacation, it's relatively easy to spend money, because you want to enjoy your trip as much as possible.
If you don't mind, great. But if you do, it would be useful to know how to visit Rome on a budget. There are endless ways to save money, but it wouldn't be a good idea to list all of them because, hey, at the end of the day, you are here to have a good time. Right?
---
Travel Off-Season
During the peak season, which usually is mid-June to September, hotels, flights, and attractions' prices are sky-high. September, the crowds start to dissipate. Thus the rates drop automatically. So it would be more advantageous for you to travel during shoulder season (September – October) or off-season (October to mid-June).
---
Get Advantage of the Roma Pass
If you plan to visit many sites, you should consider getting an all-inclusive Roma pass. This pass card gives you free entries to museums or discounts on certain sites and includes free public transportation travel for up to three days.
---
Visit Free Sites
Many people don't know about it, but there are many free sites to visit in Rome. These include St Peter's Basilica, Piazza Navona, Trevi Fountain, Via Margutta, and Il Vittoriano.
---
Explore Sights on Sunday
Every last Sunday of the month, the Vatican museum offers free entry to visitors. And the first Sunday of the month, the Colosseum and Musei Capitolini are free to visit, which is great!
---
How to Get Around Rome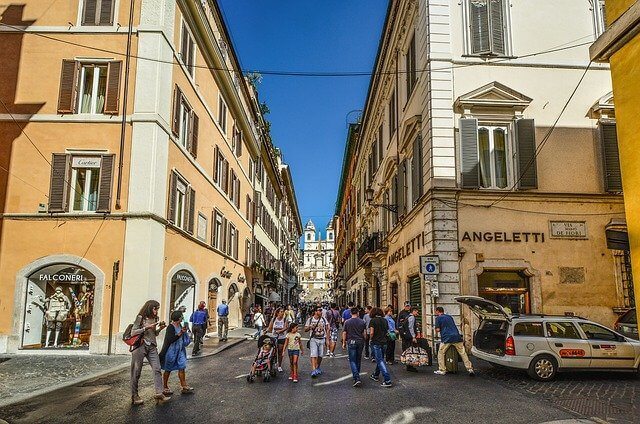 It's hard to believe because Rome is huge, but the ideal way to get around is on foot because most attractions are situated in narrow lanes and alleys, traffic-free areas, where buses and tourist coaches can't access.
However, some sites like the Vatican City are relatively far from the central historic city, and if you want to visit them, you will have to use public transportation, unless you prefer to walk.
Rome has a vast public transportation system consisting of trams, metros (subways), taxis, and trolleys, making it easy to get around Rome.

---
On Foot
As I mentioned above, walking is one of the best ways to get around Rome because most tourist attractions are relatively close to each other. However, if you choose to tour Rome on foot, I suggest you get a comfortable and supportive pair of shoes, especially if you get around the Colosseum or Roman Forum. There are uneven walking surfaces and rocks there.
---
Metro
The traffic in Rome is pretty heavy, so the metro Is the fastest way to get around the city by public transportation. The metro owned by ATAC (Azienda per I Trasporti Autoferrotranvieri del Comune di Roma) company runs three lines, which are A (orange), B (blue), and C (green), and offers transport services throughout the city. The ATAC metro has a red "M" sign on the front; it's nearly impossible not to recognize it.
---
BUS
Busses are a little slower because of Rome's heavy traffic, but cover areas that metros don't. You can easily find bus tickets in stores, vending machines, metro stations, tobacconists, or bars. Just be aware that busses don't sell tickets.
A one-way ticket is valid for 75 minutes, and it costs around 1.50 euros (US$ 1.80). If you intend to use mainly public transportation for most of your sojourn in Rome, you might want to buy a reduction card. Here are few options you can choose from:
Day Pass: This travel card costs € 6 (US$ 7.20) And is valid until midnight from the same day you bought it. With this Day Pass card, you can use unlimited public transportation all day long.
3-Day Pass: This 3 Day Card allows you to use unlimited public transportation from the moment you buy it and for the following two days. The cost of this card is around € 16.50 (US$ 19.90).
Week Pass: The same as the three-day pass card, you get unlimited public transportation for a week, and this costs around € 24 (US$ 28.80).
---
Taxi
Taxis are more expensive, and if you want to travel on a budget, then avoid them. However, if you need to take one, here is what you need to know. A taxi requires a basic fee of 3 Euro and charge around €1.60 for every kilometer drove.
Rome's taxis are white and have a sign on their roofs with the word "Taxi." Know that some Taxi drivers won't have any pity and will try to charge more than they should. So if you don't want to be ripped off, you better make sure he/she uses the taxi meter and also ask how much it's going to cost you before you get inside the cab.
The price from Termini railway station to the center should cost between 8 Euros ($ 9.60) and 15 Euros ($ 18.10).
The rate from Fiumicino Airport to the city center and vice versa will cost you 48 Euros ($ 57.70) and from Ciampino to the city, 30 Euros ($ 36.10). This price usually includes four passengers and their suitcases.
---
Car
If you want to have a relaxing and enjoyable vacation, avoid driving in Rome. The traffic is unbearable and finding parking can make you go crazy. Besides, Romans citizens are pretty impatient and drive fast.
Not to mention that during the day the city center is off-limit to drivers. However, if you decide to get around by car, know that you must have an International Driver's license, although agencies do not always ask for them.
Renting a car is pretty straightforward in Rome; there are agencies in the airport and the city center.
---
How to Get From Leonardo da Vinci-Fiumicino Airport to Rome Termini Railway Station
The fastest way to get to the Rome Termini railway station from the Leonardo da Vinci-Fiumicino Airport is with the Leonardo Express, a nonstop express train. It will take you there in less than 30 minutes. The price of a one-way ticket is 14 Euro, about $16.85. Buses can also take you to the Termini railway station but it's not really recommended because of the heavy traffic.
---
Safety in Rome
Rome is a safe place to visit, but there will always be some pickpockets around tourist attractions like anywhere else. But that doesn't have to stop you from visiting Rome.
Just be mindful as you would in any other area and avoid carrying your wallet in the back pocket of your jeans. You can walk around Rome and feel secure, whether during the day or the evening.
However, it's always advisable to get travel insurance before you go to Italy. It will protect you against cancellations, injuries, illness, and theft.
---
Visa Requirement
Italy is part of the Schengen convention, therefore if you are an EU citizen, You don't need a visa to enter Italy if you plan on staying under 90 days. You just need a valid passport or ID.
The same applies if you are an American citizen, You don't need a visa if you stay under 90 days. However, your passport need to be valid for a period of six months from your departure date.
---
The Culture in Rome
Fashion
No matter where you go in Italy, know that Italians are warm and charming. They love fashion, and you can see it by the way they dress. Most men and women dress in jeans with a trendy shirt and stylish shoes in Rome's streets. They always look relaxed and elegant.
---
Language
Most people in restaurants, hotels, and tourist places speak English and communicate very well. But it's not always a guarantee. For example, if you go to small shops or supermarkets, you may find some Italians that don't speak a word of English.
The greeting is very important for Italians, so you may want to learn some essential words before traveling to Rome. Such as Buon Giorno" (good day), "Buona sera" (good evening), Ciao (Goodby), "Posso?" ("May I?"), Per favore (please) and scusi (Excuse me) if you want to address someone.
---
Currency
Rome's currency is Euro, but as the Euro to US dollar rate often fluctuates, It would be best to check the current exchange rate before getting to Italy. Practically every establishment accepts credit cards in Rome, but some small places may insist on cash. So if you can, it's better to have some in case you need it. However, there are ATMs throughout the city, allowing you to withdraw money 24/24 hours.
---
Tipping
Tipping in Rome is totally vonlontary. So, If you feel like leaving a tip, then great. Know that most restaurants include the service in the menu. Also, it's worth mentioning that restaurants charge for the bread they serve you on the table in Rome. However, if you decide to leave a tip, 10% to 15% of the bill is the sum most people tip.
---
Best Places to Shop In Rome

Galleria Alberto Sordi
The Galleria Alberto Sordi is a gorgeous and elegant mall located in Rome's center, close to many tourist attractions. Its architectural design is absolutely stunning; you feel like you are exploring an ancient cathedral when you stroll there.
This shopping mall has been named after one of the most famous Italian actors, "Alberto Sordi." There are several lovely cafes, high fashion boutiques, shops that sell leather, maps, books, and goods.
It's the perfect place to take a break from busy sightseeing and have a nice cup of espresso and delicious Italian pastries.
---
Castel Romano Designer Outlet
McArthurGlen Castel Romano Designer Outlet is a shopping center situated about 20 minutes from Rome. There you'll find around 150 brand boutiques, restaurants, and cafes where you can shop, relax, and have a great lunch.
The center is enclosed, making it a friendly place for children and the whole family. But of course, it's advisable to have an eye on young children all the time.
---
Paciotti Salumeria
Paciotti Salumeria is a family-owned shop located in Rome where you'll find Italian food specialties. The owners are extremely friendly and offer a huge selection of Italian delicacies such as wines, balsamic vinegar, truffles, cheese, salamis, to name a few.
This boutique is real foodie heaven! If you are in Rome, don't miss this fantastic family establishment.
---
What Food to Eat in Rome?
Apart from pizza and pasta, there are plenty of delicious foods you can degust in Rome. So when you go out for lunch or dinner, don't miss Roman specialties such as Porchetta, a sandwich filled with a slow-roasted pig. Fried artichokes, which is extremely loved and demanded by tourists and locals.
Supplì are croquettes cooked with rice, tomato sauce, and mozzarella—Rigatoni Carbonara, a classic Roaman dish that will make you dream for years to come. Saltimbocca is a Roman specialty made with sage, prosciutto, and pounded veal cooked in white wine and butter.
Maritozzi yeasted buns stuffed with chocolate chips or cream served as an accompaniment with a cappuccino in Rome's espresso bars. And, of course, your trip wouldn't be complete with a tasty Gelato! If your schedule is limited, you may want to participate in a food tour. Most organized tours last only a few hours and include tasting at various local shops, bars, and restaurants.
---
Best Spots to Eat in Rome

Cajo e Gajo
The Cajo e Gajo Is one of the most popular restaurants in Rome. It's located in the lovely district of Trastevere. This establishment serves gnocchi with seafood, pasta, focaccia pizza, and delicious tiramisu.
To get there, you have to pass through a narrow cobblestone street between stunning red-ish buildings. Make sure to book in advance because this place is always full.
No wonder the food is delicious, the service is exceptional, and the atmosphere is terrific! And on top of this, the prices are excellent!
Piazza di San Calisto 9A, 00153 Rome Italy – +39 06 581 8256
---
Nannarella
The Nannarella is another popular restaurant in Rome. Their tiramisu is to die for. So don't miss it if you go there. This eatery is also located in Trastevere and serves delicious Italian foods such as carbona, pasta, pizza, fried artichoke, rosemary focaccia, among others. It's always packed with people so you must book in advance: superb service, friendly people, great prices and beautiful atmosphere.
Piazza di San Calisto 7/7A, 00153 Rome Italy – +39 06 581 5378
---
Mimi e Coco
This is a nice cozy restaurant in the heart of Rome near Piazza Navona. Although the place is small, the Ambiance is out of this world. They serve exquisite Italian food such as lasagna, focaccia, limoncello, and a wide variety of Chianti wine.
The most popular dish that comes out of the kitchen there is the carbonara.
The owner of Mimi e Coco is amiable and always make sure their clients are happy. Delicious food, affordable prices, and charming people, which creates a fantastic ambiance!
Via del Governo Vecchio 72, 00186 Rome Italy – +39 06 6821 0845
---
Pane e Salame
The Pane e Salame Is a take-away lunch place Located in the middle of the city, just a few steps from Trevi Fountain. This sandwich bar serves the best sandwiches in Rome.
This is the perfect place to stop and enjoy a delicious Italian Panino! The service is quick; the team is very attentive to their clients, and the pricing is excellent for what you get! High-quality food, lots of varieties of meat plates, vegetables, etc.
Via di Santa Maria in Via 19, 00187 Rome Italy – +39 06 679 1352
---
What to Wear in Rome
Summer
Summers are hot and humid in Rome, so if you travel in July or August, make sure to bring light clothes. Men usually wear t-shirts, Bermuda, lightweight shirts, sunglasses, hat, and trousers with mesh sneakers. Women will favor skirts, sunglasses, hat, light dresses, shorts with light sandals. One thing you should avoid wearing if you are not used to the heat is jeans.
---
Winter
As it is quite cold in the winter in Rome, you would want to bring some warm clothes such as sweaters, a coat, waterproof jacket, warm scarf, slip-resistant and comfortable shoes, umbrella, and if you can, get a dry bag to keep all your stuff dry as it's often raining in Rome at this time of the year.
---
Spring & Fall
In spring and fall, the weather is extremely pleasant during the day, but it gets a little colder around the afternoon. So you may want to bring some lightweight tops, long-sleeve t-shirts, jeans, Ponte pants, warm layers, dresses, skirts, sweaters, and a rain jacket because sometimes it can rain in those seasons. As for the shoes. It would be best to take some sneakers and a comfortable pair of hiking shoes.
---
Dress Code for Sites
If you visit religious sites, you will have to cover your shoulders and knees.
So think about bringing long shorts, capris, or a large scarf to put around your shoulders when getting into the church. For the shoes, sandals or sneakers are fine. Avoid wearing high heels in those places as they make a lot of noises. Men are required to remove their hats when entering the church to show respect.
---
Dining
You can wear casual clothes like jeans with a shirt or dress to dine outside in Rome unless you plan to eat in an elegant restaurant.
---
Final Words!
This travel guide provides you with all the tips you need to have the best vacation ever in Rome. If you make good use out of it, you'll have a well-organized and free-worry trip! The only thing left for you to do is to enjoy! If you found this article useful, please, share it with anyone that plans to travel to Rome.
Bon Voyage!
Want More Guides?
Sign up for Cruising Sea newsletter to receive every two weeks the latest post straight to your inbox!
Have you been to Rome? If so, please share some of your experiences to help other travelers have an unforgettable vacation.
Daniella has been passionate about travel, the sea, and nature for many years. As a child, she frequently traveled throughout the Mediterranean and continued with her journeys throughout her adult life.
Her experiences have created the desire within her to share her love for traveling with other passionate and adventurers who want to discover beautiful horizons and new cultures.