If you are seeking the ultimate vacation, then the Caribbean is definitely the best place for your holiday. With an island that caters for every taste, there is so much to see and do on your cruise.
However to enjoy the full wonders of your trip you need to plan your travel itinerary. The best sailing route in the Caribbean that will allow you to savor most of the delights on offer is the Florida-Bonaire route.
On this route, you will find turquoise water in the Gulf of Mexico and throughout the Caribbean Sea, walk, the white sandy beaches, go tubing down a river, visit historic attractions, dive down waterfalls, go snorkeling, and sample regional delicacies among other relaxation activities.
Florida
The best place to start your trip is in Florida, the Sunshine State. What with the ritzy city life, balmy wetlands, and swaying coco palms, what could be better?
While waiting for your cruise to set out, hop into a car and head down to Fort Lauderdale – the Venice of America. Here you can enjoy the sights of opulent waterfront mansions and fancy yachts in the sun-kissed Latino-flavored decadence.
Whiz through the Everglades Mangrove swamp in an airboat and take some pictures of the toothy grins of the alligators before heading back to the high culture in Miami.
Take a stroll amongst the pastel art deco buildings and graffiti-covered walls on Miami Beach, before grabbing some of The Broken Shaker's craft cocktails before your cruise departs.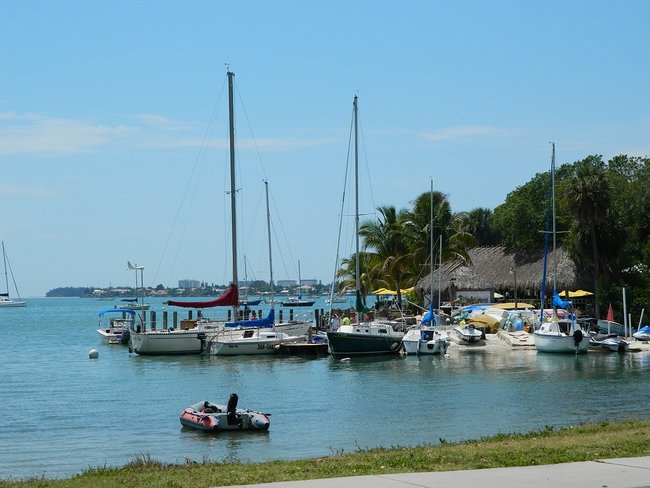 Bahamas
181 miles
After a short run of about two hours, dock at a marina in Cat Cay or Bimini for some craft beer that goes for $3. 55 miles north of Bimini is the laid-back island of Grand Bahama. In Freeport, the Bahamas' second largest city, join in on many of the island tours by Jeep, bus, or bicycle most of which make stops at famous duty-free marketplaces such as Millionaires Row.
Get a taste of Bahamas wild nature by diving in the world's longest known underwater cave systems in the Lucayan National Park that also has gorgeous spots for observing natural wildlife and bird watching.
If you are looking for some action, you can go snorkeling, kayaking, windsurfing, or diving with Dolphins in Sanctuary Bay or barbecue some lunch on Gold Rock Beach.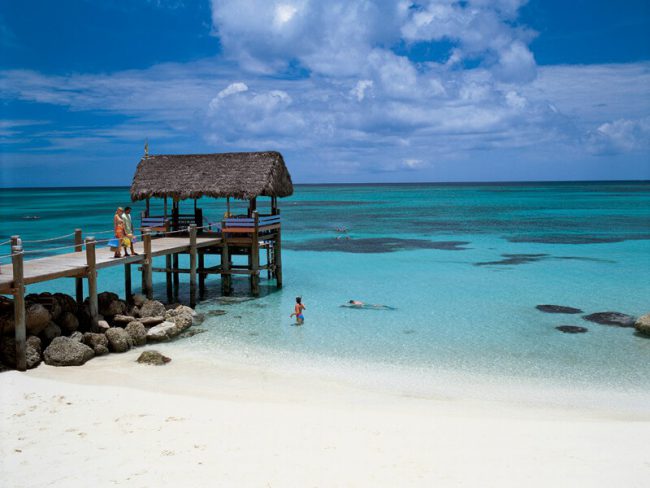 Turks and Caicos
421 miles
Turks and what? Is the reaction of many people hearing about these islands for the first time. Despite the weird names, these are some of the most pristine of tropical Caribbean islands.
A visit to the islands is not complete without some sun and sand on Grace Bay Beach on Providenciales – the world famous and exceptionally beautiful beach even by Caribbean standards. If you are a nature lover, then The Cays are where you need to be.
These offer total isolation and superb beaches that make you feel like you are stepping into a time machine. For lovers of history, The Turks & Caicos National Museum has some weird artifacts ranging from messages in bottles, shipwrecks to crash-landed spacecraft that would make for an interesting afternoon jaunt.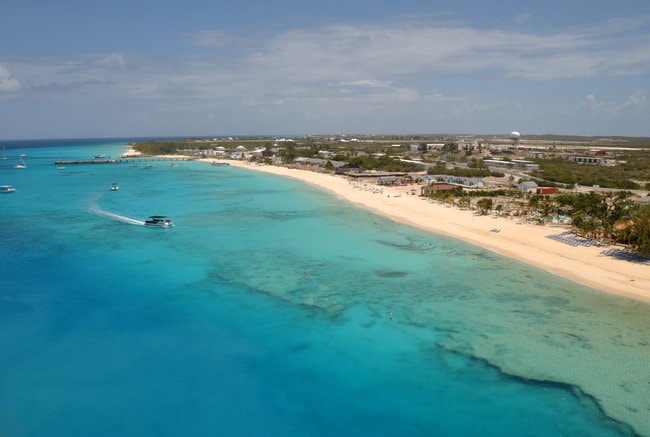 Luperon
136 miles
A stopover in rustic Cockburn town for a refreshing swim in its turquoise waters will do you some good for the 2-3 day sailing to Luperon, in the Dominican Republic. Luperon's most remarkable attraction is the Playa Grande.
The Playa Grande is a beautiful long strip of white beach backing onto lazy palms and snack bar shacks. If you are outdoorsy, hike up the 27 waterfalls of Damajagua in the town of Imbert about half an hour drive from Luperon. The best part of the hike is diving down the 27 waterfalls – nothing beats that in Luperon.
On a quiet afternoon, you can hire a motorcycle for about $10 and tour the countryside. If you are in town on Friday, head to Wendy's bar for Karaoke or some night trivia at Lazy Ass Bistro if it is a Wednesday night.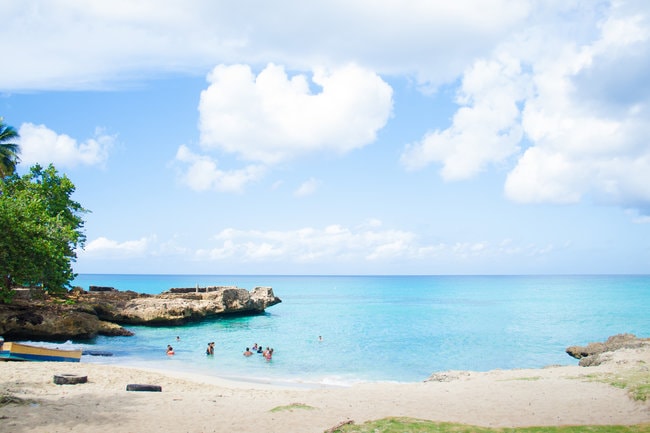 Boqueron
279 miles
If your cruise is from mid-January to mid-March, be sure to dock in Samana in the south and watch the annual song and dance of the migratory North Atlantic humpback whales before setting out for Boqueron.
The Refugio in Boqueron, an 8-foot wide channel system of mangroves, is the place to be for standup paddle boarding, snorkeling, kayaking, swimming, boating, and bird watching. Stroll or just laze around on The Balneario Boqueron deemed one of Puerto Rico's beaches.
As the only city with any semblance of nightlife in the South, the Caribbean pastime of chilling, hanging out, and moving from bar to bar with your drink in hand can be very relaxing after a day of touring.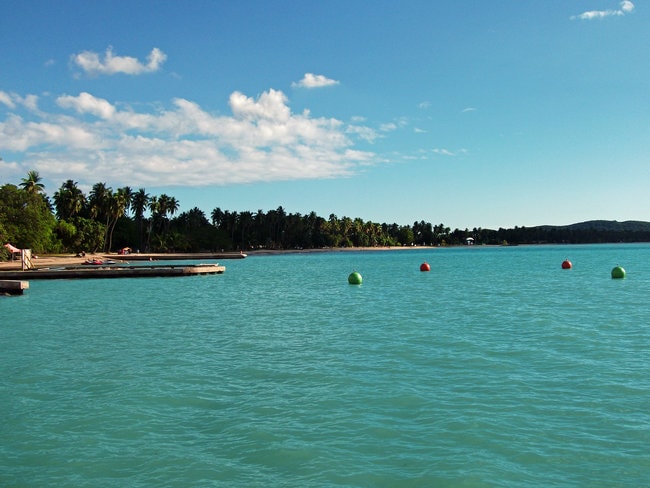 Ponce
44 miles
Sailing three hours eastwards takes you to Ponce Puerto Rico's second city. It has a saying "Ponce is Ponce" in defiance to the capital, and has even been referred to as the irreducible essence of Puerto Rico.
Taking a stroll through its spectacular architecture, museums, and fountains evokes memories of the island's glorious past. The most elegant pieces of architecture that you must visit are the Parque de Bombas (Puerto Ricos most photographed building) and the shimmering white Catedral Nuestra Senora de Guadalupe.
Visit Pito's Seafood for some fresh fish taken right out of the water and cooked as you wait. For a city of 200, 000 the history museum of Ponce is quite extensive though the Music Museum of Puerto Rico offers the better experience overall.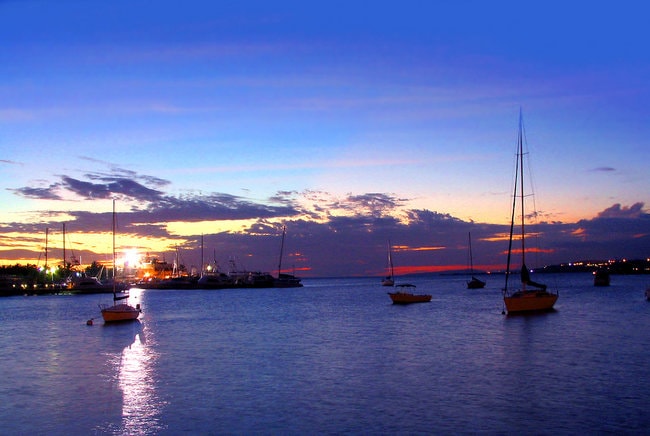 Bonaire
416 miles
Turning 200 degrees from Ponce and sailing for 3-4 days will get you to former Dutch principality of Bonaire. With its Dutch Caribbean architecture, turquoise blue waters, picture-perfect sunsets and rolling landscapes that turn from barren desert to lush green hills, this is the perfect place to complete your Caribbean cruise.
Savor the famous flambeed pasta in Cheese at the Buddy Dive Resort or the Harbour Village Marina whose ambiance provides a very villa-like feel. For the history buff, step back in time by visiting Rincon once a city of salt slaves.
If you are a nature lover, you have to visit the scenic Washington-Slagbaai National Park with its flock of flamingos. Expert and beginner snorkelers can have fun diving in the crystal blue water of the Buddy Dive Coral Restoration Project.
Later you can get to eat and drink from a range of international cuisines in many restaurants in the capital such as Cadushy of Bonaire, Wil's Tropical Grill, or Little Havana.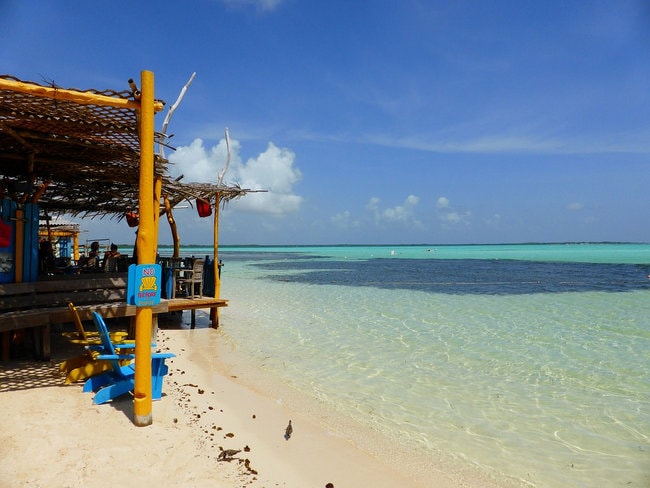 Conclusion
Stretching in a curvaceous arc 2000 miles long from the Bahamas to Bonaire the Caribbean with its medium, small, tiny, and large coral and volcanic islands make for a tropical paradise.
Part of the appeal of the Caribbean cruise is that no two places are the same. It's a place that you can revisit many times over and always find something fascinating.
The plethora of activities and the sightseeing to be done make for an unforgettable experience that embodies the beauty, charm, and warmth of the Caribbean.
Do you have another route to add to the list? If so, feel free to share it the comment just below!
Daniella has been passionate about travel, the sea, and nature for many years. As a child, she frequently traveled throughout the Mediterranean and continued with her journeys throughout her adult life.
Her experiences have created the desire within her to share her love for traveling with other passionate and adventurers who want to discover beautiful horizons and new cultures.