Although Venice is expensive and overcrowded, it is, without a doubt, one of the most romantic places in the world. Its Charming historical rippling canals encompass the city of Venice. There are many palaces, sites, and museums to visit.
Couples, individuals, and families come here all year round. This town is truly magical, and it's the perfect escape from a busy daily life. As Venice is extremely popular, no matter the time of the year, you will always find lots of people there.
Before you travel to this beautiful place, it would be preferable to know what activities to do, places to eat or visit, and many other things. So, here is the best Venice guide & boat tours to help you plan your trip so you can have the best time ever.
---
Weather in Venice
January
January is the coldest and quietest month in Venice. During the day time temperatures are around 3 degrees and sometimes can even drop below zero, especially at night. You can expect rainy and cloudy days for the most part. So if you visit Italy in January, you should plan on dressing warmly. Bring a waterproof winter coat, gloves, scarf, and a hat to protect you from the cold and rain.
February
In February, the weather is slightly warmer, but it still very Chilly in Venice. The temperatures vary from around 5 C to 8 C during the day, dropping down to 1 C at night. The days get a little longer, and you might experience several days of sunshine at the end of the month. The rain is not as significant as it is in January, but you can expect heavy fog, which makes a canal ride unique and romantic. Pack warm clothes, and don't forget to bring polarized sunglasses as the UV rays are even more harmful to the eyes in the winter.
March
In March, it is slightly milder than that of preceding months, but the weather is still cold. The temperatures reach around 12 C (54F) during the day, dropping down to 4C at night. The sea temperature on average is 11C (52F), so it wouldn't be a good idea to go swimming unless you like cold water. There are very few hours of daily sunshine and around 12 days of rainy days during the month. You can occasionally experience thunderstorms, but for the most part, moderate rain followed by light rain. Bring a waterproof raincoat and other warm items such as calf, hat, gloves, and your sunglasses.
April
In April, the weather gets more pleasant without being too warm. Attractions, cafes, and restaurants are open, and it's a great time to stroll around Venice. The temperatures increase and can reach around 16 C during the day, falling to 8 C at night. You can expect to experience the same amount of rainfall as March, approximatively 12 days in April. Since the weather is quite unpredictable, it is best to pack warm and light clothes. Bring a light hooded rain jacket, sweaters, sweatshirts, T-shirts and a good pair of hiking shoes.
May
May is the start of the high season in Venice. Tourists are coming from all over the world to discover this jewel of Italy. The temperatures climb and reach up to around 21° C (70F) during the day and drop to 12 C in the evening. The sky is clear, and the sun shines all day long. The sea temperature is agreeable; around 18 C (64°F), it's the ideal time to practice watersports such as diving, windsurfing, snorkeling, and waterskiing. Bring shorts, t-shirts, pants and a cardinal or sweater as it often gets cooler in the evening. And of course, don't forget your swimming suit, sunglasses, flip flops, and light hiking shoes. Bear in mind, though, that it's colder at the beginning of May than at the end of May.
June
June marks the beginning of the high season in Venice. Hotels and flights are more expensive. And you can expect long sunny days and hot weather. The temperatures average is around 24 C and drops a little at night to 16 C. It's a great time to walk around the city and visit sites. Just make sure to protect you from the sun as it gets quite hot around noon.
July
July is the peak tourist season and the hottest month in Venice. Plenty of families with kids spend their holidays and young folks party all night long until dawn. All the places, including beaches, are packed, and it's challenging to find room in resorts. During these months, it's hot and humid, and since the canals ripe with odor, there are lots of mosquitoes. So take your precautions against bites. Temperatures reach 28 C during the day and fall to 18 C in the evening. Pack your swimwear, light clothing, sandals, shorts, t-shirts, sunscreen, and sunglasses.
August
August is similar to July; it is hot and packed with tourists. The weather is pretty the same, temperatures are around 28 C during the day and drop to 18 C at night. It's the best time to take part in watersports and go sailing or kayaking to cool off. 
September
September marks fall with a high of 24 C and a low of 15 C at night, making an excellent time to visit Venice. The crowds start to diminish, but the place is still packed. It's easier to get accommodation at this time of the year. Know that acqua alta (high water) occurs from the end of September to January. The streets are likely to be flooded, but in Venice, the acqua alta is a way of life, and you may appreciate this experience as a tourist. Rainstorms can suddenly occur in Venice, and these can be quite heavy, so make sure you bring your waterproof rain jacket, hat, umbrella, and rain boots.
October
It's a little cooler in October, and it's much less crowded as it is the end of the peak season. Hotels prices, food, and tickets are attractive. The weather is pleasant, and the temperatures are around 16 C, dropping to 10 C after the sun goes down. You can expect almost the same amount of rainfall as of September. So don't forget your waterproof coat, rain boots, umbrella, and a sweater.
November
In November, the temperature drops significantly to an average of 11 C, falling to 4 C at night. November is the rainier month in Venice. More rainfalls occur in the middle of the month, and you will likely need a pair of high rain boots, an umbrella, and a waterproof raincoat.
December
December is one of the coldest months in Venice. The temperatures are around 7C during the day, falling to 0 at night. In December, a heavy fog settles in on the city of Venice, creating a mystical atmosphere.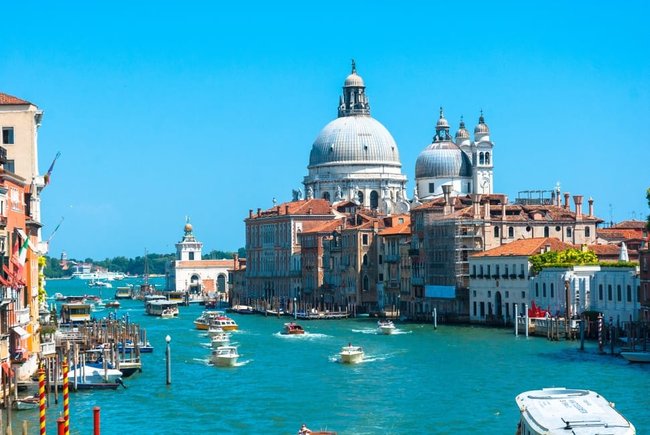 ---
Seasons in Venice
High Season
The high season in Venice starts in June and ends in August. At this time of the year, most attractions, including gondolas, museums, restaurants, and hotels, are more expensive. It's hot and humid, and it's packed with tourists and mosquitoes, but the ambiance is fantastic!
If crowds and heat don't bother you, then visiting Venice in the high season might be for you. However, most hotels and restaurants have air-conditioners, which help to cool off.
Shoulder Season
The Shoulder season in Venice falls between April through mid-June and October to November. Spring and fall are the best time of the year to visit this beautiful city of canals.
This is because the weather is pleasant; there are no crowds and hotels and flights are cheaper. The temperatures range between 10 C to 15 C in spring, making it the perfect time for sightseeing. Keep in mind that the Carnival and other events take place in the shoulder-season, which means prices rise. In the fall, the crowds begin to disappear, and it gets a little colder, around 16 C, but with a warm coat, you'll be able to stroll around Venice comfortably.
Low Season
Winter is the low season in Venice, which starts in November and ends in the middle of March. At this period of the year, there are few crowds and the prices of hotels and attractions decrease. Know that sites close earlier, around 5 PM, and attractions are less available. In February, the Carnival of Venice takes place, which lasts about two weeks – hotel rates increase automatically due to the high number of tourists that come to enjoy the Carnival. In other words, the winter season is an excellent time to visit Venice, as there are fewer tourists, and prices are more attractive.

When is the Best Time to Visit?
Summertime in Venice is pretty hot and humid, and it is crowded with tourists as it is the peak season. Not to mention, there are also plenty of mosquitoes near the water, which is not agreeable and can often get on your nerves.
In the winter, Venice is cold and rainy, but the city is relatively calm and empty, which is a great time to stroll around the place if you are warmly dressed.
The best time to visit Venice is in April June, September, and October as the weather is fantastic and attractions, as well as restaurants, are open, and prices are attractive.
---
Visiting Venice on A Budget
Venice is beautiful and romantic, but it can be excessively expensive, depending on where you spend your time. For instance, if you decide to have a drink in a tourist place like Piazza San Marco, then you may end up paying a high price. So it's essential to do your research well in advance as it will save you lots of money.
Here are some excellent tips you might need to explore Venice on a budget.
Choose the right season for your trip to Venice.
The first tip I would give you is to choose the right time to explore Venice. As I said previously, during the peak season, between May and August, almost everything is sky-high prices, meaning flights, hotels, and food, attractions are expensive. Places are crowded with tourists, and for an attraction, you may end up waiting a long time in the heat. So if you want to save money, time, and stress, then avoid the peak season at all costs. The best months to visit the beauty of Venice is during fall and winter (September to March) because places are likely not to be crowded; thus, prices are lower.
---
Prebook!
Don't expect to find a hotel to stay when you land in Venice, especially in the peak season, because most if not all hotels are booked out at this period of the year. And if you want to find decent accommodation, you will have to shell out a high amount of Euros. So do yourself a favor and reserve your hotel on time, which means several weeks ahead. 
---
Stay Outside of Venice
It is a well-known fact that big towns like Venice, Paris, Rome, London, etc, are costly. So be aware that in Venice you'll likely pay a high price for accommodation, especially if you stay near St. Mark's Square. If you want to save money, just get away from the tourist hot spots, and find an affordable hotel in the nearby islands. 
---
Buy a  Water Transportation Pass
Although Venice is a walker-friendly town, if you get tired, you will want to take a boat to go to your next stop. While Often crowded, the Vaporetto or water bus is by far the cheapest way to cross Venice on the water. If you buy a pass for the number of days you stay in Venice, you get unlimited access to all the lines of Vaporetto, which cover almost all of Venice town.
---
Check Gondola Prices
Because Gondola rides are extremely popular in Venice, Gondoliers charged exorbitant prices for tourists. Fortunately, this is not the case anymore. The government has established a specific rate of 80 Euro for a 40 minutes ride during the day and around 120 euro after 7 pm. And if you want to extend your excursion on the water, you'll have to pay 40 euros for an additional 20 minutes ride. Before you get on your Gondola, make sure you agree on the time, length, cost, and route so that you don't have to haggle with the Gondolier.
---
Avoid Dining in Tourist areas.
This might seem surprising, but the food in Venice is expensive, and often served in small quantities. If you want to satiate your taste buds and save money, you should avoid the big city and eat in restaurants far from the tourist spots. Near the Accademia, around Dorsoduro neighborhoods in Torcello, Burano, and Murano islands, you'll often find friendly budget authentic Venetian take away food.
Try out the Bacari of Venice, where you can get Cicchetti seafood-based food for an attractive price of €1. Head to some great places that serve delicious pizzas such as Pizza al Volo, Pizzeria ae Oche, Trattoria Alla Madonna, Vecia Gina in Sant' Elena and Brek. 
If you plan on staying in Venice for a long period of time, you may consider cooking your own meals. The Supermarket in Rialto has a wide choice of fresh local food, and you will likely find all you need there to make delicious Italian meals!
---
Eat More at lunch and Less at Night 
Cafes and restaurants in Venice offer cheaper lunch menus. Most places serve lunch between 12 noon to 2 PM, so I would highly recommend you to have a super splurge lunch and a lighter dinner as prices tend to rise after sunset.
---
Book Your Guided Tour tickets Ahead.
There are two ways you can get around Venice, on foot, and by boat. Many museums, churches, elaborate architectures, and art-filled await to be explored, and if your schedule is tight, then you should consider buying your tickets in advance. This way, you don't have to do the queue for hours, and you gain instant access to your tour.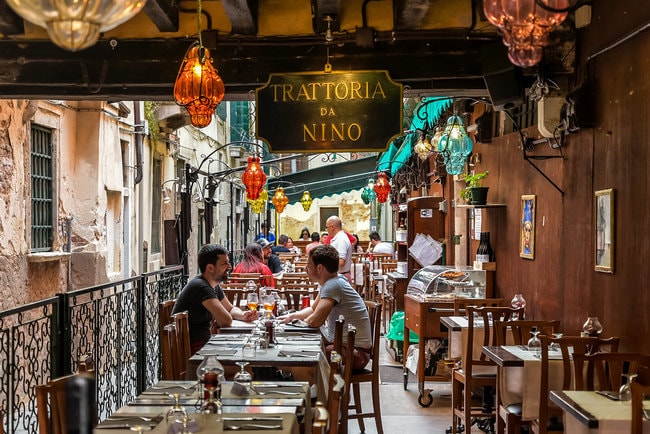 ---
Venice Visa Requirements
Read more about Italy Visa requirement 
Here is a list of Citizens' countries that do require a passport, but do not need not a Visa: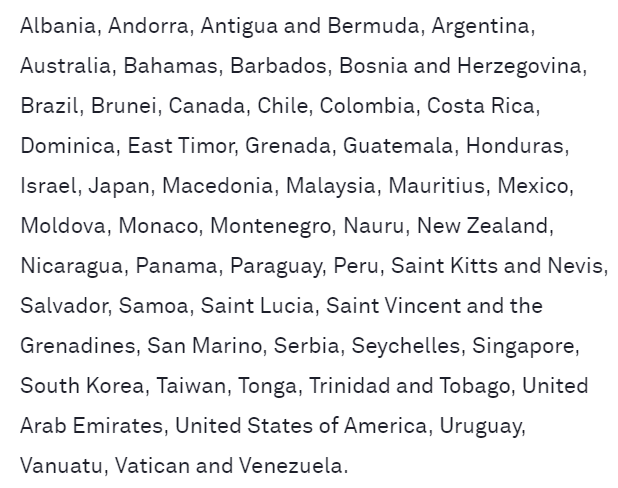 Countries Citizen that do require a Schengen Visa to enter Venice:
India, Armenia, Bhutan, Cambodia, China, Nepal, Turkey, Russia, South Africa
---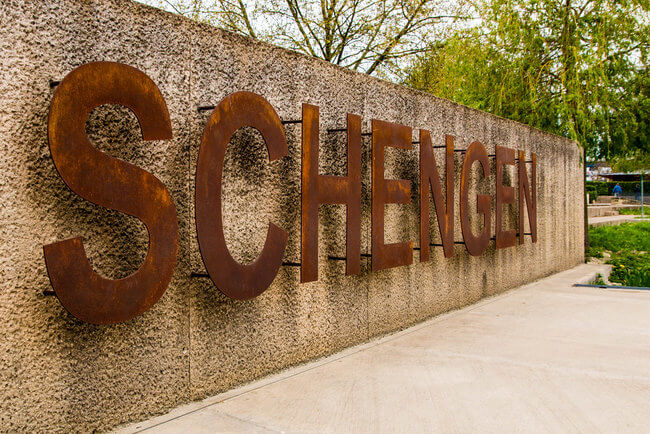 ATM Machines in Venice
In Venice, you will find many ATMs machines called" Bancomats all over the city. They are very easy to use, and they are accessible in multiple languages. Credit cards are accepted in most hotels, restaurants, cafes, and shops. However, you need to take precautions when using an ATM, whether in Venice or anywhere else. Here are some excellent tips:
1.Make sure you talk with your bank to compare charges. Also, let them know what country you'll be traveling to so that when you get there, all your purchases will be approved. Otherwise, they may block access to your card if they become suspicious about the usage to protect you.
2. Consider traveling with at least two bank cards from different banks so you don't have to worry if you lose one or the Bancomat refuses your transaction, which can happen. Know that locals banks tend to have lower withdrawal limits, and if the APM has denied the amount chosen, then you should try with a smaller sum.
3. Unless you are a customer of Cassa Di Risparmio Di Venezia bancomat, try to avoid getting cash from it. Unlike some ATMs, Banco Marco bancomats usually have a combination of 10, 20, and 50 banknotes. So if you find these bancomats, don't hesitate to withdraw cash as you would prefer to carry smaller denominations than most standard 50 Euro.
---
Daily Costs To Visit Venice
Budget
Visiting Venice on a budget will require around 70 Euros per day. This will cover your own cooking meals, or cheap food outside, local transportation, hotel in nearby islands, and free activities.
Midrange
For a budget of around 150 Euros, you might get a decent two stars hotel, occasional restaurant dinners, several paid tours per day, transportation, and cheap lunches.
Luxury
You'll need a budget of at least 250 Euros per day for a stay in a three or four stars hotel near Venice Center, all meals outside, whatever beverage you want, and guided private tours.
---
How to Tip in Venice?
When visiting Venice, you don't want to throw money at people, nor do you want to be rude. So what tip should you leave? Here are great some suggestions
Hotels
Tipping at hotels is not mandatory in Italy, but it will be much appreciated. For instance, a tip of 5 Euros to the porter will be sufficient. If the concierge provides a great service, 1 or 2 Euros. For a housekeeper between 0.75 and 1.50 Euros per day. And for room service, around 0.50 will be fine.
Restaurants
Sometimes restaurants add a service charge to the bill that ranges from 1 to 3 Euros, or 10% – 15%. This charge has to show on the menu. If the restaurant doesn't include a service charge, then you could round up the bill as many people do in Europe. For instance, giving 25 Euros for a meal that cost 23 Euros is quite generous, especially if the service was excellent.
Spa
If you go pamper yourself with a spa day, then you may want to leave a 10% gratuity, if the service is exceptional!
Guided Tours
For tour guides, it's either around 10 Euros for a full day or 5 Euros for a half-day per individual, but it's optional.
Taxi Driver
It's not really common to tip the cap driver in Italy, but if you decide to do so, make sure you agree on a final fare before you get in the taxi. Otherwise, you may end up paying more than you should.
---
Venice Nightlife
The nightlife in Venice is not as rich in opportunities as other towns in Italy – it's much quieter. Of course, there are bars, pubs, and even a small casino with few games, but they close quite early. If you want to have a fun nightlife, then you should leave the city center for Campo Santa Margherita, located near to the Ca' Foscari University. Here you'll find all the fun stuff to have a great time!
---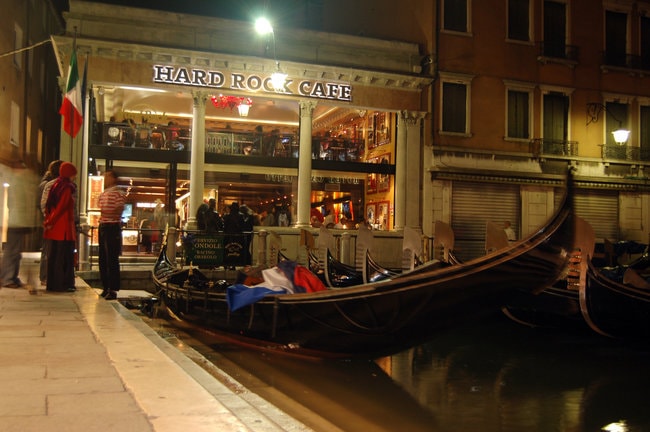 How to Get Around Venice
It can be tricky to get around Venice if you don't know how to. But don't worry, once you get familiar with the waterways and other transportations modes, you'll do just fine!
 Let's first see the six modes of waterborne transport in Venice.
Gondolas

Alilagunas

Traghetto

Vaporetto

Water Taxis

Hop On Hop Off Boat
---
Other Modes of Transportation
The international Aiport of Marco Polo is about an hour from the city of Venice by sea. To get to or go from the Airport, you can travel with the three public transport' forms listed below.
The water taxis to get to the Airport

From the Piazzale Roma, the ATVO buses 52, 53.

To get to and go from the Airport, use the Alilaguna shuttle service.
---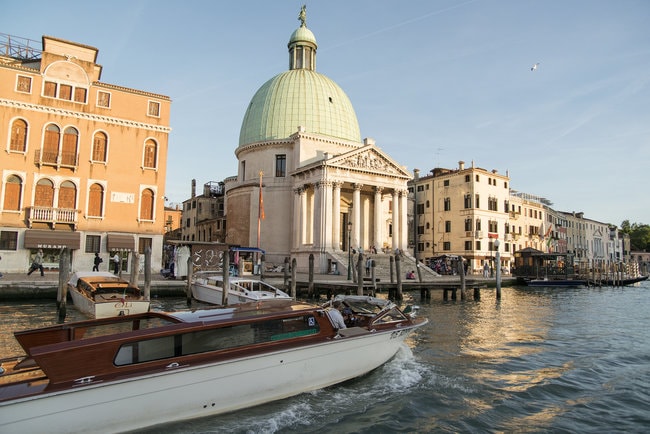 Santa Lucia Railway Station
The railway station of Santa Lucia provides long-distance train services as well as high-speed trains to Milan, Rome, and Florence. If you want to catch the train from Santa Lucia Rail Station to go to nearby cities for the day, check the following towns listed below.
Florence – 120 minutes

Verona – 75 minutes

Padova – 15 mins
---
Mover (Monorail)
The Monorail in Venice, which is called Mover, is a shuttle train that allows people to travel between three main places in the city.
Tronchetto Parking Islands – This place welcomes 1000s of cars in their indoor and outdoor parking, and most tour buses stop there too.
Marittima Cruise Terminal – This is a cruise terminal that is situated near the Piazzale Roma, where people embark and debark.
Piazzale Roma – This a place where taxi, car, busses, and airport buses transport people 
---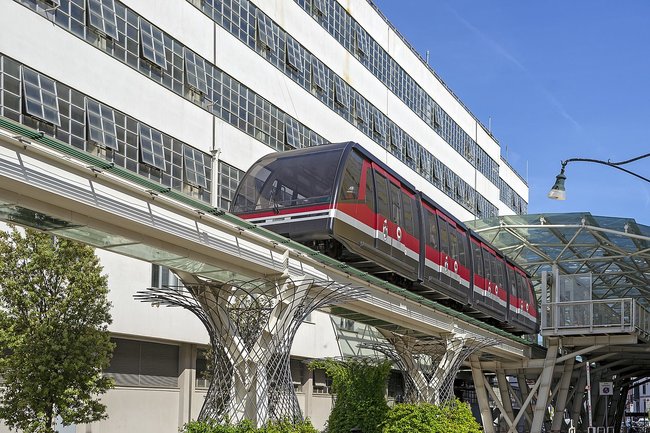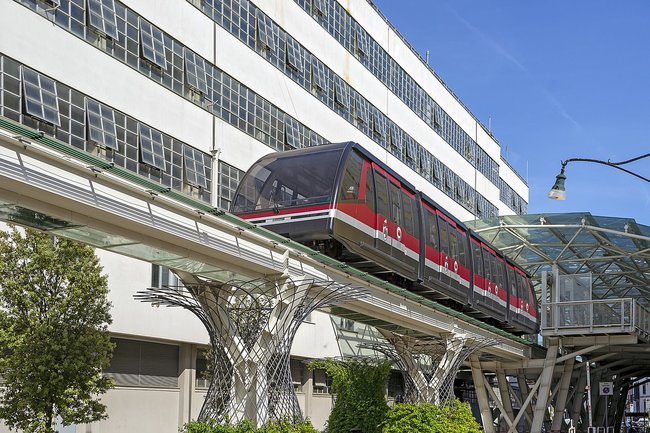 Driving in Venice
Although driving is forbidden in Venice, many travelers will choose to rent a car and drive to Venice and park their vehicles outside of the city to explore the sights. Having a car at your disposition while being on vacation in Italy will allow you to travel outside of Venice and discover the nearby islands without being dependant on public transportation or worried about the train or bus to come in time.
---
Parking in Venice
As I mentioned above, Venice is car-free, and if you rent a car, you would want to park in affordable parking as some places can be extremely costly and difficult to find.
The first thing you should know is, the closer the parking to Venice, the more expensive it will be.
 Here are some of the best options for you to park in Venice.
1. You can drive to Venice and park at Tronchetto or Piazzale Roma. Leave your car and from there, you can take a Vaporetto to Venice city. Know that these parking stations are expensive.
2. You can park your car at Mestre next to the train station and from there take a train to Venice. There are also Vaporetto services out of the train station. This parking is less expensive.
---
Is it Safe in Venice?
Venice is quite safe to walk around, whether in the morning or the evening. But like any other town where it's crowded, some pickpockets look for easy access to valuable. So if you visit Venice in the peak season, make sure you don't leave your wallets sticking out of pockets or forget your phone on a table. That's it! However, don't be paranoid, just pay attention and most importantly, enjoy!
---
How Long to Stay in Venice
Venice is a small town, but there are a plethora of fascinating places to visit. Just visiting every cathedral would take more than a week. Two days might be too short to appreciate Venice, so if you can stay longer, then don't hesitate because this town is magical. And if you are on the tigh schedule, you can always come back or prolonge your trip.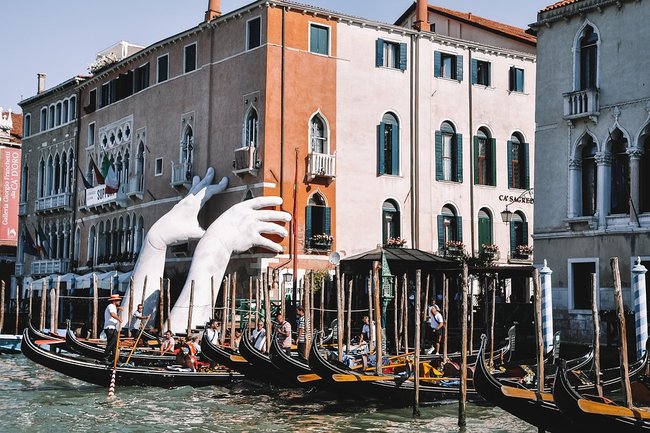 ---
Where to Shop in Venice
There are many beautiful places to shop in Venice. Here are some of the most popular shopping areas.
La Mercerie
Renowned for being one of the leading shopping in Venice, La Mercerie is located between Ponte di Rialto and Piazza Marco. Many stores include products from popular Italian designer brands such as Swarovski, Chanel, Louis Vuitton, Prada, Dolce & Gabbana, and Gucci.
Salizada San Moisè
The Salizada San Moise is a luxury shopping area that is located near Piazza San Marco. If you want to invest in popular Italian brands, then you should take a stroll there to explore some of the best shops. Are you looking for high-quality Italian Glamour or party outfits? Then this is the place for you!  
San Samuele
The San Samuele area has lots of galleries, unique boutiques, and craft shops. It's the perfect place to look for beautiful crafts and exclusive Italian textiles. Some boutiques include beautiful pieces of artistic jewelry.
Drogheria Mascari
The Drogheria Mascari is a well-stocked wine emporium and spice store located near the Rialto market. There you can also find a wide range of olive oil, balsamic vinegar, and Venetian specialties.
The service is fantastic, and all the spices, herbs, teas, and nuts are packed beautifully!
Mercato di Rialto
The Mercato di Rialto is a vibrant commercial center that is mainly used by locals. Just a short walk from Campo San Giacomo, there is the famous fruit and vegetable market of Campo Della Erbaria. Further away, you'll see a covered fish market "Pescaria" where you can find all sorts of varieties of Adriatic seafood. A pleasant stroll, highly recommended!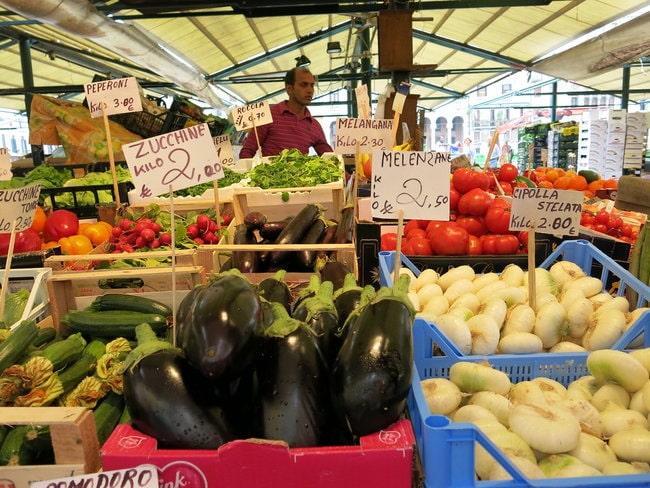 Flight to Venice
The main official international airport in Venice, called Marco Polo Airport, is situated on the shore of the island, 13 kilometers away from Venice. Treviso is another nearby airport, which is utilized by airline Ryanair. On the Lido, there is also an airfield but isn't used for commercial purposes.
Marco Polo
The Venice Marco Polo airport is relatively new and is easily accessible by boat or bus. And depending on the transportation you'll use, it may take twenty minutes or an hour to get to Venice. The boarding gates areas are separated between Schengen and Non-Schengen flights. There are many flights to European countries and several routes to the United States, the Middle East, and Canada. It is delightful to stroll around Marco Polo airport as it features many cafes, shops, restaurants, and various luxury facilities.
Trevis
The Trevis Airport is located in the West-southwest of Treviso, and it is situated around 31 km away from Venice. It has low-cost airlines and is mainly used by Ryanair and Wizz companies.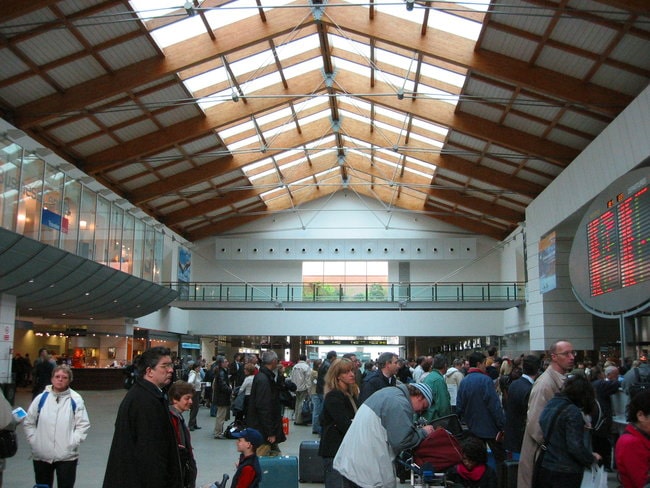 How to Get to Venice?
Flight to Aeroporto di Venezia Marco Polo and from the Airport get an Alilaguna boat for 15 Euro to Venice. These boats sail to the main city and stop to Lido, Murano Arsenale, St. Mark's and Zattere. Another option is to take a Vaporetto from the Piazzale Roma or you can book a private boat to sail from the airport to your hotel.
---
What to Eat in Venice
Baccala' Mantecata
One of the most notable dishes in Venice is the salted Baltic codfish, it is cooked in olive oil, parsley, garlic, and unctuous cream. This is a plate you want to enjoy in Venice. Know that fishermen do not work on Sanday nights, so don't expect to have fresh fish on Mondays. 
Polenta
Polenta is made of coarse stone-ground cornmeal and is often called Italian grits. This plate is originated in Northern Italy and was known as part of "Cucina Povera," which means food for the poor. It is one of the most preferred dishes by Venetian people today.
Risi i Bisi (Rice and Fresh Peas) 
Risi i Bisi is one of the most popular and ancient local specialties of Venice, and it is served in most Venetian restaurants. This delicious dish is a mixture of soup and thick risotto with fresh peas and round rice, all cooked with Italian bacon, called pancetta. A real treat!
Risotto 
Like Polenta, Risotto was a dish for the poor, and today it became one of the most popular food in Northern Italy, including Venice. In Venice, Risotto is prepared with a combination of ingredients comprising vegetables, mushrooms, artichokes, peas, asparagus, or tomatoes.
Bigoli
Bigoli is a sort of pasta that looks like spaghetti noodles but is it slightly thicker. Originally made with buckwheat, today Bogoli is mostly made of whole wheat flour, and sometimes contain duck eggs.
Cicchetti
This dish is very similar to Spanish tapas. Cicchetti are small snacks, which are typically served in traditional bars of Venice. Venetian people usually eat Cichetti as an appetizer accompanied by a glass of Ombre (wine) before lunch or dinner. This dish typically includes small sandwiches, plates of vegetables, boiled eggs, small portions of a mix of meat, seafood set on top of polenta or bread.
Asiago Cheese
Asiago is an Italian cheese made of fresh cow's milk, which comes from Veneto. It is one of the most imported cheese in the USA. When the cheese is aged, it is often grated in salads, pasta, and soups. The fresh Asiago is used for sandwiches and panini, or it is melted on cantaloupe and other types of dishes.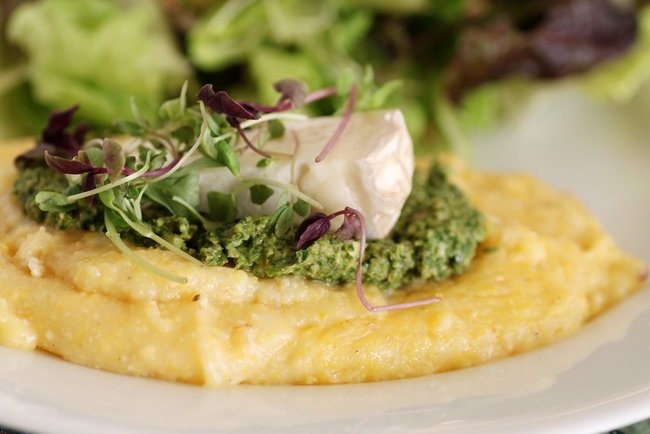 ---
Do People in Venice Speak English?
Some people do, but many don't. Mainly those who work with tourists Speak English to communicates. So, you may want to learn some Italian phrases while you are in Venice. Here is a list of Venetian words: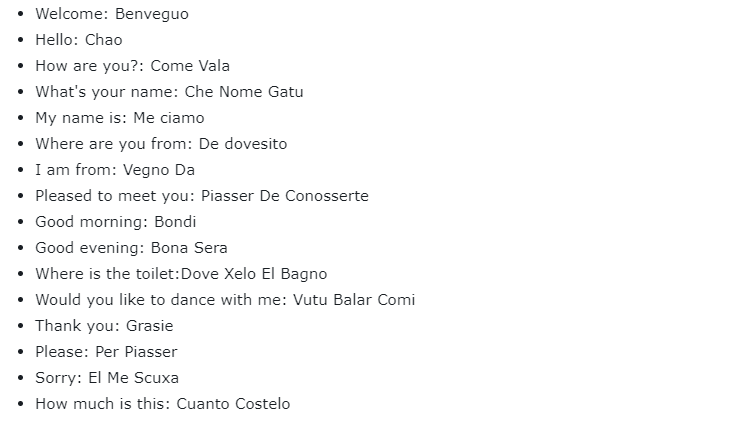 ---
Best Boat Tours And Sightseeing
Venice Walking Tour and Gondola Ride
On this walking tour, you'll discover the famous sites and hidden gems of Venice by foot, followed by a ride on a gondola. Your local guide will bring you to the best lesser-known places in Venice through a charming maze of narrow alleys. Then you'll get on board a Venetian Gondola for a pleasant ride along the grand canal. Read full review
---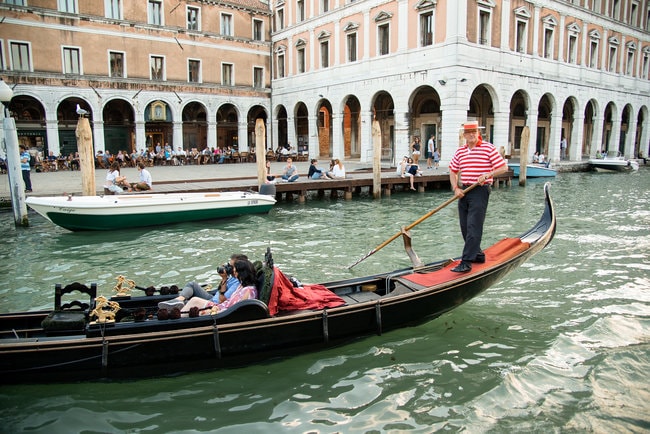 Best of Venice Tour With St Mark's Basilica and Grand Canal Boat tour
If you want to discover the best of Venice in one day by foot and boat, then this trip is for you. Explore all the sites and skip the long lines with a local guide that explains the history of the city. Then hop on board a water taxi and cruise an hour along the Grand Canal to see and appreciate the beauty of Venice.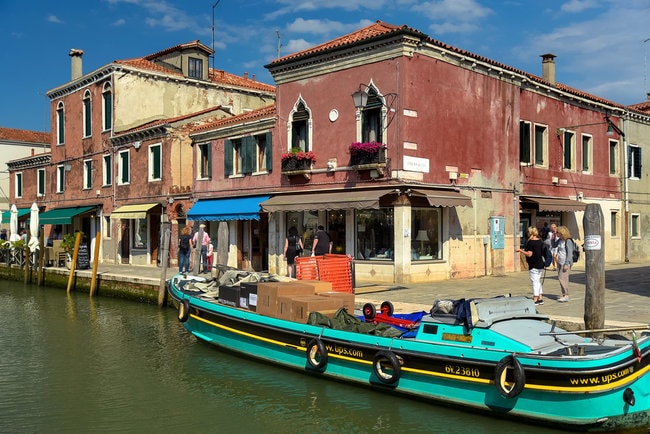 ---
Venice Gondola Ride and Serenade
The Venice gondola ride and serenade allow you to explore Venice in the most pleasant way by riding on a shared gondola. You can choose between an afternoon or evening ride. A Gondolier dressed in traditional garb will make you explore beautiful sights such as Peggy Guggenheim Collection and Palazzo Barberino with a group of eight different gondolas. Additionally, a singer on board one of the boats will sing a song to you and all the passengers while riding along the grand canal, which makes this tour incredibly romantic! Read full review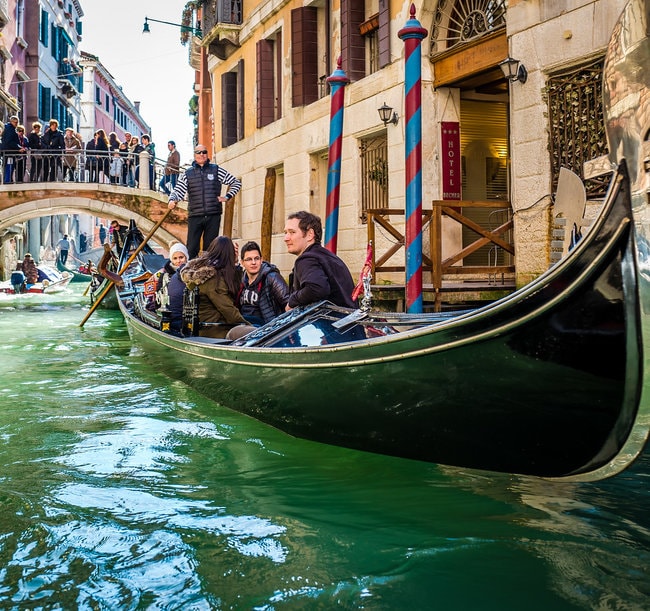 ---
Murano, Burano and Torcello Half-Day Sightseeing Tour
This tour will allow you to visit three beautiful islands in the Venetian lagoon, such as Murano, Torcello, and Burano on a motorboat. Your guides will bring you to Murano glass factory where you'll enjoy watching glass blowing up close. Get the chance to Visit the historical cathedrals on Torcello and delight in beautiful handmade lace on Burano. Cruising on the water while visiting Venice sights is a tour not to miss out! Read full review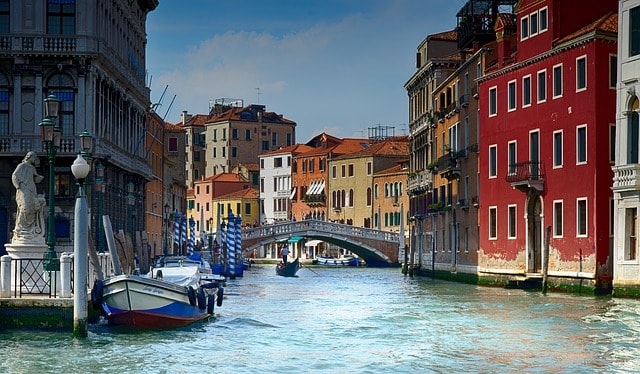 ---
Murano Glass Experience plus Visit to a Burano lace island
This tour is similar to the one above, yet slightly different. You'll get on board a private boat to cruise around the Venice Lagoon and savor the beautiful views of San Giorgio island, Certosa island, and Sant Erasmo island. Then, visit the famous glass factory in Murano and enjoy watching a traditional glass-blowing demonstration as well as have a walking tour to admire the 12th-century Church of Santi Maria e Donato. After Murano, sail to Burano island, and take in stunning multi-colored houses and picturesque fishing port. A great place to take pictures! Continue your excursion to the lace factory to see the famous island's rich lace-making heritage. Once you get back to the mainland, your tour ends in San Marco Square.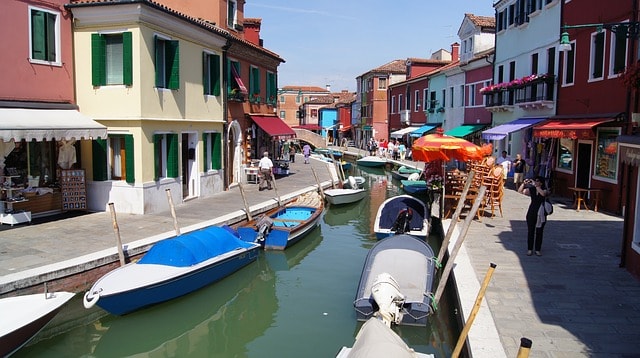 ---
Small-Group Venice Food Tour: Cicchetti and Wine
If your wish is to see the less touristy part of Venice while tasting Venetian cuisine, then this tour is for you. Sip variety of regional wines and taste Venice specialties in five different "enotecas" wine bars you wouldn't know to go to on your own. Savor their special local specialties plates such as marinated seafood with polenta, spicy fried meatballs, or Cicchetti. Then get on board a Traghetti (Traghetto) and cruise along the Grand Canal to Rialto Market with your local guide to see how Venetian people shop their daily fresh food. At the end of your excursion, say adios to your local guide and your fellow Italian cuisine lovers at the terminal point "Ironic Rialto Bridge.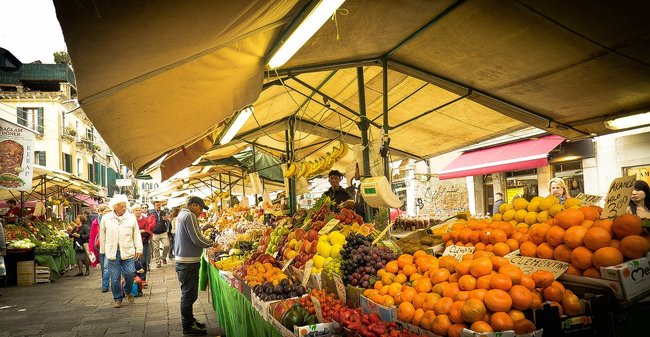 ---
Classic 30-Minute Gondola Ride
Enjoy a guided gondola ride through the famous canal of the city of Venice. In this 30 minutes tour, you'll share a Venetian boat with five others and an experienced gondolier. You'll have the opportunity to navigate through hidden romantic passages and the Grand Canal. As you enjoy your ride on the water, you'll see the famous Rialto Bridge as well as other places such as Campo Manin, Bacino Orseolo, and finally, the Gondola station where your Gondola Ride end, just behind St.Mark's Square.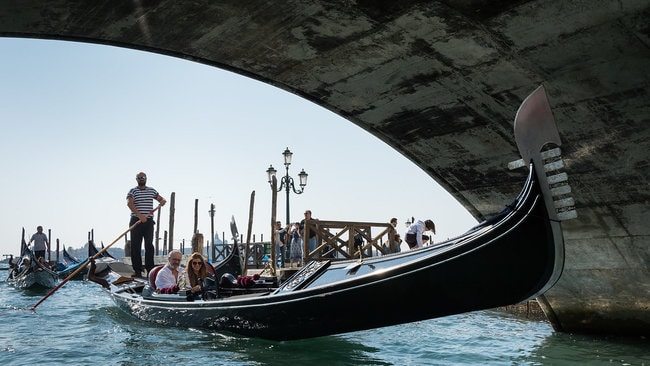 ---
Murano & Burano Islands Half-Day Guided Tour by Private Water Taxi
Your visit to Venice would not be complete without this tour. It will give you a sense of the fantastic diversity in and around Venice. Meet your guide in central Venice and get aboard a boat for a short sail to Murano island where you'll enjoy watching a brief demonstration of glass blowing. Have some free time and stroll around the island to see other art shops and perhaps buy some souvenirs. Get back to your boat and head to Burano island to learn about the history of the lace museum. If you wish to stay a bit longer, you can enjoy your free time to wander around the island and pursue some local shops before you get back to Venice.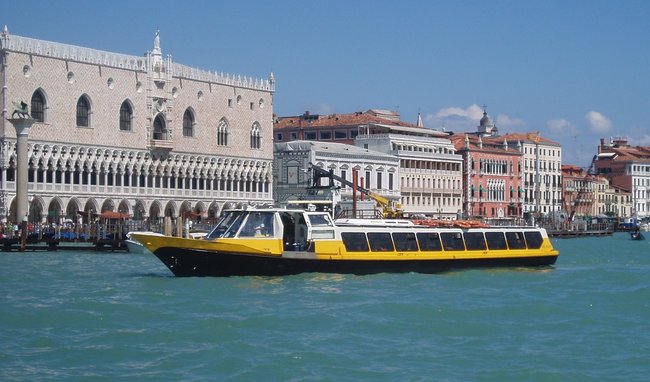 ---
Semi-Private Grand Canal 1-Hour Boat Tour
Get onboard a spacious water taxi with a group of six and a knowledgeable guide to explore the beauty of Venice.  Sit back and sail through the Gand Canal and other beautiful places such as churches, gardens, palaces, and bridges. As you cruise through the Grand Canal and minor canals, learn the history of Doge's Palace in St Mark's Square and St Mark's Basilica. Explore San Giovanni e Paolo and the churches of Santa Maria Formosa from the water excursion through smaller canals.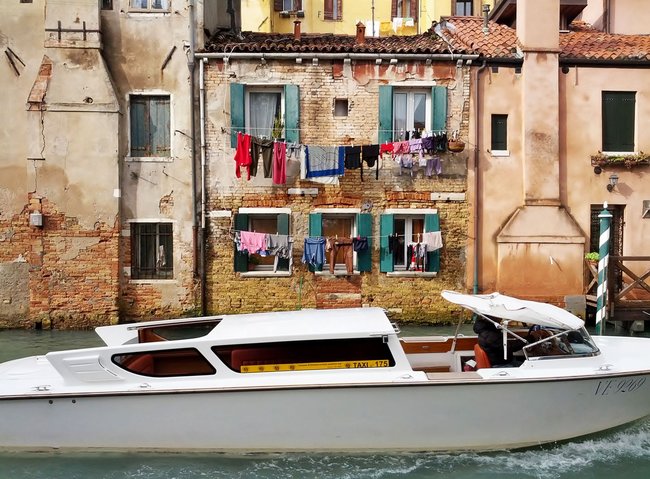 ---
What to Pack for Venice
If you travel to Venice in the winter, it can be cold, so think about bringing warm clothes. For spring and fall, pack some sweaters, jeans, T-shirts and a jacket as the weather is pleasant during the day and colder after sunset. In the summer, it is sweltering and humid, so pack light clothes for the day and have a sweatshirt at your rich for the chilly evenings. However, you don't need fancy outfits unless you plan to go to the carnival. But you can, of course, pack some nice outfits for evenings out.
Here is a useful packing list to help you decide what to bring and not to bring.
2 to 3 pairs of pants
2 short sleeve Tshirts
2 long-sleeve T-shirts
6 pairs of underwears
4 pairs of socks
1 or 2 hats (In case you lose one)
Waterproof dry bag( Venice is surrounded by water, it's easy to get wet there)
Porolized sunglasses( protect your eyes from the UV)
Mosquitoes repellent (There are lots of mosquitoes on the canal of Venice in the summer)
Good pair of walking shoes
Light jacket for the evening
Nice outfits for the evening
Waterproof Camera
1 swimsuit
light cardigan
Peals or wristbands again sea sickness ( In case you get sick on a boat)
---
Conclusion
Here you have it! A complete guide of Venice that will help you plan your trip easily. So Make a list of things you need to do and take action!
Want More Guides? 
Sign up to Cruising Sea newsletter to receive every two weeks the latest post straight to your inbox!
More articles
Have you been to Venice? If so, how did you plan your trip? You are welcome to share your experience in the comments below.
Daniella has been passionate about travel, the sea, and nature for many years. As a child, she frequently traveled throughout the Mediterranean and continued with her journeys throughout her adult life.
Her experiences have created the desire within her to share her love for traveling with other passionate and adventurers who want to discover beautiful horizons and new cultures.