Staying in Sorrento and want to explore the beauty of Capri too? If so, it's a fantastic idea because both islands are very close to each other. There are several options to visit Capri. You can take a ferry, but know that it's often crowded with trippers in the summer. You could also rent a private boat, which is an experience not to miss, of course, but it's relatively expensive. Another great alternative would be to take the Boat Excursion to Capri Island: Small Group from Sorrento. This boat tour will make you discover the most beautiful gems of the island in the most fun and relaxing way without spending a fortune.
This post contains affiliate links. If you use these links to buy something, we may earn a commission. Thanks."
---

Duration of the tour: 8 hours

The tour is offered in four languages: English, Italian, French, Spanish

Maximum Passengers: 12
---
What to Expect
You'll cruise along the Sorrento peninsula and explore the beauty of Capri island on a boat with a small group of a maximum of 12 people. You don't need to take any public transportation to get to the departure point, a comfortable shuttle will pick you up from your hotel and bring you to the Massa Lubrense port. 
There, you'll meet your skipper and get on board the boat, and you'll set sail to Capri. Your first stop will be at the famous Marciano natural waterfall, where you get the opportunity to take marvelous pictures. So, make sure to pack your camera! 
After that, you'll continue sailing through Sorrento Peninsula, and once you get to Capri, you'll pass by the Salto Di Tiberio, a cliff overlooking the ocean, as well as Villa Jovis Grotta del Corallo and Grotta Bianca.
Your sailing adventure has just begun. You'll cruise to the Villa Malaparte and Faraglioni Rocks, Capri's Natural Arch. While boating the island, the guide will serve you delicious vegetarian sandwiches and refreshing drinks. Your next stop will be at the Marina Piccola beach for a swim and snorkeling escapade.
Then you'll have four hours of free time to visit the island on your own. At the end of your excursion, it's time to say goodby to Capri and get back to the port while enjoying the beautiful landscapes. Once you arrive, a shuttle will bring you back to your hotel.
---
Boat Ride Route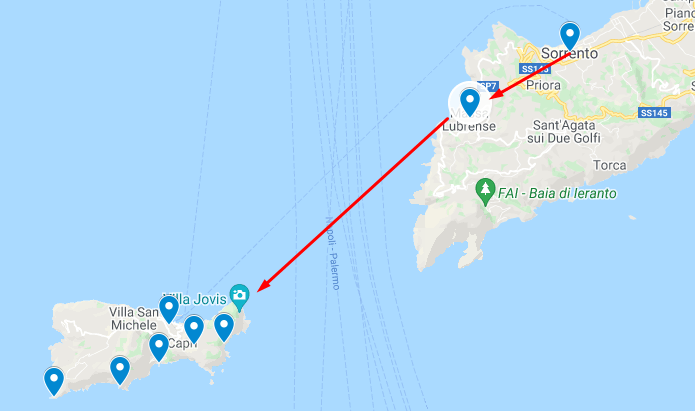 Stop 1 – Sorrento
No matter where your hotel is situated in Sorrento, a comfortable shuttle will pick you and drive you to the port to get onboard your boat.
Stop 2 – Area Marina Protetta Punta Campanella
While sailing along the coast of Sorrento, you'll get the chance to pass by and admire the beautiful waterfall in Marciano as well as the famous Cala di Mitigliano beach and Punta Campanella, where Ulysses met the Sirens.
Stop 3 – White Grotta
Once you arrive in Capri at the White Grotta, your boat tour around the island begins.
Stop 4 – Natural Arch
Your kipper will bring you to the famous Natural Arch, an elegant paleolithic rock formation of 12 meters wide and 20 meters high, which was formed due to geological erosion. This beautiful Natural Arch hangs over the ocean, offering stunning panoramic views over Naples Gulf. A real peaceful paradise!
Stop 5 -I Faraglioni
You'll cruise through the dramatic I Faraglioni, three towering rocks rising right out of the ocean. Those rocks' names come from the geological term " Faraglioni," which means in Italian, oceanic rock formation eroded by waves. The smallest of the three rock formations is the Faraglioni di Mezzo, also called the arch of love. The legend says that if you kiss your loved one while sailing under the arch, you'll spend your whole life together. The middle rock is the Faraglioni di Terra, and the biggest is the Faraglioni di Fuori, which is also called "Scopolo."
Stop 6 – Marina Piccola
It's in Marina Piccola, one of the most popular beaches of Capri, that you'll get off the boat to enjoy swimming and snorkeling in the crystal blue water of the island. There are some great restaurants where you can get a refreshing cocktail and relax.
After a nice swim in the sea, it's time to get on board your boat to sail to the famous Green Grotta. This is one of the most beautiful caves in Capri. The sunlight reflects between the rocks and the seabed at certain hours of the day, making this place unique and incredibly beautiful. The water is so clear that you can even see through the bottom. A WOW experience!
Stop 7 – Green Grotta
Your boat tour wouldn't be complete without exploring the famous Punta Carena Lighthouse, the second most important lighthouse in Italy. Get ready to take pictures because this little ancient harbor is just stunning, and the views are spectacular.
Stop 8 – Punta Carena Lighthouse
Although Punta Carena lighthouse is small and there is not much to do there apart from walking and relaxing, the views are spectaculars, especially at sunset. It's a must-do when you are in Capri.
Stop 9 – Marina Grande
After visiting the lighthouse, you'll sail to Marina Grande Beach, where you'll have four hours of free time to stroll around Capri island. You would be amazed at what you can do in four hours. For instance, You can walk through Capri town down the Via Tragara and then go back to explore the beautiful Augustus Gardens. 
Have a nice lunch somewhere you can relax and enjoy beautiful views. You can do some shopping or eat delicious ice cream in a homemade waffle cone at the famous Buonocore or have a coffee at the Piazza Umberto, a lovely small square surrounded by ancient buildings.
Check Availability and Reviews
---
When is The Best Time to Do the Boat Tour?
This will depend on your preferences. If you want to enjoy swimming, snorkeling, and sunbathing, the best time would be in the summer, either in June, July, or August. Just know that the island is crowded with tourists during those months and everything is more expensive.
May is a great time; just be aware that there is always more wind at sea than onshore, and the water is not as warm as in the summer. However, the weather is super agreeable to stroll around the island, and the place is still not crowded. But if you plan on swimming, I would suggest you bring long sleeve t-shirts to cover you after the swim.
In September, the temperatures begin to drop, and the weather becomes more agreeable. The water is still warm, and the crowds thin out, so it's a fantastic time to get the best out of Capri. October, November, and December are excellent times for walking through the island, but not for swimming as it's pretty cold.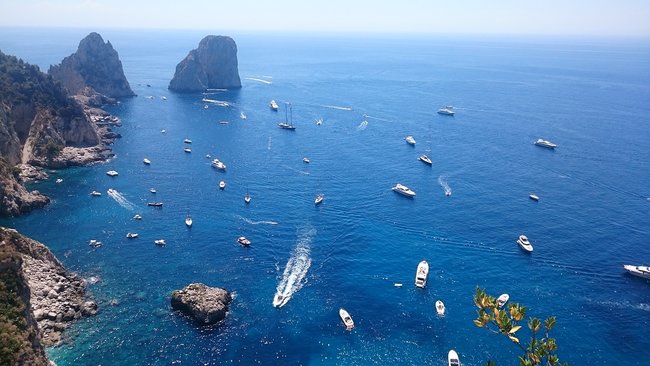 Where to Eat in Capri
If you don't care about the price, the Terrazza Brunella serves delicious Italian food, and the views are spectacular. Just make sure to reserve your place in advance as it's most of the time busy.
Another great restaurant with beautiful views of the island is the Da Giorgio near the bus and taxi station. The food is excellent, and the prices too.
---
Who is the Tour For?   
Everyone can participate in this boat ride, parents, children, pregnant women, and lovers! It's safe, relaxing, fascinating, fun, and romantic. Most of your time, you'll spend either on the boat, in the water swimming, or strolling around the island at your own pace. So all participants are welcome!
---
Why Do This Tour?
Without a doubt, there are many reasons to do this tour. 
It's a fantastic way to explore Capri island in one day.

A comfortable shuttle picks you up from your hotel and drops you off at your hotel after the boat ride.

You'll sail along the Sorrento peninsula and around Capri island.

You'll explore the beautiful Grottos and impressive Faraglioni rock stacks.

You get plenty of time to enjoy swimming, snorkeling, and strolling around the island.
---
What's Included in the Tour
Delicious vegetarian sandwiches 

Refreshing drinks

Free transfer from your hotel to the meeting point.

Internet connection (WI-FI)

Four hours of free time in Capri and stops for swimming and snorkeling.
---
Tips
Bring a towel with you, as there aren't any onboard.
Wear a hat and sunglasses to protect you from the sun.
You often get wet on a boat, and if you want to keep all your content dry, you should consider using a dry bag.

Not everyone gets seasick on the water, but I would highly recommend you bring some sea bands. You never know.

Bear in mind that there are many mosquitos near the water, so take a mosquito repellent. Try to opt for natural repellents like citronella or lavender oils. They work perfectly!

And the last thing, drink a lot of water and if you have children, make them drink. The wind, saltwater, and sun cause dehydration.

 You might also need a comfortable pair of water shoes to wear in the water and on land.
---
Pros
Snacks and beverages onboard

Hotel pick up and drop off included

Friendly and helpful crew

Exceptionally well organized

Four hours of free time to visit Capri at your own pace.
Cons
There is no access to wheelchairs on the boat

Some users found the boat ride a little expensive but really worth the price.
---
Final Words
If you are in Sorrento, don't miss this trip, you love it! It's fun, relaxing and you get to see all the beauty of Capri in one day. People had a wonderful time on this tour, take a look at these reviews, they are pretty compelling.
Have you been on this boat ride? If so, what was your experience? I would love to know.
More tour reviews
Daniella has been passionate about travel, the sea, and nature for many years. As a child, she frequently traveled throughout the Mediterranean and continued with her journeys throughout her adult life.
Her experiences have created the desire within her to share her love for traveling with other passionate and adventurers who want to discover beautiful horizons and new cultures.