You've always dreamed to bareboating in the BVI, and you finally find, the right time to do it! Fantastic!
There are many things that come up to the mind when planning a sailing trip and the most frequent questions people usually ask me are, what is the most appropriate boat to sail in the BVI?. What is the best yacht charter company to book from?, what certificate will I need in the BVI?, when will be the best time to sail? and where to sail?
So here we go, I am pretty sure you will find all your answers in this article.
Bareboat License in the BVI
Having a license is always advantageous, but many companies in the British Virgin Island won't require it. However, for more security, if you have one, take it with you! Many yacht charter companies will probably ask for a credit card and some competence to handle the boat.
If you don't have enough confidence to navigate alone, it is preferable to hire a skipper for the first day; it will help you relieve the stress and you'll be more comfortable about getting started. If you have some experience but not enough to handle the boat and you would like to get a license, there are many places where you can participate in a sailing course while you are on vacation. The course lasts about a week and if you think you need more practice, there is the possibility to prolong the course.
If you want to save some time, then I suggest you do the theory online, this way you will only have to do the practice when you'll get to the BVI.
In many cases, one week will be enough to obtain the 103/104 certificate, but if you want my opinion, take some extra days to not stress about the time.
Choosing the Right Yacht Charter Company
Choosing a good yacht charter company may be a bit challenging for some people. But fortunately, this is not the case for everyone. In my opinion, it really depend on the person, each one will have a different contact with the yacht charter broker.
The main things to consider are the pricing, what is included (Freshwater, fuel, equipment, food, drink), the boat condition, the amenities, and the service. Usually, the price of the charter includes everything on board, but again, it depends on the company itself, so check these out!
If you are not sure and need more information about the charter companies, you can get some good advice in forums, such as Sailnet, cruisers, and TripAdvisor. There, you will find all you need to know about companies in the BVI.
Apart from this, it's always nice to exchange some ideas and experiences with other sailors that have the same passion.
What Boat to Sail In the BVI?
The better way to bareboat in the British Virgin Island is with a catamaran because this beautiful island contains a wide amount of coral reef in some region, and shallow water depths.
With a catamaran you will be able to access easily to beautiful desert islands thanks to its fantastic shallow draft, it will be much more comfortable for you to anchor close to the shore.
 Reasons to Sail with a Catamaran
Plenty of spaces and storage
 Easy to manipulate,
very comfortable, you can even walk with a cup of coffee without toppling it.
You will love to rest, and chat with your friends on the trampoline,
 Much faster than a monohull,
 Flexible and light.
safe
In one word, this is the perfect boat to sail in the British Virgin Island:).
Some Good Advice
It is preferable to sail with another couple of friends, it will make the sailing trip more fun, easier for everyone, safety and also you can count on your friends in case you want to rest or do something else.
I always recommend taking extra fresh water, fuel, and food in case you'll need it, don't forget that most of the time you'll be sailing. Even knowing that you are going to spend some time ashore, it would be reasonable to take some precaution.
Normally, charter boats are well equipped, but it's better to check if you have all the safety equipment required on board, which are:
life jacket (PFD)
sound signals
visual signal for distress
flares
navigation lights
make sure that the equipment is in good condition.
What are the Best Months to Sail in the BVI?
The better months to sail for beginners are November, December, January, February, March, and middle April, since the hurricanes are not present at that time of the year, but it is crowded and the rates are the highest. Generally, the hurricanes are present in June, July, August, September, and October and finally disappear in November.
During this period, there is almost no crowd, the water condition is great, and the rates are low.
Maybe, you are an adventurer and you like strong sensation, so if you prefer to sail during this period, it's up to you! However,  you won't be the only one, just make sure to check the weather.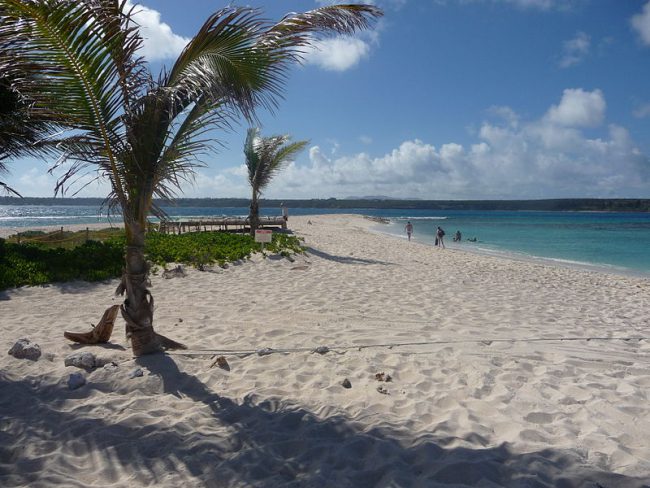 Popular Places to Anchor!
Usually, yacht charter companies have some rules about the anchorages, and for some reasons, they won't permit to anchor into unknown areas.
The main islands to anchor and explore are,
Virgin Gorda
Jost Van Dick
Norman Cave's
Wreck of the Rhone
Tortola
Cooper Island
Anegada
Peter Island
Deadman's Bay
Sandy Spit
Bath of Virgin Gorda
Road town.
These places are amazing and beautiful to explore, especially to practice all kinds of water sport. You will enjoy swimming and snorkeling in one of the most stunning clear blue water of the Pacific Ocean.
Have you already bareboat a Catamaran to the British Virgin Island? Feel free to share your experience in the comments below.
Daniella has been passionate about travel, the sea, and nature for many years. As a child, she frequently traveled throughout the Mediterranean and continued with her journeys throughout her adult life.
Her experiences have created the desire within her to share her love for traveling with other passionate and adventurers who want to discover beautiful horizons and new cultures.