For our recent sailing holiday, I and my family decided to head to one of our favorite destinations, the Lefkada Island in Greece.
This iconic sailing destination is renowned for its pristine beaches, turquoise blue Mediterranean water, stunning weather, water sports, and delightful coves and inlets to explore.
Since our family includes two children, aged 12 and 14, we were looking for a more relaxed sailing experience where they could take part in plenty of activities.
We opted for a spacious catamaran, the Lagoon 450, booked through sailing Europe as it offered us the perfect combination of space, luxury, and a stable sailing experience.
Since the Lagoon 450 is capacious, we opted for a by the cabin yacht charter, and we were joined by another couple with a child during the sail.
We also opted for a fully crewed boat, including the services of an experienced skipper, a professional chef, and a maid.
Places we visited
The island of Lefkada is arguably one of the most sought after by the sailing community visiting Greece, and it is easy to see why.
The island is blessed with an abundance of natural and historical places of interest. The spectacular beaches and the water sports opportunities further add to the charm of this place, especially for families who are always looking for activities for their kids.
During our sail, we particularly enjoyed the following landmarks.
Castle of Agia Mavra
Situated a couple of kilometers outside Hora, this 14th-century castle has a haunting appeal. Built originally as a church of Agia Mavra by the Sicilians, the castle is used for varied events these days.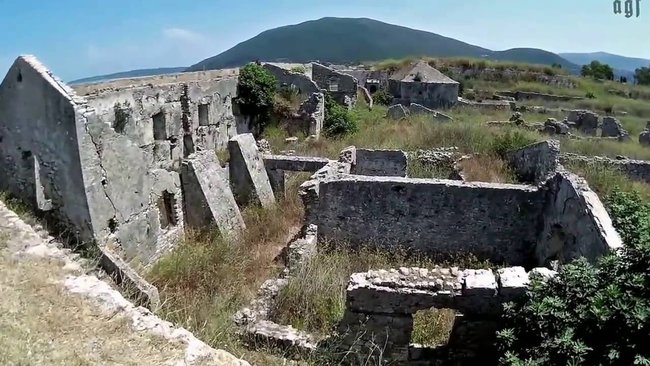 Village Kalamitsi
Located 23 kilometers southeast of the Lefkada, the village Kalamitsi offers stunning views of the nearby islands. originally settled to escape the pirates, the village these days has several places of interest including ancient windmills, and churches.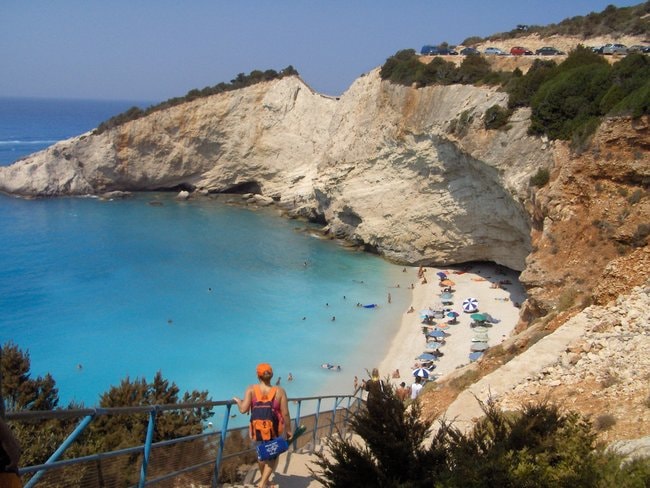 Porto Katsiki
This secluded beach on the southwest coast of Lefkada is a veritable paradise, buffeted by the calm blue waters of the Mediterranean. The impossibly clear blue waters, spectacular sunsets, and the smooth pebbled beach has ensured that Porto Katsiki remains a perennial favorite.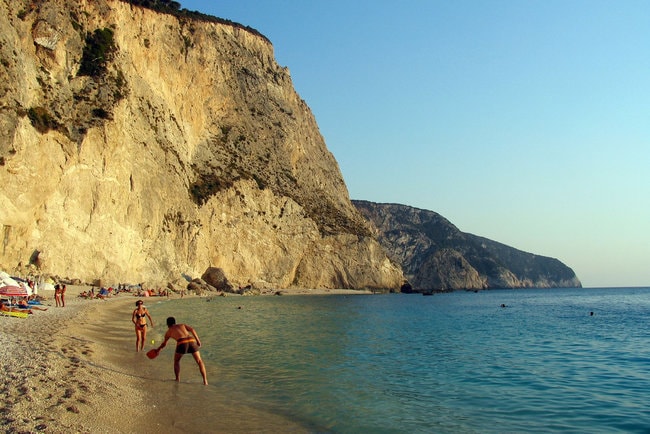 Papanikolis Cave
Named after the fabled Greek submarine operated during the World War II, the Papanikolis cave is a natural hideout in the water. You can also admire dolphins from close quarters as they love tailing the visiting boats.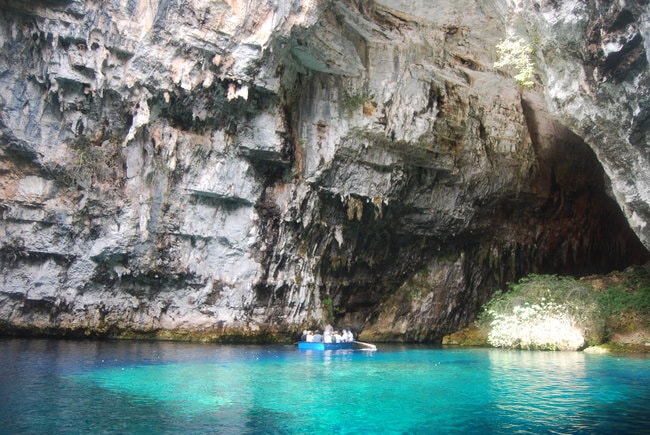 Syvota
Located southeast of Vassiliki, Syvota is popular with the sailing crowd as it offers a safe anchorage facility, as well as excellent provisioning facilities, restaurants, and bars.

Water Sports Activities We Enjoyed
Being with kids, and sharing the yacht with a couple who had a child of their own, we were very keen to enjoy some water sports activities.
Thankfully, the island of Lefkada has a number of water sports opportunities available, and we enjoyed a number of such activities.
For this, we headed to the popular Nydri Lefkada, known for its happening beaches.
The best part about the water sports activities we enjoyed, including safari jet ski, wakeboarding, water ski, and water bike, was the availability of trained professionals who ensured safe initiation and introduction.
We were handed all the safety gears, made aware of all the safety protocols, and, most importantly, allowed to have some incredible fun.

Food We Enjoyed Aboard the Yacht
As mentioned above, the primary aim during our sailing trip was to enjoy the sights and sounds of the Mediterranean in relative luxury.
We wanted a relaxing sailing trip, where we did not have to worry about the navigation or the food. We hired a professional chef as part of the crew, and it ensured that we were treated to some fantastic gourmet meals during our trip.
The fact that we were sailing with kids meant that repetitive and drab meals were out of question.
The menu was different on all days we sailed, with the chef making sure we enjoyed meals from all over the world.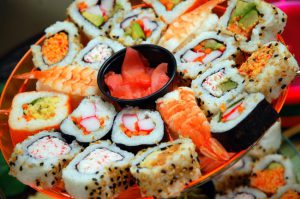 From grilled meats and fishes in a variety of marinades, impeccably prepared sushi, herb-laden curries from Southeast Asia, authentic Mediterranean cuisine, and gourmet burgers, we enjoyed something different during every meal.
The chef was especially aware of the special needs of children, making sure they had their favorite sandwiches and burgers prepared just the way they prefer.
A special mention has to be made for the desserts, as we were treated to sweet delights worthy of fine dining restaurants.
Experience of Sailing With People We Did Not Know
As mentioned before, we enjoyed this sailing trip with another family who had chartered a cabin for themselves and their child.
When we first decided to charter a cabin, instead of the entire yacht, we had some doubts about the kind of people we would be sailing with.
However, when we approached the charter company, they asked us detailed queries about the profile of people and families we would prefer during our trip.
In the end, we had a very pleasant experience with the family we sailing together with, as they had similar tastes and requirements as us.
We were able to forge a wonderful friendship, our kids got along very well, and it worked out as a lovely trip.

Why Did We Choose this Sailing Trip?
We thought hard about whether we wanted a cabin or an entire boat chartered, and in the end, we decided in favor of a cabin charter for a number of reasons.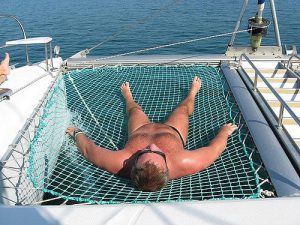 Firstly, we wanted a relaxed and leisurely sailing experience where we did not have to worry about navigation, managing the sail, provisioning etcetera.
In addition, we also wanted to enjoy a sailing trip with a like-minded family where we could share our experiences, forge friendships, and enjoy activities together.
Choosing a cabin charter allowed us to enjoy the sailing holiday just the way we wanted it.
All You Need to Know about Renting a Cabin
Before booking a cabin, there are a number of factors you should consider in order to have a stress free sailing experience.
Here is a list of some of the factors that you should think through before signing the dotted lines.
Sailing Options
You would have to decide whether you want a single or double occupancy cabins. Aside from occupancy, cabin charter boats are available as fully crewed, bareboat, skippered, flotilla, instructional etc. Depending on your needs and budget, you would have to choose among these sailing options.
Destinations
While cabin charter options are available at all the major sailing destinations across the world including Europe, Bahamas, Oceania, Southeast Asia etc, you would have to check with your charter company whether they provide this option in the region where you want to sail.
 Type of Boats
There is a range of options available in terms of the type of boat you want to sail on. You can choose a monohull, a catamaran, or a gullet, depending on your sailing preference. Yacht charter companies have a wide selection of boats of all sizes, from 40 feet to large yachts above 100 feet.
Length of the Boat
The number of people that can sail together depends on the size of boats and the number of cabins available. For example, a 60 feet catamaran with 4-5 cabin can easily accommodate 8-10 people excluding the crew. The duration of the sail is usually a minimum of 7 days or 14 days trip is also very demanded, but once again, it depends on the sailing region you choose to sail, and the provisioning capacity of the boat.
Itinerary
Unlike a full yacht charter, booking a cabin does not allow you the complete freedom when it comes to devising the itinerary. Typically, it is the skipper's responsibility to craft the daily itinerary. However, the skippers do regularly take into account the feedback from charterers and devise the schedule accordingly.
The cost
In terms of cost, cabin charter is the most budget-friendly. A typical cabin charter would work out more economical than a resort holiday of equal duration. However, the price varies between 2000$ to 8000$ depending on the type of yacht, the destination, and other factors.
What is included?
To know what is included and not included in the price, you'll need to ask your charter company because each society has its own set of rules for chartering a yacht and also each sailor has his own wish list!
My Charter Company of Choice
I used the services of Sailingeurope for booking a cabin and organizing the sail. From the very start, we were very impressed with their professionalism, and their willingness to meet our needs and requirements.
Whether it was making sure we got a cabin on the catamaran of our choice, the Lagoon 450, or ensuring we got a friendly and professional crew, every aspect of the sail was perfectly taken care of by the Sailing Europe yacht charter company.
We were a little anxious about the kind of people we would sail with, but the company put our fears to rest by asking us about our preferences and ensuring we sailed with a lovely family just like ours.
Conclusion
Hopefully, my experience of sailing by booking a cabin aboard a charter yacht should provide you enough reasons to plan your own trip. Booking a cabin is also a budget-friendly way to enjoy the many joys of sailing.
The trick, as mentioned above, is to know your needs and requirements, and carry out proper research so that you get the best deals.
It is also vital that you choose a reputed charter company, where they would take all the steps necessary to ensure you get what you were promised.
Want More Articles About Yacht Charters?
Sign up for Cruising Sea newsletter to receive every two weeks the latest post straight to your inbox!
For those with their own experiences of sailing by booking a cabin, I am waiting to hear from you in the comments section below.
Daniella has been passionate about travel, the sea, and nature for many years. As a child, she frequently traveled throughout the Mediterranean and continued with her journeys throughout her adult life.
Her experiences have created the desire within her to share her love for traveling with other passionate and adventurers who want to discover beautiful horizons and new cultures.