The Lagoon 50 is an all-new 48-foot-long catamaran from Lagoon that's designed and built by the French expert designers VPLP. The exterior design of the vessel was done by the legendary Patrick le Quement while the classy interior was the brilliant work of Nauta Design. What's more striking in the Lagoon 50, compared to other models, is her new sleek hull design, advanced sporty lines, and easy-to-handle rig and deck layout.
Aside from her stunning beauty on the outside, she boasts of a superbly comfortable interior, practical cabin layouts, and generous exterior deck space that can sync with every holidaymaker's needs. Her performance at sea is also uncompromising, something that takes the sailing experience to a whole new level.
The below Lagoon 50 catamaran review takes a close-up look at the vessel's design (both interior & exterior), onboard amenities, and what to expect when you charter it:
Accommodation
Lagoon 50 comes with six cabins that are capable of hosting up to 12 guests in utmost comfort and luxury. The master suite, which takes up almost all the space in the starboard hull, is equipped with a desk (with a built-in bookcase and small settee), ahead with a separate shower and walk-in closet/ dressing room.
On the port side, there are cabins fore and aft, furnished with en-suite separate head and shower. The port heads can be re-configured to create three single-stall heads with showers if need be. Instead of a walking closet, these cabins only have a cavernous storage space in-board, which can be easily transformed into another double cabin.
If you don't want a master suite, there is a 6-cabin, 6-head layout that you can make use of in this vessel. All the aft cabins are fitted with panoramic glazing that allows a generous amount of light to pour in. The large hull portholes in the showers and bathrooms of the cabins also add to the comfort at sea, especially when sailing during bad weather.
Interior
The cat's interior is spacious, with every design detail brought out perfectly to create a warm and cozy atmosphere. Her innovative saloon incorporates two separate but cohesive areas. On one side is a large galley, which opens onto the cockpit while on the other lies a slightly elevated lounge area that provides amazing vision over the waters.
The galley comes in two sections: two refrigerator drawers on the starboard side and a three-burner Eno stove and a sink on the port side. The countertop space on the galley is vast, making it more comfortable and more convenient for cooks and bartenders to prepare food and drinks.
Just close to the L-shaped galley in the saloon is a teak table with open leaves that can seat up to 12 guests. Opposite it lies a cushioned couch alongside a sink fridge and ice maker. All these, when combined with the plush accommodations, make relaxing and resting on board a soothing experience.
Exterior
Lagoon 50's helm is on the flybridge, where there's a long bench seat that can accommodate the captain and at least three companions.
Just below the flybridge is a cockpit area facing out to the sea with a huge modular dining area that's furnished with a dining table, comfortable sofas, removable benches, and storage spaces.
There are two access points to the flybridge, where you can enjoy great comfort and visibility. Vast storage spaces also exist under most of the flybridge and cockpit seats, where guests can put in their extra stuff.
Entertainment
Lagoon 50 is furnished with all the entertainment facilities that can make your onboard experience lively, fun and interactive. Within the salon, there's a flat screen TV, Video Cassette Recorder (VCR) and a stereo that you can use to entertain yourself and the guests.
You also have access to onboard Wi-Fi that's available 24 Hours. That means you can easily browse the internet and share your experiences with friends and family online at any time of the day.
Performance
The 50's twin 57-HP Yanmar diesel engines (upgradable to 80 HP) with sail drives and folding propellers can deliver up a cool 9.5 knots at 3000 rpm. If you're looking for fuel efficiency, then you can go at 2200 rpm with 7.5 knots in speed. Lagoon 50 further has a networked plotter and autopilot, a self-tacking jib, a bow thruster, and power winches, which make her performance stunning.
Where Does Lagoon 50 Sail
Lagoon 50 is available for sailing across many places. But in a typical summer, you'll find it in Croatia. The preferred pickup point is Marina Kastela, SPLIT. Alternatively, you can use the other pick-up area, which is ACI Dubrovnik, if you feel that's a more convenient point for you.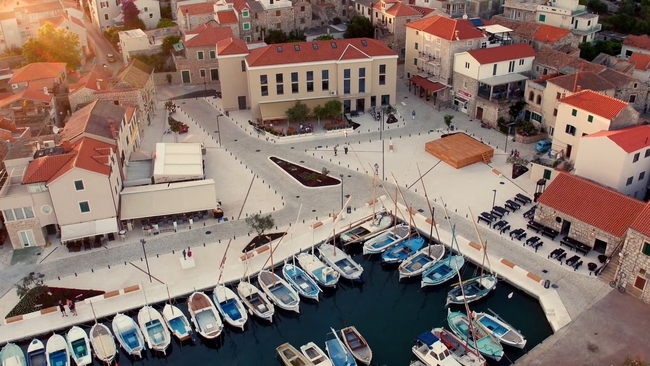 Why Sailing Lagoon 50?
Sailing the vessel, first of all, presents a unique opportunity to tour and explore all the dreamy coastlines, islands, and cays you've ever thought of. And with a full crew on board, your coveted holiday destination to the fullest without having to worry about the responsibilities that come with operating a catamaran.
Looking at the vessel's superb amenities from the interior saloon to the cockpit all through to the foredeck and flybridge, it is obvious that you'll be set up for a fun holiday experience. There is also snorkel gear and a swim platform on this cat, which will serve you pretty well when at one point you decide to engage in some adrenaline-pumping activities at sea.
Both on the vessel's interior and exterior, there is amazing
seating, dining tables and lounge areas that are designed for the ultimate vacationer. So, all you can do for your holiday on this vessel is to lazy around, eat some great food, indulge in good cocktails and soak yourself completely into the coastal scenery.
Conclusion
Sailing aboard the Lagoon 50 is an experience that can never be boring at any one point of the journey. With plush accommodations, great amenities, and a super spacious deck, the vessel sets a platform for a fun, engaging, and rewarding experience at sea. And so it's a perfect catamaran with which to take your adventures to the sea alongside your friends and family.
---
Specifications
Type: Cat
Beam: 8.10 Metres
Draft: 1.40 Metres
YearBuilt: 2019
Builder: Lagoon
Berths: 12 +2 Cabins: 6 +1 WC / Shower: 4 (4+1)
---
---
Have you already sailed the Lagoon 50? If so you are welcome to share your experiences in the comments below.
Daniella has been passionate about travel, the sea, and nature for many years. As a child, she frequently traveled throughout the Mediterranean and continued with her journeys throughout her adult life.
Her experiences have created the desire within her to share her love for traveling with other passionate and adventurers who want to discover beautiful horizons and new cultures.