Whether to go sailing or fishing, it is essential to wear polarized sunglasses to protect the eyes against the UV light! If your eyes are exposed to the ultraviolet rays of the sun, and you don't wear sunglasses, chances are your eyes will get hurt.
But, it is not the only reason, though!
Wearing polarized sunglasses can also improve your vision and gives you a nice stylish look!  There are many types of sunglasses out there, thus, it would be good to know about the kind of lens, frame, and color so you can pick the right fit.
Choosing the best-polarized sunglasses for boating is very simple! You just need to go over some technical details, and you are good to go!
---
Protecting Your Eyes From The UV Radiation
The light is much brighter on the water than on land!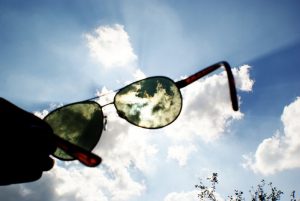 When the sun reflects off the surfaces of water or white decks, it dazzles you to the point that you can barely see anything.
Not only it has a terrible impact on the vision but also can cause you headaches and visual discomfort.
Contrary to what many people might think, even on cloudy days, the glare of the sun is present.
Most of the dark-colored lenses sunglasses can lower the intensity of the light by 80-90 percent, which is not bad, but it's not enough to protect your eyes if you are on the water!
For boating or fishing, you must wear polarized sunglasses that are designed to block 99-100 percent of the UVB and UVA rays.
My aim is not to frighten you off, but not protecting the eyes from the sun, can lead to eye diseases such as cataracts, snow blindness, photokeratitis, and more!
---
How Does Polarized Lens Work?
When the light reflects off the water, the reflected light usually vibrate in one direction and becomes polarized. As I've mentioned above, even on cloudy days the glare can be dangerous to the eyes without you realizing it!
If you are in the sun, and you blink your eyes, it will lower the light intensity, but it will not block the glare! Also, non-polarized sunglasses will help reduce the dazzling effects, but again will not eliminate the glare!
The purpose of Polarized sunglasses is to block light waves when they are oriented properly, meaning the lens will not block the light waves if those move in a specific direction!
Polarized lenses feature polarizing film of molecules that block horizontally light waves while allowing only the vertical light waves called "ambient light" to pass through. The vertical light waves don't create glare because they are dispersed evenly.
You can check if your lenses are polarized by inclining your head when you wear your glasses. You will realize that they block the glare better in certain positions than others.
---
---
What Is Light Transmission (VLT)
The visible light transmission is the amount of light that passes through the lens, which is expressed as a percentage of total light. Below is a small guide that will help you choose the lenses based on the VLT percentages:
0-19% VLT: Perfect for bright days
20-40% VLT: Excellent for all-purpose utility
Over 40% VLT: Best for cloudy days and low visibility conditions
Over 80-90%VLT: Useful for poor light and night conditions


---
How To Choose The Right Lens Colors?
The amount of visible light transmission absorbed depends on the densities of the lenses. For example, if you are boating on a shiny day, you'll need to wear the darkest lenses, meaning the lowest light transmission. There are several lenses of different colors, and each of them provides different effects and light protection. Here a list of the various type of color lenses.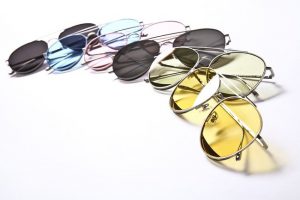 Gray: These reduce glare as well as provide excellent contrast and don't distort colors! Great to use on water as well as on land and are also ideal for driving.
Brown/Amber: These will not only give you a special look, but they will also improve your vision! Its amber tint provides you a crisp vision and allows you to see things more clearly. You can wear Amber lenses in any light condition, whether in the sun or on cloudy days, they significantly reduce glare. These are perfect for boating, fishing, and for many other outdoor activities.
Yellow: These provide excellent clarity in any low-light condition, meaning you can wear them on foggy, or on cloudy days. The yellow lenses cut blue light rays, which is known as "Blue Haze" thus improve depth perception. But they tend to distort colors. These are ideal for outdoor and indoor activities.
Roadster: These lenses also cut the blue rays and sharpen your vision. Not only they adjust contrast as well as improve visual depth, but they are very comfortable to the eyes. The Roadster lenses are ideal for driving cars, cycling, and motorcycles.
Green: These lenses don't distort colors and Heightens contrast in specific light situations such as boating or sight fishing, but can also be worn for everyday use.
---
What Shape Of Lens?
Curved lenses bend the light rays when it passes through the lenses, it prevents the light from entering to your eyes in a straight line. The problem with these lenses is that your eyes focus only on correcting the images, which can cause headaches and visual discomfort. Although, it is possible to eliminate the effect of distortion with corrected prismatics. Before you buy curved sunglasses, make sure it is written "distortion-free prismatics" on the label.
Good sunglasses lenses have several layers of coating on the inside such as antireflective that reduce bounce back and water-repellant to get rid of water faster.
Flat lenses are more comfortable to the eyes and provide much clearer visual information. In one word, the flatter the lens, the better!
---
What Type Of Lens Material?
Polycarbonate Lenses
Lenses made of polycarbonate are solid and safer than glass because they resist to shocks incredibly well! The downside about the Polycarbonate material is that it is highly susceptible to scratches, which is why sunglasses made of polycarbonate are coated with a scratch-resistant layer for better protection. Also, polycarbonate lenses are durable, lightweight, inexpensive and protect the eyes from the UV rays. These are very appreciated by sports lovers such as sailors, fisherman, and hikers to name a few.
SR-91 Lens Material
SR-91 lenses is a new polarized material that was created by Kaneon company, which has been around for years. Its optical quality is very similar to polycarbonate, but is of much superior quality, meaning there are much lighter, stronger, clearer and are far less susceptible to scratches.
Glass Lens
Glass lenses provide the best image quality and fantastic vision and are more scratch resistant than polycarbonate material. The downsides about the glass lenses are that there are much heavier, making them uncomfortable to wear after a long day. Also, they can easily break into pieces and are more expensive than plastic lenses.
CR-39 Lens Material
CR-39 is the first ultra-lightweight lens made of a plastic polymer that was created by the Armorlite company in 1947. These lenses provide a much superior visual quality than polycarbonate and are more scratch resistant than all plastic lenses.
---
Choosing The Type Of Frame!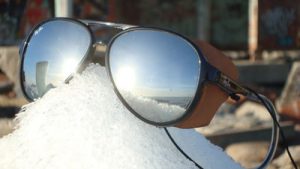 Nylon, acetate, and propionate are the best frame materials for boating because these are flexible, lightweight and durable.
Metal frame gives a great stylish look but if it gets in contact with salt water, it will corrode quickly, and the color will turn into awful green.
Frame hardware is made with spring hinges or with pressed-in pin hinges for more comfort. The best frame hardware is made with high resistance to corrosion, which protects the frame material incredibly well! So, when choosing sunglasses, make sure the frame hardware is corrosion-proof.
Wire core sunglasses feature a solid wire embedded in the earpieces, allowing you to adjust the shape of the earpieces to your fit. These are incredibly comfortable on the face.
---
In Conclusion
Protecting the eyes from the UV rays is a must, and if you do so, you can be sure your eyes will serve you for years to come! There are many types of sunglasses and find the one that fits you can sometimes be difficult. The best way to find a good pair for yourself is to try many styles of polarized sunglasses until you get the perfect fit!
Want More Tips? 
Subscribe to Cruising Sea newsletter to receive every two-week the latest post straight to your inbox
What about you? Do you wear polarized sunglasses to protect your eyes? If so, share your experience in the comments below.
Daniella has been passionate about travel, the sea, and nature for many years. As a child, she frequently traveled throughout the Mediterranean and continued with her journeys throughout her adult life.
Her experiences have created the desire within her to share her love for traveling with other passionate and adventurers who want to discover beautiful horizons and new cultures.