What Is A Crewed Charter Vacation?
Crewed yacht charter holidays have become increasingly popular among charterers and holidaymakers because they deliver the ultimate all-inclusive sailing vacation experience. A typical crewed yacht comes with a resident skipper, chef, hostess and/or deckhand. That means all responsibilities about sailing, cooking, cleaning, etc are all dedicated to the crew. So as a charterer, all you have to do is relax and explore all the exotic destinations and exciting open-water passages on your itinerary like a boss.
---
Type of Crewed Yachts
There are typically four types of crewed yacht charters that you can choose from. They include the following:
Motor Yachts
A motor yacht, in its simplest terms, is a boat that's powered by an engine. Modern motor-powered boats are designed with a comfortable and upscale feel to it. They usually come in different styles including Sedan Bridge, flybridge, pilothouse, express-style and more.
Aside from having ample deck space and roomy interiors, motor yachts tend to be sexier, faster and more relaxed. A sizable motor yacht comes with huge foredeck lounge space, boutique hotel-style cabin suites and a bridge that can offer guests stunning views of the sea and the area around.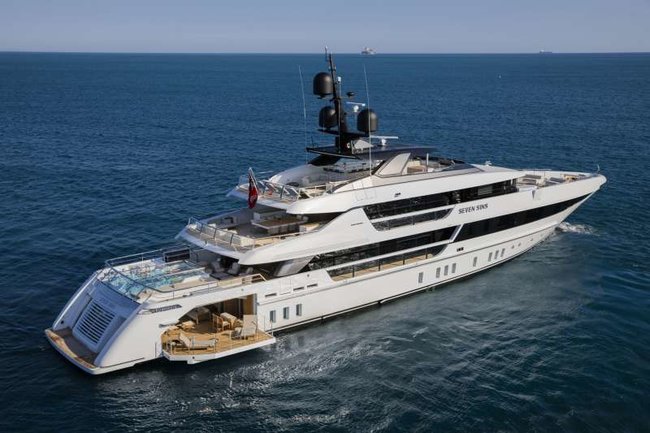 ---
Sailing Yachts
If you want to sail under peaceful conditions while enjoying the romanticism of communing with nature, then a sailing yacht can be the best pick for you. Sailing boats entirely depend on wind for propulsion; hence they can be more cost-effective with longer trips.
Perhaps the only notable disadvantages are that they require strong, consistent winds to sail and that they have deeper drafts, which requires them to stay further from ashore and/or shallow waters. Otherwise, exploring your chosen destinations with a crewed sailing boat can be as much fun as with a motor yacht.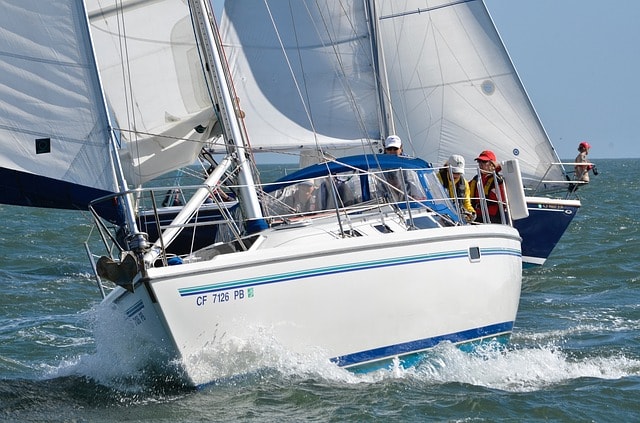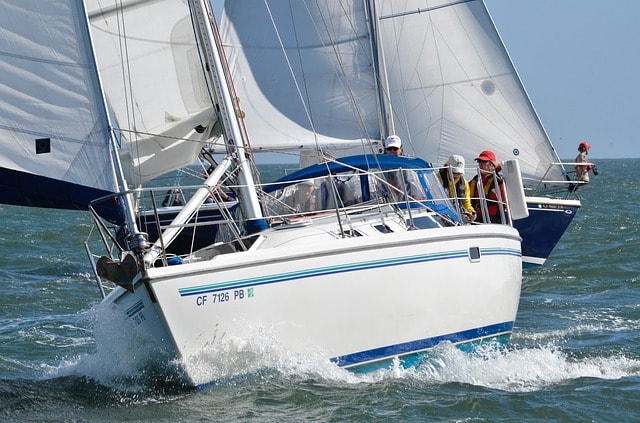 ---
Catamarans
Designed with two or more hulls, catamarans are king when it comes to space and stability. A typical catamaran boasts of a massive deck, saloon and cabin spaces, which makes living aboard not only comfortable but also entertaining. Also, with a smaller draft, the vessel can comfortably sail closer to the beach (in sandy bays) or even put hulls on the ground. Hence, with a catamaran, you have the freedom to chartering to any destination in style and enjoy as many fun activities there as you can.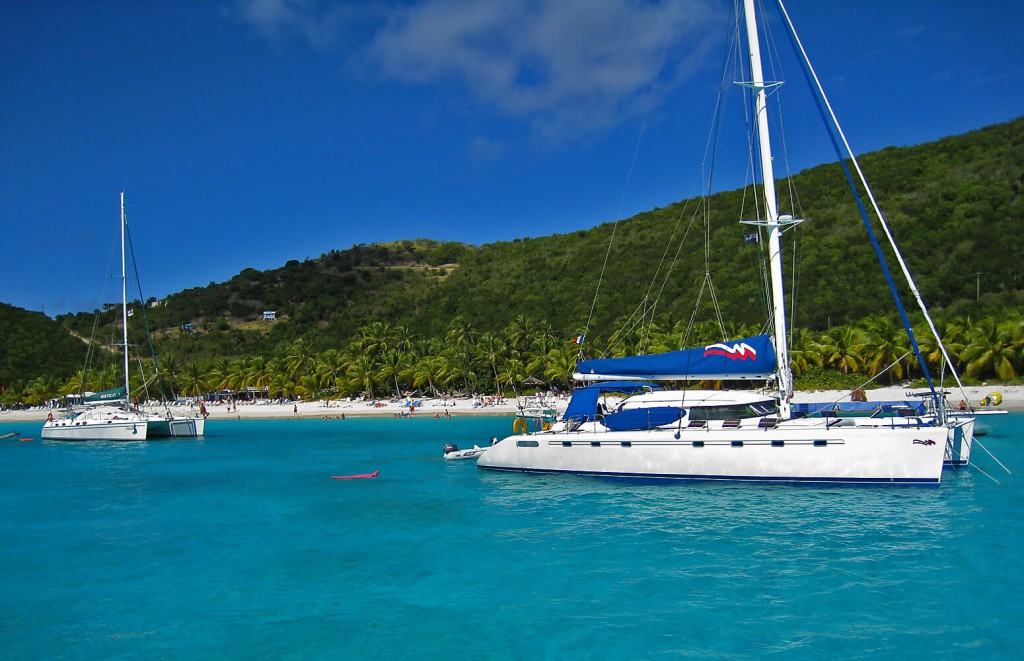 ---
Motor Sailors
A motor sailor is a pleasure yacht that's propelled by sail and engines in equal measure. With this kind of vessel, you have the convenience of sailing purely using wind (when conditions are right) and can ease the sails, turn on the engine and get cruising on a windless day. With the ability to switch between sails and engine power, you have an opportunity to save more on your itinerary, especially when the conditions are favorably windy.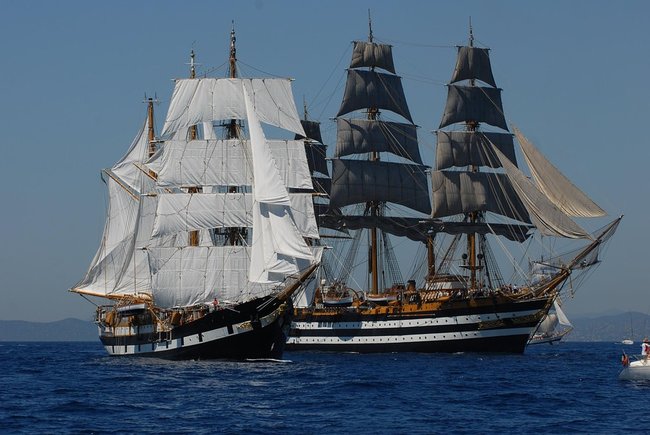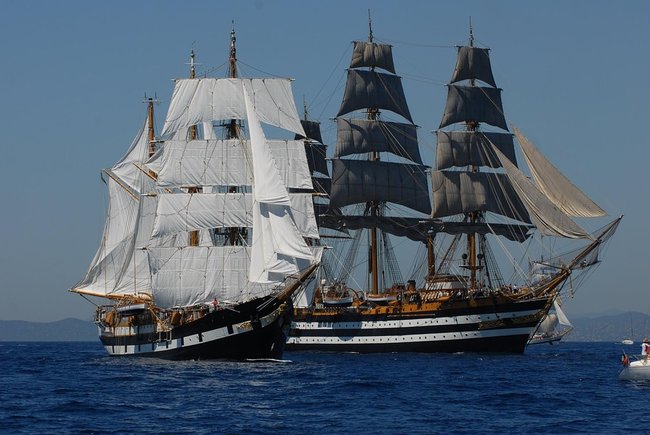 ---
Where Does a Crewed Yacht Sail?
Crewed yacht charters sail anywhere, provided the chartering service is provided in that sailing destination. However, it is essential to understand that yachts are always traveling from one island or destination to the next. So if you would want to charter a specific vessel, be sure to check for availability of your preferred pick-up location before booking.
---
Who Choose the Itinerary?
Crafting the itinerary is usually the responsibility of the skipper, and he/she is always ready to listen to your requests and put them into consideration. All skippers have a deeper understanding and knowledge of the islands around. Hence they can guide you on the best places to visit, based on what you would want to see or feel like doing. So it is possible to have an itinerary that matches your plan or the activities you love to do.
---
What Activities to Do on a Crewed Yacht?
There are lots of fun activities you can enjoy on a crewed yacht. You can get the adrenaline pumping by trying out the provided toys in the water, organize a party with your group and toss to the good life or just chill onboard as you read a good book. You are free to enjoy all these activities, one at a time, based on the day's mood or plans.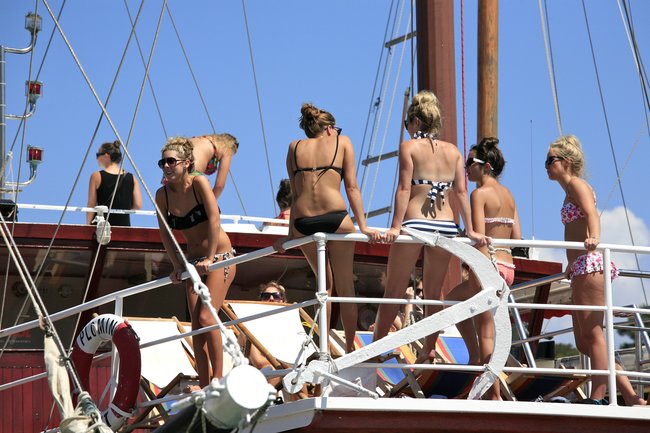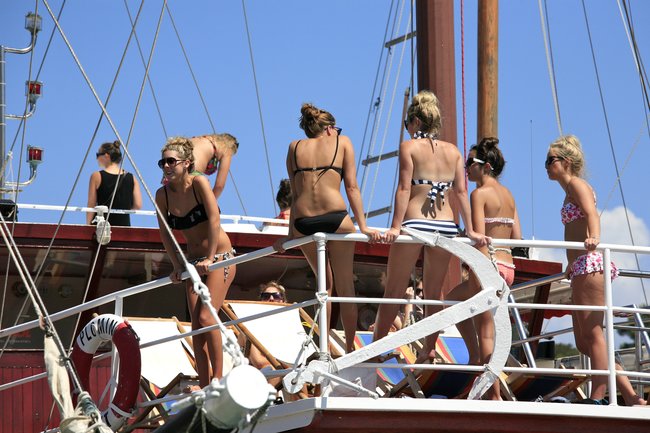 ---
What Water Sports Equipment are there Onboard?
The type of watersports equipment included in the charter usually varies from one yacht to the other. However, a typical crewed yacht may come with water sporting toys like a dinghy, Stand up Paddle (SUP) board, snorkeling equipment, water skis, inflatable tubes, kneeboards, and fishing equipment. You can always check the availability of specific equipment with your charter company (if interested in water sports) before booking the desired vessel.
---
What Is The Charter Duration?
The standard charter period is usually 7 days/nights. However, shorter charters can be arranged but at a surcharge of 10 to 20 percent of the pro-rated charter price.
Boarding and Disembarking Time
With most yachts across various sailing destinations, boarding is usually done from 12:00 noon of the specified charter start date. Disembarking is also generally from 12:00 noon on the charter completion date.
Cost of a Crewed Yacht Charter
The average charter price for a crewed yacht lies around $1,200 to $1,300/person. However, the price can stretch higher depending on the kind of luxuries you might want to engage in. The specific charter price, in this case, will be influenced by the size, year of build as well as boat style and amenities.
---
What Is Included?
The things included will usually vary depending on the type and place of charter you book. For instance, Caribbean crewed charters are often all-inclusive. That means such things as food, non-alcoholic drinks, standard bar (wine, cocktails, beer) as well as water sports equipment and activities are part of the base charter price.
The Mediterranean crewed charters, on the other hand, use the APA system when it comes to catering for expenses. The initial charter price will cover the yacht price, yacht insurance as well as crew wages. The APA will then cover other relevant vacation expenses.
What Is Not Included?
Such things as crew gratuities, fine wines & premium liquors and dockage & mooring fees are not usually included in the base charter price. Taxes, relocation fees as well as cruising licenses and permits may be treated as extras.
---
What Is APA?
APA (Advance Provisioning Allowance), which constitutes 20 to 30 percent of the charter price, is a fund board that serves to cover the cost of charter expenses like requested supplies, diesel & fuel, port & mooring fees, crew gratuities, and communications. Special onboard services, personalized itinerary, and premium foods & beverages may also be included in the APA.
The captain will be responsible for keeping an accurate record of the spending during the vacation. At the end of the charter period, you'll either be refunded or requested to pay the difference, if any additional operating costs were incurred.
---
Is Insurance Required?
When planning to set out on a yacht charter, it's recommended that you have Travel Insurance with you in case of any accidents or damages at sea. Your charter contract will always provide details of the yacht's insurance provisions. However, as a matter of precaution, you are encouraged to purchase additional liability coverage to protect both you and the guests onboard against unforeseen circumstances or mishaps at sea.
---
What is the Difference Between a Crewed and Skippered Yacht Charter?
A crewed charter usually includes a minimum of a skipper and a chef/hostess to prepare meals and/or do the cleaning. A skippered charter, on the other hand, provides you with only a skipper who's responsible for sailing and taking care of the boat. That means the responsibilities of provisioning the vessel and preparing meals (including those of the skipper) rest on your shoulders as the charterer.
---
Are There Communications Available Onboard?
Most yachts come equipped with the latest communication technologies including cellular service, PCs, fax machines and global satellite telecommunications. So, you can be sure you'll be reachable any time regardless of the position of the yacht's position.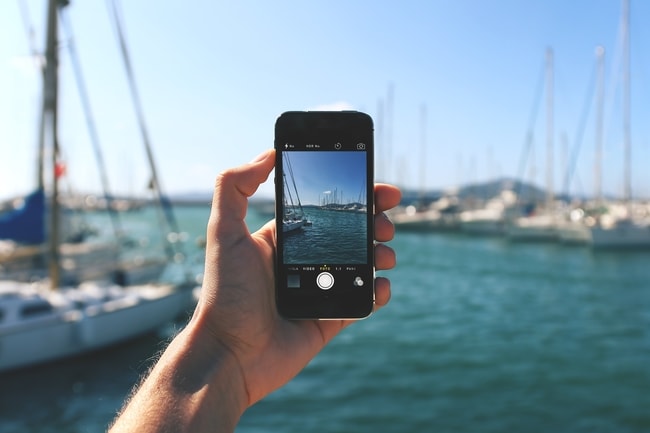 ---
What About the Privacy?
Crewed yacht charters always offer lovers a great way to celebrate their honeymoon. Most crews are accustomed to entertaining guests onboard but they are also respectful enough of your privacy (as a charterer). So in the case on a honeymoon, the chartering company will provide a crewed yacht with a romantic vacation in mind.
---
Where Does the Crew Sleep Onboard?
The crew members always have their own cabin(s) on the yacht. This guarantees you of privacy at all times.
Can I Specify the Meals According to My Preferences?
Yes, of course! After doing charter confirmation, the chartering company will present to you a preference sheet to complete. With it, you can specify any dietary restrictions, allergies plus all the favorite foods you'll want to have. Your chef for the charter will then tailor the menu to suit all your tastes and requests. He/she can even prepare special food for a celebration such as a birthday party or an anniversary.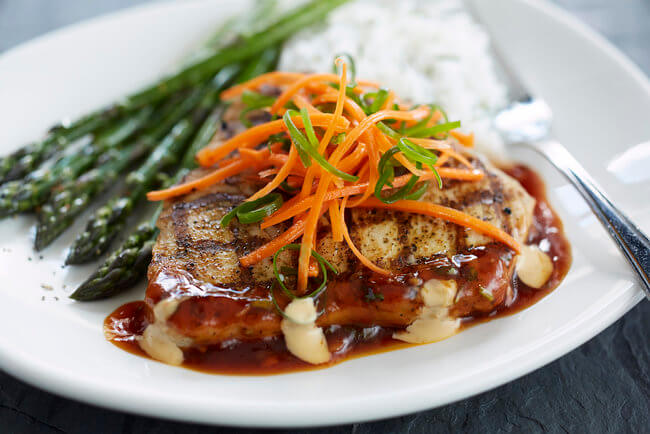 ---
Are Children Allowed on a Crewed Yacht?
A crewed yacht charter offers many things that can make kids' holiday fun-filled. From exhilarating water sports to fishing through to learning about stories of pirates and treasure, kids will just never get bored aboard the yacht. Some crewed yachts will have a minimum age requirement though. So it is important to inform the chartering company that there are children in your group and they'll provide you with the best options.
---
Is Smoking Allowed on Board?
Most yachts usually allow guests to smoke on the transoms. There are some that do not completely allow smoking on the yacht. If there are any smokers in your group, you can inform the chartering company, who'll recommend a suitable yacht for you.
---
How to Tip the Crew
Leaving a tip or gratuity to the crew is something you may want to do, especially if you feel overly satisfied with the trip. Typically, a tip is usually 10 to 20 percent of the charter price, and you'll need to give it to the skipper (who'll share it among the crew) at the end of the charter period.
---
Why Charter a Crewed Yacht?
Chartering a crewed charter presents many fun sailing holiday opportunities that you not miss. Aside from having all the provisioning taken care of, you are provided with a crew that ensures you sail safely, eat and drink merrily and explore all the best island and spots around. Water sporting toys are also at your disposal, presenting endless water exploration opportunities that will turn into lasting memories.
---
Who Is a Crewed Yacht Charter For?
A crewed yacht charter is best suited for anyone who has little or no experience sailing or those who would want to make the most out of their holiday by spending more time with family and/or friends onboard. The charter option simply has everything covered from the sailing itself to the meals and drinks all through to cleaning. So as a vacationer, yours is just to relax, explore and have fun.
---
Conclusion
This is all there's to know about crewed yacht charters. For a more fun and fulfilling holiday, be sure to find a yacht that matches your needs in terms of onboard space and amenities, desired charter destinations and preferred holiday spending. There are lots of yacht chartering companies out there, so be sure to compare and find one that offers yacht options that can give you the best of holiday fun and memories.
Request Your Yacht Charter Quote Now
Have you chartered a crewed yacht? If so, you are welcome to share your experience in the comments below.
Daniella has been passionate about travel, the sea, and nature for many years. As a child, she frequently traveled throughout the Mediterranean and continued with her journeys throughout her adult life.
Her experiences have created the desire within her to share her love for traveling with other passionate and adventurers who want to discover beautiful horizons and new cultures.