To be honest, I wasn't surprised to hear that Crocs has sold more than 300 million pairs of footwear during the past decade because. No wonder, these fun shoes are easy to slip on and off and are extremely comfortable. However, there are many different models of Crocs on the market, and the one that I describe in the article is the most popular of all time!  In this Crocs classic review, you will find out why people love them so much after putting them on!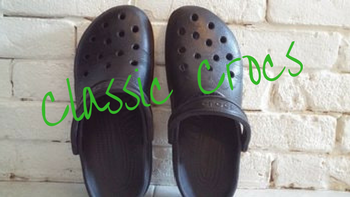 Comfort
Crocs are very comfortable and flexible. These shoes are made of Crostile material. The great thing about this material is that it is compressing as well as soft and lightweight. This material absorbs shocks incredibly well and is super waterproof. I honestly didn't find any downside about the comfort. With the Crocs, you can walk comfortably without feeling any pain while walking or standing for long hours.
---
Versatility
These Crocs are easy to slip on and off and are also 100% waterproof. Therefore, you can use them to go sailing, go to the beach, the swimming pool, to stroll around the town or even to do gardening. The only thing I wouldn't suggest you do is to wear them on wet floors because they become quite slippery once the outsoles are worn out. Other than that, the material is lightweight and durable, making them fantastic shoes for everyday use!
---
Style
Many people find the Crocs quite ugly. Yep! But the funny thing about this is that when they read reviews on Amazon, they jump on the opportunity to buy them!
And once they wear them, they forget the fact that they are ugly. Why? Because these are not only extremely comfortable and easy to wear but also super versatile!
I personally think they are fashionable and cute. There are a wide variety of colors to choose from, and the fact that I can wear them with any jeans and shorts is a big plus! If you feel good in sporty outfits, then you will definitely love Crocs's look!
---
Durability
The Crocs are amazingly durable. You can expect them to last a long time. What I mean by this is that they will serve you for years to come! Believe me, these are unbreakable! I am not exaggerating, even if a truck drives over these shoes, they will remain intact. Oh yes, of course, they will get dirty, but that's all! The only thing I've noticed is that the outsole wears out quite rapidly if you wear them often on though surfaces, but that can happen with any shoes.
---
Straps
What I really like about The classic Crocs is that it features heel straps that you can fix on the top of the shoes so you can slip them on and off easily. Or if you prefer, you can either leave the straps behind your heel to hold your feet in place while walking. If you don't plan to use these straps, you have the option to take them off. It is a bit difficult to remove the straps at first, but once you play with them a few times, the hole stretches out, and it becomes much easier to detach them!
See On Amazon
---
Where to Wear Crocs?
Since the classic Crocs are made of stiff material and are also 100% waterproof, you are free to wear them where ever you feel comfortable. Meaning, you can wear them on the beach, in the street, around the house, swimming pools and even in the yard. The only downside of walking with Crocs is that debris gets inside the sole easily since they are open on the sides and have holes on the upper. The good news is that they are easy to clean, you just need to shake them a bit, and you are good to go!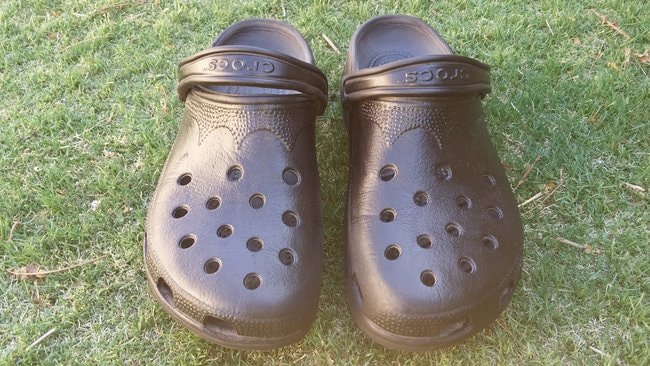 ---
When to Wear Crocs?
It may be hard to believe, but you can wear the Crocs throughout the year! Of course, in the winter it's better to wear them around the house because obviously, it is way too cold outside unless you wear them with socks!. In the summer, you are free to wear them where ever you want. Whether on boats, on beaches or in swimming pools, they tick all the box!
---
Things Not to Do With Crocs
As long as you don't participate in a marathon with your Crocs, you can do whatever you want with them. If you walk on pebbles or small rocks in the water, just make sure to place the straps on your heels to hold your feet. Otherwise, you may lose them! As I have mentioned it above, I highly recommend you to avoid walking on wet surfaces especially on tiled floors as the outsole tend to get slippery when they are worn out. If you have cats or dogs, do not leave them within their reach. Dogs chew them, and cats scratch them, well at least mine!
---
Who Are The Crocs For?
If you like shoes that are, comfortable, lightweight as well as easy to wash and that you can wear everywhere, then the classic Crocs are perfect for you. These are the type of shoes you can walk in without feeling you have shoes on your feet! Also, you can wear them for any purpose, whether to do watersport activity, walking on the beach, strolling in the town or just to go quickly to the supermarket.
---
Should You Buy Crocs?
Well, Yes, because these are super comfortable and lightweight, you can wear them all day long!
They are waterproof, which is awesome! You can use them as water shoes or as flip flops to take a shower if you don't want to go barefoot on the floor. For example in public pools or camping showers.
They are extremely durable. They will serve you a long, long time!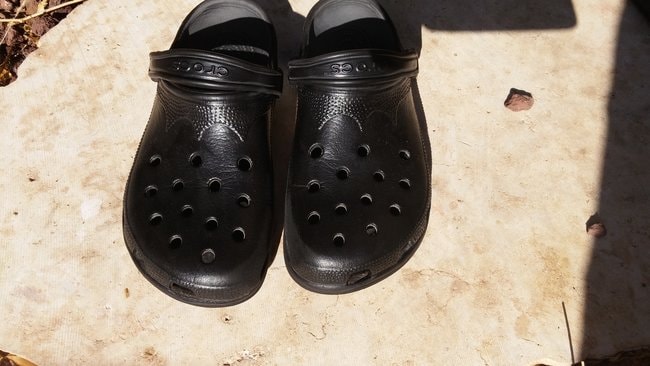 ---
Pros
Super comfortable!
Extra Lightweight
Can be washed in any water temperature
Easy to clean
Easy to dry
Roomy
Cons
They get slippery on tile floors when the outsoles are worn out
Feet tend to sweat in hot weather.
Feet get dirty if worn without socks
---
In Conclusion
When I am in a rush or just lazy to put my socks and my shoes on to go to the corner store or to go for a walk with my dog, I just slip on my Crocs, and I am ready to go! So if you are most of the time in a hurry like me, then you should grab a pair of Crocs too, you'll be very glad you did!
What about you? Do you wear Crocs? If so, share your experience in the comments below.


AMAZON AFFILIATE DISCLOSURE
Cruising Sea is a participant in the Amazon Services LLC Associates Program, an affiliate advertising program designed to provide a means for sites to earn advertising fees by advertising and linking to Amazon.com
Daniella has been passionate about travel, the sea, and nature for many years. As a child, she frequently traveled throughout the Mediterranean and continued with her journeys throughout her adult life.
Her experiences have created the desire within her to share her love for traveling with other passionate and adventurers who want to discover beautiful horizons and new cultures.