A family sailing vacation in Greece is a unique adventure everybody should experience at least once in a lifetime, but you certainly have some questions running through your head before going on a sailing trip! So let's find out all the answers!
Are You Going to Be the Captain?
The primary thing to know is what kind of yacht charter you are going to choose. Maybe you are planning to charter a bareboat, which I don't recommend if your children are still young because you'll find yourself working more than enjoying your trip. You'll have to be careful they don't play with electric appliances or jump out of the boat. This could be very exhausting!
If you want to enjoy and still be a part of the boat care, which mean, do what you usually do at home, cooking, household tasks, then, a skippered yacht will be the right choice for you. If you don't want too much pressure, you can always hire a chef/made.
What if the Weather Change?
The weather suddenly can change and become agitated, and if it's the case, the skipper will modify the itinerary and will take you in protected waters to avoid any inconvenience. That is the reason why it is preferable for beginners and family to sail in the Aegean,  Peloponnese, or in the Ionian Sea.
Which Precautions to Take?
For the first aid, if something happens, we never know, someone can be sick or need some care, there is always a medical center or pharmacy store on each island. It is preferable to be organized and take some precautions with you. So, buy a trip assurance before you start your sailing vacation!
The Advantages of a Flotilla!
A flotilla holiday is also a good option. The benefit of a flotilla is that you'll be sailing with other boats on the same itinerary, which is, in my opinion, fantastic for you and your children to meet new friends and have fun!
What about a Crewed Yacht?
A crewed yacht is awesome to sail with family. You don't have to do anything. The captain will handle the boat, and the chef will prepare delicious meals for each member of the family while you'll enjoy fully being with your lovely children. You'll be swimming in the crystal blue water of the open Ocean, play their favorite board game, watch a good movie together, do some water sport, and even some hiking. What can we ask more?
Children on Board
Maybe you have some doubts your kids are going to ruin your holiday because they'll feel stuck on the boat. Many travelers have the same thoughts about this subject, and I can tell you that this rarely happened. Contrary to what you might think, your children will behave quite differently. They will be more independent, and they will be hypnotized by the fact that they are sailing on the open ocean.
Make the Rules Clear!
Before you start the trip, make sure you discuss with your children about the safety rules, make it clear, and when you'll step on board, just reinforce the rules topic! The most important rules to give to your children are,
always wear a life jacket when they are on the deck, or in the water.
Never be alone on the deck without adults.
Always listen to the captain who is responsible for the boat safety.
Always ask permission to touch material
Spend Some Energies
Make more stops on the beaches, this way they can spend their energies playing in the sand, running, and swimming in the clear blue water. Although crewed yachts are well equipped and have all the water toys, you'll need to enjoy all sorts of watersport, such as Towable toys, paddle boards, sea bobs, sub wing, water slides, inflatable sea pool, inflatable playgrounds, water ski, fishing gear, and jet sky. But, it is always useful to take with you some toys to make some beautiful castles on the beach. They will love it!
Make your children your best partners, allow them to participate in the Anchorage, the handling of the boat, and give them some responsibilities. You might be pretty surprised by the result:)
Catamaran for Sailing Family!
The choice of the boat is very important when you decide to sail with the whole family. So I strongly recommend chartering a catamaran, which is, in my opinion, the best boat for children, and for the parents. This boat is absolutely fantastic, it offers plenty of space, it is stable, and possess a wide trampoline where you can sunbathe, relax or have fun and jump together.
Where to Sail with Family?
As I've mentioned above, the most recommended sailing areas for beginners and families in Greece are in the Aegean Sea, Peloponnese, and the Ionian Sea, The waters are calm; you'll discover beautiful bays and coves where you can adventure. The Ionian Sea has a mild climate with beautiful vegetation, and the wind is less strong than any other areas in Greece. This is the perfect area to experience a safety sailing trip with children.
Great Marinas to Stop
The main marinas in the Ionian are Corfu and Lefkas, which are pretty safe areas for private yachts and charter boats also.
Kalamata, Kiato, and Longa are three beautiful marinas located in the Peloponnese which is also excellent areas to anchor and to have a pleasant stroll around the town. If you sail the Aegean, then the best marinas to anchor are:
Pythagorion
Thessaloniki
Moudros
 Sigri
These are charming places to stop and visit!
The Best Seasons to Sail
There is no perfect time to sail in Greece, it will all depend on your personal preferences. The peak seasons for families cruising with children are June, July, and August. It's crowded, hot, and there are plenty of attractions for everyone. September and October are excellent months. Tourist attractions are still open, the weather is awesome and the crowds are gone!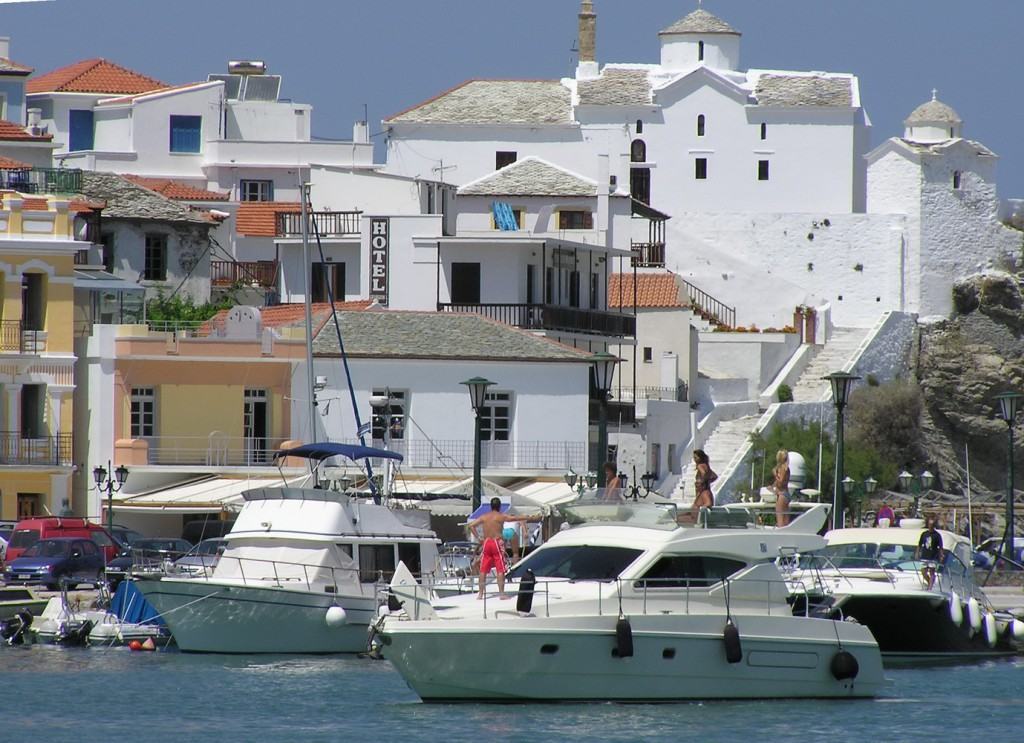 If it's your first time sailing in Greece with a young family and you have no idea, or you don't know what to expect. Then, I can tell you that as soon as you are in this beautiful country, your fears will allay, and you'll begin an enjoyable and an unforgettable holiday.
For more information on Greece yacht charters:
Boatbookings.com
USA +1 954 892 5009
Email: charter@boatbookings.com
Want to Know More About Greece?
Sign up for Cruising Sea newsletter to receive every two weeks the latest post straight to your inbox!
Have you been on a family sailing vacation in Greece? If so, feel free to share your experience in the comments below.
Daniella has been passionate about travel, the sea, and nature for many years. As a child, she frequently traveled throughout the Mediterranean and continued with her journeys throughout her adult life.
Her experiences have created the desire within her to share her love for traveling with other passionate and adventurers who want to discover beautiful horizons and new cultures.