Staying in Sorrento and want to visit Capri in a day? If so, the Full-Day Capri Island Cruise from Sorrento is a trip you shouldn't miss at all costs! While cruising through Capri's most beautiful gems, your crew will pamper you and your loved ones with delicious snacks, drinks, and delicious limoncello. Sounds good to you? Let's get started!
This post contains affiliate links. If you use these links to buy something, we may earn a commission. Thanks."

Duration of the tour: 7 to 8 hours (Approx)

The tour is offered in four languages: English, Italian, Spanish

Maximum Passengers: 12
Overview
On this boat ride, you'll cruise along the Sorrento coast, and you'll explore the most beautiful gems of Capri, the White Grottos, Green Grottos, and the impressive Faraglioni rocks that rise from the ocean. But that's not all! You'll also have the opportunity to stroll around Capri and Anacapri and have a delicious lunch at one of the Italian seafront restaurants with your friends or family.
This boat tour is pretty intimate as it's limited to 12 people making it super agreeable. There is no need to bother taking public transportation; a comfortable van will pick you up from your hotel in Sorrento to bring you to the port, where you'll meet your skipper and get on board. At the end of your trip, your private driver will drop you off at your hotel. What a luxury trip!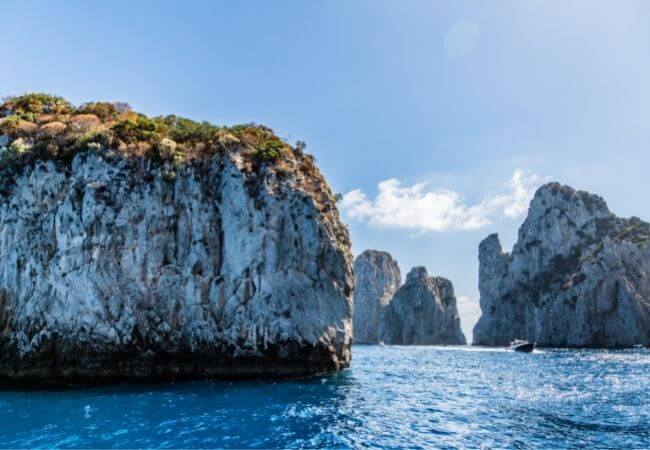 ---
Itinerary
1 Get On Board Your Boat At Il Porto Marina di Cassano
At the heart of the Bay of Naples and between Amalfi Coast and Capri lies the seductive Il Porto Marina di Cassano. It's an alluring sea village and a major tourist port on the coast of Sorrento that offers a plethora of excursions and activities to trippers. It's here that you'll climb aboard your boat to cross the Sorrento coast before getting to the marvelous island of Capri. 
---
2 Sail Through Marina Grande – Antico Borgo Marinaro
Marina Grande is an old-fashioned fishing harbor that nestles in the middle of the cliffs. This marina offers a relaxing getaway where you can peacefully enjoy the view of the ocean while enjoying delicious homemade sandwiches and refreshing drinks onboard your boat.
While sailing, you'll have the opportunity to see the beauty of the narrow towering cliffs that surround the marina. Children will most definitely enjoy this trip, for they can see the fishermen in action catching and hauling the fishes they caught for the day. 
---
3 Stop At Bagni della Regina Giovanna
While you are boating along the Sorrento coast with a delicious limoncello in your hand, you'll enjoy the stunning views of the impressive Roman villa ruins near Bagni Della Regina Giovanna and immense rocks from where a waterfall flows right into a natural bathing pool. 
---
4 Stop At White Grotta
The White Grotto is one of the picturesque caves and tourist attractions along the coast of Capri. White Grotto was named after the white rock formations that formed the facade of the cave. It's s a trip-worthy tour to see the spectacular rock formation. Just at the entrance of the White Grotto, you'll see some stalactites and stalagmites that look like the image of the Virgin Mary. It's beautiful!
---
5 Stop At Green Grotta
After visiting the White Grotto, your skipper will bring you to the south side of the island of Capri to explore the famous Green Grotto. The colors of the rocks (yellow and green) reflect on the water when the sun shines, making this place stunning. Make sure to take pictures!
---
6 Sail Through I Faraglioni
Off the coast of Capri lies the three gigantic rock formations that rise out to the sea. The small rock is called Faraglioni di Mezzo, the middle rock, Faraglioni di Fuori and the highest rock, Faraglioni di Terra. It's one of the most popular tourist destinations on the island, and visiting it in spring or fall would be ideal to avoid the swarming visitors. A legend says that couples who kiss while passing under the arch will love each other for the rest of their life.
---
7 Sail Through  Villa Malaparte
It is a private residence located in Punta Massullo in the east of Capri. The architectural design of the villa exemplifies Italy's modern and contemporary design. This boat tour will allow you to view the unique architecture that looks like a ship on top of the rock. If you are an enthusiast of architectural designs, you'll be well spoiled!
---
8 Sail Through Punta Carena Lighthouse
Punta Carena is one of the brightest lighthouses in Italy. In the summer, tourists flock to bathe under the sun and swim in the crystal clear water in the bay of Punta Carena. But what makes this area so unique is its natural beauty and breathtaking coastal views. No doubt about it, boating is the best way to admire Punta Carena's lighthouse.
---
9 Stop At Piazza Umberto I
Once you arrive in Capri, you'll have about 3 to 4 hours of free time to stroll around the island. After this boat tour, you may want to relax in one of the coffee bars in Piazza Umberto first before you head to the center or Anacapri.
A small overview of Piazza Umberto. It's one of the most popular squares on the island of Capri. This spot was once a humble fishing village; today, it's a popular tourist attraction. There are plenty of things you can do there.
Just be aware, this place is relatively expensive. Both The bus station and funicular station are situated right near the Piazza Umberto square. So if you need public transportation, you'll find it easily. Have a great day!
---
When is the Best Time to Do the Boat Tour?
Although tourist starts to flock in Capri from the beginning of the Easter holidays up to the first half of November, the best time to do the boat tour would be from April to June or September to October. These are the best times to enjoy the tours because of the more favorable temperatures, and the visiting tourists are fewer in these months, allowing you to enjoy the island better.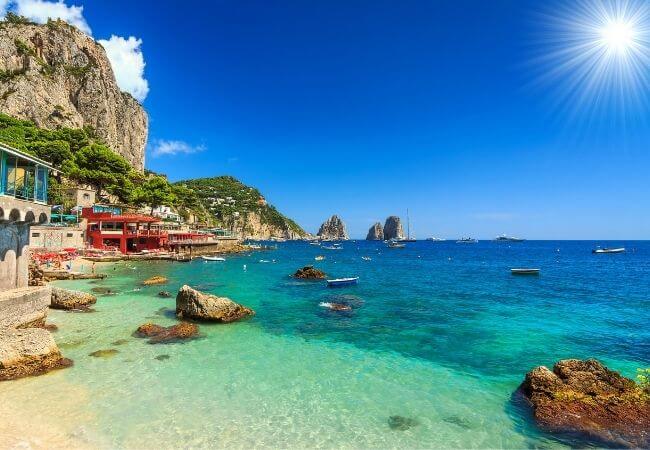 ---
Check Availability and Latest Price
Who is This Boat Ride For?
Anyone can participate in this boat tour, children grandparents, couples, parents, there are absolutely no restrictions. Of course, young children must be accompanied and supervised by their mam and dad. Even pregnant women can do this tour. The only downside is that the boat isn't wheelchair-friendly, which is a shame for people with disabilities. Otherwise, excellent boat tour!
---
Why Do This Boat Tour?
Here are several good reasons to do this boat tour.
You skip the long line to see the White Grotto and Green Grotto.
This tour accommodates up to 12 people, making the trip more intimate.
A comfortable coach picks you up and drops you off at your hotel.
You have several hours of free time to enjoy exploring Capri and Anacapri.
While boating, you get refreshing beverages, soda, homemade sandwiches, and limoncello too.
---
What's Included in the Boat Tour?
Snacks
Sandwiches
Alcohol beverages
Fresh water
Soda
---
What's Not Included in the Boat Tour
Snorkeling Gear
Gratuities
Lunch
---
Tips
The boat's motion can cause nausea to some people, so it's better to take precautions. Take some sea band bracelets with you. They work like a charm.
There are many mosquitoes near the water, and as you might know, they can get on your nerves. So make sure to bring repellent, preferably something natural like citronella or lavender oil.
You will certainly get wet, and you certainly don't want to find yourself changing shoes when you get onshore. Also, Capri's beaches are rocky, so you must get good water shoes for walking that dry fast.
The sun is great, but it can be very harmful if you don't protect yourself. Bring a hat, sunglasses, wear long sleeves t-shirt and put on sunscreen. 
You also need to protect your valuable content from water, such as your phone, camera, and other things. A sturdy dry bag will keep all your stuff safe and dry, even if it falls overboard.
It's easy to get dehydrated at sea. Make sure to drink a lot of water and make your children drink, and if they don't want, insist!
See What Reviewers Think About This Boat Tour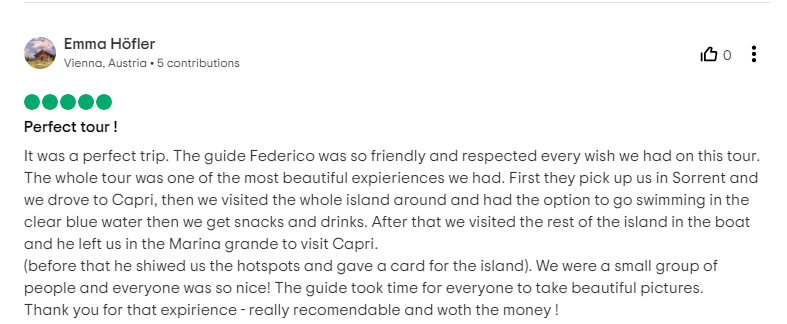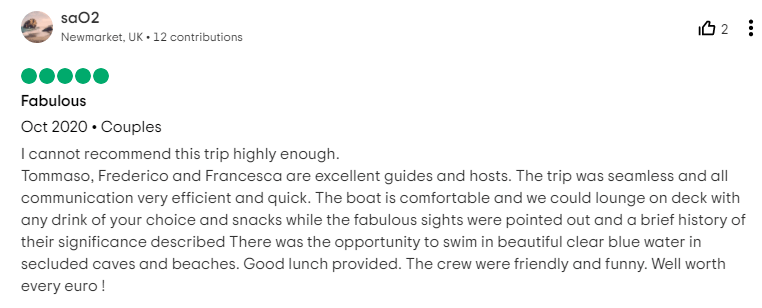 See More Reviews from Other Customers
---
Pros
Well Organized
Personalized boat tour
Hotel Pick up and dropoff 
Free delicious snacks and beverages
Skilled and agreeable crew
Cons
Not wheelchair accessible
Snorkeling equipment is not included. You have to bring your own set with you.
---
Final Words
If you are in Sorrento and want to visit Capri in one day in the most fun and relaxing way, this boat tour will meet your expectations. It's well organized and very personalized, and affordable. As you can see from the reviews above, people enjoyed this boat trip very much, so there is no doubt you will enjoy it too.
More Capri boat tours
Daniella has been passionate about travel, the sea, and nature for many years. As a child, she frequently traveled throughout the Mediterranean and continued with her journeys throughout her adult life.
Her experiences have created the desire within her to share her love for traveling with other passionate and adventurers who want to discover beautiful horizons and new cultures.