While out on a boating tour with guests or friends, having a few snacks on board can help keep the conversation going as you enjoy the perfect view of the sea and the natural scenery around.
You might have plenty of cocktails on the decks, but you need some concrete snacks, too, to fill your stomach while on the go. There are a number of good snacks for boating that you can try out while on a sailing expedition. Most of them require fewer ingredients and are simple to make.
The followings are some of the most delicious boating snacks and the recipes on how to make them:
1. Pasta Salad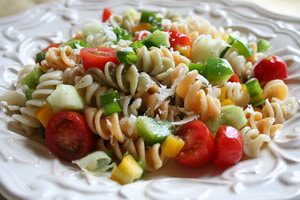 Pasta salad is a tasty snack that you'll find amazing while on your summer boating tour or expedition.
Combining pasta, meats, greens, and fruits, this snack is basically a whole meal in itself.
You don't necessarily be an expert chef to make this one.
Ingredients:
1 lb pasta (rotini or fusilli)
1 cup of diced chicken
3 cups of cherry tomatoes or strawberries cut in half
8 0z of fresh mozzarella cheese balls sliced into halves
1/4 cup of freshly minced parsley or coriander
2 tablespoons of Balsamic vinegar
3/4 olive oil
1 tablespoon dry basil
2 tablespoons water
1 teaspoon salt
Black pepper
Method:
Cook the pasta as per the package instructions. Allow it to cool slightly. Toss the pasta, parsley, chicken, mozzarella cheese, and tomatoes or strawberries in a large bowl.
To make the dressing, run the vinegar, olive oil, dry basil, and water in a blender. Proceed to dress your salad. Sprinkle the salt and black pepper to taste.
Note: You can always add veggies such as fresh spinach, blanched green beans, or artichokes if you wish to have a lower-fat or lower-calorie salad.
---
2. Antipasto Skewers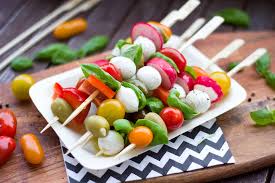 Antipasto Skewers is a simple Italian-inspired appetizer that can also double as a snack while sailing at sea.
It basically brings together fresh vegetables & fruits, marinated vegetables, cheeses, and cured meats.
Antipasto Skewers can particularly be a great snack when warming up for an evening nautical party.
Ingredients:
5 basil leaves or flat-leaf parsley
5 pieces of 2-inch prosciutto (rolled or folded)
5 marinated mozzarella cheese balls
5 Kalamata olives
5 grape potatoes
5 pieces of artichoke hearts
5 wooden skewers (12-inch each)
Method:
Soak the wooden skewers in water for between 40 minutes and 1 hour. Pat them dry before you start using them. Put the ingredients on the skewer one by one starting with Kalamata Olives, followed by the tomatoes, basil or parsley leaves, prosciutto, artichoke hearts, and cheese balls, respectively. You can alternate these ingredients till the skewer is in full. Put the skewers on a serving plate. Garnish with fresh chopped parsley or basil. Serve.
---
3. Rainbow Fruit Kabobs
This is perhaps the easiest fruit snack you can make and enjoy while on your seafaring adventures.
Just like its name suggests, the snack combines a variety of fruits with different tastes and colors in one skewer.
This can be a great snack, especially when you're boating with kids.
Ingredients:
Strawberries
Pineapples
Oranges
Grapes (red and green)
Peeled kiwi
Blueberries
Method:
Wash and prepare all these fruits by cutting them into chunks, except for the grapes. Take a skewer and start mounting each of the fruits on the stick in the following order: grapes, kiwi fruit, blueberry, pineapple, orange, and then strawberry. Make as many fruit skewers as you desire. Arrange them on a serving plate to form a rainbow. Serve.
---
4. Pizza Zucchini Boats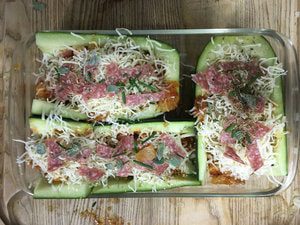 Pizza Zucchini Boats is a low-carb and gluten-free pizza that you can enjoy as an appetizer or snack when boating at any time of the day.
With this pizza, you don't need to mix the dough, roll or bake it for long.
With a set of tomatoes, Zucchini, low-fat cheese, and ground turkey, you can come up with a perfectly-looking zucchini pizza without breaking a sweat.
Ingredients:
4 large Zucchini (2  pounds)
1 clove of garlic (minced into fine pieces)
15 ounces of marinara sauce
1 tbsp virgin olive oil
1 cup mini pepperoni
Low-fat mozzarella, shredded
Chopped fresh basil or oregano
Method:
Preheat oven to about 350 F. Meanwhile, cut the zucchini into halves (vertically) and then scoop out the inside pulp. Heat olive oil in a medium skillet or pan and proceed to sauté garlic till it is golden brown. Add zucchini and sauté it for 4 to 6 minutes until it's tender. Pour in the marinara sauce.
Take the hollowed zucchini and place it on a widely spread baking sheet. Spoon the sauce into the hollow part of the zucchini. Top with mini pepperoni and mozzarella. Place them in the oven to bake for 15 to 18 minutes till the cheese turns golden.
Garnish with oregano or basil and serve.
---
5. Slow Cooker Corn
This is a snack everyone will appreciate while on a boating expedition-and making it is no hassle.
It requires fewer ingredients and only takes one or two steps to prepare.
Ingredients:
3 cans of frozen corn (15 oz)
3 tbsp milk
8 oz cubed cheese
1/4 cup butter, unsalted
2 tbsp sugar
Method:
Build all the ingredients in a slow cooker, starting with corn, followed by a mixture of sugar, milk, and pepper. Top with cheese and butter. Mix them well. Cover and then cook for about 4 hours under slow heat. Remove, stir well, and serve immediately.
---
6. Muffins Cinnamon
Cinnamon Muffins are a great snack to carry along or make while on a boating tour.
You can simply enjoy this quick snack at any time of the day. It only takes 35 minutes to make.
Ingredients:
2 cups baking flour (all-purpose)
2 tbsp baking powder
1 cup sugar
1/2 tbsp salt
1/2 tbsp ground allspice
2 eggs, beaten
1/3 cup melted butter
1/2 tbsp ground nutmeg
Method:
Mix flour, baking powder, sugar, salt, allspice, and nutmeg in a large bowl. Add beaten egg, butter, and milk. Stir the ingredients until the dough is moistened. Scoop it into paper-lined or greased muffin cups. Make some streusel (sugar, cinnamon, and melted butter combination) and sprinkle it on top of each muffin. Proceed to bake the muffins in an oven at about 400 degrees. Leave it to cook for 20 minutes.
Remove from the oven and leave the muffins to cool for about 5 minutes. Serve.
---
7. Flutty Pancakes
A soft, fluffy pancake is all you need to start up your morning boating experience.
Whether you're going boating in summer or in spring, these can be an absolute choice for you and your crew.
Ingredients:
1 cup of baking flour
2 tbsp baking powder
3/4 cup milk
1tbsp sugar
1 egg
1/4 cup of melted butter
2 tbsp white vinegar
1/2 tbsp salt
Method:
Put vinegar and milk in a sizable bowl, stir, and let it settle for about 5 minutes. Combine baking flour, baking powder, salt, and sugar in a mixing bowl. Whip the egg and butter into the vinegar-milk combination.
Combine the flour mixture and the wet ingredients and stir until no lumps can be spotted. Heat a pan over medium heat and put in some cooking spray. Gently pour ¼ cupful of the battered mixture into the pan and cook until the other side is golden brown. Flip the pancake with a spatula to ensure the other side cooks too.
---
8. Chicken and Salad Sandwich
This is yet another snack that any boating nerd would love.
It combines bread, tender meats, veggies, and a set of other ingredients that can no doubt be great for your taste buds.
Ingredients:
6 slices of white bread or 4 whole-wheat bread rolls
2 cups of well-cooked and chopped chicken
2-3 tsp of finely chopped onion
1/2 cup of mayonnaise
1/4 tsp salt
1 medium diced lettue
1/4 tsp pepper
Method:
Put all the ingredients into a large bowl except the bread. Spread the resulting mixture on 3 slices of bread or 2 whole-wheat bread rolls. Top up with the remaining slices of bread.
---
9. Watermelon on Stick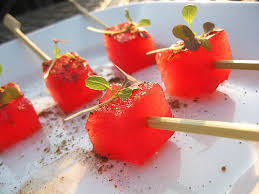 Watermelon on a stick is a fruit snack that you would want to have a thousand times during your summer boat expedition.
It doesn't require tons of ingredients like most of the recipes described herein. Making it hassle-free too.
Ingredients:
Fresh watermelons sliced into triangular wedges.
Popsicle sticks
Method:
Slice the watermelons into once-inch rounded portions. Divide the slices into four equal halves. Use a knife to make a small slit in the center of the watermelon's green grind. Stick a popsicle in each of the slits. Serve.
---
10. Energy Bite Balls
Energy bite balls are, without a doubt, easy-to-make and delicious.
When put in an airtight container, they can stay fresh for up to a whole week.
This is a snack you would definitely not want to miss while at sea.
Ingredients:
1 cup of oats, rolled
1/2 cup peanut butter
1/2 cup of chocolate chips
1/2 cup honey
1 tbsp vanilla extract
Method:
Combine all the ingredients in a large mixing bowl. Mold the dough into small balls using your hands. Put them in a bowl and chill them in a refrigerator for 30 to 60 minutes. Serve.
---
Tips for Making Boating Snacks
Before you venture into the sea, be sure to pack all the ingredients you need to make snacks for the entire boating expedition. It's also important to chill the ingredients in a refrigerator, especially fruits, and vegetables, to ensure they remain fresh for use at any time.
If you are going on a half-day boating tour, you can always consider carrying packed snacks to minimize the time and inconvenience of making them on board. Also, be sure to bring along an expert chef to enjoy even more creative recipes for your snacks.
---
In Conclusion
With so many boating snack recipes at your disposal, you can't afford to go on a sailing tour on an empty stomach. So long as you follow the recipes with precision, you can always be assured of enjoying the most delicious snacks even while exploring the sea.
Want to Know More Snack Ideas?
Sign up to Cruising Sea newsletter to receive every two weeks the latest post straight to your inbox!
What about you? Do you have a good snack to add to the list? If so, you are welcome to share it in the comments below.
Daniella has been passionate about travel, the sea, and nature for many years. As a child, she frequently traveled throughout the Mediterranean and continued with her journeys throughout her adult life.
Her experiences have created the desire within her to share her love for traveling with other passionate and adventurers who want to discover beautiful horizons and new cultures.