Flip-flops are everyone's all-time favorite when going out on summer hiking, beach strolls or urban walks. That 's, because of the comfort and convenience they bring when walking.
But with so many flip-flop types available in the market today, it can be a daunting task to choose an ideal pair for your unique adventure.
While some are designed for use in flat tarmac areas and sandy beaches, others are meant for mountains and hills and rocky terrains.
If you're wondering how to choose the best flip flops for the upcoming summer holiday, then these practical tips can go a long way in getting you the best fit.
---
What Types Of Flip Flops Are There?
Currently, the market is filled with lots of flip-flop models that are meant for both indoor and outdoor use. When shopping for these sandals, you might need to consider which type is designed for a specific outdoor adventure.
There are those that are primarily designed to offer arch support and comfort while there are others that are made to provide optimal traction when walking. Some types even combine all these aspects.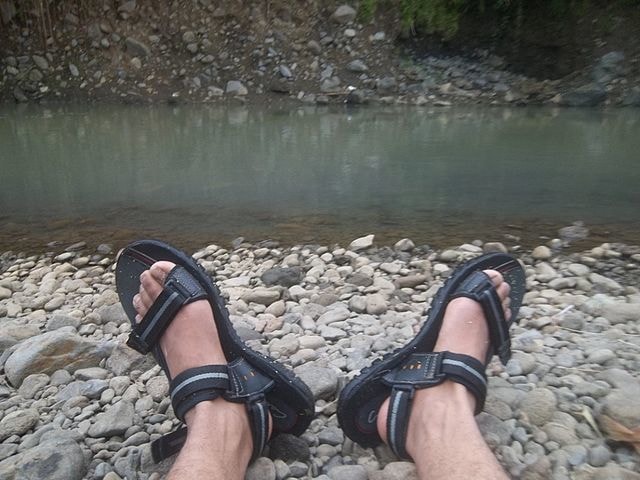 Here are the major types of outdoor flip flops you can find in the market:
1. Urban
Urban flip-flops are ideally designed for walking on sidewalks, pavements and/or tarmacs typical to the urban setting.
Most city dwellers are concerned about the comfort of their feet when out on summer days.
And that's exactly what urban flip-flops are all about. There are a range of stylish and plush designs you can choose from this category if you are looking for something more than just comfort when walking.
2. Mountain
When going out to the mountain for hiking, climbing and/or camping expedition, you need to choose the right flip-flops that will be convenient to walk in, and that can minimize accidents. Most mountain flip-flops come in heavy, rugged sole design to offer enough traction essential for walking on rocky and otherwise slippery, mountainous surfaces.
3. Beach
Beach flip flops come with slightly heavy soles and thin straps for improved comfort and easier maneuverability on the sand, pebbles and/or water. However, their sole might vary in smoothness depending on where in the beach they are designed to be used.
4. Forest
Most forest flip flops are designed with thick straps and soft yet sturdy footbed for improved comfort and easier maneuverability in forest settings. They may entirely be made of plastic or may feature a rubber sole with fabric or plastic straps.
---
Choose Your Flip Flop Based On Your Activity
If you were to test all the flip-flops in the shop, you would discover that almost every model comes in a comfortable, tight-fitting design with a sole that guarantees some reasonable amount of traction.
With that in mind, you need to find a pair that has a few more extra features that will be more favorable to your outdoor adventure.
Just to give you a headstart, here are 3 major outdoor activities and the type of flip flops you need to get for each of them: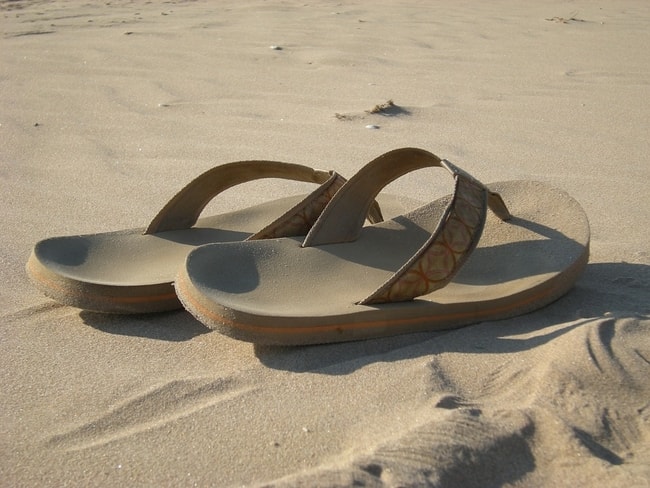 Urban Use
If you're the kind of person who hits the city trail or walks around town with flip-flops on a daily basis, then you understand what this category is all about. For starters though, we are going to help you out.
Flip flops for this kind of activity need to, first of all, be comfortable in design to allow for extended sustained walks of pavements and/ sidewalks without causing the feet to hurt.
Secondly, they should come in a durable material (whether rubber, plastic or leather) since you're going to use them on a regular basis.
Lastly, you might also need to consider getting a pair that can perform better in summer and winter as well as in urban and off-trail environments.
Some of the flip-flop models that you can find great in this category include the Croc Crocband, the Olukai Hiapo, Chaco Ecotread Flip and the Oofos Original Thong.
---
Hiking
Whether you love taking slow leisurely walks on the beach, sailing, long forest hikes or going on safaris, the flip-flops in this category can be perfect for you.
Here, proper stability, traction, and durability are aspects that should influence your choice of flip-flops.
A rugged and packable flip-flop design can also come in handy when hiking through rocky terrain, off-road paths, and thorny bushes.
If you're looking for flip flops that have an aggressive tread and can withstand abuse in any environment, including rocky areas, the Olukai Ohana and the Chaco Flip might just be an excellent recommendation for you.
For proper stability and protection of feet from sharp rocks and thorns during hiking, you can go for the Teva Pajaro.
Water Activities
Taking on your favorite water sports activity while on flip-flops might sound somewhat uncommon and weird. But you don't have to be embarrassed when you know you can get a pair that provides excellent traction and stability in wet conditions.
Flip flops found in this category should have an aggressive sole pattern to prevent sliding or slipping and be made from materials that do not loosen when wet and which dry up quickly.
If you're looking for an ideal pair of flip flops for your next water sports adventure, you can try the OluKai Ohana or the Chaco Ecotread Flip.
---
How to Choose the Correct Size
When determining which flip-flop size is appropriate for your feet, comfort and safety are very vital. Always go for well-fitting sandals with comfortable footbed and straps.
That will help you walk conveniently without altering your natural gait.
It's always a good idea to shop locally as you'll have the opportunity to test and try your desired flip-flop type before buying.
---
How Should Flip Flops Fit Your Feet?
The flip-flops you choose for your outdoor adventure should cover your entire footwell and provide the right arch support.
However, you should make sure your heels and/or toes do not hang over the sole's edges as that might cause stubs and cuts.
Oversized flip flops, on the other hand, are a recipe for uneven balancing of feet when walking, something that might cause you to trip.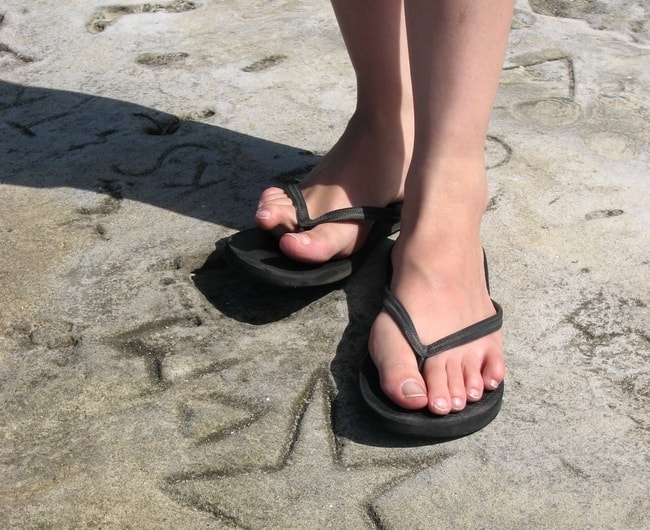 ---
Tips
When shopping for flip flops, be sure to find a pair that only bends the ball of the foot. That's one way to be sure the sandals you are about to buy can provide proper structure or support for your foot without causing foot fatigue and/or arch aches.
You can always get different flip-flop pairs for different outdoor adventures like strolling, hiking or going to the beach. This will ensure you enjoy all these activities without compromising on your foot comfort, safety, and style.
To ensure your flip flops don't wear out quickly, you need to get a pair that has a thick sole made of quality plastic and/or rubber. Always replace your worn out flip flops on time just to get your adventures going and be sure to go for better quality if the last pair wasn't that good.
---
In Conclusion
Your outdoor adventure doesn't have to be restricted to closed shoes anymore. With a high-quality pair of flip-flops, you can go on your regular evening or weekend strolls; beach walks, sailing, forest hikes as well as rock climbing without much hassle.
In addition to the extra comfort they offer, flip-flops are highly versatile and come at reasonably lower costs. Hence you have every reason to get your own pair.
Want to Know More Tips?
Sign up to Cruising Sea newsletter to receive every two weeks the latest post straight to your inbox!
What type of flip-flops do you wear for your activities? You are welcome to share your experience in the comment below.
Daniella has been passionate about travel, the sea, and nature for many years. As a child, she frequently traveled throughout the Mediterranean and continued with her journeys throughout her adult life.
Her experiences have created the desire within her to share her love for traveling with other passionate and adventurers who want to discover beautiful horizons and new cultures.