If you are wondering how to get around Capri, you're not the only one. The question worries people who know the travel restrictions the island enforces during certain periods, particularly the months between Easter and November during which non-resident vehicles are prohibited and places like Anacapri are closed off to traffic.
Located in the Tyrrhenian sea (off the Sorento Peninsula), Capri is a dream destination for holidaymakers. Rich in myths and boasting a bevy of modern and historical attractions, Capri got its name from the Ancient Greeks who called it home a long time ago, or so people presume.
The Island was quite popular among European celebrities in the 19th Century, playing host to the likes of Frank Hyde and John Singer. These days, Capri is frequented by visitors from Naples and Sorrento
---
The Main Connections in Capri:
Getting from Marina Grande to Anacapri: Liftchair or Bus – (to Capri town) plus bus
Getting from Marina Grande to the Piazetta: Liftchair
Getting from Capri to Anacapri: Bus
Getting to the Blue Grotto: Bus from Anacapri or a boat from the Marina Grande
---
Best Time to Travel to Capri
Capri attracts unfair criticism from people who visit it for a short period only to depart soon after, protesting the hefty expenses and the overcrowding caused by daytrippers. You can't truly appreciate Capri unless you give it a fair opportunity to show what it has to offer. The key is to visit it at the right time. You have a lot more options than you might realize: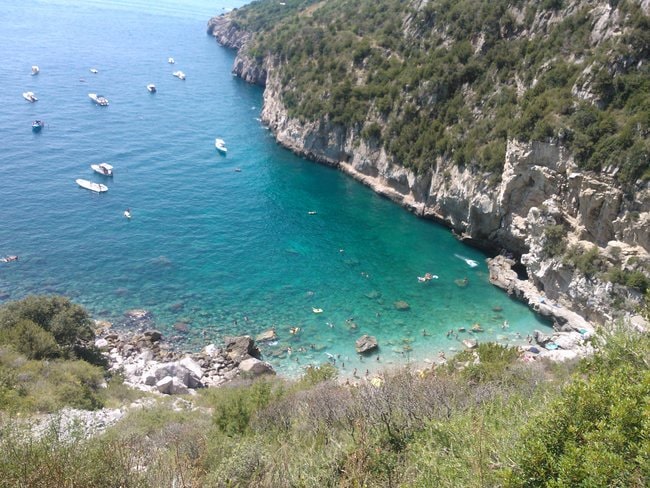 ---
1). Spring
If you wish to visit the island between March and May, Capri will welcome you with open arms. Things are still peaceful in spring because the crowds of visitors haven't yet descended.
The flowers are in full bloom and the temperatures are mild. Because of the tame number of tourists, the best hotels are more than happy to offer people like you friendly deals. The same goes for restaurants.
Spring opens the door for you to go walking and hiking. You can also tour the island on a boat, not to mention attending the annual flowering of the wild freesias.
---
2). Summer
Life is quite active in Capri between June and August. The marina is packed with crowds either partying on or disembarking from yachts. The cafes are packed with the wealthy and the privileged, and the numbers seem to grow with each passing day.
This is the best time to visit the beaches because the crowds everywhere else are likely to overwhelm some people. Get yourself a boat where possible and head out to open water. You can always return to Capri's beachside restaurants whenever hunger bites.
There is an excitement in the air encompassing the whole island that will appeal to people who appreciate the idea of basking in the offerings of Capri in the company of large crowds. That being said, because of the large numbers, things are expensive.
---
3). Autumn
There's quite a bit of sun between September and November but the island is only mildly hot which creates the perfect conditions for anyone who wants to go hiking and walking. The island is quieter at this time because the crowd of tourists has started to thin.
You can choose to spend your days out on the beach. Some people use this opportunity to go shopping. This is because winter is approaching. This is the time when stores offer great bargains. You will find that restaurants and hotels are starting to close.
---
4). Winter
You can still visit Capri in the winter. The weather is mildly cold and many establishments tend to close during this season. But a number prefer to stay open. Hotels will offer you some decent deals.
But if you can't find one in your vicinity, you can always opt for a local B&B. As far as activities are concerned, people still take walks and hikes in the winter. The boat tours are open throughout the year.
If you have to choose the perfect time to visit Capri, stick with Autumn and Spring because the weather is favorable and the crowds are thinner. You can enjoy the sites and sounds of the island at your leisure.
---
How to Buy Tickets for Public Transportation
You'll find three public transport companies on the island of Capri – Two bus societies and a funicular. There is no possibility to buy tickets for all three at once. You have to buy each of them separately.
You can take one luggage, weighing 10 kg, and that has the size of a carry-on bag ( 23 cm x 30cm x 50cm).
If your Bag exceeds the weight allowed, then you will have to transport it by taxi or porter service. If you carry a stroller or a carriage, you must fold it before getting on the bus or funicular.
There are a few places you can buy tickets, apart from Marina Grande. These include Piazza Martiri d'Ungheria at Capri town terminal, Piazza Della Pace in Anacapri, or even at newsstands.
Note: There is a supplement of 1.80 Euros for each baggage.
Note: The price of the bus and funicular cost 2 Euros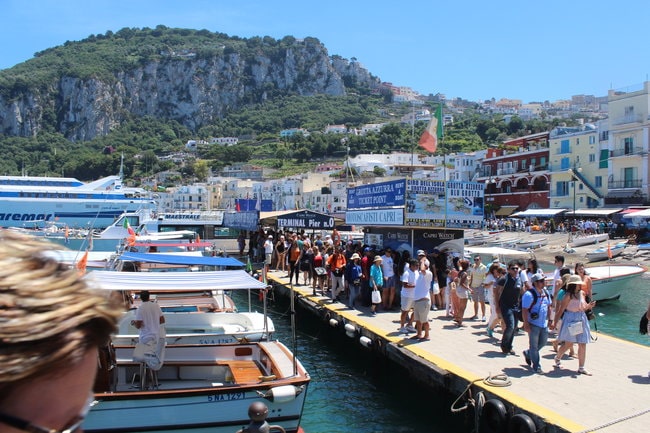 ---
How to Get Around Capri?
Capri offers various methods of transport to its visitors, namely:
Bus
The island has minibusses with a carrying capacity of a few dozen people. While there are bus routes cutting through the entire island, you will have an easier time journeying between Capri and Anacapri. You can catch a bus every quarter of an hour.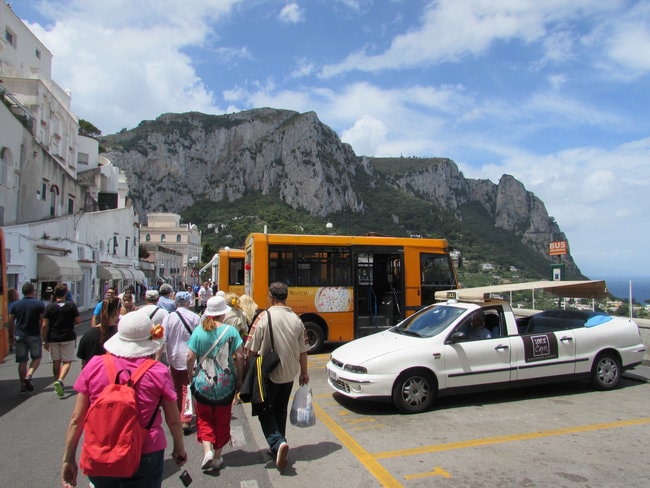 ---
Taxi
Taxis offer one of the most convenient means of touring Capri. The average taxi can carry a maximum of 7 passengers. So you can hire one if you are traveling in a small group. They are affordable. You can choose to hire a taxi for an entire day, securing reliable transport with a more flexible route that is bound to make your visit more enjoyable.
Daytrippers will appreciate taxis because you can use them to get around quickly and efficiently. With buses, you spend quite a bit of time waiting.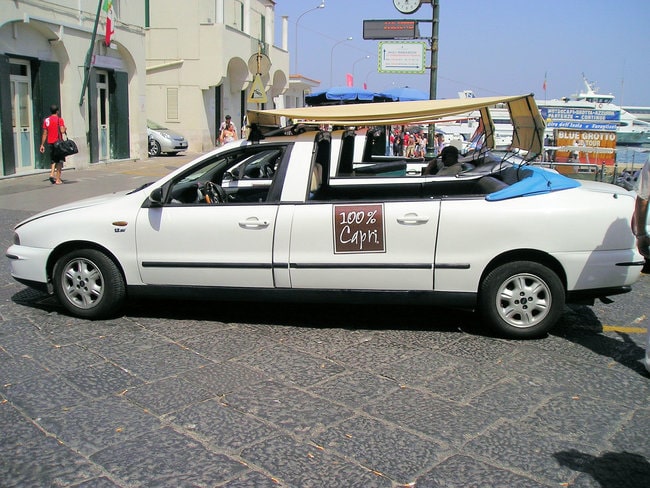 ---
Walking
One way to get to Capri via bus is to wait near the chairlift at Piazza Vittoria. But if you don't like waiting and you want to improve your chances of securing a good seat on the bus, walk up Viale Tommaso de Tommaso. The next bus stop is just a hundred meters away.
If you want a more leisurely trip around the island, you can ignore the bus option altogether. Destinations like Marina Grande and Marina Piccola are within walking distance. Walks are especially enjoyable in the summer where the crowds have grown.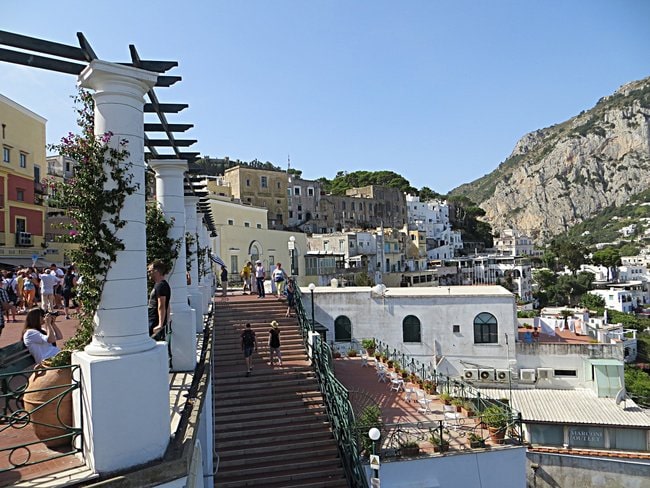 ---
Funicular
A funicular is a fast and efficient way to travel to the center of the island of Capri. There is a kiosk near the beach at Marina De Grande where you can buy tickets. The line is sometimes long, and you may find yourself waiting for a while unless you purchase your tickets in advance.
It can be crowded on the way back as well, so you may want to take the stairs from the Piazzetta to get to Marina Grande. It takes around 15 minutes on foot. If you don't have the patience to do the queue, then you have the option to take a taxi. Another good option is to take a bus from Via Marina Grande to travel to Capri.
The funicular can transport 70 persons at one time, and the ride takes around 4 minutes.
Note: From April to October, the funicular runs more frequently.
Price: 2 Euros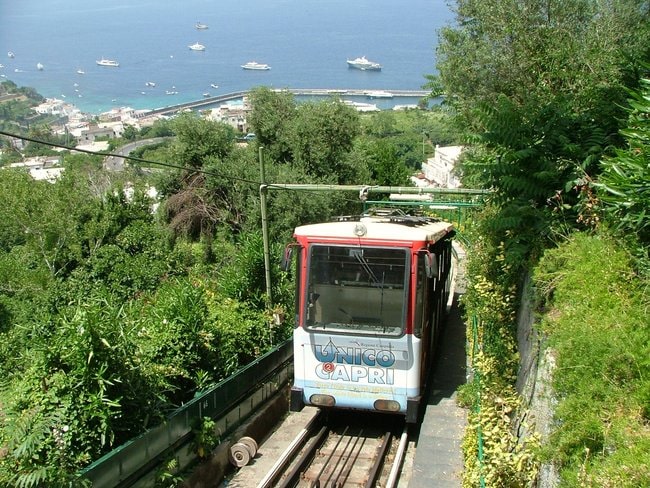 ---
Chair Lift
The easiest way to get on top of Monte Solaro island is to use a chairlift. The ride uphill takes approximately 12 minutes, which brings you up to the hiest point of Capri. You'll have the chance to take in beautiful views of Marina Picolo, Sorrento Peninsula, Marina Grande and Vesuvius. On the top of the mountain, there is a small shop that sells beverages and snacks. You can buy some foods and have nice picnic on the top and enjoy the spectacular views. There are two ways you can reach the chairlift at Piazza Vittoria. You either have the option to hire a taxi from Marina Grande or if hiking is your thing, you can climb the 1000 steps at Scala Fenicia.
Note: I would suggest you to wear casual hiking shoes and avoid flip flops or sandals. 
Note: It can be quite windy up there, so bring a sweashirt with you.
Note: The chairlift cost 12 Euros up and down – Up or Down 9 Euros
Opening Hours of Mont Solaro Charlift:
March – April from 9:30 to 16:00
November – February from 9:30 to 15:30
May – October from 9:30 to 17:00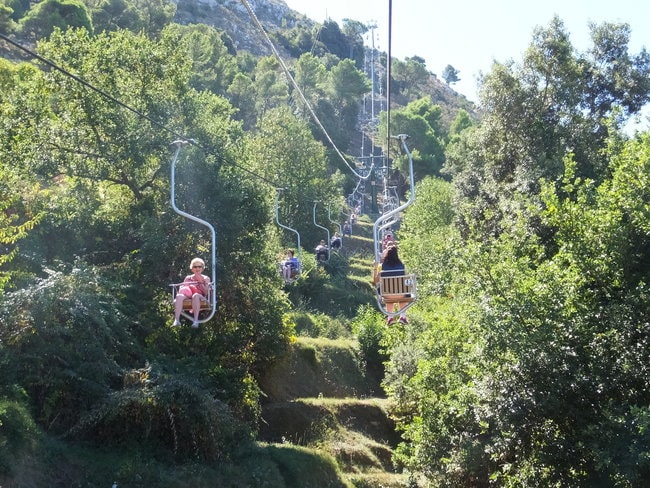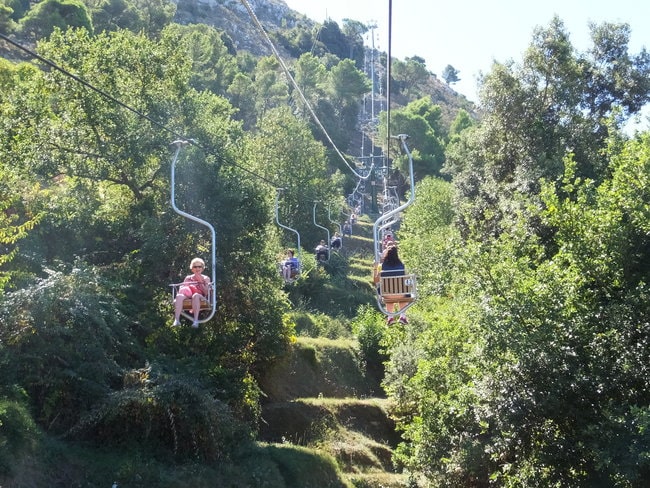 ---
Scooter
As a non-resident, even though you can't tour the island in your own vehicle, you can always rent a scooter from Marina Grande. This will give you far more freedom to explore Capri alone. You'll find scooter companies in Anacapri, Capri and in Marina Grande near to the pier.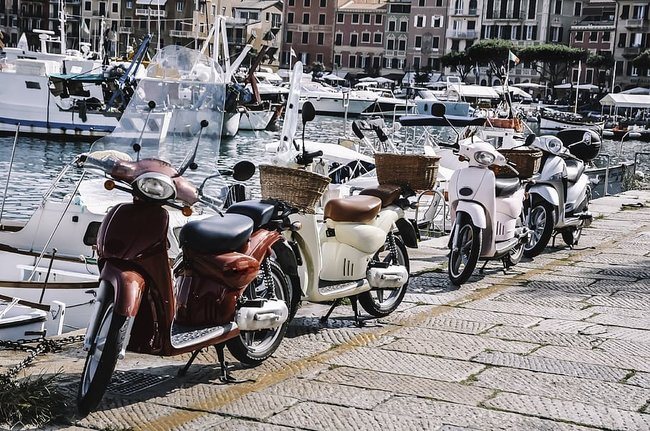 ---
Boat
One of the best ways to explore Capri is by boat since the paths in the center of Capri are quite steep. If you get around the island, you will quickly realize that you often have to wind your way up and downhill. If you plan on sailing, you can charter a boat with or without a skipper at the Marina Grande. While you are boating through the island of Capri, you can anchor your boat near the shoreline and have a delicious meal at one of the restaurants. Most of them offer refreshing salads, all kinds of seafood, and cocktails.
If you get to Capri with your own private boat, you'll be able to find a dock at the marina of Capri. It gets quite crowds in the summer, so it is recommended to book your boat slip well ahead.
Another great option is to visit Capri with an organized boat tour that departs from Marina Grande. The tour allows you to explore the Blue Grotto, Green Grotto, and white Grotto and some hidden germs of Capri in just a few hours.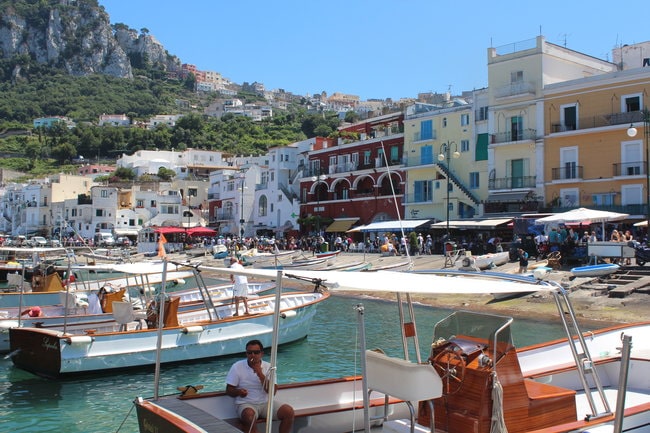 ---
Conclusion
Capri is an ideal destination for the patient traveler. Rather than rushing you to your destination, the transport options on offer are a critical part of the tour, allowing you the opportunity to discover some of the island's lesser-known gems.
More articles
---
Have you visited Capri? If so, how did you get around?
Daniella has been passionate about travel, the sea, and nature for many years. As a child, she frequently traveled throughout the Mediterranean and continued with her journeys throughout her adult life.
Her experiences have created the desire within her to share her love for traveling with other passionate and adventurers who want to discover beautiful horizons and new cultures.