How to Sail with Kids – Best Tips
A family vacation isn't complete unless you bring the kids, but I have been asked many times how to sail with kids. Won't they get bored? Is it safe to sail with children onboard? Can children learn how to sail?
The answer is "yes" to all those questions. Kids are easily bored, so I keep things onboard to entertain them. As for safety, take the proper precautions and everything will work out well. On the other hand, teaching a child to sail depends on the interest of the child and the teaching skills of the adult.
I enjoy teaching young ones the ins and outs of sailing, but I know when to back off if their interest is fading. Here is my crash course in sailing with children.
How to Entertain Your Children
Kids bore easily and need something to do at all times. I know of some sailors who ban video games and such from the boat, but I think it's fine for a rainy day, or downtime at night.
Kids need a variety of options to hold their interest. We have game and movie nights like we do at home, and everyone enjoys our contests for who can do the funniest trick! Be creative, listen to what the kids want to do, and remember that their attention spans are much shorter than yours are.
What to Bring for Your Children
Toys
Board games and Card games
Coloring books, crayons, and markers
DVDs
Video games
Favorite snacks
Clothes for all types of weather and pajamas
First aid supplies (band-aids, children's medicines, and sunscreen)
Extra batteries
Comfort items (a blanket or stuffed animal that the child sleeps with)
A "friend"
Keep in mind, a boat is small for a child and there may not be a lot to do if the weather isn't cooperating, so be sure you have all the child's favorite things onboard. Also, be prepared for injuries, dead batteries, and homesickness.
I always invite the kids to bring a "friend" to keep them company. This can be a doll, a teddy bear, or an action figure. This is an especially useful trick if the child will be the only kid aboard.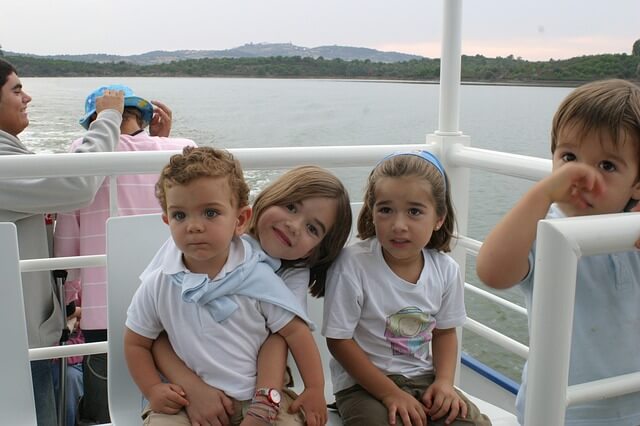 Teach Children the Basics of Sailing
I have found that kids tend to be fascinated by the workings of a sailboat. By no means does that suggest that a child will sit and listen to a long lecture about the fine points of sailing, but kids love to help.
Take advantage of their curiosity and willingness to pitch in, and teach them little things that are easy for them to master.
Teach them about the sails, the role the wind plays, how to anchor, and the different parts of the boat. Kids also love learning the names of the different parts of the boat (galley, helm, etc.)
Safety Rules with Children Onboard
The first thing I do is go over safety rules with kids before we ever set foot on the yacht. Make the rules clear and be sure it is understood that there will be no negotiations.
The rules are set in stone. Life jackets must be worn on deck at all times, but below deck, that precaution isn't necessary unless there is an unlikely emergency.
A safety net is a safety precaution I always recommend, even for older children. The net is installed over the railing around the boat and will catch anything that falls into it, be it a toy or a child. Keep in mind, a small child will chase after a falling toy into the water without a second thought.
These nets prevent a lot of accidents, and will give you peace of mind. Always check that the net is properly secured and replace a worn net every few years or as needed.
Conclusion:
I believe it's more fun to bring the kids along on a sailing trip. They add to the thrill and excitement of the holiday, and I never grow tired of seeing the water through the eyes of a child.
Sailing holiday with kids is an experience not to miss out. Choose one of our spacious and safety catamaran charters to take you, and your family on a wonderful sailing getaway you will never forget!
Have you sailed with kids? Would you like to share your experiences by leaving a comment t below, I'll love to hear your feedback!
Daniella has been passionate about travel, the sea, and nature for many years. As a child, she frequently traveled throughout the Mediterranean and continued with her journeys throughout her adult life.
Her experiences have created the desire within her to share her love for traveling with other passionate and adventurers who want to discover beautiful horizons and new cultures.