Jeanneau 64 sailing yacht is one of those yachts guaranteed to surprise you. Latest from the company, Jeanneau 64 comes with a 64 feet 1-inch hull and a series of qualities that have been long associated with the brand. The manufacturer has cleverly married comfort, luxury and functionality to dominate in the new market.
The 64 was engineered by Philippe Briand, a French yacht designer and Andrew Winch, a renowned British interior designer. Both the interior and exterior portrays an exceptional sense of style, with a superior finish and fit.
The various accommodation arrangements available are impressive too. While a ride on this comes at a modest pricing, you still see a sprinkle of luxury in every aspect of the yacht. Let's take a closer look at some of the main aspects of the Jeanneau 64.
Accommodations
As already mentioned, the accommodation arrangements available on the 64 are quite malleable with a touch of luxury. The yacht offers a luxurious full-width ensuite room and two more staterooms. All rooms have separate showers as well as ensuite heads. There is a cabin small cabin which you can convert into a workshop, a combination pantry or a day head as you may like.
The forward end has a dedicated settee with a navigation station just opposite the dinette. There is another small cabin close to the dinette which serves as a cloakroom but you can use it to store any extras like snorkeling gear.
Overall, the 64 can accommodate up to 8 guests in its 4 cabins. There is a bunk room featuring two bunks with an access to a shared bathroom. You access the crew cabin from the bow and all cabins are fitted with air-conditioning.
Interior
The interior design in the Jeanneau 64 is quite exceptional, with a touch of luxury here and there. If you've seen the photos of the interior, you already know what am talking about.
Anyway, the interior finish is way above average with several stylish touches such as the wooden sinks and leather trim all through. Depending on which one you will find, the interior structure is either made of oak with a light modern style or traditional, darker teak.
The cockpit is well segregated with clear separate social and working spaces, which means the guests and crew can go about their business without interference from either. Most of the space is occupied by a power-lounging pit and two supper comfortable bench-seats around two tables. The tables are completely adjustable –so you can adjust them to dining or lounging height.
You will find the working cockpit next to a range of Harken Rewind winches, Spinlock clutches, and deck organizers. There is also a small drinks fridge, wet –bar sink, and even a collapsible barbecue.
Exterior
A quick glance the Jeanneau 64 exterior will quickly reveal the effort and attention to detail that has gone into its design. The hull and deck are fused with a balsa polyester resin. The keel root is interposed with solid laminate while the exterior of the hull is finished using NG gel coat.
The hardware installations on the deck are set on plywood coring while the high-load areas are tabbed with laminate. The subfloor of the salon is a frame in high-grade aluminum. The keel features cast iron while the rudder wrapped in fiberglass. Overall, the structural design of this yacht functionality, safety, comfort, and convenience all taken care of.
Entertainment
The Jeanneau 64 is not that big on entertainment, but if you're in for it, you will find Salon DVD player and TV, a Stereo system and device hookups for this like iPod. There is also onboard Wi-Fi to keep you connected to the outside world and keep you busy when you're chilling out.
About the Crew
The captain, Harry Cop is such a fun person to be around, you should meet him. He is British and extremely committed and passionate about what he does. He has a wide experience in marine and aircraft engines. He has been a watercraft instructor which allowed him to work with clients addressing issues like safety, customer care, and other key areas.
Harry also has a certificate in advanced powerboat operations and has all the skills and experience required to steer a wide range of sail and power vessels. He has taken numerous sailing roles in the Mediterranean and Caribbean, and he is very committed to what he does since he stepped out of school. His passions include Rugby, Power Boating, Fishing, Sailing, Land Rovers, and SCUBA Diving.
Hellen, the ever jovial service lady is a hardworking person with a trusting and friendly demeanor that shows up all through her customer care services. She is a first learner with many qualifications in the beverage and food industry.
She has longstanding experience in whipping delicious meals and beverages. She has previously served in the 58ft catamaran across different destinations in the Mediterranean. Some of her interests and hobbies include Sailing, Dancing, Hiking, Arts and Crafts, SCUBA Diving and Fishing.
Both Helen and Harry have a way of seamlessly blending professionalism with fun, making them completely approachable and memorable to be with.
Performance
The Jeanneau 64 hits a maximum speed of 10 knots, but you will be mostly cruising at between 7-9 knots. The boat is pretty responsive with impressive acceleration and handling at turns. In reality, the boat can hit up to 13 knots at a good wind angle, but hey, we're not here for speed, are we?
The 64 is also highly automated with most of the functions powered. Fuel consumption averages around 10 liters per hour and it has a 7.5 kW generator. That's pretty modest for the EnginesVolvo D4-180-180 HP engine. Assisted Sail Trim technology is also a clever addition considering it comes at such a modest pricing.
Where Does Nova Sail?
The 64 sails in Greece in both winter and summer and the preferred pickup point is either Greece or Corfu.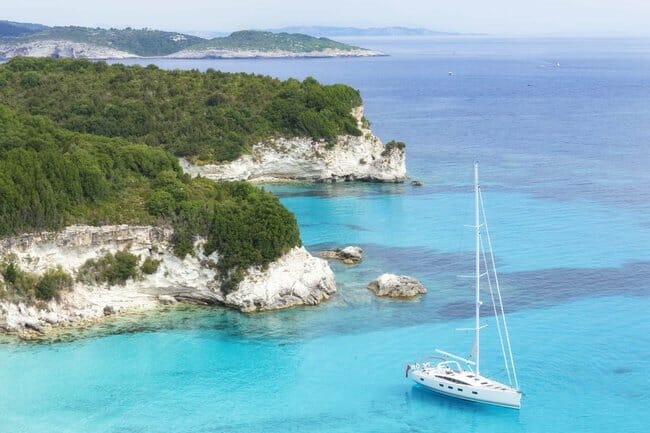 Why Charter Nova?
Sailing on the Jeanneau 64 yacht is just one of those sailing experiences you can't forego for anything. The boat is spacious, luxurious and well designed to give the best sailing experience. The service is also great, and as you will notice, the boat is always clean and organized. The food is amazing, the sailing routes are well thought out and the number of available water sports and fun activities make it all worthwhile.
Conclusion
Jeanneau 64 is a solid choice for those planning for a sailing vacation. It can accommodate up to 8 guests and comes with a captain and a full-time chef. If Greece is one of those destinations you've ever wanted to explore, then chartering Jeanneau 64 yacht would be a smart move.
For more information on Jeanneau 64 contact:
Boatbookings.com
USA +1 954 892 5009
Email: charter@boatbookings.com
---
Specifications
Type: Sail Yacht
Beam: 5.4 Metres
Draft: 2.95 Metres
YearBuilt: 2014
Manufacturer: Jeanneau
Cruise speed: 8
MaxSpeed: 10
Engines: Volvo D4-180-180 HP / 132 kW ONAN 7.5 kW 220V 1500RPM
ScubaOnboard: Yacht offers Rendezvous Diving only
---
Contact the broker for the Jeanneau 64 charter:
Boatbookings

The information you enter in the form will be sent directly to Boatbookings yacht broker. We don't share your information with any other person. For more details, please see our Privacy Policy.
Have you already sailed with the Jeanneau 64? If so, feel free to share your experience in the comments below.

Daniella has been passionate about travel, the sea, and nature for many years. As a child, she frequently traveled throughout the Mediterranean and continued with her journeys throughout her adult life.
Her experiences have created the desire within her to share her love for traveling with other passionate and adventurers who want to discover beautiful horizons and new cultures.