Launched in 2019, Lagoon Seventy7 is a refined 77-foot luxury catamaran that's the newest and largest of its kind from the Lagoon yacht building powerhouse. Van Peteghem-Lauriot Prevost (VPLP) was behind the vessel's charming exterior design while Nauta Design conceptualized its chic interior.
Seventy 7 features an ingenious design, incorporating free-flowing spaces from the salon to the aft deck with multiple simple yet stylish social and relaxation areas. The catamaran exudes a luxurious and graceful ambiance, both on the interior and exterior, which makes it a perfect toy for the most discerning vacationer.
A closer look at the various aspects of the Lagoon 77 Catamaran yacht will make you fall in love with it the more. Here is what the vessel has to offer:
---
Accommodation
Lagoon 77 has a total of four cabins: a Master Cabin (Owner's Suite), 2 Double Cabins, and 1 Twin Cabin. There are 3 Double and 2 Single beds in these cabins, which can accommodate up to 8 guests in complete luxury. Each cabin is spacious and has an ample amount of natural light entering in.
Perhaps one of the most outstanding features of the vessel is the Owner's Suite, which is located in the forward hull area. Measuring a cool 25 square meters, the cabin provides superb living space on 2 levels; on the deck and on the hull.
The cabin's inside is furnished with a king-size bed, bookcase, storage area, desk, walk-in robe, and a sofa. There is also a sizable, well-lit, and spacious bathroom that's at your disposal.
In addition, the Owner's Suite is fitted with a hydraulic platform, which can be lowered to create a small private beach overlooking the sea and provides direct access to the water too.
For added convenience, the cabin has direct access to both the cockpit and foredeck as well as direct (and private) access to and from the saloon. What more can you ask for in terms of accommodation when cruising at sea?
Interior
The vessel's interior is sublime with marble and precious wood decorations, thoughtful layouts, and extremely stylish fixtures. The saloon, which has companionways to the owner's suite, maintains an open-plan layout and boasts neutral color palettes that create a relaxing ambiance.
Along the starboard side, there are two comfortable seating areas with the mizzen mast splitting the space and providing the much-needed
shelving. The port side, on the other hand, houses a formal dining space that is highlighted by windows and aft sliding-glass doors.
Also, within the same saloon space, lies a bar with an assortment of drinks for parties and other occasions. Below the decks are 3 impressive cabins and a fully-equipped chef's galley. So Lagoon 77's interior is as organized and comfortable as it is conveniently accessible.
Exterior
Just directly above the saloon is a large aft cockpit featuring an al fresco dining space with amply cushioned seating and a direct access platform to the transom and flybridge.
At the flybridge, there is space where you can dine or recline; all while enjoying the stunning views of the sea and surrounding islands. The exterior also includes a forward Cockpit with informal lounge seating and an access point to the foredeck.
The cat's extensive bow is fitted with trampolines, providing an ideal platform where you can stretch out and relax under the soothing sun. Lagoon 77 comes with a choice of 3 headsails but its striking golden mainsail is what makes it particularly enchanting even from a distance.
Performance
The seventy7 cat is equipped with a twin 180-hp engine, a 1600L (423 G) water tank, and a 2800 L (740 G) fuel tank. With that, you can hit maximum speeds with ease and sail quite consistently in all sea conditions.
While at sea, you can cruise at decent speeds of 11 knots per hour, which is sufficient enough to allow enjoy the caressing wind as you cruise on. It is also important to note that there's a backup generator that is on standby whenever the power goes down.
---
Where Does It Sail?
Lagoon 77 is available for sailing in Croatia, with a variety of destinations to choose from. Sailing in summer with this vessel can particularly be convenient and fun. The preferred pick-up point for the Lagoon 77 is Marina Kastela and Split, Croatia. You can also be picked from ACI Dubrovnik if you feel that's the most convenient point for you.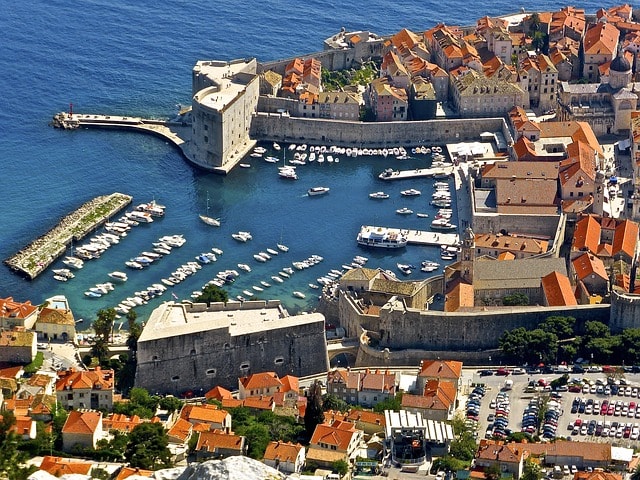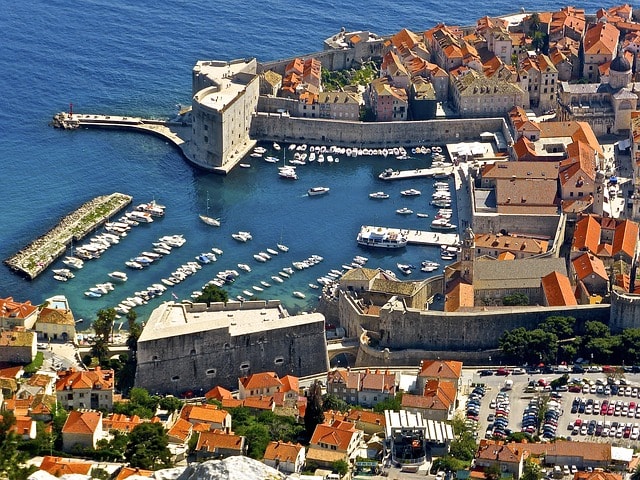 Why Charter Lagoon 77?
Chartering Lagoon 77 is, first and foremost, a golden opportunity to cruise at sea in full glamour. Just a quick run through the vessel's features such as the cabins, saloon, and the interior & exterior layout paints a picture of utmost comfort, luxury, and convenience. That's ideally what any holidaymaker would most certainly die for.
If you love getting the adrenaline pumping, even just a little while at sea, then there are many watersports activities you can engage in while on Seventy7. Some of the equipment you can make use of while onboard include a dinghy, water ski (for both kids and adults), snorkel gear, floating mats, and fishing gear. The vessel also has a swimming platform, for getting into and out of the waters smoothly.
Tagging along with one or two of your friends or family members as you go on a sailing tour with Lagoon Seventy7 is definitely something that will make the adventures more fun, thrilling and memorable. With the vessel's massive size, there's enough space for play, social activities, and relaxation for as many people as 8.
What makes sailing in Lagoon 77 more fun is that it comes with a crew of 3 hence you don't have to worry much about the processes of running the vessel like being at the helm, preparing meals, or keeping an eye on the engines. Yours will just be to unwind, explore and create lasting memories as you cruise along.
---
Conclusion
If you've been thinking of going on a sailing vacation but don't have a vessel in mind to enjoy your time on the water, then Lagoon 77 could set you up for the experience you desire to have at sea. Being among the newest and most sophisticated catamarans in the market, there is a lot you can expect in terms of comfort, swiftness, and seaworthiness. Exploring the seas certainly never gets better with this vessel.
---
Specifications
Type: Cat
Beam: 11 Metres
Draft: 1.90 Metres
YearBuilt: 2019
Builder: Lagoon
Have you already sailed the Lagoon 77? If so, you are welcome to share your experience in the comments below.
Daniella has been passionate about travel, the sea, and nature for many years. As a child, she frequently traveled throughout the Mediterranean and continued with her journeys throughout her adult life.
Her experiences have created the desire within her to share her love for traveling with other passionate and adventurers who want to discover beautiful horizons and new cultures.