With the time passing by, the catamaran became one of the most popular sailing boats in the world. A catamaran is a multi hulled vessel which is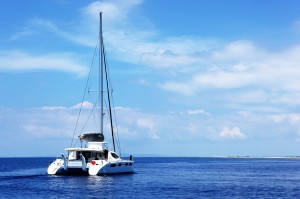 different from a single sailing boat named monohull.
The Catamaran sailing boats are very demanded due to its comfort, stability, and it is much faster than a monohull.
Catamaran is an awesome sailing boat for chartering long distances,or even traveling around the world. For many people it will be very hard to sail a monohull after they have been sailing a catamaran.
Which license do you need to sail a catamaran?
If you want to learn how to sail a catamaran, then it would be better to learn straight away on a catamaran because handle a multi hulled is different than handling a monohul.
What are the requirements to sail a catamaran?
If you don't have any license, then you'll need to learn first theory and then the practice. For the theory you won't have to worry, there are plenty of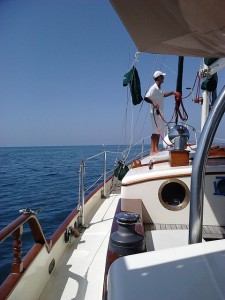 theory courses online, which is much more  comfortable for people that are busy, and of course for the practice you will need to join a sailing school , which you can enjoy learning while you are on vacation. That way, you will save some time!
There are few different courses for the practice, for example:
Basic Keelboat Sailing: certificate ( ASA101) , Coastal cruising: certificate ( ASA103), Bareboat chartering:  certificate (ASA104),Cruising catamaran: certificate (ASA 114)
The practice course will teach you how to be a real skipper and how to manage a 30-50 foot multihull. You will learn everything from A to Z, for instance, how to use each part of the boat, how to handle in heavy weather, how to anchor, docking the cat and much more.
At the end of the course you will be graduated to sail a catamaran. What a great feeling!
Where to find a sailng school?
Now you are probably wondering where to find a sailing school.
In almost any place you can find a sailing school. If you choose to charter a boat ,than it is recommended to ask your broker company to help you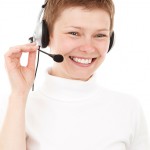 find a sailing school where ever you will be staying on vacation.
Or as simple as it is, you can search in the internet; there you will find many sailing courses in almost every place in the world.The catamaran is the complete set, Comfortable swift and spacious, it will make you enjoy your sailing vacation.
Daniella has been passionate about travel, the sea, and nature for many years. As a child, she frequently traveled throughout the Mediterranean and continued with her journeys throughout her adult life.
Her experiences have created the desire within her to share her love for traveling with other passionate and adventurers who want to discover beautiful horizons and new cultures.