Looking for a fun activity to do during your vacation in Oahu? What would you say about a sailing adventure with dolphins? That would be a great idea!
If this sounds attractive to you, then you should take a look at the Leeward Coast Dolphin and Snorkel Half-Day Cruise tour. I am pretty confident that you will find this trip quite exciting!
Overview
This tour is about sailing along the beautiful Leeward Coast located in Oahu. You and your family will enjoy watching Spinner Dolphins on the way to the snorkeling spot. While cruising along the Southwestern Coast of Oahu, you will admire spectacular landscapes and the bluest water of Hawaii. This tour offers a mix of water sports activities, sightseeing, gourmet buffet lunch, and a lot of fun for the whole family! An excursion not to miss out!
What to Expect From The Tour
Departure
There is one departure time daily, which begins at 9 Am in Waianae Harbor. You have the option to opt for a private van to pick you up from the hotel or get there on your own. Whatever your choice, make sure to arrive half an hour prior to the departure for the check-in!
Getting There
A luxury catamaran will wait for you at Waianae Harbor, a charming small marina with all types of charter boats, which is surrounded by impressive mountains. A real jewel!
Get on board and find a nice place to sit so that you can enjoy watching beautiful surroundings, and eat a delicious breakfast while sailing to the destination.
Snorkeling
Once you arrive, the captain will drop anchor in a calm and safe spot. The crew will provide you a brand new snorkel that has never been utilized before with a mask and a pair of fins. The team gives a brief instruction on some snorkeling basic tips, but this lesson won't be necessary if you know how to snorkel. You will then snorkel with a professional guide for about 45 min among marvelous tropical fishes, turtles, and stunning coral reefs.
Back on Board
After your snorkeling excursion in the water, the fun will continue with a delicious lunch onboard the spacious and comfortable catamaran. The buffet offers a variety of delicious food and drinks with unlimited non-alcoholic beverages, all sorts of meals, sweet desserts, fresh salads, two alcoholic drinks, and a gourmet sandwich bar. What could be better than to enjoy a delicious meal while watching spinner dolphins and spectacular sceneries!
---
About the Spinner Dolphin
The Spinner dolphins are quite small, and they have a slim body. They usually live off-shore in tropical water worldwide. The adult dolphins can reach about 7 feet in length and can weigh between 23–79 kg. Its rostrum is long, and its dorsal is subtriangular.
The Spinner dolphins are usually composed of three colors. The side of their body is light gray, the back is dark gray, and the underside is either white or light gray. Their lifespan is around 20 years.
They love to play around and are well reputed to be excellent acrobats. They jump very high out of the water to make several spins in one jump before they get back into the sea.
Spinner Dolphin's favorite foods are squid and fishes. They usually search for food at night in deep water, and they come back in the morning in shallow water to relax after their lavish meals and to play as well!
Spinner dolphins swim in groups and love to be in company with other sea creatures such as tunas, whales and other dolphin's species. They make special sounds to communicate and also slap on the water if there is a danger or food or need to change the direction.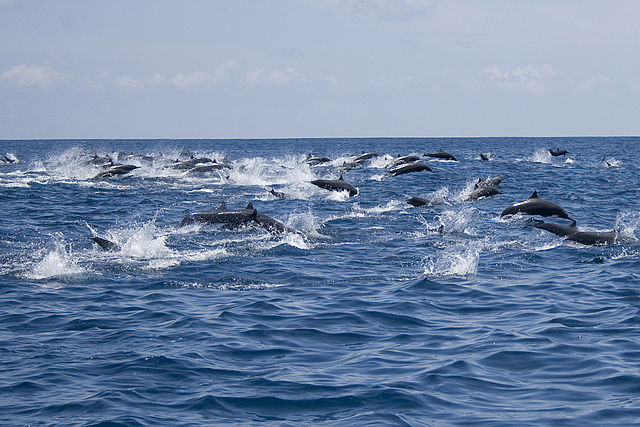 Duration of The Trip
The tour lasts 3 hours on the boat, which doesn't include the way back and forth from the hotel.
Embarkation 9:00 – Disembarkation 12:00
Drive from Waikiki to Waianae Harbor (50 Min)
Return from Waianae Harbor to Waikiki (50 Min)
What's On The Menu
The breakfast includes croissants, muffins, fruit salads, granola bars, coffee, milk, juices, soda, and water.
The lunch comprises fresh salads, hot meals, sweet desserts, accompaniments, sandwich bar, two alcoholic drinks, water, soda, and juice.
What Facilities Are There On Board
As catamarans are quite luxurious and spacious, they usually have useful amenities. However, this boat possesses a cabin to change clothes if needed, a bathroom, and plenty of space to sit or lay in the sun.
What Is Included
Brand new snorkel, pair of fins, and a mask
Expert guide to accompany in the water
Delicious breakfast
Lavish buffets lunch
Two alcoholic drinks per person
Transportation service back and forth from the hotel (if option selected)
What Is Excluded
Tip for the crew (Optional)
How To Book The Tour
It's quite easy. You just need to choose the date, the number of guests, and the transportation service option if you wish to be picked up from your hotel. Once you've booked, you will receive a confirmation. Just make sure to contact Viator 48 hours before the tour, and you are good to go!
Who Is This Tour For
It is for anyone who feels comfortable snorkeling in the water. Everyone can participate in this tour, even children. Non-swimmers can also snorkel in the bluest water of Hawaii with a life jacket. As long as people are in good health and are not afraid of snorkeling, then this tour welcomes everybody! Also, snorkeling is not a must to enjoy watching spinner dolphins; the view is spectacular from the boat as well!
When Is The Best Time to Do The Tour
You can be sure to see spinner dolphins if you do the tour between December through April; during that period of the year, you won't miss them. Now if you wish to watch humpback whales, turtles, and dolphins, then the best time would be from November through April. You will be able to enjoy watching plenty of beautiful sea creatures!
Why Should You Go On this Tour
There are five good reasons why you should not miss out on this tour!
There is a professional guide that accompanies you in the water for 45 min.
No need to rent a car, as Viator picks you up and drops you off at the hotel.
You will enjoy watching not only dolphins but also turtles, all sorts of colored fishes, and humpback whales.
You will have a delicious breakfast in the morning and a well-organized buffet for lunch.
Even if you don't want to snorkel, you can still enjoy watching from the spacious and comfortable catamaran.
What to Bring
Tips
In case you get seasick on the boat, it would be safe to bring some patches or pills, whatever you are comfortable with.
Make sure you have all the information on your voucher ticket to get to the boat.
Pros
Life Time return Coupon if you don't see dolphins on your tour
Knowledgeable and friendly crew
Spacious and comfortable catamaran
There is a cabin to change closes and a bathroom onboard
Excellent food and beverages, including lunch buffet and breakfast
Cons
No possibility of buying pictures on the boat
In Conclusion
On this tour, you will not only enjoy watching spinner dolphins and all the abundant natural beauty, but the crew will be attentive to all your need from the beginning to the end of the tour. Plus, nothing could be more special than degust delicious food and drink refreshing beverages while sailing through breathtaking landscapes! So, if you want to have fun while you are in Hawaii, then you should definitely book this tour!
Have you already snorkeled and watched dolphins along the Leeward Coast? If so, feel free to share your experience in the comment below.
Daniella has been passionate about travel, the sea, and nature for many years. As a child, she frequently traveled throughout the Mediterranean and continued with her journeys throughout her adult life.
Her experiences have created the desire within her to share her love for traveling with other passionate and adventurers who want to discover beautiful horizons and new cultures.