Does your mask leak or fog? Do you have difficulties to breathe through your snorkel?
And my last question is…
Are you looking for a mask that allows you to breathe comfortably that you don't have to clear or purge every time you snorkel?
If so, you came to the best place!
Check out the Ocean Reef Aria full face snorkeling mask review. Once you put this mask on your face, you will never go back to your old traditional mask!
Ocean Reef Aria Overview
The Ocean Reef Aria is a full face mask of high quality that allows everyone, including children and even advanced snorkelers to have a pleasant and comfortable snorkeling experience! Why? Just take a look at the article!
Features
Material
The skirt of the Ocean Reef is made of silicone and have a wide seal edge for more comfort. Like the snorkel, the lens is made of polycarbonate. This durable material has a higher light transmission and more resistant to shock than any other types of glass, allowing you to see clearly through the lens!
Straps
This mask has adjustable elasticated textile straps that are easy to put on and off. You can adapt them to the size you want, and they are extremely comfortable, allowing you to seal the mask to your face correctly!
Dry Snorkel
The Ocean Reef possess a detachable dry snorkel, meaning that there is a small valve placed on the top of the tube that will close if water gets into the snorkel. With this feature, you don't need to purge the tube as you have to with a traditional mask, which allows you to swim long distances with ease.
Weight
The weight of the Ocean Reef is 862 GR, it is relatively light but it is not the lightest full face mask on the market.
---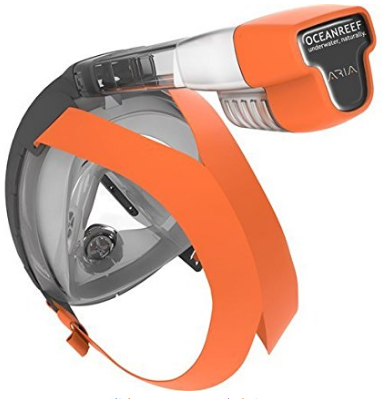 ---
How to Make Sure You Get The Right Size?
To take the right fit you need to take the dimension from the bridge of your nose to the bottom of your chin. Check the sizes below to see what's best for you. Bear in mind, though, that the Small/ Medium will fit Junior and Large/Extra large will fit adults!
Up to 10 cm = XS
Between 10 cm to 11,5 cm = S/M
Beyond 11,5 cm = L/XL


---
What Can You Do With The Ocean Reef?
You'll be able to snorkel at the surface of the water, but not use it for freediving for the simple reason that a full face mask doesn't give you the possibility to equalize the pressure in your ears. If you go down only a few meters, the mask will squeeze your face and will become uncomfortable, which is not fun! So be aware of this and stay on the surface! By the way, this applies for any full face mask!
---
Can You Install Optical Lens On the Ocean Reef?
You cannot install optical lens on the mask. And wearing your prescription glasses won't be a good idea because the arms could break the seal and cause leakage. The best option is to use contact lens or Optical Lenses Suppor, made by Ocean Reef company like shown in the video below.
These are lightweight and sturdy glasses that don't feature arms, allowing you to wear them inside without interfering with the seal of the mask. The only thing you'll have to do is to go to your local shop and get your prescription installed, and you are good to go!
Would The Ocean Reef Work With a Beard?
As long as the beard doesn't go past the seal of the mask, it will be fine! If it does, then you may want to shave a bit. However, make sure to clear your hair off your face and that the beard isn't placed between the skin and the skirt to avoid any leakage problem.
---
Does The Ocean Reef Fog?
What is nice about the Ocean Reef is that you don't have to worry about defogging the mask because it is equipped with one-way air circulation system, which separates the inhalation from the exhaled air.
---
Tips
Rinse your mask after each snorkeling excursion with clear water, then dry it completely and store it in its ventilated mesh bag that comes with it.
Avoid your mask to come in contact with sand, it could scratch the glasses.
If the valve of the snorkel gets blocked because of the sand, just rinse it with clear water.
Keep your snorkel in a vertical position when you swim so that the valve works correctly!
---
How Long Is The Warranty?
The Ocean Reef offers 2 years warranty. Once you've bought it, you will need to register the mask on their site so your warranty can be activated. This company is extremely reliable and if you have any issues with the mask, you can be sure that they will replace it!
---
Why Do I Recommend the Ocean Reef Aria?
Well, Fist, because it is Ocean Reef! This brand is exceptional and extremely reputed for creating only high-quality gear for snorkeling and scuba diving. And secondly, because the Ocean Reef Aria offers more field of vision than any other full face mask out there. As I've mentioned above, the glass and the tube are made of polycarbonate, a very strong material that is highly resistant to shock.
Those are already the reasons why I suggest you this mask! Not to mention that it is a free fog mask. It features a separated ventilated air system that allows you to breathe normally through your nose without your mask getting foggy, which happens quite often with a traditional mask. Without mentioning that the dry snorkel will come in handy if water gets in the tube! Also…Why not use only one mask instead of a complete snorkeling set!
---
Who is The Ocean Reef Aria For?
The Ocean Reef is truly for everyone! Whether it is for children or adults, this mask will fit any face shape and will make your snorkeling experience extremely pleasant. Be aware that the Ocean Reef Aria is not designed for freediving. So If you are only interested in diving, then you would rather look for a traditional mask. Otherwise, the Ocean Reef is fantastic for beginners as well for advanced snorkelers.

Buy On Amazon
---
Pros
The Skirt is made of soft silicone, making it very Comfortable to wear for extended hours
The dry snorkel detaches easily
The mask does not fog at all since it seals the face extremely well.
It provides 180 fields of vision
Clear visibility underwater thanks to its excellent lens made of polycarbonate, allowing you to see through clearly!
Thanks to its breathing circulation chamber, You can breathe normally through your nose!
Since there is an anti-fog technology system, there is no need to worry about the mask fogging.
Awesome for snorkeler beginners
Comes in wide variety of colors


---
Cons
Designed only for snorkeling on the surface of the water and not for diving underwater.
Does not come with Go Pro mount
It is quite light but heavier than other masks
My Final Word!
No matter if you are a novice or an advanced snorkeler if you want to enjoy your snorkeling experience thoroughly without constantly having to remove the water out of the mask or stop every time to purge your snorkel, then the Ocean Reef Aria is the mask you should get!
What about you? Did you already use the Ocean Reef Aria? If so, what do you think about it?
AMAZON AFFILIATE DISCLOSURE
Cruising Sea is a participant in the Amazon Services LLC Associates Program, an affiliate advertising program designed to provide a means for sites to earn advertising fees by advertising and linking to Amazon.com
Daniella has been passionate about travel, the sea, and nature for many years. As a child, she frequently traveled throughout the Mediterranean and continued with her journeys throughout her adult life.
Her experiences have created the desire within her to share her love for traveling with other passionate and adventurers who want to discover beautiful horizons and new cultures.