What do you think of when you imagine the dream Caribbean vacation? Does a private luxury snorkel cruise: including coral reef and natural swimming pool from Punta Cana sound about right? It is now possible for you and your group to enjoy this kind of private luxury and more.
You can charter a catamaran, a comfortable double-hauled boat, and spend four hours exploring off the coast of Punta Cana with your private party. Snorkeling is included on the trip, and you can swim with colorful tropical fish, stingrays, and other amazing sea creatures at one of Punta Cana's most amazing coral reefs.
Sip drinks from the unlimited open bar on white sandy beaches, and swim in refreshing natural swimming pools. All while playing games and partying with your friends and family on the crystal-clear water. All with round-trip transportation and snacks provided.
---
What to Expect:
Getting to your private luxury cruise could not be easier. A friendly local guide will meet you and your party at your hotel. Transportation for your whole party from your hotel to the marina will be provided by a private bus. After arriving at the marina, your party will board the catamaran and take sail on the crystal-clear blue waters to your first destination.
You will be taken to Cabeza de Toro beach, home to some of the most remarkable snorkeling in the Caribbean. Where your tour guide will show you some of the Caribbean's most magnificent coral reefs. From there, it's off to the white-sand beaches of Punta Los Nidos for fun and relaxation. Followed by swimming in the natural swimming pools.
While sailing on the
catamaran
, you and your party will have access to fresh cocktails at the open bar and some delicious tropical fruit and other snacks. Snap pictures and play the music of your choice while your party sails through the beautiful Caribbean waters.
After your time swimming, drinking, and partying, it is time to head back to the marina. You will be sailed back to the dock and from there, your whole party will once again be transported by private bus back to your hotel.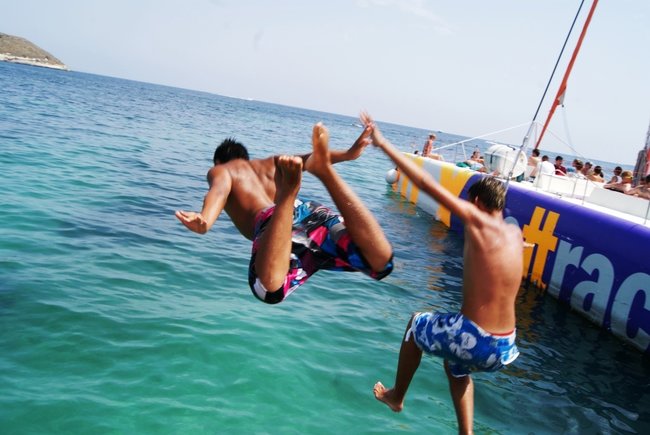 ---
See What Viator Reviewers Think About this Tour
Itinerary:
Your party will be picked up at the hotel by a friendly guide and brought by bus to the marina at Cortesito-Bavaro, Punta Cana.
Cabeza de Toro Beach
From there you will board a spacious catamaran and head to Cabeza de Toro beach for a guided snorkel among the many sea creatures along the coral reef. There you will have the chance to swim with with sting rays and nurse sharks
Punta los Nidos
After this, you will sail to the white sand beach of Punta los Nidos, where you can relax under a coconut tree with a refreshing cocktail. Next on the list is the natural swimming pool, where you can take a refreshing dip to the soundtrack of your favorite songs.
Back to the Marina
Finally, enjoy great snacks or maybe a meal while you sail back to the marina, where you will be brought back to your hotel via private bus.
---
What Equipment Are on Board?
On board is everything you will need to snorkel, music, well-stocked open bar, food, life jackets, and refreshments for kids and seats for infants. You and your guests get everything you need to have the most unjoyable party on the water.
How Long in the Excursion?
On its own, this is a three-hour adventure. If you include round trip travel time to and from the marina, it is about a four-hour trip overall. It may be a bit short, but hey, the quality of your party on board counts, and not the quantity.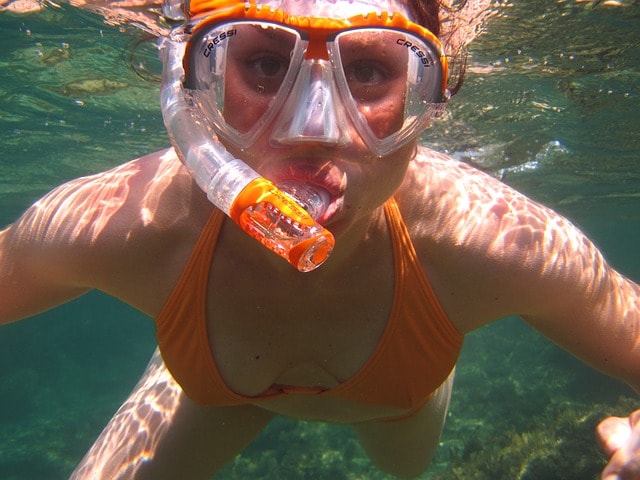 ---
Best Time of Year for this Excursion
Thanks to Punta Cana's warm climate, this trip is a great option all year round. The best time to go is whenever you are there! If you don't like crowd, then it's best to do the trip in the morning, the pools are empty.
How Many Guests Can the Boat Accommodate?
This catamaran used for this private excursion can accommodate up to 60 of your friends and family. This is awesome as you can have three to four groups of people and share the boat together to make a birthday party or cocktail party.
---
What's Included:
Included on this trip are:
The round-trip transfers to and from the marina and your hotel
Snorkeling equipment
Life jackets
Snacks and tropical fruits
Excellent on-board service
Open bar with unlimited drinks
Refreshments for kids
Infant seats, and USB port connections for you to play the music for your choice.
---
Are Meals Served on Board?
Free snacks and fresh tropical fruit are provided on this tour free of charge. For those with more of an appetite, there are meal options available for purchase.
For $10 per person there is the Authentic Dominican Meal, it includes rice, green salad, a variety of meat, and plantains and cornbread.
The Dominican Seafood Meal for $15 includes fresh fried or grilled fish, potatoes, fried plantains, or rice and green salad.
The Grilled Seafood Feast for $29 is a great taste of the ocean. It includes lobster, shrimp, fresh fish, potatoes, fried plantains or vegetable, and green salad.
All options are a fresh and delicious additions to your excursion.
---
What to Bring
You'll definitely enjoy this excursion, but you need to bring some important items with you so you don't have to go shopping just before you get on board. This wouldn't be fun.  So here is a list of things you'll need to pack.
Dry Bag to keep your content dry
Sunscreen
Insect repellent
Cash and/or credit card
Gratuities for the helpful drivers and tour guides.
---
Who is The Tour For?
This tour is for anyone who loves having a good time on the water with their friends and family. However, it is important to keep in mind that this excursion is not wheelchair accessible. This excursion does involve activity and is not recommended for people with back problems, women who are pregnant, and people with heart problems or other serious medical issues. The majority of travelers can participate in this excursion.
---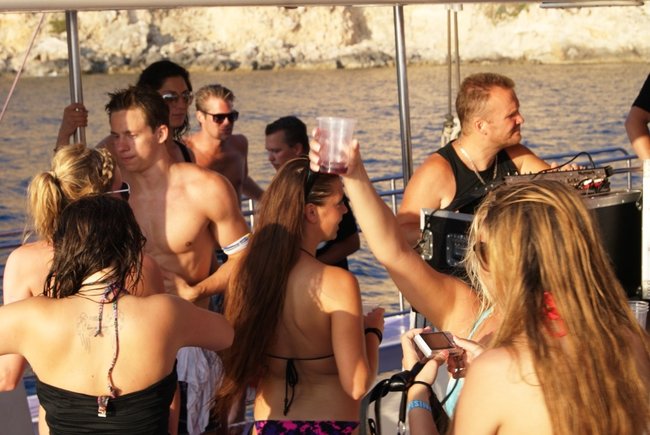 Why Should You do this Tour?
This tour is the perfect vacation addition for groups traveling to Punta Cana. The friendly and knowledgeable staff provide excellent snorkeling tours, and will keep the drinks flowing, the music jamming, and party roaring.
Many guests find this tour to be the highlight of their trip to the Dominican Republic and you will not want to miss out on it.
Although some may find it difficult to make plans with large groups, the staff makes it as simple as possible with round-trip busing and you will not want your party to miss out on this great excursion.
---
Pros
Completely Private Tour
Amaizing crew that pampers you from the moment you get on board.
Photographer on board to take pictures
You can choose your own music
Unlimited drinks
Cons
Not wheelchair accessible
---
Tips to Avoid Seasickness
Getting seasickness during your trip is something you want to avoid at all cost. First off, don't panic; not everyone gets sick. Second, on a catamaran, seasickness is less felt because it's stable and comfortable. But if it does happen, there are excellent remedies.
Drink lots of water
Eat something before you get on board
Bring some gingers and cucumbers. It really helps
Wear sea band on your wrist
Focus on the shoreline, clouds, and trees.
---
Conclusion
A private luxury snorkel cruise on a catamaran is the perfect addition to a group vacation. With a friendly, experienced, and fun staff, one of these cruises will easily top your list of favorite things to do in the Caribbean. And with transportation, snorkeling gear, unlimited open bar, and snacks included, all these great times come at an amazing value. Book yours today!
See Other Tours
Have you been on this private luxury snorkel catamaran cruise?Is so, you are welcome to share your experience in the comments below.
Daniella has been passionate about travel, the sea, and nature for many years. As a child, she frequently traveled throughout the Mediterranean and continued with her journeys throughout her adult life.
Her experiences have created the desire within her to share her love for traveling with other passionate and adventurers who want to discover beautiful horizons and new cultures.