Whether it is a stay at the beach or spend time at sea onboard a yacht, just the fact of breathing in sea air stimulate the appetite! The sun, the mood, the ambiance, the relaxation make us want to snack on!
Sailing supposes to be enjoyable and relaxing, and no one wants to spend time cooking in the galley while friends have fun on the deck! With a bit of planning, not only you'll be able to be part of the fun, but everyone will enjoy as well!
Making delicious snacks doesn't mean you have to spend a fortune, in fact, you might be surprised how easily you can make delicious budget-friendly snacks! Check out the best snacks for a boat ride!
---
1#Trail Mix
There is nothing better than a combination of dry fruits and cereals to satisfy your appetite! What I like about dry fruits is that it doesn't mess and it is easy to store and to conserve! Just try to avoid the ones with too much salt as the sea makes you already thirsty! Also, it is always convenient to store foods in divided containers. You just need to take out the container of the bag, and it is ready to serve, nothing else to do!
In divided food storage containers, put some
Almonds
Nuts
Raisins
Dates
Apricots
Cereals
Sunflower Seeds
Healthy Crackers
Cranberries
Hazelnuts
Walnuts
Pecans
Pine nuts
Figs
Prunes
Cherries
Berries
Mangoes
Pumpkin Seeds
---
2# Hummus and Dried Pita
Hummus is rich in protein, and it will definitely fill you up for a couple of hours! Either you buy it in a quality store, or you prepare it yourself. Please, avoid buying the hummus in supermarkets as they usually sell hummus with lots of saturated fats. Check well the ingredients before! However, Hummus accompanied with dried pita bread is a snack everyone should experience, it is easy to bring everywhere and not to mention it is delicious! Here is how you prepare Hummus and Dried Pita.
Hummus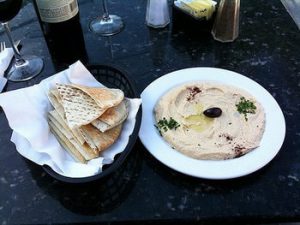 Ingredient:
300 grams cooked chickpeas
2 lemons
1/2 cup of Tahini
2 garlic cloves
1 teaspoon salt
1/2 cup water from cooked chickpeas
1/2 teaspoon red Paprika
Olive oil
Directions:
1. Let the chickpeas rest in the water for 12 hours
2. Rinse and cook until the chickpeas are ready.
3. Keep the water of the chickpeas on the side.
4. In a food processor, put the chickpeas, the Haiti, the chickpeas water, salt, garlic, lemon juice, and process until it's creamy. Add salt or lemon juice according to your taste.
5. Pour the hummus into a food container and with a tablespoon, make a hole in the middle and add the oil and the red paprika on top.
Dried Pita
Ingredient:
15 pita bread
3/4 cup Olive Oil
1/2 teaspoon pepper
1/2 sea salt
1 teaspoon red paprika
Directions:
1.Preheat the oven 200 C
2. Cut all the pita bread into triangles.
3. Mix all the ingredients in a bowl and with a pastry brush spread the mixture on the pita.
4. Put in the oven and cook for about 10 minutes, until the bread become lightly brown and crispy, And Voila! You have one of the best snacks on board!
---
3 # Fruits
Nothing beats fresh fruits in the summer! It refreshes you, it's tasty, healthy and it fills you up. To keep fruits fresh and cold, you need to store them in a cooler. Anyway, you will need a cooler for the drinks. So use it to store the fruits as well!
Cut each fruit into cubes and put them in a divided food container. Here are the most refreshing fruits for your boat ride! Note: avoid fruits that turn in black such as, apples, pears, and bananas.
Watermelon
Lychees
Guava
Figs
Honeydew Melon
Papaya
Peaches
Apricots
Mango
Pineapple
Kiwi
Gapes
Cherry
Pomelo
---
4# Raw Vegetables With Tahini Sauce
Another great refreshing and tasty snack are fresh vegetables with Tahini sauce. For this, you will need a cooler and if you don't have one, just use some ice cube to keep them fresh.
Here is a list of raw vegetables you can use for your boat drive!
Cut them into sticks and put them in a divided food container or whatever is convenient for you! As for the Tahini, store it separately as it is quite creamy.
Celery
Carrots
Cucumbers
Yellow Squash
Broccoli
Cherry
zucchini
Bell Peper
Scallion
Radish
Tahini 
Ingredients:
1/2 cup Tahini
2 cloves of garlic clove minced into paste
1/4 cup lemon juice
1/4 teaspoon salt
1/3 cup cold water
Chopped Parsley (Optional)
Directions:
1. Pour the Tahini in a bowl
2. Add lemon Juice, cold water, garlic, salt, and mix. (Don't worry if it's a bit sticky and hard at first. It should become creamy after adding the liquid. If you see it is still hard, then add some water and continue to mix.
---
5# Zucchini Chips
This is one of the easiest snacks that can be carried everywhere! These are not just tasty, but a fantastic alternative to potatoes chips, plus they accompany drinks very well!
The only tricky part in this recipe is the cooking time. So check well in time!
Ingredient: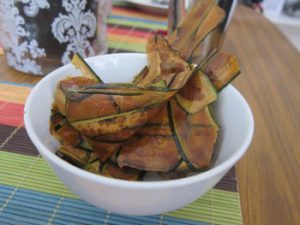 2 Washed and dried Zucchini
3 to 4 tablespoon Olive Oil
1/2 teaspoon sea salt
1/4 Teaspoon Black Pepper
1/2 Tablespoon Paprika
Instructions:
1. Preheat the oven to 450 C
2. Cut into thin slices the Zucchini
3. Mix the olive oil, paprika, sea salt, and black pepper in a big bowl.
4. Add the Zucchini cut into slices and dried in the bowl with all the ingredients.
5. Toss well and place each slice separately from one another on a baking sheet and cook in the oven for 10 minutes until the become lightly brown.
6. Remove from the oven and let them rest a bit
7. Reduce the oven to 200 degrees and place the Zucchini back in the oven until you see they become crispy. About 20 to 40 minutes.
---
In Conclusion
That's it. These are great snacks for a boat trip. They are easy to make, to bring, to store and to keep fresh. And most importantly, they are delicious! You just need to prepare them in advance so that you can be ready for your journey on the water.
Want to Know More Snack Ideas?
Sign up to Cruising Sea newsletter to receive every two weeks the latest post straight to your inbox!
What about you? Do you have some snacks to add to the article? If so, feel free to share them in the comment below.
Daniella has been passionate about travel, the sea, and nature for many years. As a child, she frequently traveled throughout the Mediterranean and continued with her journeys throughout her adult life.
Her experiences have created the desire within her to share her love for traveling with other passionate and adventurers who want to discover beautiful horizons and new cultures.