The best time to charter a yacht can depend on a number of factors including your likely destination, the weather, and the peak/offseasons for that area.
The weather varies between destinations and each area will have specific seasons with costs being higher in the peak seasons and availability more restricted.
Visiting an area during the busy seasons may mean that there is greater competition for marina berths and moorings so you may not get your first choice.
Choosing to charter in the low season will save you money, just check that the weather will still be pleasant enough for you.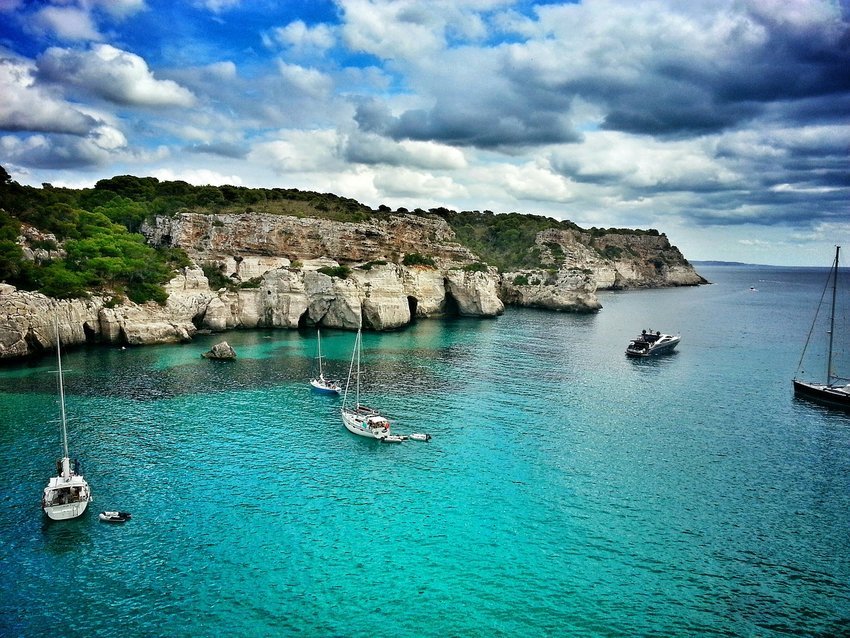 Mediterranean
Sailing in the Mediterranean region is most pleasant during the summer months but will vary depending on whether you are sailing along the southern coast of France, around Sicily, off Croatia or Turkey, or among the Greek islands.
Winters are mild in the Mediterranean region with cooler temperatures than the summer heat but still pleasant. Generally, yacht charters are less active in the winter than in the summer months, though.
Temperatures may drop as low as 50F (10C) during the winter (December through to February) but will gradually warm in spring and be quite pleasant from May onwards.
With air temperatures increasing you will see water temperatures start to increase too, making swimming more enjoyable.
Sea temperatures are warmer in autumn than spring due to the residual summer heat. In the summer, temperatures will average between 75 and 80F (24 to 27C) so very pleasant but may reach 100F (38C) on some of the Greek Islands.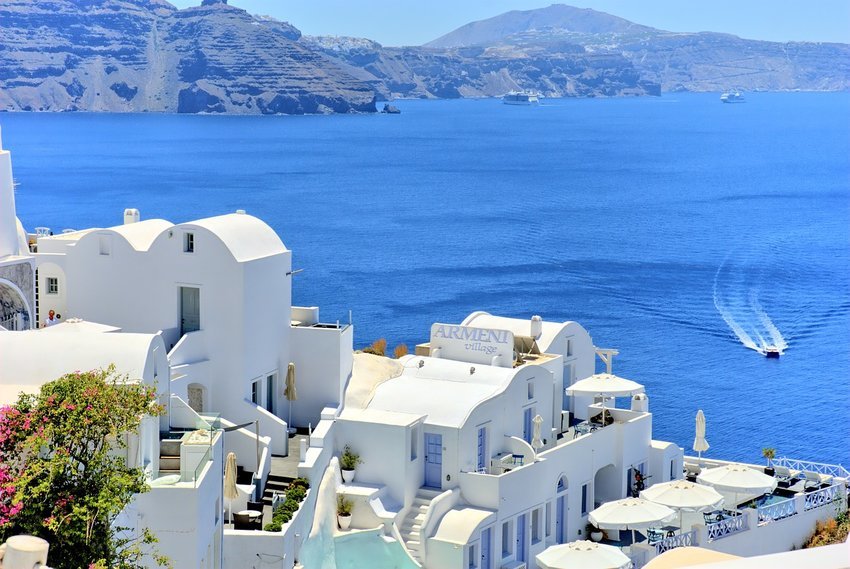 Thailand
Much of Thailand experiences a tropical climate with distinct wet and dry seasons. However, be aware that the southern parts of Thailand, the Malay, and Thai peninsulas experience a monsoon climate.
Thailand's east coast experiences good weather from December through to February with low rainfall and temperatures gradually increase from March to highs in April and May of up to 35C (95F).
From June onwards expect heavy rainfalls for an hour most afternoons, but it is not until late August/early September that the monsoon rains bring plenty of rain and an increase in humidity with average temperatures 30C+ (86F).
Rainfall is at its highest from October to November. The best time to visit would be March through to August to avoid the heaviest rains but still, have good temperatures and plenty of sunshine.
The west coast is more favored during November to March when the cool winds help to keep both temperatures and humidity from reaching more uncomfortable levels.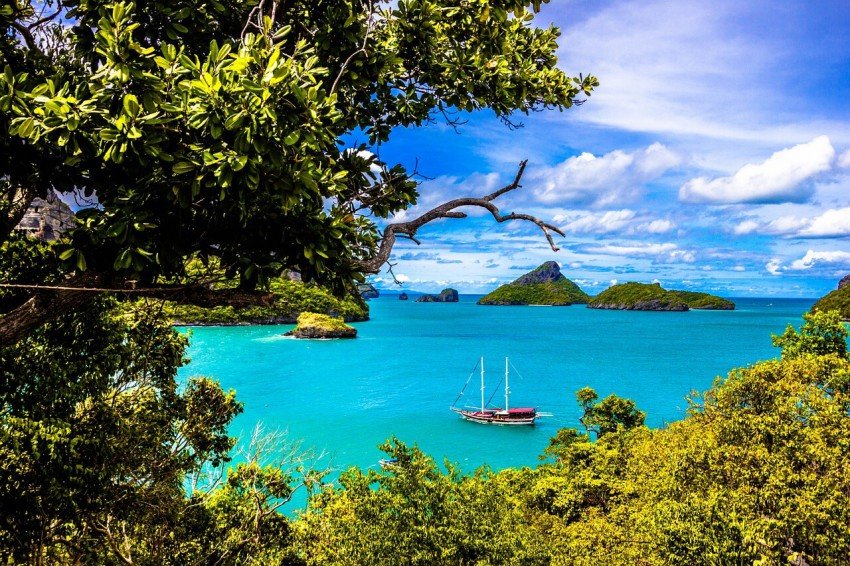 Caribbean
In the Caribbean, temperatures do not vary much between winter and summer, so sailing is comfortable all year around.
What affects the peak and off seasons is the weather in the northern hemisphere. Visitors flock south for winter sun when the cold grips the north, so peak season in the Caribbean is when North America is experiencing its winter.
Off-peak seasons still have fabulous sailing weather with warm air and sea temperatures and favorable wind conditions.
Be aware that the official hurricane season is June 1st through to November 30th with the peak occurrence of hurricanes in the Caribbean region likely to be between mid-August to mid-September.
Winter prices are higher in the islands than in the summer or fringe seasons. The fringe seasons would be spring and fall.
If you plan to visit over Christmas and New Year, you will pay a premium and may have to book many months if not years in advance!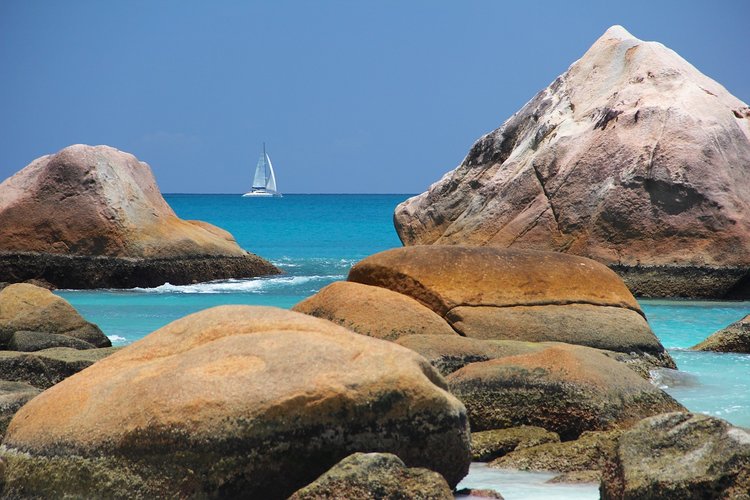 Bahamas
The Bahamas are a year-round destination, and with so many islands to choose from once you are away from a main marina or port, you will be able to find a beach all to yourself even in the busiest peak periods. Each of the islands experiences similar weather conditions, tropical with warm daily temperatures and plenty of sun hours.
As with the Caribbean, you need to be aware of hurricane season for the potential of an extreme weather event.
With up to date weather forecasting and hurricane tracking the risks are greatly minimized, but you may still wish to avoid the peak hurricane season anyway to avoid the risk of your vacation being canceled or cut short.
Annual temperatures range from around 70F (21C) to 80F (27C) with cooler temperatures during winter evenings but only enough to perhaps need a light jacket.
One of the busiest periods is during spring break when college and university students descend upon the resorts making them rather noisy and crowded.
If all night beach parties are not your thing, then the months of March and April are probably best avoided depending on term dates and the dates of the Easter public holidays!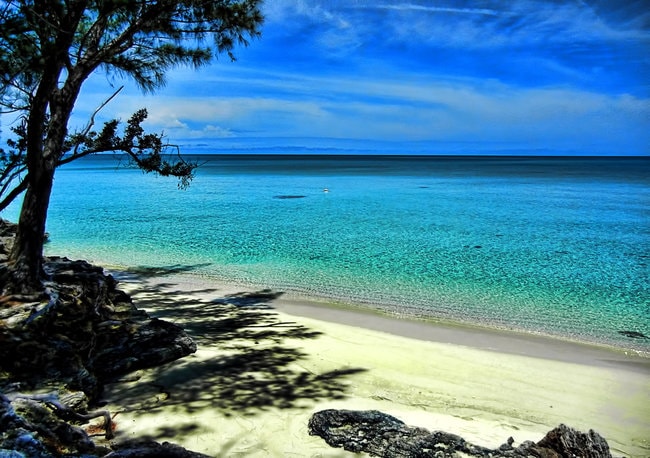 Tips for sailing on a tight budget
Plan your sailing holiday or yacht charter in the low or off-peak season as you may be able to save between 10 and 60% of the cost of your vacation.
Many yacht charter companies offer significant discounts to encourage more activity in the low seasons.
Consider somewhere like the Caribbean where even in the official off-peak seasons the weather is perfect for a sailing holiday with warm air and sea temperatures for fun swimming.
Look for last minute deals to save even more on your next yacht charter vacation. Months of the year identified as peak may be so because of the weather but also because of the weather in the countries visitors are escaping from.
Something to be aware of is that chartering a yacht during an off-peak season may mean a reduction in facilities as many marinas may carry out scheduled maintenance or repairs during this time.
Also, some activities may require minimum numbers to run, which may be harder to achieve in the low season with fewer tourists in the area.
You may also find that some restaurants and shops are closed over the low seasons due to low visitor numbers.
Conclusion
You may find that the best time for you to charter a yacht is the offseason when availability is increased offering a wider choice of yacht charters and milder weather.
If you are not keen on crowded beaches and islands or high temperatures then best avoid the busy peak seasons.
Also, remember that some areas experience extreme weather events such as tropical cyclones or hurricanes or monsoon rainfall events and you should be aware of this when making a booking.
Save up to 60% by booking in the low season and avoid the hottest temperatures and the crowded beaches!
For further information about yacht charter, please contact Cruising Sea.
When is the best time for you to charter a yacht? Please, feel free to share your experiences in the comments below.