As a seafarer who's keen to learn the art and science of making excellent Tuscan dishes, you have many reasons to smile. In this article you'll find out about the top rated cooking classes in Tuscany. Yes, Tuscan is renowned for its great culinary tradition which includes delicious tasty dishes, fantastic traditional recipes, wines, wonderful organic fruits, and vegetables among many others.
Think of the fun and joy of getting expert knowledge in the preparation of the Bistecca Alla Fiorentina, Tripa & lampredotto, Castagnaccio, Robilitta,and many other fascinating Tuscan dishes. There are numerous opportunities to learn how to make these amazing dishes. Let's take a brief tour and highlight the best opportunities that you can take advantage of as part of your sailing trip.
---
Best Rated
1#. Cooking Class and Lunch at a Tuscan Farmhouse with Local Market Tour from Florence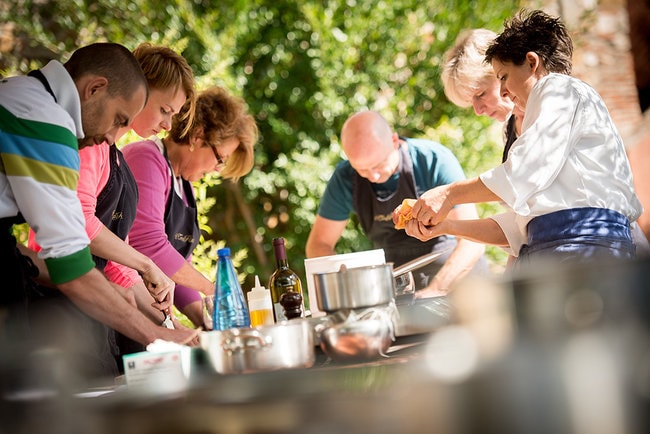 This full-day experience allows you to familiarize yourself with an authentic Tuscan farmhouse kitchen; its layout, the dos and don'ts plus the appliances and the gadgets found in this type of kitchen and how to operate them.
Your tour begins in central Florence where you are joined by your guide and walk to the Florentine market. Here you peruse the stalls which are well stocked with the area's freshest ingredients such as olives, cured meats, cheeses, sun-dried tomatoes and other regional delicacies. Make your selection of ingredients and hop into a minibus and off to the Tuscan hills.
The trip takes you to a beautiful rustic farmhouse where an amazing chef is waiting for you to come and join the cooking class. With the guidance of this culinary expert, you'll prepare a full Tuscan meal. It's here that you get to learn first-hand how to prepare authentic Italian pasta from scratch. If you've ever wondered what's the secret behind the Tuscan meat sauces then this is the perfect opportunity to quench your curiosity.
This trip gives you the opportunity to create a bruschetta using olive oil, tomatoes and fresh bread as the ingredients – and feast on it. After you sumptuous meal you get back to the kitchen to make traditional roast pork seasoned with aromatic fresh herbs direct from the farm. In the meantime, as the pork cooks learn how to prepare the classic tiramisu, the typical Italian dessert. As you wind up, give yourself a treat with your self-prepared 4-course meal complemented with Tuscan wine and hearty conversation.
Pros
Cooking lessons by an expert chef
Several recipes included
A sumptuous meal at the end of the tour
Cons
Not wheelchair accessible
Vegetarian and other dietary categories cannot be catered for
---
Top Pick
2#. Cooking Class for Pizza and Gelato in Tuscan Farmhouse – Florence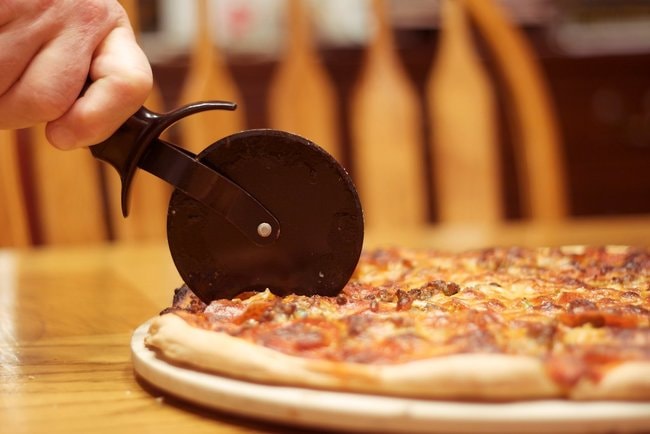 If you love culture and cuisine this is the cooking class for you. Why not take this opportunity to learn how to make gelato and pizza on a Tuscan estate near Florence? Here you get the services of a professional Italian Chef culminating in a fantastic 3-course meal of appetizers, gelato and pizza with wine and beer as the must-have accompaniments.
Pros
You get a recipe booklet to carry home and practice your newfound culinary skills
Includes instructions, dinner and round trip transportation from central Florence
Pairs 2 Italian favorites (Pizza and Gelato) with scenery that surpasses any restaurant.
Cons
Gluten free requirements are not taken care of
It's not wheelchair accessible.
---
3#. Wanna be Italiano – The Original Cooking Class and Market Tour in Florence
Your cooking tour takes you to the city's Central Market in the company of an expert chef to select excellent local ingredients for your meal. At the cooking school learn how to make your Tuscan favorites which include: dessert, homemade pasta and bruschetta. Afterward, you sit back and have a taste of your kitchen experience complemented by two glasses of refreshing Chianti wine.
Pros
You get a recipe booklet to take home
You receive a diploma as evidence of your Tuscan cooking lessons
A qualified chef to guide the process
You learn to make three Tuscan dishes: homemade pasta and sauce, dessert and bruschetta.
Class limited to only 25 people. This provides personalized attention from the kitchen experts
No fancy equipment used so you can easily replicate these meals at home.
Caters for vegetarian classes as long as this is specified when booking.
Cons
If your tour is on a Sunday you'll miss the visit to Florence Central Market as this market is usually closed on such days.
---
4#. Small-Group Wine Tasting in the Tuscan Countryside
This tour takes you through the scenic hillside roads winding through beautiful olive groves, cypress trees, and vineyards. The climax of the tour is the visit to the 2 top-rated wineries in the famous Chianti Classico region. A tour of the cellars reveals the skills and ingredients needed to make wine using traditional Tuscan methods. It's here where the action really happens. Try your taste buds by tasting different Tuscan wines along with Tuscan specialties such as bruschetta and fresh cheese along with olive oil.
Pros
Adequate food is provided at the wineries
A total of 6 different types of Tuscan wine and olive oil to taste
Scenic landscape to see as you journey to the wineries
Transport by air-conditioned vehicle.
Knowledgeable and very friendly English-speaking driver/guide
Free Wi-Fi on board
Vegetarian and gluten-free diets can be accommodated but you need to specify this at the time of booking.
Cons
Though the minimum age for this our is 12 years if you are below age 18 you can't taste the wine (this is a legal requirement anyway)
Not accessible by wheelchair
---
5#. Tuscan Cooking Class & Dinner in Florence
What about attending your cooking class in a palace right in the heart of Florence city? This is exactly what this dinner class has to offer. Learn how to prepare a genuine 4-course dinner with the assistance of an expert Tuscan chef. Know how to prepare great Tuscan classics including chicken stew, pasta, and tiramisu for dessert the feast on the tasty outcomes paired with sweet Tuscan wine.
Pros
You acquire skills to create a 4-course Tuscan meal
Qualified and competent chef to guide you through the process
Teaches you the secrets of amazing Tuscan dishes such as tiramisu and Tuscan Hunter's chicken
A delicious Tuscan dinner and complementary Tuscan wine
Personalized attention in a small group of up to 16 members
You get a recipe booklet to help you polish your Tuscan dishes back at home
Cons
You cannot bring kids younger than 8 to this tour
---
6#. Handmade Italian Pasta Cooking Course, Florence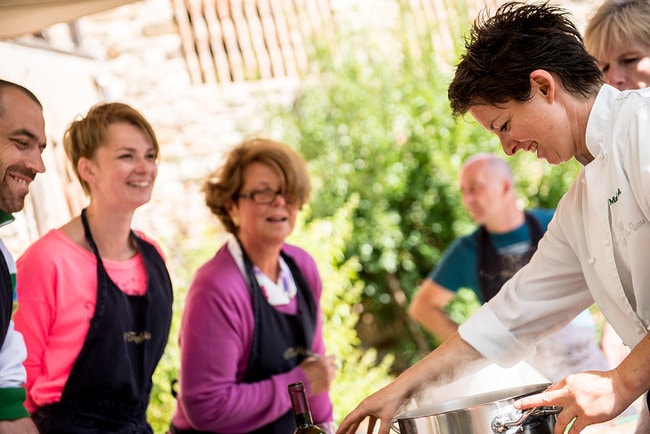 By the time you leave Florence you too can be an expert in three different types of pasta and excellent Italian dessert. How? With the help of an expert teacher you can gain all the skills you need to make these delicacies back at home. It won't take so much of your time – the class actually takes just three hours but equips you well enough to be the pasta chef you so much desire to be. After the cooking and learning session, your group of learners can make a toast of some red wine to celebrate your newfound culinary skills.
Pros
You learn both modern and traditional arts of making pasta
Teaches you three different styles of pasta and sauces as well as a dessert
A local chef to guide you through
A small group limited to only 16 pax ensures a more personalized learning experience
You dine on your kitchen creations with wine
It's stroller accessible
Most travelers can participate
Cons
Not wheelchair accessible
Children under the age of 8 are not allowed to participate in this tour
---
7#. Florence Cooking Course & Local Market Visit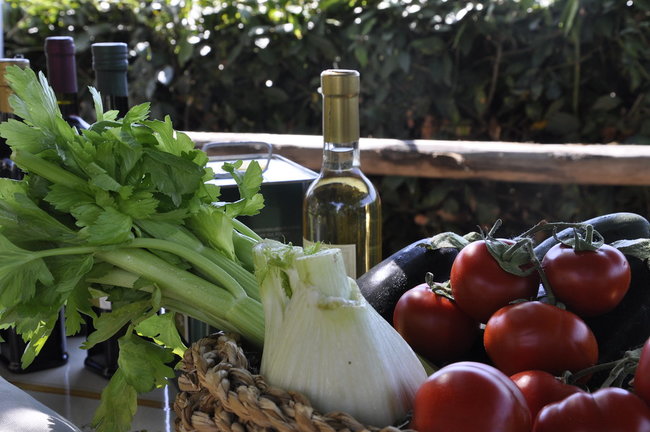 This tour starts with a walk through San Lorenzo Market. You can choose and even learn how to pick fresh ingredients for your Tuscan dishes. Back to the kitchen, this 5-hour tour teaches you how to prepare a yummy 4-course meal under the keen instructions of an expert chef. Once your meal – and the learning – is done you sit down to enjoy the meal.
Pros
A walk to the market teaches you how to choose excellent ingredients for your Tuscan dishes
Teaches you how to prepare and enjoy your Tuscan starter, 2 main courses and a dessert complemented with wine
Gives you Tuscan recipes to take home with you
A small class divided into two manageable groups with a maximum of 16 pax per chef for a personalized experience
Operated by professional chefs
Wheelchair accessible
Stroller accessible
Cons
Kids below age 8 are not admitted
If your fitness level is below moderate this tour might not be the best for you
A 100% cancellation fee is applicable in case you cancel within 2 days (but if you cancel at least three days in advance of the planned departure there's no cancellation fee).
---
8#. Small-Group Pasta Class from Scratch with Seasonal Ingredients
You want to try your artistic skills with pasta dough? This might be your perfect tour. This hands-on class gives you the opportunity to dig into a bowl of freshly made pasta dough and make different types of pasta shells. The fun doesn't end there. No. You learn how to stuff these shells with savory fillings like spinach, mushroom, pumpkin, and shrimp. You'll taste Italian wines and also get the skills to make authentic Tuscan sauces.
Pros
You learn how to make 3 different types of pasta shells with diverse savory fillings
This specialty stuffed pasta class is held in a historically significant building in Florence
A small class size of a maximum of 8 persons ensures personalized attention with the instructor
Professional chef instructor
You get take-home recipes for the each of the dishes you make
It's near public transportation
Cons
Not wheelchair accessible
No infant meals included
Minimum age admitted is 14 years
No elevator despite the class being carried out on the 3rd floor
For pet lovers note that here pets are not allowed
---
9#. Cooking Lesson: From The Market To The Table in Florence
This another great tour if you want to learn how to prepare a full Italian meal all the way from scratch to the table. In this small-group cooking class, a professional chef takes you on a shopping tour to the Central Market. After the shopping, the chef expertly leads you through the fine details of making a Tuscan multi-course meal. This tour includes lunch and, of course, some wine.
Pros
A small-group class ensures participants getmuch better personal attention from the chef
You learn how to use your hands to make fresh pasta
You can sip wine, soft drink or water with lunch
Offers a first-hand experience of shopping at a typical Florentine market
Near public transportation
Stroller accessible
Infant seats available
Cons
Not wheelchair accessible
Market visit not possible on Sundays and bank holidays
---
About Tuscany
Tuscany is a region in Italy, to be precise; it's in Central Italy and spreads over an area of about 23,000 square kilometers. What makes this region that famous? Several reasons make this area an attractive destination not just to seafarers but to tourists and travelers in general.
For one, Tuscany is home to some of the most delicious European dishes, and on this note, the region is renowned for its professional cooking classes which teach you how to become a non-native expert in the preparation of these excellent Italian meals. And by the way, if you are a culinary enthusiast, never miss out these classes if you happen to land in this region.
Beyond the delicacies, Tuscany is also world-famous for its artistic legacy, its amazing history, breath-taking landscape, the region's influence on high culture as well as its artistic legacy. The region's capital, Florence, is famous for its word recognizable art and architecture which includes Michelangelo's 'David' statue.
---
Tuscany's Weather All Year
The region generally experiences very mild weather. However, there are differences between the inland and the coast. This weather is influenced by the sea on the western side as well as the Apennines in the East and Northern side. Moving to the finer details, Tuscany's weather is characteristic of the weather in this part of Europe.
The region experiences the four main seasons of the northern hemisphere namely summer which spreads from mid-June to mid-September and is considered to be the peak season for travelers. Autumn, with an average temperature of 25 degrees Celsius to a low of 3 degrees Celsius, covers mid-September to end of December.
The good thing about this season is that travelers' accommodation is less expensive than in summer. Winter, which comes between early January to sometime end March is pretty cold but is an ideal time for skiing and shopping. Spring spreads its wings across the months of March to end of June. May is a great month in this season as it has fewer tourists, lower costs and, if you love unadulterated views of what Mother Nature has to offer, this month offers spectacular views of the fields and hills of Tuscany.
---
Best Time to Do the Cooking Class in Tuscany
As earlier mentioned Tuscany is home to some of the best cuisines and wines in Europe and further ashore. So you might be wondering what exactly the best time to take your cooking class in Tuscany is. Well, this depends on a number of factors. If you are weather-sensitive then summertime might be a good option if you have the money to spend on higher costs of accommodation and general expenses.
If you opt for this season be ready for some discomfort in terms of high traffic of tourists and locals visiting the place. If you want to spend less and enjoy the same kind of fun and cooking lessons but with lower human traffic, the Month of May is the ideal option for you. There are fewer visitors at this time of the year and the weather is pleasant.
---
What Is Included in the Cooking Class?
Several things are included in the cooking classes but not each of them has its own expected outcomes. So here we look at what you generally need to know about what inclusions you should expect in these Italian cooking classes. Its common knowledge a student can only be as good as the teacher.
In these classes, you'll find expert Tuscany Chefs as the instructors in your Tuscany cooking class. These professionals have a wide and in-depth experience on the dos and don'ts of preparing Tuscany dishes. Depending on the class you enroll in, you can have a real-life experience of Tuscan shopping as you do a working tour of Florence's Central City Market.
Next, the classes include a real-life session where you enjoy the delicacies you and your classmates have made. These, in most cases, include a taste of some of the best Italian wines. Finally, a take-home recipe booklet is part of the deal. There's good reason for this. Once back at home these booklets will help you to perfect your Tuscany culinary skills.
Other notable inclusions depending on the cooking tour are:
Transport by air-conditioned vehicles
Guided visit to two different wine estates
Tasting of wine & olive oil at the wineries
Lunch or dinner
---
How Many People Participate in the Cooking Class?
This is a valid question. You want to get the best from your Tuscany professional chef. You can't achieve this unless you get personalized attention from the instructor. In a majority of classes, the number of participants in these classes is restricted to about 15 participants. However, don't be surprised to find classes with a higher number of participants. For instance, the Cooking Class and Lunch at a Tuscan Farmhouse with a Local Market Tour from Florence, tour accommodates a maximum of 26 travelers. But irrespective of the number or participants be assured you'll get the most from the expert Tuscany chef in your class.
---
What is the Duration of the Cooking Class?
Well, the classes last less than a day. That's why you are only promised of lunch or dinner. In terms of the actual time, the minimum amount of time is about 3 hours. Can you learn enough in this session? Definitely, yes, but this solely depends on what and how much you want to learn. By the way, if you plan to be in Florence for a while you can book different classes on different days. This will broaden your skills and knowledge on how to prepare diverse Tuscany dishes.
---
How to Dress for the Cooking Class
Some of these classes have some dressing requirements or advice you should heed. For instance, for the Wanna be Italiano – The Original Cooking Class and Market Tour in Florence, you are advised to dress appropriately since the class operates in all weather conditions. For the Small-Group Pasta Class from Scratch with Seasonal Ingredients, the dress code is smart casual. In all these classes it's advisable to wear long-sleeved shirts and tops for more security. Of course, you don't want to burn your arms in the heat of the Tuscany Kitchen.
---
In What Language is the Course Presented?
Granted, though Tuscany is in Italy the cooking lessons are presented in English. The expert chefs are very proficient in this international language. So if you are from an English speaking country you are linguistically well-taken care
---
When Do I Get My Confirmation for the Cooking Class?
Once you book your class you get your confirmation at the time of booking. This means as you plan your travel you'll be sure of how and when to schedule your Tuscany cooking class.
Can I cancel the Cooking Class?
Yes, you can cancel your scheduled cooking class. However, there are conditions for this. For instance, for the cooking class & lunch at the Tuscan Farmhouse inclusive of a local market tour from Florence, you'll get a full refund if you cancel 24 hours in advance of the agreed day.
Who is the Cooking Class for?
These cooking classes are the perfect choice for any cooking enthusiast who meets the minimum age threshold to be in the kitchen (of course, minors cannot get involved in this). To taste the wines one must be at least 18 years old. Sadly, some of the cooking classes are not wheelchair accessible meaning anyone on a wheelchair can't access these teaching venues.
---
Why You Should Do the Cooking Class
For one, Tuscany dishes are a delight not just to prepare but to feast on. In addition, these classes add to your culinary expertise and give you an opportunity to learn something new about your passion. In any case, the classes resent an excellent opportunity for you to carry Tuscany culinary experience back home.
Once you attend these classes you can showcase your newfound cuisine expertise to your family and friends back home. On the same breadth you, and by extension, your family and friends can continue enjoying Tuscany dishes many days and years after you've left this region.
---
How to Get to Tuscany
You can easily jet into Tuscany and land at either Florence Airport Amerigo Vespucci or Pisa International airport. These are the two international airports in Florence City. If you are from the US you can book a direct Delta flight from JKF airport, NY to Pisa.
On the other hand, you can fly into Rome or Milan and then get transportation from there to Tuscany. This will be a 3-hour drive by automobile from either direction.
If you are from Europe you can still take flights from your home country to these two airports or alternatively travel by train to this destination. The main train stations are situated in Pisa, Grosseto, and Florence. You can buy train tickets at any train station.
---
Conclusion
With this Guide to Tuscany Cooking Classes you are now more than prepared to start leaning your visit to this amazing culinary destination. Take your time and learn what makes Italian delicacies and wines such a hot-favorite across the planet. In any case, these unique Italian cooking tours will spice up your kitchen life and boost your overall well-being. Welcome to Tuscany and have a great, mouth-watering culinary experience.