Boating is an exciting and fun activity to do while on vacation. But if you don't wear the right clothes, you may enjoy your trip less on the water. So the question is, what to wear on a boat ride? Well, in this article, I have narrowed down the list of various outfits and accessories that gives extra comfort and also enhance your enjoyment of your boat ride. So without further ado, here is the list of the best boat ride attire that will blend you with a stunning look and that extra oomph factor!
---
---
Swimwear
There is an abundance of swimwear you can choose from. The best swimwear is the one that you like! Nothing can change your preferences when you know what fits you the best. Go ahead and wear your attitude! As long as it is comfortable with your swimming suit, that's what matters most. I personally find a one-piece bathing suit more comfortable to wear when I am out boating. If you don't feel comfortable wearing a bathing suit, you can use a cover-up. It allows you to stay cool, and it's charming.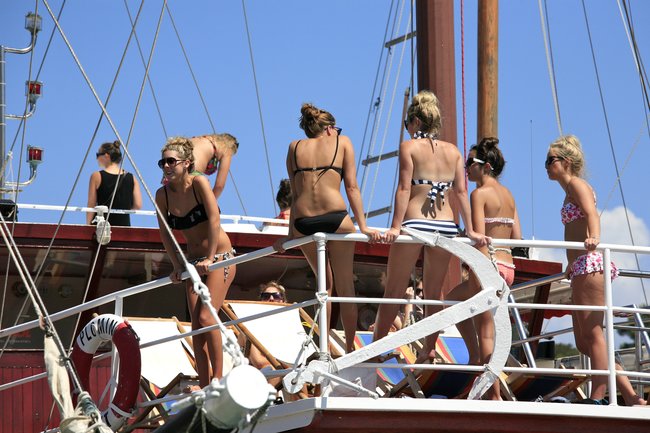 ---
Shorts
Beautiful options are available while selecting colorful shorts for a boat ride. Avoid the shorts that billow. Billowing means loose-fitting shorts that tend to fill with air and swell outwards, especially when you enter the water.
It is recommended to opt for linen shorts because they are more breathable and comfortable to wear. Also they are easy to dry!
---
Skirts
Carry an extra pair of skirts during a boat ride. One advantage of skirts is that they are comfortable to wear. Remember to select those skirts from your collection, which will not take much time to dry. Also, you should have enough pockets to keep all the desired accessories within your reach.
Linen material is preferred on a boat ride. It is breathable, light, and it will give you maximum comfort. You can carry even Nylon or Neoprene material skirts that tend to dry fast.
---
Shirts
The type of shirts or tops, which you want to carry directly, depends on your likings! But there are certains rules that you need to follow in order to protect your skin from the sun. The look is important, but your skin, even more!
Be aware that even if it's hot during the day, it can become windy and colder early in the morning and at the sunset. ! Hence it is recommended to carry a sweatshirt in your bag so that you can wear it in case you need to.
Avoid wearing excessively tight and light-colored fabric as they tend to allow the UV ray to penetrate your skin, which could be dangerous if you are exposed to the sun for a long time. Dark colors absorb the UV rays and don't let it get through your skin. So when buying a shirt, make sure to pick a dark color.
Avoid lacy tops and colorful dresses as water might damage your precious collection.
Recommended Shirts on a boat ride
Layered Clothes – Swimsuit is the base layer. And, on top of it, you can either opt for a comfortable jacket, shirt or a sweater, which are helpful when it's chilly.
Striped Attire – is a perfect ocean adventure fashion material.
Remember you are on a joy ride hence wearing your favorite choice will offer you the anticipated enjoyment.
---
Light Jacket
As I mentioned above, it often gets chilly in the early morning as well as in the evening. Hence take in a light jacket into your bag. When it gets windy or cold this light jacket will keep you warm and provide you that required coziness.
---
Hat
Wear the hat that you feel is the best for you! You are on an enjoyment venture so go ahead and wear your boldness. It is recommended to wear a broad-brimmed hat as not only will it protect your skin and head, but also your hairs.
Wear a tight hat so you don't lose it while boating. The last thing you want is to find yourself without protection. Color: Dark colored hat will absorb the sunlight and keep you cool. Headband: In case you have long hair use appropriate headbands to take care of your hair.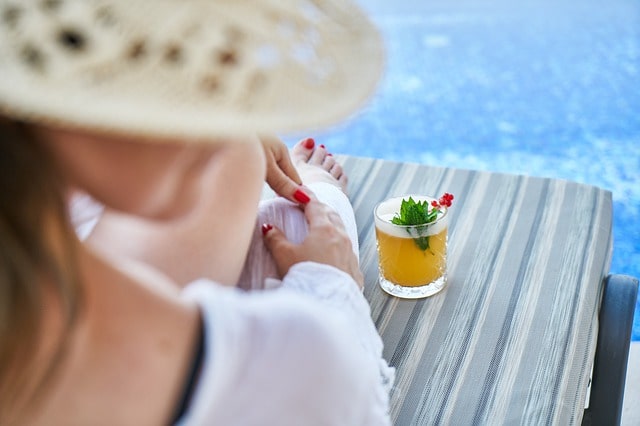 ---
Polarized Sunglasses
Wearing Polarized sunglasses is extremely important on a boat ride because the UV rays reflect off the surface of the water and it can damage your precious eyes if you don't wear any. Polarized sunglasses block the glare, helping you to see better and reduce eye strain and they give you a nice look! So my advice is to never get on board witout your sunglasses.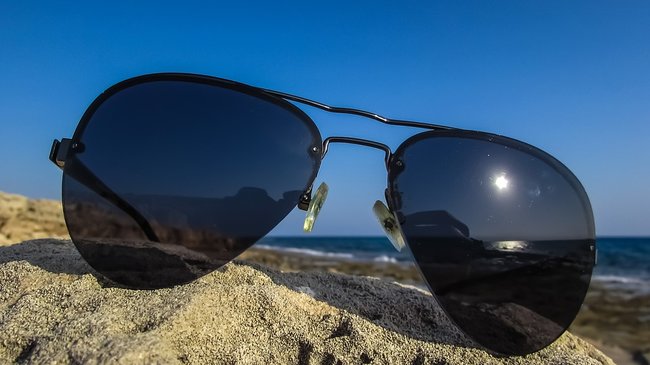 ---
Shoes
When going on a boat ride, you don't want to mark the deck or either slide around. Right? So you need the proper shoes that will just do the trick. The most important features to look for in shoes for boating are Non-marking soles to not leave any mark on the deck. Anti-slip soles to keep you stable on the wet deck. Mesh or synthetic dry faster when the shoes get wet, and they are more breathable as well.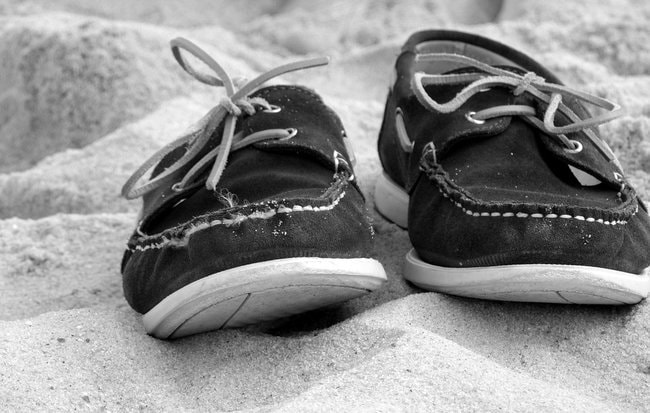 ---
Waterproof Dry Bags
One of the most important accessories when boating is a waterproof dry bag. These bags will protect all your belongings from the water, which might harm your travel accessories.
You must have a bag that is light in weight and can accommodate most of your necessities. Also, this bag should self-protect itself from rains or sea-water. Use waterproof dry bags to store all your materials related to canoeing, rafting, kayaking, and various other accessories required for sea-shore activities.
Yes, a waterproof dry bag will make your trip on the water more enjoyable as you don't have to worry about your stuff getting wet.
---
Tips
Before you go on a boat ride, there are certain things you should know. Here are some excellent tips for you to have the best experience on your boat ride.
Mosquito Repellent: Usually, mosquitos are more active in the early morning or late evening. Hence carrying a small tube is recommended.
Seasickness: The movement of the boat can cause stress on your balance system, which can make you sick. In case you are the first time traveler carry these pills or wristbands as a precautionary measure.
Stay hydrated: Drink lots of water, and if you don't like water, drink something else, apart, of course, from coffee and alcohol as it dehydrates the body.
Sunscreen: Make sure you don't forget your sunscreen, it will protect your skin while you enjoy your boat trip. There are great products on the market, so make your choice and pack it in your bag.
---
Conclusion
When you are taking a boat ride – you are entering a new world! The world where you become a free bird! Relish the beauty of sea beaches and dip yourself into seawater for that divine feeling. Any boat ride is blended with never-ending leisure activities onboard and continual sightseeing – the ocean itself. Music throughout the trip will not only compel you to tap your feet but also integrate yourself with the local culture.
A boat ride is simply exotic and rejuvenating when you cruise with your friends or family members. Just go for it and make unforgettable memories of your boat ride!
Want More Tips?
Sign up for Cruising Sea newsletter to receive every two weeks the latest post straight to your inbox!
More Articles
Is there something you want to add to the list? If so, feel free to share your tips in the comments below.
---