A wedding on the water is different than a wedding on land. There are some dress code rules you need to follow to look good and stay safe. Also, marriages can occur during the day, in the afternoon, or evening and therefore, you'll have to dress accordingly. So you better be well prepared before you get to the ceremony. The last thing you want is to get stuck with inappropriate outfits. Right? But don't worry, I've got you covered. In this article, you'll find everything you need to know about what to wear to a wedding on a boat so that you can feel good about yourself and, most importantly, enjoy!
---
Attire To Wear a Boat Wedding During The Day
Fashion blunders are difficult to hide during the day. You have to look effortlessly cool and stylish without outshining the bride or groom. Finding the right balance is challenging but not impossible. Fortunately, you have quite a few options at your disposal:
Men
Daylight calls for lighter colors like blue and tan. Again, though, at the end of the day, the dress code dictated by invitation will determine your attire of choice. In most cases, weddings require the same style that would fit a high-end restaurant, regardless of the time of day or night.
In other words, a white-tie affair means black tailcoats, white shirts, vests, bowties, and gloves, not to mention opera shoes. Black Tie events necessitate dark tuxedos, light dress shirts, and an appropriately colored bow tie. Dress shoes are the norm.
But the average wedding on a boat is usually associated with semi-formal attire, which means that colored linen shirts and beige slacks are fine, possibly even a jacket. The bride and groom will also excuse sport coats, khakis, and Polos. Shorts are a stretch. Though, some people can make them work, especially if the wedding encourages casual attire, in which case, you might as well throw a relaxed buttoned-down shirt with short sleeves into the mix.
Ties are not necessary, even with the tan or cream-colored suits that often appear during daytime events. However, depending on the weather, they may become a source of considerable discomfort, which is the last thing you want during a boat wedding.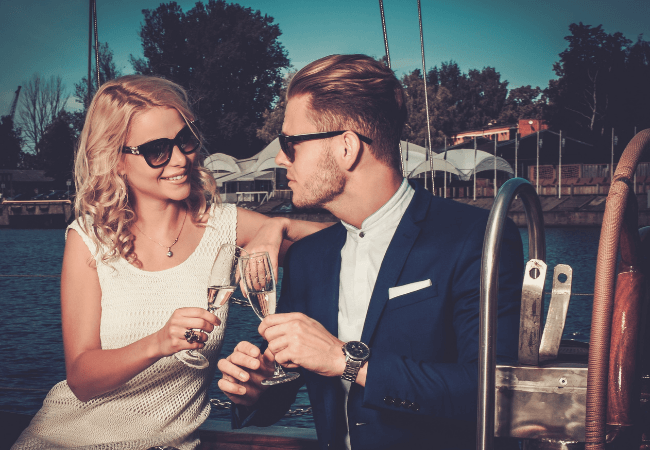 ---
Women
You cannot go wrong with a long, formal dress for a White Tie event. But the dress shouldn't be so long that it sweeps the floor. You don't want to trip on it. Poufy dresses are tricky because they complicate sitting. And as you might expect, heels are highly discouraged.
Black tie events call for similar attire. But again. Since this is a wedding on a boat, and such parties are typically associated with semi-formal clothing, women have many options. They can experiment with dressy skirts, tops, and short dresses (below the knees).
Elegant pantsuits are all the rage in some circles, and for a good reason—the colors matter. Aim for tropical tones that match the environment. With shoes, comfort is crucial, which is why many women target formal flats and wedges.
If the invitation did not specify a dress code, loose-fitting clothing (like a Maxi dress) would make your experience far more pleasant, particularly in warm, humid weather.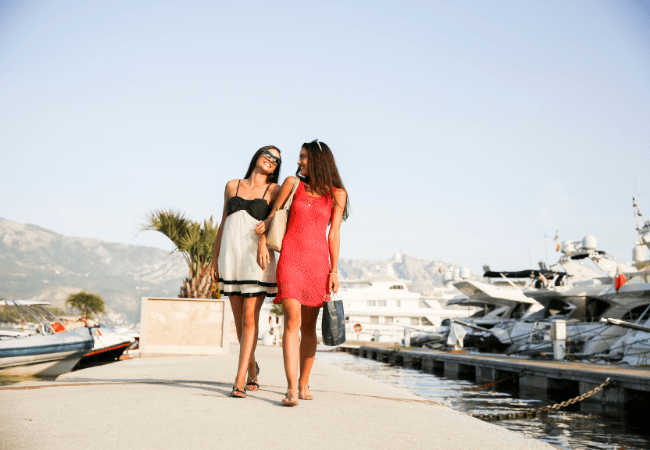 Children
In most cases, children can dress however they like. But, naturally, their clothes should be spotless and free of holes and tears. Otherwise, so long as they are comfortable, neither the bride nor the groom will care.
---
Attire To Wear To A Boat Wedding In The Evening
Evening weddings provide some cover for guests with a less than attractive fashion sense. However, they also place greater emphasis on elegance. Consider the following:
Men
Evening weddings are associated with formal styles. That means darker suits for men. The right man can pull off a white dinner jacket and suits with brighter colors. But evening receptions call for navy blue, black, charcoal, and various shades of black and gray. With shoes, look for dark leather non-slip, non-marking brands.
Casual events are just as strict. You can't just stroll in with a loose T-shirt and flip-flops. Instead, aim for button-down shirts and dress pants. Slacks and loafers are acceptable.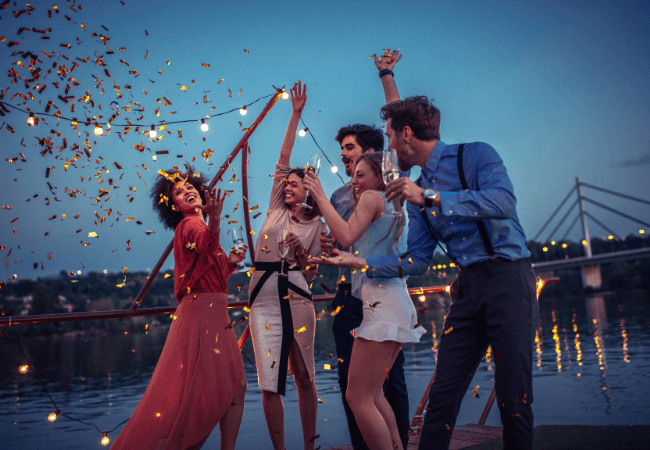 Women
Look for formal, longer dresses and gowns. But, again, they can't be so long that they sweep the floor when you walk. You can also wear skirts and dress pants. A wrap dress seems casual, but it would fit right in with an evening wedding on a boat. The same goes for a shirt dress. Identify matching dress slippers, structured sandals, and dress pumps. Aim for shoes with some grip.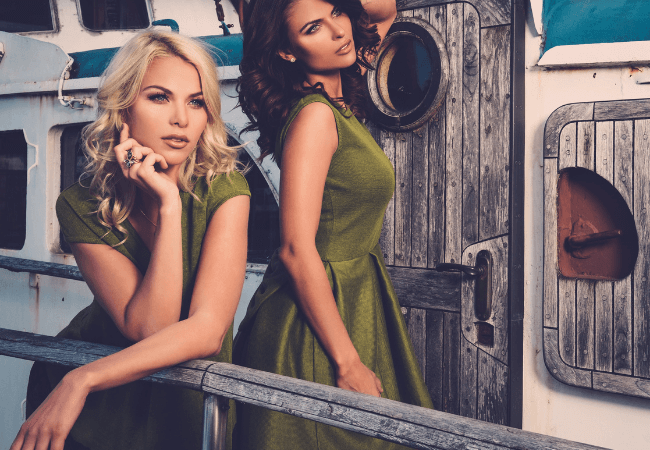 Children
Get formalwear for your kids. That means suits with button-down shirts (boys) and appropriate dresses with dressy shoes (Girls). Even though wedding dress codes rarely address kids, your children's attire has to fit the atmosphere of an evening wedding. So again, make sure their attire is comfortable.
---
What Not To Wear To A Wedding On The Boat
Boat weddings demand the same precautions as ordinary weddings. That means women cannot wear white. Also, sleeveless and strapless clothing is rarely appropriate for religious ceremonies. However, boat weddings also introduce several complications that do not matter as much on land, which is why you have to keep the following in mind:
1). You can't be too casual, not unless the invitation says otherwise. Sunglasses are fine. So are hats, especially if they match your outfit. In fact, they are encouraged in sunny conditions. However, shorts are a bad idea. Again, unless the invitation says otherwise, anyone wearing shorts tends to stand out, and not in a good way.
This applies to jeans, stretchy pants, shirts with brands and logos, and any other piece of clothing you usually find in a beach setting.
2). The length of the dress matters. Many women understand the importance of avoiding long dresses that trail across the floor. However, it doesn't always occur to them to avoid short dresses as well. Boat weddings are typically accompanied by relatively windy conditions. A single gust of wind will send a loose dress flying, and the last thing you want is to unintentionally flash the bride and groom during an emotional speech.
3). Like shorts, sneakers are risky. They may set you apart in the worst way. You should avoid them and shoes that look like sneakers unless the invitation says otherwise. This is true for flip-flops as well.
4). If you want to wear shoes, pants, or dresses that expose your legs and feet, pay careful attention to your grooming ladies. Creams and lotions are just as important for your legs as they are for your face. In addition, of course, pedicures are highly encouraged. And if you don't feel confident showing the lower extremity, avoid short dresses, shorts, and open-toed shoes.
---
---
Tips
If the wedding takes place during the summertime on the deck, you must wear a hat to protect yourself from the sun. However, you don't need any hats for the evening unless you want to add an elegant style to your look.
Again, you want to wear polarized sunglasses to protect your eyes from the dazzling sun during the summer and apply sunscreen on your skin.
Even if it's a formal wedding, I highly suggest you not wear a floor-length dress. You could trip on it and get a severe injury.
Some boat owners don't allow guests to wear shoes onboard because it scratches and damages the deck. So you will either have to take off your shoes or wear non-marking shoes.
High heels give a sexy look to ladies' legs, but please, leave them at home and instead wear flat sandals.
At sea, mosquitoes start to be active around 4:00 pm and work ard all night until dawn. So if you want to enjoy the wedding, make sure to bring some mosquito repellent. I use citronella or lavender oils. Both work fantastically and don't cause any allergies to the skin.
The last piece of advice. Some people get sick on a boat, so you should consider using wristbands or take something to prevent seasickness.
---
Final Words
Wearing the proper attire at a boat wedding is important, but don't overthink, and if you follow the advice stated in the article, you should find the appropriate outfits. Whatever you decide to wear, it's super important that your clothes reflect your personality and that you feel comfortable in them!
Want to Know More about Dress Code?
Subscribe to Cruising Sea newsletter to receive every two-week the latest post straight to your inbox!
What do you wear to a boat wedding? You are welcome to share your secret in the comments below.
More articles to read
Daniella has been passionate about travel, the sea, and nature for many years. As a child, she frequently traveled throughout the Mediterranean and continued with her journeys throughout her adult life.
Her experiences have created the desire within her to share her love for traveling with other passionate and adventurers who want to discover beautiful horizons and new cultures.