Why to Wear a Life Jacket – Why, When, What and How!
If you're wondering why to wear a life jacket, you should keep in mind that this important device can help you stay safer when you're out on the water.
Just taking a handful of seconds to strap on a life jacket seems simple enough, but a surprising number of boaters many of whom are not proficiently able to swim opt not to put on their life jacket, which can put them in a potentially dangerous position.
In any type of unexpected situation where a person might get thrown or fall into the water (e.g., boat capsizing, loss of balance, etc.), this simple yet critical precautionary measure can ensure your safety and prevent an unfortunate incident.
Reasons to Wear a Life Jacket
1. Life jackets save lives.
It's as simple as that. Every year, the U.S. Coast Guard compiles a list of recreational boating accidents, and unfortunately the story is the same year after year:
For boating fatalities in which drowning was the primary cause of death, the overwhelming majority of the victims were not wearing a life jacket.
2. The weather can be unpredictable at times.
Even if the weather is calm and beautiful when you leave the dock, there's no guarantee that it will stay that way.
It's far better to be prepared for a wide variety of weather conditions by wearing a life jacket. Interestingly enough, weather is far from being the primary factor behind most boating accidents.
Again, according to statistics published by the U.S. Coast Guard, factors such as operator inattention, machinery failure, excessive speed and operator inexperience cause hundreds of boating accidents every year.
3. Good swimming skills do not exempt you from needing a life jacket.
Even if you have excellent swimming ability, it's always better to stay on the safe side and wear a life jacket.
No human being can factor in all possible scenarios in which you might need the help of a life jacket, so it's better to be as prepared as possible instead of having to depend solely upon your swimming skills.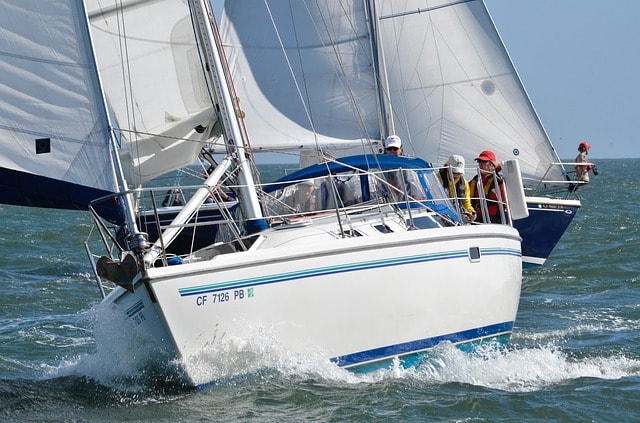 Life Jacket Rules
The law requires that for any boat that is less than 16 feet long, and for canoes or kayaks of any length, every person on board must wear a Coast Guard-approved life jacket.
The jackets must be easily accessible, and all passengers must be shown the location of the life jackets, as well as the location of other important safety equipment.
For yachts16 feet or longer, the requirements are the same, but with the added precaution that every boat must carry at least one Type IV device that is designed for throwing such as a ring (life saver), horseshoe buoy or cushion.
In addition, every person aboard a personal watercraft such as a jetski, or any person being towed behind a vessel (e.g., water skiing, wakeboarding, etc.), must wear a life jacket at all times.
When to Wear a Life Jacket
The best time to put on your life jacket is as soon as you board the boat.
For example, many boating tour companies will have your life jacket ready and waiting for you the moment you set foot on the vessel.
When out on the water, your life jacket should be worn at all times, until you're back in the dock and safely on land again.
What Sort of Life Jacket to Wear
Life jackets have come a long way throughout the years, and many technological advances have been made to these devices that surpass the classic orange "horse collar" style life jacket.
Nowadays, it is not uncommon to find specific life jackets for each kind of water activity, such as fishing, water skiing, cruising, etc.
In addition, there are other life jackets that feature flotation technology that can help a person turn upright, even after an off-balance fall into the water.
How to Choose the Right Life Jacket
* The main thing to look for is a life jacket that fits your particular size and weight, according to the manufacturer's ratings.
* Be sure to buckle or zip the life jacket according to its intended design.
* If your life jacket continues to ride up over your face or chin, it may be an improper fit. You need to have a life jacket that fits well enough around the arm openings to keep it from riding up over your face.
* Your life jacket must be Coast Guard-approved.
Conclusion
Choosing to wear a life jacket is a simple enough task, but many boaters often still ignore conventional wisdom, which can leave them unprepared in the event of an emergency.
Accidents can happen, so it only makes sense to be as prepared as possible.
When it comes to matters of personal safety, it's always better to err on the side of caution, so make sure to wear a life jacket in order to have a fun and safe time out on the water.
Do you wear a life jacket on board? Please, feel free to leave a comment below, I'll be more than happy to hear your feedback!
Daniella has been passionate about travel, the sea, and nature for many years. As a child, she frequently traveled throughout the Mediterranean and continued with her journeys throughout her adult life.
Her experiences have created the desire within her to share her love for traveling with other passionate and adventurers who want to discover beautiful horizons and new cultures.