Website: Yacht-Rent.com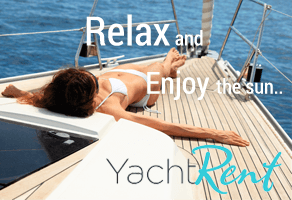 Yacht Type: Sailing boats, Catamarans, Motor Yachts, Gullets
Cruising Areas: Croatia, Dominican Republic, Greece, Italy, France, Montenegro, Slovenia, Spain or Turkey
Year Built: 2001 to 2016
Charter Type: Crewed, Bareboat
Yacht-Rent Overview
Yacht-Rent is a yacht charter company based in Croatia with 10 years of experience matching clients to their perfect yachts and ideal destinations.
You can search the online database of over 3500 boats, easy to find a yacht to charter in one of the following countries: Croatia, Dominican Republic, Greece, Italy, France, Montenegro, Slovenia, Spain or Turkey.
Each listing is very descriptive with photos so you can see exactly what the boats will look like.
Easy Search
Search results are clearly displayed as a thumbnail image with a summary detailing the model and length of the boat, the number of people suited for, the number of cabins and a number of toilets, plus location.
Select the listing to specify additions, and there are many to choose from: damage waiver, the internet, airport transfer, safety net, spinnaker, regatta, hostess, skipper etc. all with costs clearly detailed.
You can add boats you are keen on to a shortlist and then view just your shortlisted boats to narrow your choice down further.
You can choose to pay for a hostess and/or cook to look after all the catering and a skipper to take you safely around the area.

Bareboat certificate
If you choose a bareboat, you must have an acceptable skipper's license.
Please check with the company information on their website whether your license is acceptable for your country of choice.
Special Offers
Make sure you check out their special offers/last-minute section, where you can save up to 50% off a charter!

Hint: You can change the language of the website into Danish, German, English, French, Hrvatski or Italian and view pricing in Euros, Croatian Kuna, UK pounds or US dollars.
Sailing Yachts
Over 3000 of the yachts are sailing yachts with Yacht-Rent, as sailing using the wind makes for a relaxing and inexpensive holiday (low fuel costs). Bavaria, Beneteau, Jeanneau, Elan, Dufour, Hanse, Salona, and Grand Soleil are popular models of sailing yachts.
Motor Yachts
Includes luxury yachts, bareboat or skippered with an optional crew to make your vacation special. Fuel is an additional cost to add in when chartering a motor yacht. You can get to your destinations faster under power rather than sail as you are not waiting for the wind!
Catamarans
More stable on two hulls than one, a catamaran is a great choice for families with children or those who do not tolerate the rolling motion of the sea as well. A shallow draft allows for easy anchoring in some of the least accessible bays allowing greater access to those beaches. Yacht-Rent Charter offers more than 300 Catamarans for charter in Croatia from known manufacturers such as Lagoon, Leopard, Nautitech, and Privilege, as just a few examples of the quality designs to choose from.
Gullets
A gullet is a traditional Mediterranean wooden motor sailer with 4 to 10 cabins accommodating up to 20 people. Your very own floating hotel with sunbathing areas, private bathrooms, and dining areas. Choose full or half board for an unforgettable experience.
Wide Choice of Yachts
Yacht-Rent charter sailing yachts, catamarans, mega yachts, gullets, speedboats, motorboats, and trimarans. There are over 3500 boats to choose from so you can be sure to find the perfect boat for your dream yacht charter.
Marinas starting point
You can charter boats from any of the 30 marinas in Croatia, with the regions of Pula, Rijeka, Zadar, Sibenik, Split, and Dubrovnik being the most popular. As well Croatia,
The Pros & Cons 
Pros
1) A very wide selection of boats, allowing customers to choose according to their budget. From mega yachts over 100 feet in length to relatively small 40 feet boats, there is something for everyone. No matter what your preference or budget, you are likely to find a boat that suits your requirements perfectly.
2) Yacht-Rent also has different types of boats in its inventory, from multi-hulls to monohulls and motor yachts to gullets. In other words, no matter what your sailing requirements are, whether an idyllic trip with family or pure performance, you will find a boat that perfectly fits your needs.
3) Yacht-Rent provides the option to customers to choose from a variety of charter types. Whether you are someone looking for a bareboat charter, or simply want to enjoy a relaxed sailing experience with a fully crewed boat, you can choose the charter according to your wishes.
4) Yacht-Rent also provides a number of exciting deals on its charter boats that would result in considerable savings to budget-conscious sailors. Whether it is last-minute sailing deals or exciting offers for the early birds, you can look forward to discounts as high as 50 percent.
5) Yacht-Rent has access to an incredibly large number of marinas throughout the beautiful Croatian coast. It allows sailors the convenience of sailing from the city of their choice in Croatia. Yacht-Rent also provides the facility to choose yachts from popular Mediterranean destinations, including Greece, Italy, Croatia, France, Slovenia, Spain, and Turkey.
Cons
1) For such a large yacht chartering company, Yacht-Rent does not have a presence at marinas outside Croatia.
2) Aside from the Dominican Republic, Yacht-Rent does not provide a yacht charter facility at any of the popular Caribbean destinations such as the Bahamas, British Virgin Islands etc.
3) Yacht-Rent is extremely focused on the Mediterranean market, without much presence in Southeast Asia and Oceania.
In order to have an unforgettable sailing holiday with Yacht-Rent, please click on the link below.
Please, feel free to leave a message just below; I'll be glad to hear your feedback!
Daniella has been passionate about travel, the sea, and nature for many years. As a child, she frequently traveled throughout the Mediterranean and continued with her journeys throughout her adult life.
Her experiences have created the desire within her to share her love for traveling with other passionate and adventurers who want to discover beautiful horizons and new cultures.