Oahu is undeniably one of the most beautiful islands to visit in Hawaii. Endowed with powder-soft sand beaches, warm pristine waters and a serene environment, Oahu Island is a true paradise for many holiday-makers. Oahu's ocean surface water temperature usually ranges between 77 and 83F, making it a perfect snorkeling spot throughout the year.
Marine life is also plenty in this part of Hawaii, which is an added bonus to your snorkeling adventure. If you wish to enjoy a fun-filled group snorkeling experience, then you can book your trip with one of the best snorkeling tours in Oahu.
Most of the tours usually provide food, snorkel gear, snorkeling lessons, and educational commentaries. So it can be worth it to spend a few extra bucks for an all-inclusive snorkeling experience. Here is a list of the best snorkeling spots that you can visit in Oahu:
---
1. Hanauma Bay
Hanauma Bay is by far the most famous snorkeling beach in Oahu, thanks to its high marine fish population, calm shallow waters, and powdery white sand. Located on the east side of Oahu, the bay is protected from waves and wind all year round, making it a perfect spot for both novice and seasoned snorkelers. Hanauma Bay boasts of colorful fish, exotic marine life, and crystal clear waters.
Visitors are usually charged an entry fee of $7.50. However, residents, military personnel, and children under 12 are always allowed free entry. Upon admission, guests are required to watch a video that provides safety and educational information prior to entering the beach.
One of the marine laws highlighted in the video is that snorkeling in the water shouldn't touch or step on the fish, turtles, coral, or reef. Nonetheless, you can explore a range of beautiful marine fish including parrotfishes, wrasse, cardinalfish, triggerfish, snapper, trumpet fish, sturgeon, and more.
Note: Hanauma Bay is usually closed on Tuesdays, so you should schedule your trip on any other different day of the week.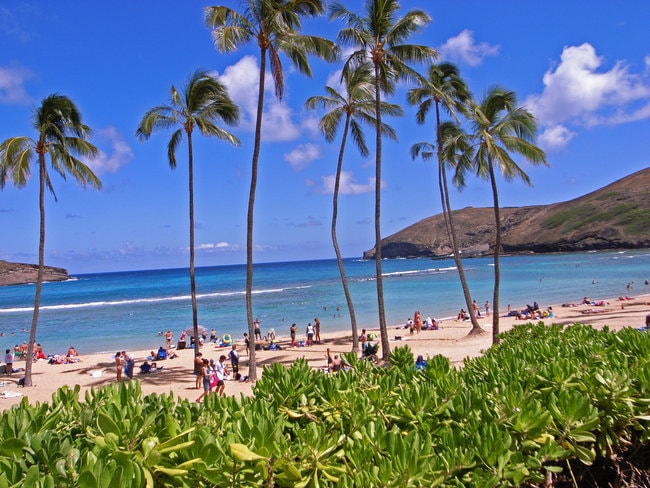 ---
2. Shark Coves
Sharks Cove is a small rocky bay that's located on the Oahu's world-famous North Shore. The cove is highly distinct because of its pristine blue waters, interesting underwater rock
formation, and huge schools of needlefish and mullet that swim close to the shore. The period between October and April is considered the official surf season at Shark Coves as waves are high during this time.
So if you want to enjoy snorkeling in the bay, then summer can really be a good time to plan your trip. Unlike Hanauma, Sharks Cove is less regulated i.e. there's no entry fee charged or video to watch before accessing the beach. All you need is your snorkeling equipment and the courage to jump into the aquamarine waters of the bay.
The variety of fish at Sharks Cove is similar to that in Hamauna hence the snorkeling experience here can be great too. Going on an early morning snorkeling adventure at Sharks Cove can be huge fun, as the bay is usually less crowded at this time. The best time to visit the bay can be between 9 and 10 am. You can always grab a snack from a food truck or shops across the street once you're done snorkeling.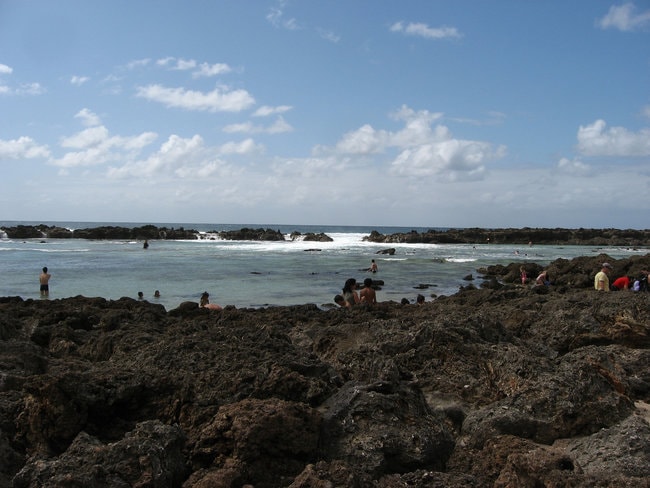 ---
3. Makua Beach
Located on the far west side of Oahu, Makua Beach is one of the most secluded, underdeveloped, and less crowded white sandy beaches in Hawaii. Most visitors never get a chance of visiting this gem because there are no tour buses that go there. However, you can always drive to the beach through the beautiful and scenic Waianae coast.
Since Makua's waters are almost untouched and its environment quiet, it can be a great place to swim and snorkel. If you visit the beach in the morning, you might be lucky to spot a pod of spinner dolphins. Enjoying a tranquil and undisturbed day can never be better in this part of Hawaii.
---
4. Sans Souci
San Souci is a tiny but beautiful beach situated in Kapiolani Park, just 15 minutes from Waikiki by foot. If you're looking for a less crowded, relatively safe and easy-to-access
snorkeling area, then this can be a perfect option.
When the tide is low, you can venture deep into the waters and enjoy the spectacular scenery of colorful fish and thriving corals. There is plenty of marine fish on the left side of the beach but you should be a lot more careful as there are strong currents in this channel.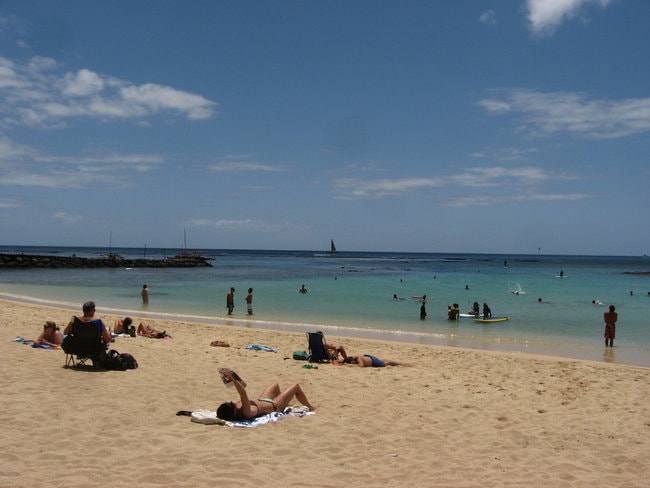 ---
5.Ko Olina Lagoons
The four lagoons of Ko Olina can provide a perfect spot for you and your friends to go snorkeling. These man-made caves are protected, fairly calm, and boast of crystal clear waters.
Though the lagoons have no coral formations, there are tons of fish in their waters including Moorish idol, wrasse, tang, butterflyfish, goatfish, and more. That means you can still enjoy a magnificent snorkeling experience in any of these lagoons. You can always choose the least crowded one for a fun-filled to enjoy even greater fun.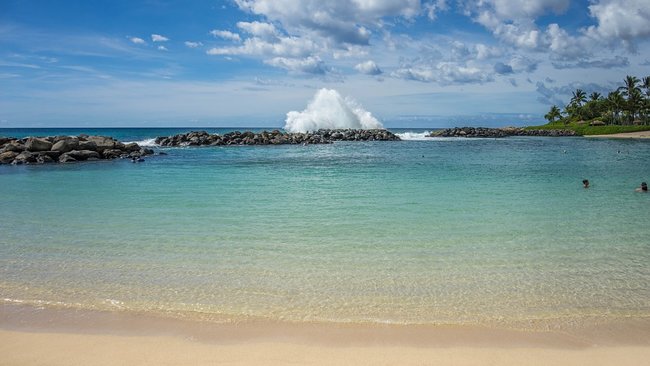 ---
6. Kuilima Cove
If you're a novice snorkeler who's looking for a sheltered and serene place to snorkel in, Kuilima can be a perfect spot for you. The cup-shaped cove is located on North Shore, beside the eastern edge of the Turtle Bay Hamilton. It is enclosed by a natural rock barrier, which protects the beach from strong waves and winds.
The cove is lined with both rocks and corals, which plays host to a range of marine fish species. Some of the unique types of fish that can be found in Kuilima Cove include needlefish, damselfish, unicornfish, boxfish, perch, big eye, and more.
There is also a range of crustaceans and invertebrates that can be great to watch in this cove. With all these, the snorkeling experience here can no doubt be fun-filled.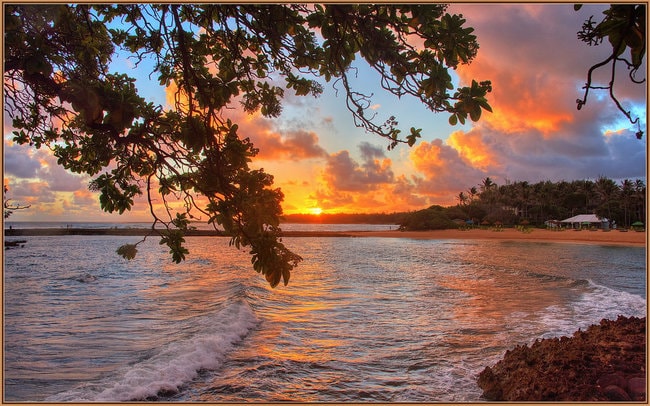 ---
7. Makaha Beach Park
Makaha Beach Park is a serene park located on the leeward (west) coast of Oahu. The snorkeling experience at this park is exceptional, especially during summer when the ocean is calmer. However, for you to enjoy a perfect snorkeling experience, you might need to
launch deeper into the ocean.
There's also a turtle cleaning station located roughly 100 meters away from the main beach, where you can look at turtles and other amazing sea creatures. Makaha beach waters can basically be great for exploration, for seasoned snorkelers or scuba divers.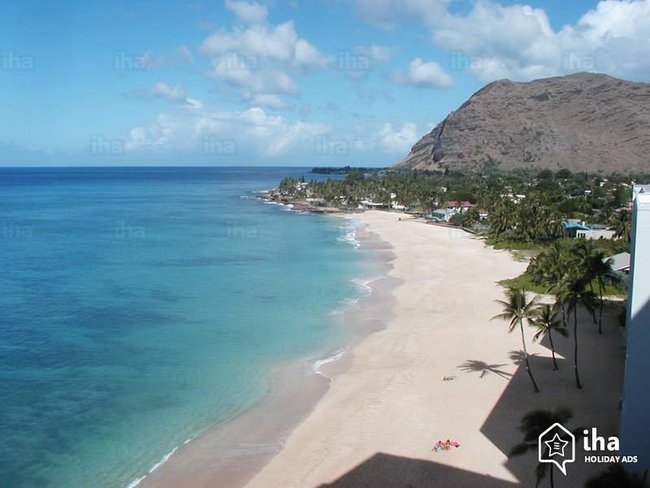 ---
Tips for Snorkeling Safely In Oahu Waters
Never snorkel alone. It is always important to snorkel with a couple of friends so that you monitor one another. If you happen to lose track of one person from the group, you can surface to locate him/her.
2. Checking whether there are lifeguards on the beach you're snorkeling can also go a long way in guaranteeing your safety.
3. Be cautious on the ocean conditions before venturing deep into the waters. Sometimes there might be strong waves and currents on the waters, something that might make snorkeling quite challenging. So be sure to check out for the calmness of the sea before you jump into the waters, especially during winter.
4. Lastly, gauge your snorkeling skills and abilities before launching into specific spots. If you're a beginner in snorkeling, then it can be advisable to snorkel in areas that shallower. But if you're going down the ocean flow with a snorkeling expert, who's teaching you how to snorkel, then that might be okay. But you should never bite more than you can chew, especially when trying to snorkel alone.
---
What to Bring For Snorkeling In Oahu
When going for a snorkeling adventure Oahu on your own, you should carry
Mask, fins, snorkel
Mask defogger
Swim cap
Float Vest
Wetsuit
Biodegradable Sunscreen
Note: If you've booked your trip with the snorkeling tour providers, then you might not need to carry all these items as most of them are provided onboard.
---
Why You Should Snorkel In Oahu
Snorkeling at any of the beaches in Oahu gives you an opportunity to explore the abundant marine life that's only unique to this part of Hawaii. You can always come along with friends, family, and/colleagues for a super fun snorkeling experience.
Group snorkeling trips can also strengthen family bonds and/or reinforce team-building among friends or colleagues. So it's a huge opportunity to have fun even as you learn about the ecology of the area.
---
In Conclusion
Now that you know everything about snorkeling in Oahu, you can go ahead and plan your next trip to this beautiful island. Whether you love it busy or serene, you can always find a perfect spot in Oahu to snorkel in. And what's more, most of the beaches are usually open to the public, which means you don't have to dig deeper into your pocket for a fun-filled snorkeling experience.
Want More Snorkeling Spots? 
Subscribe to Cruising Sea newsletter to receive every two-week the latest post straight to your inbox
What about you? Do you know other beautiful snorkeling spots? If so, you are welcome to share your experience in the comments below.
Daniella has been passionate about travel, the sea, and nature for many years. As a child, she frequently traveled throughout the Mediterranean and continued with her journeys throughout her adult life.
Her experiences have created the desire within her to share her love for traveling with other passionate and adventurers who want to discover beautiful horizons and new cultures.