Tortola, the biggest of the British Virgin Islands, is a playground for the rich and famous being a travel destination and tropical paradise full of glamour and glitz. While lying out on the beach is one of the most enchanting of experiences, nothing beats the cuisine of Tortola. Here're the 10 best restaurants in Tortola of the Virgin Islands.
BananaKeet Café
Located on the North Shore of Tortola on Windy Hill BananaKeet Café has some excellent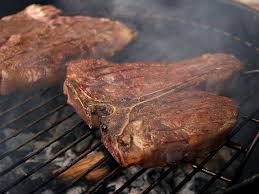 cuisine. However, with a steep corkscrew road, you will have to call a taxi though, the restaurant experience is so totally worth it.
It has some great sunset views that you can enjoy on the deck while enjoying some seafood!
The restaurant also serves Caribbean fusion cuisine including Gorgonzola cheese, mushrooms, grilled steak with caramelised onion toppings and savoury meat entrees such as grilled pork loin spiced with banana chutney. The staff is warm and friendly, and you can catch some live music bands on Friday, Wednesday, and Sunday.
The Sugar Mill Restaurant
Sail to the South Westerly point of the island just opposite Sebastian's Beach. You can expect excellent food and desserts in a beautiful open-air setting.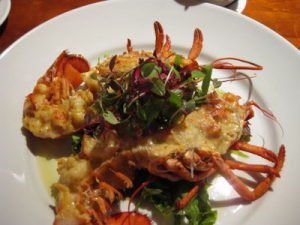 The food is Continental/Caribbean with the restaurant's speciality dish, the heavenly lobster thermidor.
What makes the ambience so enchanting is that the restaurant is set in a romantic candlelit atmosphere in a historic building with walls made of rock slab and cobblestone wrenched from the streets of Liverpool four centuries ago.
One hour before sundown is happy hour and you can take advantage of this and grab two exotic cocktails for the price of one at the Pavilions Bar.
Myett's Garden and Grill
On the West Coast, Myett's is at Cane Garden Bay Beach. Being right on the beach, the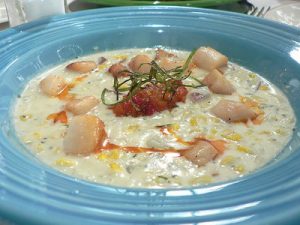 open-air restaurant has free umbrellas and beach chairs with great views of the bay.
The speciality of this restaurant is a divine Chowder made with fresh conch. The menu also includes vegetarian dishes as well as tuna, steak, grilled shrimp, and Alfredo chicken that are served in generous portions.
The ambience is great too with some beautiful Caribbean beat music on the beach or some themed live evening music (every winter night) that you can enjoy from the restaurant's patio.
Brandywine Estate Restaurant
Sail to the South shore of the island overlooking Sir Francis Drake Bay to Brandywine restaurant arguably one of the most beautiful restaurants on Tortola.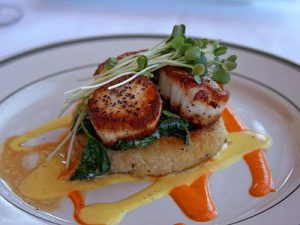 Here you can sit on the candlelit tables on the patio and enjoy the elegant moonlight reflections off the sea and sweep views of the nearby islands during the day as you enjoy the gentle trade winds.
The food is Mediterranean Bistro and includes fare such as pizzas, traditional Spanish Paella served with pea and bacon sauce, salmon braid and mahi-mahi, scallops in saffron sauce, three-cheese tortellini, and some of the freshest sea bass in BVI.
D Coal Pot BVI Restaurant Bar & Grill
Located on the West End of the island just off Sebastian Beach on Cappoon's Bay D Coalpot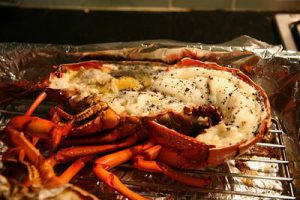 BVI Restaurant is a charming restaurant bar and grill that specialises in Caribbean fusion cuisine.
Enjoy the mellow atmosphere in the lovely garden under the twinkly lights and garden umbrellas or dine or the covered balcony.
Their speciality is the excellent chicken roti and curries while the ribs and grilled lobster are simply to die for. They also make some good BBQ chicken salad, and the Conch Fritters and Curried Shrimp salad make for some great appetisers.
Fish 'n Lime Inn
Sailing to the South West of Tortola just in the opposite of Frenchmans Cay is the Fish n Lime Inn. A few meters from the West End Ferry Terminal where you can moor, it provides a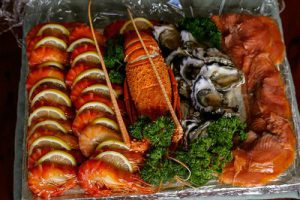 serene atmosphere for open air dining.
It is a great place to eat, drink and hangout with its friendly staff, great fresh seafood, casual atmosphere, and the cool sea breeze. The restaurant's speciality is a delightful burger, salad, and sandwich for lunch, which comes with hand-cut French fries.
After sunset, you can enjoy some Caribbean fare and seafood including lightly breaded fish, Cornish game hen, conch fritters, broccoli Alfredo and pork ribs while listening to happy hour specials or occasional live music.
Dove Restaurant & Bar 1864
Set a few meters from the Moorings in Road Town on Wickhams Cay 1 is the Dove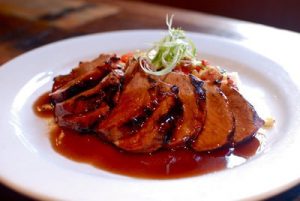 Restaurant and Bar offering excellent food in an old romantic setting.
The starched white tablecloths and comfortable pillows in the cranberry candlelit room of an old West Indian cottage make for a contemporary romantic atmosphere.
The Dove specialises in French/Asian cuisine that is probably some of the best food in Tortola. As an appetiser try some of the tomato and artichoke soup with a dash of basil cream and follow it up with either cheddar potato roti and pork tenderloin, or red wine raspberry, ginger and pan roasted duck.
French Deli & Gourmet Shop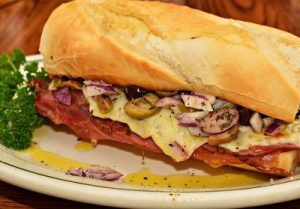 Located in Road Town a few meters from the Mooring on Wickhams Cay 2, the French deli serves French cuisine.
It has a great fun atmosphere particularly upstairs, and the staff is friendly and warm. The speciality of the French delicatessen is its sandwiches which are quite a treat and quite delicious.
Overall, it is a good place for a grab and go, though they also have a large selection of cheeses, fresh bread, lunch meats, and salads, which you can enjoy in the upstairs dining room before departure.
The Island Last Resort
Based on Beef Island in Bellamy Cay, the Island Last Resort speciality is Caribbean fusion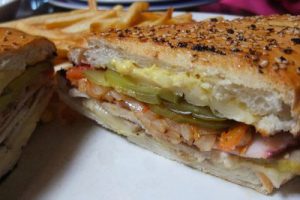 and seafood. You will have to call ahead and get picked up by boat from Beef Island when you are ready.
Alternatively, you could moor a few meters away and walk up to the restaurant. It has a relaxed atmosphere with jumbo Jenga and lives music keeping you occupied while you await your meal.
It also has spectacular views of nearby islands, Marina Cay, and sunsets that you will enjoy. The food is superb particularly the Cuban sandwich, chicken, and grilled ribs.
Pusser's Road Town Pub
Found in the heart of Road Town, a visit to Tortola is not complete if you have not dined at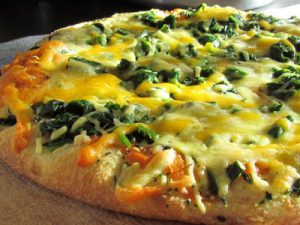 the legendary waterfront pub – Pusser's Road Town Pub.
It has some good relaxed atmosphere particularly at Tortola's Happy Hour when you get to taste the famous Pusser's Rum Painkillers (rum and fruit juice) on the veranda overlooking the harbour, or in the air-conditioned dining room.
There is also a choice of 22 aged rums, more than 25 exotic Caribbean rums, and 36 world class beers that you can sample. The Pusser's specialises in the Caribbean, American and English fare like fish and chips, grilled local fish, jerk barbeque chicken, chicken roti, conch, and the best Pizza in the British Virgin Islands.
Conclusion
While Tortola is famous for green mountains, spectacular yachts, and beautiful beaches, the cuisine on offer is splendid as well. A sailing trip to the British Virgin Islands will not be complete without sampling the food spectrum that is on offer in Tortola. From casual pub fare to fine dining, and sometimes a combination of both – Tortola has it all.
Do you know other good restaurants in Tortola? If so, add them to the list in the comment just below!
Daniella has been passionate about travel, the sea, and nature for many years. As a child, she frequently traveled throughout the Mediterranean and continued with her journeys throughout her adult life.
Her experiences have created the desire within her to share her love for traveling with other passionate and adventurers who want to discover beautiful horizons and new cultures.