If you're planning to go on a holiday to Hawaii this season, then there can be no better
way of guaranteeing a fun-filled experience than taking a Molokini and Turtle
Arches snorkeling trip.
Endowed with crystal clear waters, abundant marine life, and flourishing corals, these two places provide a safe haven for snorkeling, diving and a host of other water-related activities.
To make your dream come true, all you need to do is get aboard the Ocean Odyssey for an unlimited snorkeling adventure into the waters of Maui.
---
What to Expect
Departure
To get started on your sea adventure, you'll need to board the Ocean Odyssey at Ma'alaea Harbor.
The single-deck, smooth riding catamaran is customized with such features as gallery bar, two bathrooms, freshwater shower, water slide and snorkel steps for entering into and out of the water.
It also boasts of a professional crew that will provide you with the company and service you need throughout the trip.
On Board the Catamaran
While cruising to Molokini and Turtle Arches, the boat crew will delight you with amazing tropical-style continental breakfast featuring pastries, tropical fruits, juices and freshly brewed Maui coffee.
Along the way, you can listen to certified naturalists offer snorkeling classes to beginners as they also talk about the delicate ecology of this part of Hawaii. During winter, you might also be lucky to enjoy sightings of whales gliding through the waters.
Snorkeling Time
A visit to the crescent-shaped Molokini crater presents numerous opportunities for snorkelers and scuba divers alike. This extinct volcanic crater is home to more than 250 species of marine fish and 38 species of corals.
While underwater, you can encounter up close with exotic marine fish and creatures like parrot fish, reef sharks, manta rays, ornate octopus, triggerfish, white spotted puffer,
yellow tang, Moorish idol, Achilles tang and more.
That plus the colorful corals make for spectacular underwater scenery whose beauty is hard to beat.
Turtles Arches
Another amazing snorkeling spot in Maui is the Turtles Arches, a dazzling reef sitting off Maui's South coast. The spot is popular for its underwater larva formations and abundance of green sea turtles.
Here, you can enjoy a free guided reef tour by a naturalist from the crew, who'll help you learn and appreciate the ecology below the waves. You can also feel free to take photos of the graceful green sea turtles together with the spectacular larva arches, just to document your underwater encounters.
Back On Board
Upon returning aboard the boat, after a rather tiring snorkeling experience, you can
warm up the decks as you enjoy barbecue lunch with grilled teriyaki chicken,
hot dogs, veggie burgers, potato salad, chocolate chip cookies and more. All
these foods are served with perfect dressings and condiments that will make you
savor every mouthful.
There's also plenty of water, juices, and sodas that can go along well with the foods served.
And if you are an adult aged 21 years and above with a valid ID, you may be served with complimentary alcoholic beverages like beer, wine and Mai Tais from Maui Brewing Company. You can enjoy other additional alcoholic drinks, blended cocktails, and refills but at a reasonable price.
---
---
What Is The Duration Of The Tour?
The tour to Molokini and Turtle Arches is usually scheduled for 5 hours. You can spend
nearly half of the time on each of the two snorkeling sites. The check-in time
is set at 45 minutes prior to the departure. If you wish to enjoy a more
personalized tour (with your desired time), then you can contact the catamaran
company to organize for a private charter at a given price.
---
When Is The Best Time To Do The Tour?
Any time of the day can be a good time to visit Molokini and Turtle Arches. However, it can
be fun to go on the tour early in the morning ( the first departure at 7 am) before
it gets busy. That way you can enjoy the underwater world while it is in its
pristine condition.
Winter can also be the best time of the year to visit Molokini Crater because
it's usually the whale season. During this time, Humpback whales migrate from
the North Pacific to Hawaii.
A larger percentage of the whales come specifically to Maui mate and give birth. So this is a perfect time for you to catch the magnificent sightings of the Humpback whales.
---
What Amenities Are There On Board?
The Ocean Odyssey is the ultimate definition of comfort, luxury, and convenience. Some of
the notable amenities you can find on board include warm showers, super water
slide, glass bottom viewing window and swim steps. With such great amenities,
you can be sure of enjoying a fun-filled experience both on board and in the
waters.
---
Things Included In the Tour Package
Professional crew and certified naturalists onboard
Snorkeling equipment including optical masks
Flotation devices and snorkel instructions
Visit two snorkel sites
Onboard naturalists program for kids
Continental breakfast: assorted pastries, banana bread, veggie & potato salads, juice,
fresh island and Maui coffee
BBQ lunch: grilled chicken, hot dogs, garden burgers, veggie salad, chocolate chip
cookies, potato salad
Refreshments: soda, juice and complimentary alcoholic drinks (exclusively for persons aged 21 years and above). Additional alcoholic beverages and refills are available for
purchase.

---
Things Excluded In the Tour Package
Wetsuit shirts, binoculars and underwater cameras (only available for rental)
Reef safe sunscreen bottles
SNUBA for children (available for hire or at an additional charge)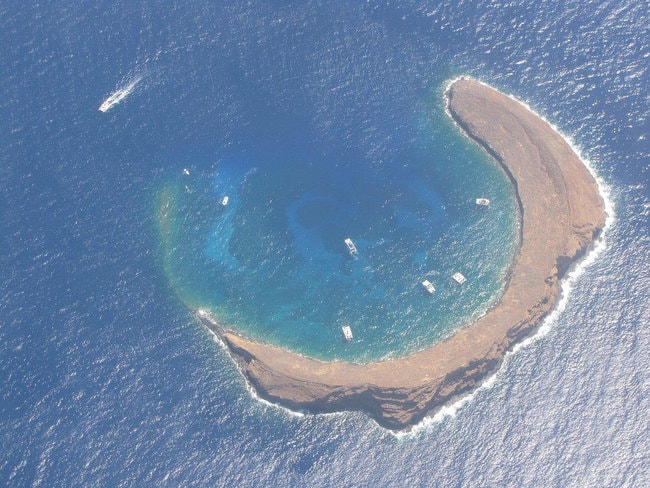 ---
Who's The Tour For?
This tour is for anyone who wants to escape the hustle and bustle of the city
and enjoy complete fun in a serene environment. Both adults and kids (above 8
years) can go a snorkeling trip with the Ocean Odyssey for a fun-filled
adventure into the deep. You're free to go on the tour with family, friends
and/or colleagues. The holiday experience just never gets better on this part
of Hawaii.
---
Why Should You Go this Tour?
A visit to Molokini and Turtle Arches presents a wonderful opportunity to sit back and enjoy nature's beauty and tranquility. Apart from having lots of fun at sea, you'll also get to
learn more about Hawaii's reefs, fishes and other marine creatures in greater
detail. Visiting Maui with your loved ones or colleagues also offers an
opportunity for bonding and/or team building. These are reasons enough to get
you started on planning your next trip to Maui's Molokini and Turtle Arches.
---
Pros
Sumptuous breakfast and lunch served on board
Drinks and refreshments included in the package
5 hours of unlimited snorkeling adventure
Snorkeling gear provided free of charge
More than 250 species of fish to explore at sea
Cons
Packages don't include hotel pick up and drop off services
Those booking snorkeling tours between September and November may not enjoy free alcoholic beverages
Snorkeling tours may sometimes be canceled due to bad weather
In Conclusion
Now that you know everything about the Molokini & Turtle Arches tour with Ocean Odyssey, you can go ahead and plan for a trip to Maui. Be sure to contact the catamaran company to make inquiries about the rates per tour (either for regular tours or private charters). If you can properly plan ahead, then you can be sure of enjoying a fun-filled and memorable holiday experience on the Maui waters.
# Find Out More About  The Tour
Have you already been on the Molokini and Turtle Arches Tour? If so, you are welcome to share your experience in the comment below.
Daniella has been passionate about travel, the sea, and nature for many years. As a child, she frequently traveled throughout the Mediterranean and continued with her journeys throughout her adult life.
Her experiences have created the desire within her to share her love for traveling with other passionate and adventurers who want to discover beautiful horizons and new cultures.