With white, sandy beaches and a peaceful, small-town atmosphere, Maalaea, Hawaii, is the perfect place to unwind if you're in need of some downtime. Once you're done surfing those waves or taking an early morning walk through the harbor, why not head out on the Molokini and Turtle Town Snorkel Adventure? As one of Maalaea's greatest attractions, the trip definitely has something for everyone to enjoy.
Overview
From your first step of the Maalaea harbor, you can expect the next couple hours of your life to be jam-packed with adventure. With friends and family, you'll be able to explore the marine life that lurks along the Molokini Crater while also be treating to a delicious meal and refreshments.
---
What To Expect
The departure time for the trip is at seven-thirty a.m., but it's recommended that you show up at least thirty minutes early for check-in. Once you've actually boarded the 55-ft catamaran, you'll be served a tasty continental breakfast while you watch the boat sail through the waters.
During the hour-long trip to Haleakala volcano, you'll be able to glimpse some of Hawaii's native fish through the glass bottom viewing area of the catamaran.
After arriving at the volcanic crater, you'll get a chance to go snorkeling and explore the crystal clear waters and interact with the marine life. The final stage of the trip includes a BBQ lunch and open bar on the ride back to the Maalaea harbor.
---
---
Duration Of The Tour
Approximately the trip lasts about five hours. Once you depart at seven-thirty a.m., you can expect to be walking back onto the Maalaea harbor by 12:30 pm.
---
When Is The Best Time To Do The Tour?
Since the tour takes place all year long, the best time to take the trip really depends on personal preference. During Hawaii's winter months (November to March), you can't expect to see too much cold weather under seventy degrees, but you should plan on seeing plenty of rain. If you're looking to go when the water is at its warmest, August is typically Hawaii's hottest month. If the weather is too poor for your scheduled date, the tour will be canceled for that day and your ticket will be rescheduled.
---
What Amenities Are There On Board?
The catamaran you'll be boarding is equipped with many amenities to keep your stay there as comfortable as possible. One of the biggest perks has to be the open bar that you can enjoy on the way home. Permitted that you're over the age of 21, you'll be able to enjoy a nice relaxing glass of wine or beer as you take in the sights. Other than that, both the continental breakfast and hot lunch are added bonuses and can be enjoyed as you peer out at the fish from the boat's glass bottom.
---
What's On The Menu?
To start off your day, you can enjoy fruits, bagels, and a steaming cup of Kona coffee or juice. By the time lunch rolls around and you've worked up an appetite again, the BBQ lunch includes chicken breasts, pulled pork, hot dogs, or garden burgers for vegetarians as well as chips and a choice of dessert. To top it off, there are plenty of beverages to enjoy from the open bar.
---
What's Included?
Mouthwatering continental breakfast
BBQ lunch
Unlimited beverages such as wine and a variety of soft drinks
Set of snorkeling gear
---
What's Excluded?
When going on the tour, you should definitely have a plan for transportation–the trip does not include:
Hotel pick-ups or drop-offs.
(Optional) Tip for the crew
---
What Can Be Purchased On Board?
SNUBA guided experience on board for $59
A wetsuit rental for $5
A video for $30
Underwater digital camera for $40.
Keep in mind, if you do plan on purchasing any of these things, the accepted form of payment is a credit card.
---
Who Is This Tour For?
The better question to ask here is–who isn't the tour for? Even those who have never snorkeled before in their lives can feel secure with professional gear and a crew of trained, patient individuals at the ready. Families, couples, and lone travelers are all welcome–though children who are extremely young won't be permitted to snorkel in the waters.
---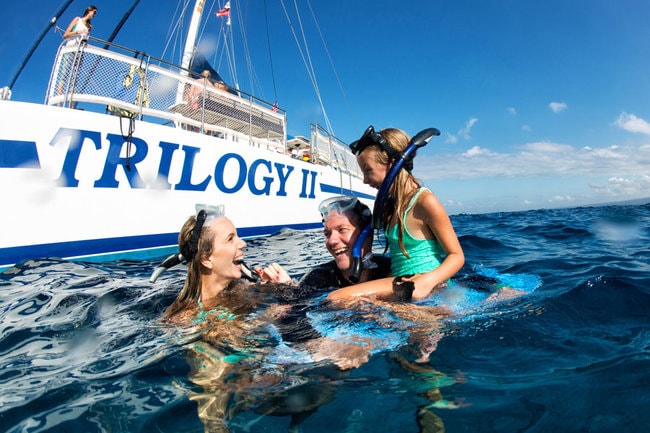 ---
Why Should You Go On This Tour?
Though other tours may offer the chance to snorkel with marine life off the coast, not many can compare to the experience of swimming through Molokini's crystal clear waters. With perfect clarity, you'll get a superb shot of a partially-submerged volcanic crater and the colorful coral reef inhabited by over 250 species of fish. Even those who don't plan on snorkeling at all still have the chance to see some of these beautiful sights through the glass bottom of the catamaran.
---
What To Bring?
It's safer to take some stuff on board in case you need it!
Sunscreen
swimsuits
Change of clothing.
Pros
Obviously, there are tons of pros that come with attending this special trip.
You'll get to meet fellow adventurists
Explore an impressive volcanic crater
Swim with the kind of sea life you only ever get a glimpse of in aquariums.
Not to mention, you'll get two delicious meals out of it and a chance to sail through the sparkling waters of Hawaii.
Cons
Perhaps the biggest con of this trip has to do with individuals who have large families with small children.
While small children are permitted, their tickets will be $85, and extremely young children won't be able to experience the best part of the adventure.


---
Conclusion
Whether you're planning your next vacation or in desperate need of some time off from a stressful job, taking this tour is the right answer. You won't be disappointed by the incredible sights you see, the tasty food you eat, or the interesting people you meet. For five hours, you'll be gifted an incredible memory and experience that will last a lifetime.
# See More Details About The Tour
Have you already been on the Turtle Town Snorkeling Adventure? If so, you are welcome to share your experience in the comments below.
Daniella has been passionate about travel, the sea, and nature for many years. As a child, she frequently traveled throughout the Mediterranean and continued with her journeys throughout her adult life.
Her experiences have created the desire within her to share her love for traveling with other passionate and adventurers who want to discover beautiful horizons and new cultures.