For a couple of years now, power boaters and sailors have had to contend with some sibling rivalry. While some people are fascinated by the glitz and glamour that comes with motor yachts, others are all about the romanticism and adventure offered by the ancient-style sailing yachts.
But when comparing sailing yacht charter vs motor yacht charter, many issues like stability, cost, efficiency, and comfort take center stage. So, which is the better option between these two? Well, let's find out.
Here is a close-up look at each of these yacht charters:
Motor Yacht (Powerboat) charter
Motor yachts have been around barely one and half centuries but they dominate the world's fleet by close to 90 percent. Considering this staggering amount of market domination, there must be something likable, if not charming about these new toys.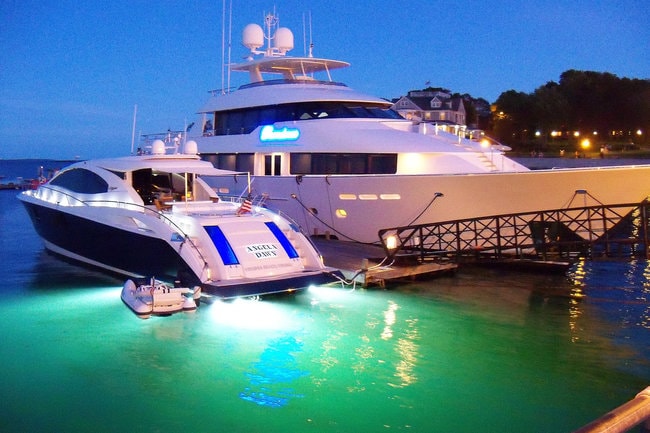 Let's explore the different aspects of powerboat yacht charter:
Stability
Powerboat charters are typically lighter compared to their sailing
yacht counterparts. And with their relatively shallow draft, they are capable
of navigating nearly any coastline or archipelago, no matter how shallow the
waters are or how narrow the passage is.
Noise
Motor yachts are entirely dependent on fuel and the engine must keep running at all times when the yacht is moving at sea. That means, if you charter a powerboat, you and/or other boaters may need to put up with the noise of the engine. Otherwise, if you love the thrill of cruising at high relatively high speeds, you wouldn't probably mind the noise produced by this type of boat.
Cost of Fuel
In terms of fuel consumption, powerboats are real guzzlers. You may have to part with several thousand dollars in fuel costs during your weeklong voyage. And what makes them even more expensive is the fact that they have two engines on board. But if you have the money to fuel this motor toy at all times, you'll love the comfort and swiftness that comes with it.
Safety
Hauling a twin motorboat onto the beach or marina requires both engines to be functional, especially when maneuvering through tighter spaces or don't have many ways. So if one of the engines fails during the trip, it can really be difficult to get the yacht where it should be.
Comfort
Motor yachts mostly feature an elevated multi-deck design that offers generous living space and a touch of luxuriousness. Ideally, it has more onboard facilities, accommodates more guests and offers amazing opportunities for recreational activities. Unlike their sail yacht companions, powerboats don't largely depend on manual labor to get moving, something that adds even more comfort to the voyage.
Rapidity
Powerboats beat sail yachts hands down when it comes to speed. The fact that they are fully dependent on fuel-powered engines and come with a shallow draft makes them skim across the water surface at high speeds and with ease. So if you want to cover longer
distances in less time, motor yachts would definitely be the best way to go.
Maintenance
Motor yachts don't really need regular maintenance while at sea. But on average, a gasoline engine needs to be serviced and maintained after running for 1,500 hours while a diesel engine would require the same after hitting 5,000 hours or so. Powerboats move faster compared to sail yachts, which means you can get to different places within the shortest time and may spend far much less in terms of maintenance costs.
---
---
Strong Point
Motorboats are generally more comfortable and luxurious, largely because their decks are spacious and elevated from the surface of the water.
They also tend to be speedier compared to sail yachts, which makes reaching different places swifter and more convenient.
And since they don't rely on wind to move at sea, you can take quick journeys without really planning ahead.
Weak Points
Powerboats generally tend to be more expensive in terms of fuel and maintenance costs.
They are also loud, something that can irritate those onboard and cause noise pollution to others as well.
And what's more, their higher center of gravity makes them struggle against strong winds, which may downplay their comfort at times.
---
Sailing Yacht Charter
Exploring the seas on a sailing yacht charter is basically a race against the unadulterated forces of nature or simply put wind. The thrill of moving along with the winds as they blow is uncontrollable while the adventure of going into the wilderness in a slow-paced manner is somewhat priceless.
But how much fun you'll have on board will depend on your personality and largely on the following aspects:
Stability
Sailing yachts are very stable because they have a draft that goes deeper into the waters. Unlike their powerboat counterparts that skim quickly over the water, sailing yachts push water out of the way and go slower. This makes them withstand heavy waves and/or big blows more easily and adds to the vessel's overall stability.
Noise
If you are looking for an eco-friendly and noise-free way to navigate the waters, sailing yacht charter could just be the best way to go. Though these Ottoman-like yachts come with one functional engine, they can still be powered by the wind at one point or another along the way. Ideally, when the wind is good, you can shut off the engine, pop up the sails and continue sailing like a true seafarer. And all you can hear is nothing else but the soothing sound of the wind and waves.
Cost of Fuel
Sailing yachts are not entirely dependent on fuel-powered engines to run. And when the winds are good, you can cover several miles for free. That means you can travel further, burn less fuel and ultimately spend less on getting the vessel going.
Safety
One of the things that make sailing yachts a safer option is that they can still cruise through the seas, even when the engine fails or runs out of fuel in the wilderness. You can also easily maneuver your way into the marina, tight as it may be, while under sail to moor the vessel. So long as you have the right crew and the prevailing conditions are okay, you can never get it wrong.
Comfort
Sailboats usually come with a low-lying design that allows sailors to get up-close with the soothing breeze and the occasional water splashes. They also feature ample space on board where you can sit or lounge as you bask or enjoy a conversation with friends. The comfort of sailing yachts is fairly great but they don't offer the much-sophisticated luxury as powerboats do. So if you are a seafarer who's all about simplicity, relaxation, and romanticism, this could be a great choice for you.
Rapidity
Sailboats have this unique advantage when the wind is blowing and when it's not. You can easily put up the sails and streak along the waves with ease when it's windy or you can power on the engine and cut through the waters on a calm, windless day.
But the fact that they have deeper drafts and are slightly heavy makes them a bit slow. Sailboat speeds can be great for any adventurer but may not appeal to thrill seekers who
are all about fast, swift rides across the waters.
Maintenance
Sailing yachts may consume less in terms of fuel but when it comes to maintenance, particularly the sails on the boat; the journey becomes a little costly. You have also to maintain and service the engine occasionally, which also adds to the maintenance cost. But
all the same, the overall cost of maintaining a sailboat isn't as huge as that of a powerboat.
---
---
Strong Point
Sailboats give sailors the nostalgic feeling that they are sailing a couple of centuries back.
These boats can be great for those seeking to enjoy slow-paced adventure over a
rustic ancient boat-style setting.
Considering the fact that sailboats are largely powered by wind, you can roam or cover as many miles at sea as you wish, without feeling a pinch of the cost of fuel.
Lastly, sailboats burn less fuel and produce less noise, something that promotes a clean and eco-friendly environment.
Weak Point
A sailing yacht requires fairly strong winds to cover a great distance and those winds have to favor the direction you are headed to.
Furthermore, you need to have several crew members onboard to pop up and lower the sails as well as do general maintenance, which is both physically demanding and time-consuming.
The slow-paced nature of the sailboats can also be a huge drawback, especially for those who would love to explore different places over a short period of time.
Conclusion
From the comparisons above, it looks like both sailing yacht charter and motor yacht charter have a fair share of advantages and drawbacks as well. But the option you choose to go for should primarily be anchored on the experience you are looking for.
So, if you are planning to charter a yacht for this coming holiday, be sure to get a vessel whose cost is commensurate with your pocket and one that will give you maximum adventure and joy at sea.
Want More Tips?
Sign up for Cruising Sea newsletter to receive every two weeks the latest post straight to your inbox!
What is your favorite, powerboat or sailing yacht? You are welcome to share your experience in the comments below.
Daniella has been passionate about travel, the sea, and nature for many years. As a child, she frequently traveled throughout the Mediterranean and continued with her journeys throughout her adult life.
Her experiences have created the desire within her to share her love for traveling with other passionate and adventurers who want to discover beautiful horizons and new cultures.