Planning to see the Catacombs during your stay in Rome and want to know how to go about it? If so, great you came to the right place! In this article, you'll find everything you need to know about visiting Rome Catacombs to help you have a stress-free and enjoyable excursion!
---
What Are the Catacombs in Rome?
The Catacombs are ancient Romain underground passageways where Jewish and Christians buried their dead outside the city walls between the second and fourth centuries.
Rome's catacombs are renowned for being the oldest and longest underground cemetery in the world. According to Adriano Morabito, president of the (Roma underground) association, hundreds of kilometers of underground tunnels run beneath the city and its outskirts.
Rome Catacombs date back to the first century and were built first by the Jewish community, then a century later by the Christian communities.
There are about 60 Catacombs in Rome, and only five of them are open to visitors. The Catholic Church owns all the Christian catacombs, and no one can explore them without permission from the Vatican.
---
Why Visit the Catacomb in Rome
There are countless beautiful gems of early Christian art to visit.

You'll get back in time in 2 and 4 centuries to see how Rome was transitioned to Christianity.

There are five Catacomb tours, giving you a variety of choices. (the Catacombs of San Sebastiano, Catacombs of San Callisto, Catacombs of Priscilla, Domitilla Catacombs, and Catacombs of Saint Agnes.

Underground tunnels and tombs may sound scary, dark, and mysterious to you, but it fascinates kids. So it's an excellent tour for the whole family!
---
The Different Rome Catacombs To Visit
Five catacombs are Open to the public, but it wouldn't be easy to see all of them at once because they are pretty long, and some are located in different areas.
This means you will have to travel from one place to another to visit all the catacombs, which takes time and planning.
To simplify things, I have listed the five catacombs and their plus and minuses. That way you'll be able to make the best choice and maybe see all of them if you have the time.
1.The Catacombs Of San Callisto (Callixtus)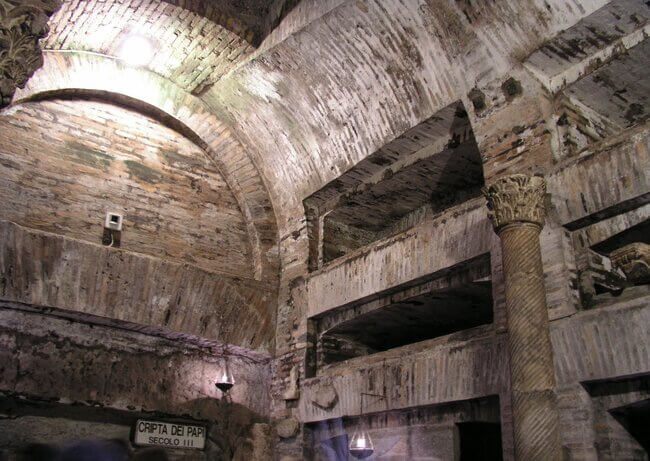 The Catacombs of Saint Callixtus is located near the Church of Domine Quo Vadis, on the Appian Way's right side. Among all five catacombs, this is the most visited one.
It is also one of the most important and largest catacombs. This burial place covers 15 hectares of ground, with about 20 kilometers (12.5 miles) of galleries. It's arranged on several levels and reaches a depth of 20 meters. So good luck!
The Catacombs of Saint Callixtus officially became an underground burial place of the Church of Rome in the 3rd century. Around five hundred Christians, Dozens of martyrs, and 16 popes were buried in this Catacomb.
There you'll discover plenty of fascinating history, including the Crypt of Saint Cecilia, who was tortured in the 3rd century, the little Vatican, which are all decorated with mosaics and frescoes.
Pros
Kis friendly

Several churches to visit after the tour

along the Appian Way

Lovely garden to stroll around above the catacombs

Emotional history of St Callistus

Inexpensive
Cons
---
Hours:
Open from

Monday to Friday from 9:00 -12:00 – 14:00 – 17:00

Close on

Wednesday – Christmas (25

th

December)- Easter – New Year's Day (1

st

January)

Address:

Via Appia Antica, 110
---
How to get there: Metro A

(direction

Anagnina

) to the stop

San Giovanni

(

in Laterano).

continue on bus

218

(direction

Ardeatina

) to

Fosse Ardeatine

.

Metro A

(direction

Anagnina

) to

Arco di travertino.

continue on bus

660

to

Appia Pignatelli/Appia Antica

.

Metro B

(direction

Laurentina

) to

Colosseo

or

Circo Massimo

(bus stop:

Terme Caracalla/Porta Capena

). continue on bus

118

(direction

Appia/Villa Dei Quintili

) to

Catacombe di San Callisto (Via Appia Antica, 110).

Bus 714

to

Navigator

. continue by walk for 1 km along

Via Delle Sette Chiese

.
---
2.The Catacombs Of Domitilla
Have you seen the film, Indiana Jones'? Well, once you go downstairs, you'll feel like in the movie, everything remained intact – apart, there are no rats or other scary creatures. However, this is one of the most popular Catacombs in Rome and one of the largest ones.
There are 17 kilometers (10.5 miles) of galleries and corridors arranged over four different levels, many still unexplored. This Catacomb is situated 16 meters underground and holds about 150.000 burials, which some still contain the original frescoes dating from centuries.
This complex also has a stunning and well-maintained underground basilica that dates from the 4th century.
Pros
A fascinating place to visit

Easy to get to

from Termini station

One of the largest and most preserved catacombs

It includes a 4th-century basilica and a gift shop.

The entrance is inexpensive and the guide is included in the tour.
Cons
Not a lot of bones to see

Involves lots of walking and stairs
Hours:
Open from Monday to Sunday:

9:00

to

12:00

–

14:00

to

17:00
Close on TUESDAY
Adress: Via delle Sette Chiese, 282 – 00147 Rome (RM)
---
How to get there: From station terminal Bus 714 – 716 Piazza Venezia – 160 Piazza S. Silvestro – 670 Basilica S.Paolo.
---
3.The Catacombs Of Priscilla
Priscilla catacomb is an archaeological site that sits just on top of the famous Via Salaria. It was used as a cemetery for Christian burials from the 2nd century to the 4th century.
The Priscilla catacomb, known as "Queen of the Catacombs," is Rome's most ancient underground burial place. Many martyrs and seven early popes were buried in Priscilla catacomb and later Pope Marcellinus and Pope Marcellus I.
There, you'll find the oldest known Marian paintings. There are the portraits of Saint Mary with the baby Jesus on her lap and the Old and New Testament on the corridor walls.
Pros
Kids friendly

Inexpensive

It has the oldest Marian painting and Last Judgment.

Easy to reach from the bus station

Not as crowded as the other catacombs, making it extremely agreeable.
Cons
No skeletons because they were all removed and reburied.




---
Hours:
Open on Friday, Saturday, and Sunday

OPENING HOURS ON RESERVATION

Address:

Via Salaria, 430, 00199 Roma RM, Italy

How to get there:

Via Salaria, 430. Bus 63 from Rome center or Bus 92 and Bus 310 from Stazione Termini.
---
4.Catacombs of Saint Agnes
The Catacombs of Saint Agnes is a little smaller and less popular than the catacombs stated above, but well worth the visit.
The story behind it? Saint Agnes was only 12 years old when she got persecuted and atrociously killed by the Roman Emperor Diocletian because she rejected the marriage proposition of Symphronius, a son of the city Prefect.
Saint Agnes was buried beside the Via Nomentana, which her family owned and became Saint Agnes catacombs. This site extends to 6 miles of underground tunnels and is arranged on three levels: relatively short but fascinating history!
Pros
A very touching and interesting story of Saint Agnes

Beautiful garden and lovely Church to visit

Lots of fascinating history

Easy to find from the metro

Not as busy as the other catacombs, relaxing!
Cons
---
Hours:
Open on thursday , Friday: 09.00 – 12.00 / 15.00 – 18.00
Saturday : 09.00 – 12.00 / 15.00 – 19.00
Sunday : 15.00 – 18.00
CLOSED:

January 1st, Easter, August 15th, Christmas.

Address: Via Nomentana, 349

How to get there:

Via Nomentana, 349 on Bus 82, or Bus 66
---
5.The Catacombs Of Saint Sebastian
The Catacomb of San Sebastiano is located in the first part of the Appian Way. This archaeological site was used as a cemetery and later as a Christian burial underground during the 2nd century. Sebastiano was tortured and beaten to death because he refused to renounce his Christian faith. He was buried in this Catacomb which took his name.
This site is arranged over four underground levels of tunnels and lined with wall tombs. It has 12 km of hallways and holds around 60,000 burials. Above the Catacomb is located the stunning Basilica of the martyr San Sebastiano, which you'll visit at the end of the tour.
Pros
It covers a lot of

fascinating history

You get to visit the Basilica

of the martyr San Sebastiano

above the Catacomb

It's easy to find

amazing pre-Christian crypts

Nice cafe shop and clean toilettes
Cons
Most bones have been removed to another place
---
Open from

Monday to Saturday 10:00 – 16:30

Close on Sunday (

25 Dec, January 1 (New Year).

How to Get There:

You can get there by public transportation with bus 660 from Metro Station "Colli Albani". Metro A, bus 118 from Station Colosseo or Station Circo Massimo. Metro B or bus 218 from Metro Station San Giovanni.
---
What is the Best Catacomb to Visit?
Each Catacomb has a different history, but they are all fascinating. However, you may find a catacomb interesting while another person, not. So it really depends on your preference.
What I can tell you, though, is that the Catacombs of San Callisto (Callixtus) is the most visited one; this means something. Some catacombs, such as St Sebastian, St Callistus, and Domitilla Catacombs, are very close to each other, so you can visit two or three of them at once if you have the time.
---
How Much Cost a Visit to Catacombs in Rome?
The entrance of catacombs is very affordable. However, it can vary depending on the age and type of tour you plan to do. Here is well-detailed pricing of the catacombs in Rome.
Group Tour
The cost for an adult is 8 Euros.

The cost for children between the age of 7 and 16 is 5 Euro.

Young children up to 6 free admissions.

All five catacombs cost the same price, and all tickets include a guided tour spoken in English.

The group tour begins every half an hour (30 minutes) and lasts around 40 minutes.
Private tour
A private tour will cost more, of course, but it will last longer, and it's more intimate.

For a group of up to 5 people, it will cost 50 Euros.

For a group of up to 10 people, it will cost 80 Euros.

All group tours last around 1 hour and are spoken in various languages.
---
Other Places to Visit Around the Catacombs
Basilica Of The Martyrs Nereus and Achilleus

Christian Tombs

Ancient Fresco Of Paleo-Christian Origin

Via Appia Antica

Park Of The Aqueducts

Capuchin Crypt In Rome




---
Who IS a Catacomb Tour For?
Everyone can participate in Rome Catacombs, including children. It's a fascinating tour for the whole family. The only inconvenience with the catacombs is that it's not suitable for wheelchair users and neither for claustrophobic – although the passageways are well lit. Some areas have uneven terrains and stairs, and people with physical disabilities may find the visit a little challenging.
---
Tips To Visit the Catacombs in Rome
It's quite cold in the catacombs, even if you visit during the summer or spring, bring a light jacket with you.

There are a lot of uneven surfaces and stairs in the catacombs, So bring a supportive and comfortable pair of walking shoes for hiking.

Some catacombs have a church and if you want to visit them you will have to cover your shoulder and knees. Make sure to bring a scarf in your suitcase. Also, know that It's forbidden for men to wear a hat in church.

Always bring some cash with you, you never know, some shops don't accept cards.

In the peak seasons, most sites are crowded In Rome so it's advisable to book in advance your tickets to visit the catacombs.

The Catacombs are well lit, but they are long and deep and if you are claustrophobic take this into account.
---
My Final Words
The catacombs are easy reachable from the Termini Station by bus, but it's not always easy to get around Rome by public transportation, especially if you don't know the city well. If you don't want to bother with public transportation, traffic and want to have a relaxing excursion, the ideal would be to take a private tour. It's more intimate, everything is organized, and you don't have to worry about anything. Yes, it's more expensive, but it's worth it if you want to saves time and nerves!
Have a great Catacombs Excursion!
Have you already visit one of these Catacombs? If so, what was your experience?
Daniella has been passionate about travel, the sea, and nature for many years. As a child, she frequently traveled throughout the Mediterranean and continued with her journeys throughout her adult life.
Her experiences have created the desire within her to share her love for traveling with other passionate and adventurers who want to discover beautiful horizons and new cultures.