When going out on the water on a typical hot summer day, all you need is a portable cooler that will help you enjoy an ice-cold drink when you need it most. And the YETI Hopper Flip 12 can never disappoint when it comes to that.
Whether you are taking your adventure to the beach, forest or mountain, this cooler will always prove to be useful. It's simply what you need to get your adventure going.
In this YETI Hopper Flip 12 review, we are going to look at the product's key features, how to use it, pros & cons among other relevant details you might need to know.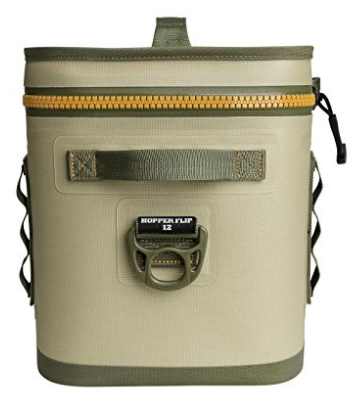 Weight: 3 Pounds
Capacity: 3.2 Gallons
Zipper: Waterproof – Airtight
Warranty: 3 years
Insulation: 1 inch thick
---
1. Insulation Capacity
Designed with inch-thick insulation and perfectly sealed zippers, the Yeti Hopper Flip 12 delivers incredible insulation that can keep drinks or food super cold for up to 4 days.
That means you can keep your drinks frosty, fruits & salads crisp and food chilled without much hassle while on a weekend camping trip or sailing expedition. You can even leave the cooler in the scorching sun the whole day and the temperatures inside will still remain intact.
---
2. Usability
Besides having an elegant design, the YETI Hopper Flip 12 comes with a wide-mouth opening that allows you to pack and unpack a couple of beers, energy drink cans and lunch boxes with minimal hassle.
That means you can carry all edible stuff you need for your outing or sporting event. The cooler's watertight zipper is also incredibly smooth to fasten, thanks to the zipper lube that comes with the cooler.
And what's more, the Flip 12 boasts of a durable lining that's easy to clean, which means you don't have to break a sweat when wiping or washing it before loading in your stuff.
---
3. Durability
The Hopper Flip 12 interior walls are made of thick TPU-laminated nylon that not only delivers an astonishing cooling performance but is also highly durable.
Its big-tooth HydroLok Zipper is also designed with sturdy materials that ensure it remains airtight, waterproof and unbreakable for the longest time possible.
To ensure even greater durability, the cooler incorporates RF (Radio Frequency) welded seams that meld together the cooler parts in a sturdy and effective manner.
The Hopper Flip 12 is also crush, puncture, and scratch-proof, thanks to its sturdy construction and soft-side design. With that, you can be guaranteed of using this cooler for almost a lifetime.
---
4. Portability
The Yeti Hopper Flip 12's fairly small and strapped design makes it one of the most portable coolers in the YETI cooler series. Its shoulder strap is padded, something that makes carrying the cooler easier even when it's fully loaded.
It also comes with side handles that allow for even more carrying options. In addition, YETI includes a Velcro patch and Molle webbing straps for attaching accessories and/or clip-on gear. You can simply carry all you need to the beach, picnic or camping ground with the Flip 12.
---
How to Use It 
The Hopper Flip 12 always comes with YETI ICE, that's available in 1, 2 and 4-pound containers. The 4-pound block precisely fits into the bottom of the cooler, providing a perfect cold foundation for chilling your drinks and/or food.
Upon laying the YETI ICE in the cooler, you can go ahead and arrange your bottled or canned drinks inside and then proceed to pour a sizable amount of ice on top.
If you're planning to put a bunch of snacks or packed lunch in the cooler, then there's no need to add any ice as the YETI ice-block will provide the required chilling and insulation
that will keep the food fresh.
Once you are done putting your drinks or food in the cooler, you need to carefully fasten it with the zipper. You should ensure the cooler is perfectly sealed to end before you proceed to carry it or put it in your car.
---
---
Who Is The YETI For?
The YETI Hopper Flip 12 is an ideal cooler for anyone that's planning an outing and wants to enjoy perfectly chilled drinks and/or food on a typical hot sunny day.
The cooler really come in handy when going hunting, hiking, biking, kayaking or picnicking. You can always feel free to add a couple of your favorite beers, energy drinks, bottled water, salads and/or packed lunch in the cooler.
There can simply be no better way to relax after a rather tiring adventurous activity than grabbing a refreshing cold drink or fresh snack.
---
Why Should You Buy It?
Buying the Hopper Flip 12 comes with a number of perks that can never be overlooked. Apart from offering superb insulation capacity, the cooler is easy-to-use and comes in a compact design that makes it highly portable.
Owning this cooler can be a great idea as you'll be able to carry chilled drinks and/or food for a sizable number of persons every time you go out on casual or adrenaline-filled adventures.
Besides, you'll be able to save more money that you would have otherwise used to buy drinks and foods in a bar or restaurant.
Buy on Amazon
---
Pros
Genuine Yeti branded quality
Convenient padded shoulder strap
Velcro patch plus Molle webbing straps for
attachments
Chills drinks and foods for up to 24 hours
and more
Crush and puncture proof
Airtight and waterproof
Attractive, compact design
Cons
Expensive
The lid doesn't stay open when pulled back


---
In Conclusion
The Yeti Hopper Flip 12 is a cooler that stays true to the Yeti trademark that's known for its premium quality coolers.
The price tag on this cooler might sound expensive but it's really worth it because the model beats all other coolers brands of the same size hands down in terms of quality and performance.
If you've been looking for a compact size cooler for carrying your favorite cold drinks or snacks to the decks, picnics or camping grounds, the Hopper Flip 12 is the most ideal.
---
Do you own the Hooper Flip 12 cooler? If so, what do you think about it? You are welcome to share your experience in the comments below.


AMAZON AFFILIATE DISCLOSURE
Cruising Sea is a participant in the Amazon Services LLC Associates Program, an affiliate advertising program designed to provide a means for sites to earn advertising fees by advertising and linking to Amazon.com
Daniella has been passionate about travel, the sea, and nature for many years. As a child, she frequently traveled throughout the Mediterranean and continued with her journeys throughout her adult life.
Her experiences have created the desire within her to share her love for traveling with other passionate and adventurers who want to discover beautiful horizons and new cultures.