Aptly named as boat drinks, these amazing concoctions are great accompaniments to your yacht adventures whenever you plan to go big and celebrate and have the time of your life. Boat drinks can bring in the necessary refreshments that you need to get your energy levels high up even during a slogging boat trip, especially if you have issues staying on water. With the drink in hand and the music ushering in the mood, this makes for a perfect gateway on your boat and a peaceful outing. In this article, we will be looking at 10 the best boat drink recipes and how easy it is to bring it on.
#1 – Tequila Sunrise
Filled in the highball glass, the tequila sunrise is one of the classics that can tickle your taste buds and get you in the mood.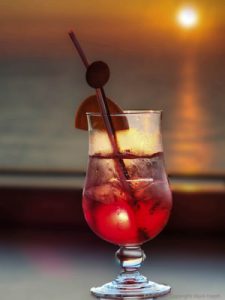 2 shots of Tequila (3oz)
Orange juice
2 pours of grenadine (2oz)
Ice
Fill the glass with ice and set is aside. In a cocktail mixing glass, pour in the tequila and orange juice, and add 1 cup of ice. Stir and strain the rest into the readied highball glass. Pour in the grenadine at a tilt and let the concoction settle. Stir when you drink.
#2 – Rum & Coke
The simplest in the lot, Rum & Coke is another classic that can grace your shelf.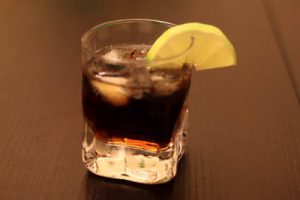 1.5oz Rum
5oz Coke
1 Lime
Also called the Cuba Libre, you will only need to have a cocktail stirrer and you can go with your gut for the rest. Or, squeeze a lime in a Collins glass, with a couple of ice cubes. Pour in the rum. Pour in the Coca-Cola and the lime shell that you used. And, voila!
#3 – Dark & Stormy
Dark & Stormy is sure to be clouding your judgment if you don't mix up the cocktail in the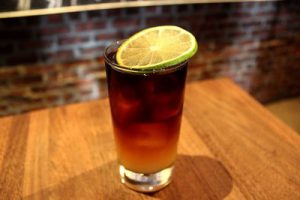 best way possible.
Ice
3 1/3 oz Ginger beer
2oz dark Rum
Lime
Just fill a tall glass with ice. Squeeze in a lime to the ice and then, add the ginger beer. Top the ginger beer with rum for that added effect and garnish the glass with a slice of lime on the top.
#4 – Mimosa
Mimosa is one chilled-out drink to refresh your palates before lunch on the boat, but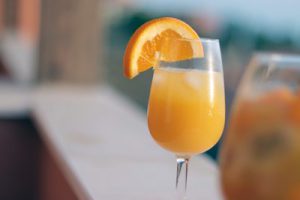 everything in moderation. This drink will require a little champagne that need not be the best or from the best vineyards.
Ice cubes
2 1/4 oz Champagne or Asti
2 1/4 oz Orange juice
Rinse and completely chill Champagne glasses in a freezer and pour 2 ounces of orange juice to make up 1/3rd of the glass. Fill Champagne to the rim and add a dash of orange liqueur in each glass. Garnish with an orange peel curl.
#5 – Pink Pussycat
The Pink Pussycat happens to be one of the most iconic boat drinks that make for a perfectly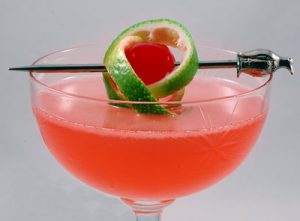 mixed pink delicacy.
3-parts pink Grapefruit juice (3oz)
1-part Orange juice (for sweetness)(1oz)
2-part of premium white rum (2oz)
All you need to do is shake all the ingredients in a martini shaker with ice. Line the inside of the glass with a lime wedge before pouring the mix. Garnish with a lime wedge. Enjoy like a boss.
#6 – Drunken Monkey
Whether on the rocks or still on an ocean, the Drunken Monkey cocktail is a simple, yet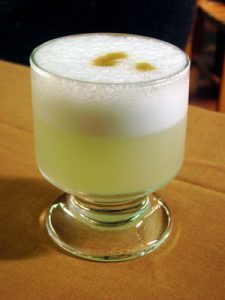 strong drink to pump up the scene on yacht charters.
1 ounces of Rum
1 ounce of Banana liqueur
4 ounces of Pineapple juice
Using a martini mixer, shake it vigorously with ice and strain it into a martini glass, all complete with a pineapple or lime wedge. Perfecto!
#7 – Grog
A real classic and historic drink, the Grog falls next on our list of amazing boat drinks that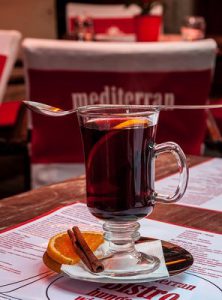 deserves a high salute from all aboard. While to make it in the traditional sense, you will have to get your hands on a Pusser's Navy rum, if you can't, any other dark rum will suit just as well.
2-parts water (2oz)
1-part Pusser's rum (1oz)
Lime juice to taste
Brunette cane sugar to taste
Add the sugar to the shaker and add in slightly warmed water to dissolve the sugar. Put in lime juice. Pour in the rum measure and the rest of the water along with some ice. You can add some crushed ice to give it a pirate feeling. Arrgghh!
#8 – Pusser's Pain Killers
Guaranteed one of the most iconic and smooth drinks you will ever take, using Pusser's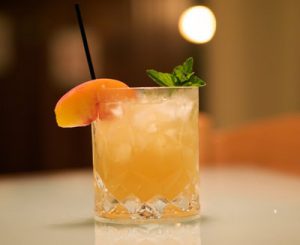 trademark rum. You can very well get this up and running at your bar in your yacht. There are 4 Pain Killers that depend on the amount of Pusser's rum you use. Pain Killer #2 uses 2 parts, Pain Killer #3 uses 3 parts, and Pain Killer #4 uses 4 parts.
4-parts Pineapple juice (4oz)
2-parts Pusser's rum  (2oz)
1-part cream of coconut (1oz)
1-part Orange juice (1oz)
Fresh nutmeg for garnish
The method is pretty simple. Add the pineapple juice to the cream of coconut, and then, add the rum. Serve with OJ and freshly sprinkle fresh nutmeg at the top for garnish.
#9 – Ethiopian Camel Basher
This amazing pink and orange drink uses a twist of vodka in its cocktail and is yet another simple and effective boat drink for your cruise over the waters.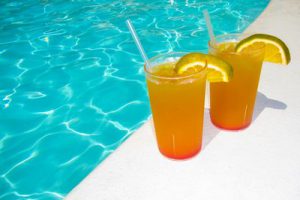 1-part Orange Juice (1oz)
1-part Vodka (1oz)
1 generous pour of Grenadine syrup
If you don't like to sweeten your drink more with a generous pour grenadine, you can put in just a dash with a thin layer settling down to the bottom of the glass. Mix the entire solution along with the vodka and orange juice and you have your delicious drink in front of you.
#10 – Mount Gay Mango Surprise
1-shot Mount Gay rum (1.5oz)
3-shots Mount Gay Mango rum (4.5oz)
12 ounces Orange juice (12oz)
This drink only needs a mixer to mix the ingredients into shape and can be served on the rocks with a twist of lime. It is preferred that you use the rum by Mount Gay alone as this is their signature boat drink and will be perfect with the unique taste they have to offer.
Conclusion
These are all top-notch and sophisticated drinks to pour out during your holiday boat charter or yacht extravaganzas. It is always best to hire a bartender if you aren't really sure of how to use the different mixers and strainers. Also, always remember to drink in moderation and enjoy yourself over the wonderful ocean waters, with a lovely boat drink in hand and a melodious tune in your mind.
Want more Cocktail recipes?
Subscribe to Cruising Sea newsletter to receive every two-week the latest post straight to your inbox!
What about you? Do you have other boat drinks recipe to add to this list? If so, share them in the comment just below!
Daniella has been passionate about travel, the sea, and nature for many years. As a child, she frequently traveled throughout the Mediterranean and continued with her journeys throughout her adult life.
Her experiences have created the desire within her to share her love for traveling with other passionate and adventurers who want to discover beautiful horizons and new cultures.