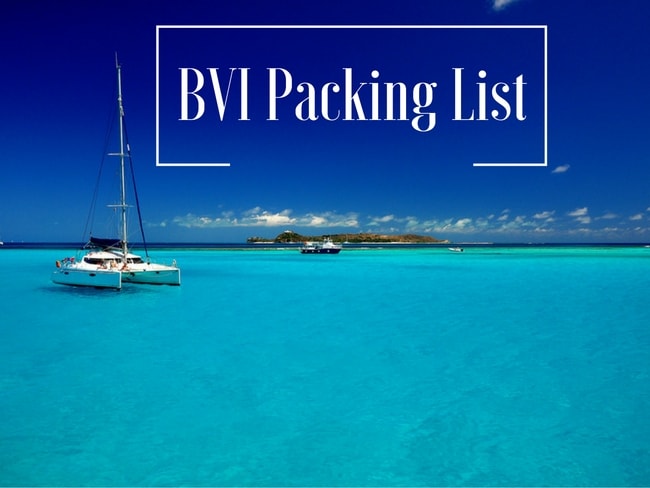 Your sailing trip to the BVI is getting closer, and you still don't know what to bring and what not to bring. Yes, it can be stressful and confusing to think about these details, there is no need to worry!
After reading this article, you'll discover that it is much simpler than you thought!
However, here is a BVI sailing packing list to make sure you take only what's necessary!
Quick Look at the BVI Weather?
The packing won't be a complicated task as the weather in the BVI is fantastic almost throughout the year. The daily temperature is around 32 during the summer and drops down to 29 in the winter. So you can expect to have a pleasant tropical climate the whole year!
What to carry in your hand luggage?
Essential packing list!
Woman clothes
Man clothes
What not to bring
Snorkel/Scuba Equipment
All charter companies provide snorkel equipment, but if you are a bit picky and prefer to use your own, then you can bring or buy them in the BVI.
Children clothes
Tips
It is highly recommended to take fewer clothes and more money!
Make sure to have travel insurance when booking your charter
Always check with your company what is include and what is not in the charter fees.
Drink a lot of water. You could take the risk of getting dehydrated very quickly especially at sea!
Try not to bring traveler's checks, only cash, and single-use credit card!
Choose clothes that can dry fast.
Rolling your clothes instead of folding them will maximize the place in your luggage.
Invest in a TrailProof Daysacks (It is a waterproof back bag to protect all your stuff from the water, very efficient)
Take a small bottle of detergent with you and clothespins in case you want to wash some clothes on board.
In Conclusion
That's it! This is all you need for your sailing trip to the BVI. Once you have packed your bag, revise and make sure there isn't any excess unnecessary stuff. Remember, packing light equals hassle-free and pleasure.
Have a wonderful voyage!

Want More Packing Lists?
Sign up for Cruising Sea newsletter to receive every two weeks the latest post straight to your inbox!

What about you? Do you have something to add to this list? If so, share them in the comment below, I'll be glad to hear from you!