Taking a few days or weeklong boating trip to your coveted island can be both adventurous and memorable. But if you can arrange to have a couple of delicious bites on the yacht, the cruising experience can even be more rewarding. Whether you have a huge appetite for quick casual snacks or are into artisanal dishes, there is a myriad of recipes that you can explore while at sea.
You simply don't have to carry any packed meals or processed foods while you can make your own fresh bites right on the yacht. Or if you don't have a Galley, cook at home and bring the dishes on board!
Here are 7 boating food ideas that you should try for your upcoming sailing excursion:
1. Baked Spaghetti
Your stomach can never go empty at sea if you know how to make a heaping of baked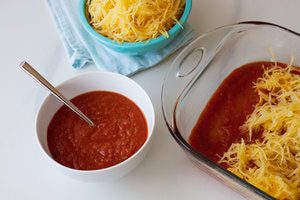 spaghetti that's stuffed with a couple of other ingredients.
This dish is as appealing to the eye as it is super tasty to the mouth.
Ingredients:
16 oz (one packet) spaghetti
2 tbsp of virgin olive oil
1 pound ground beef
1 medium onion (preferably yellow), chopped
2 cloves of garlic, minced
1 cup of shredded mozzarella cheese
Kosher salt
1 can of crushed tomatoes
Black pepper, freshly ground
1/2 cup chopped basil
Freshly chopped parsley, for seasoning
1 tbsp of Italian seasoning
1/4 cup of Parmesan
Methods:
Preheat the oven to about 350 F and grease a medium-sized casserole dish. Proceed to cook the spaghetti, based on the package directions till it is al dente. Drain the pasta and set it aside.
2. In the meantime, heat the olive oil in large skillet, over medium heat. Add the finely chopped onions and cook for 5 minutes, basically till they are soft and translucent. Put in garlic, stir and let it cook for 1 more minute.
3. Add the ground beef and then season with salt, black pepper, and the Italian seasoning. Allow it to cook for about 8 minutes until it's no longer pink. In a bowl lined with paper towels, drain fat and then return to the pan.
4. Pour into the pan, crushed tomatoes and basil. Let it simmer for about 10 minutes. Add some more salt and paper seasoning to taste.
5. Toss the mixture with spaghetti and then transfer to baking dish. Add on top mozzarella cheese and Parmesan. Bake for about 20 minutes, till the cheese, is melted and the pasta is warm.
6. Garnish with parsley and serve
---
2. Chili Cheese Dog Sliders
If you are cruising with a bunch of ever-hungry friends, then the Chilli Cheese Dog Sliders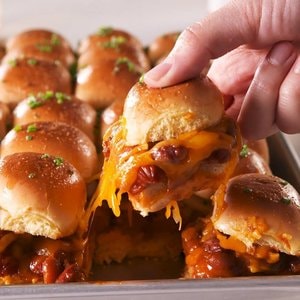 could just be what you need to keep your bellies full along the way.
One of the things that make this recipe great is the fact that you don't have to cook anything beforehand and it will take you a mere 40 minutes to get the whole thing done.
Ingredients:
Cooking spray
12 slider buns, sliced into halves
8 hotdogs
2 cups of shredded cheddar cheese
1 tbsp of melted butter
1/2 can (7 oz) chili
1/2 tsp of garlic powder
Finely chopped chives (optional) for garnishing
Method:
First, preheat the oven to 375 F
2. Grease a medium baking dish with the cooking spray and then place the bottom halves of the buns in it. Spread half of the cheese over the buns.
3. Split each of the 8 hot dogs into halves (lengthwise) and put them on the cheese so that they are lying side-by-side.
4. Top the hotdogs with chili, onions and the remaining cheese as well as the remaining bun halves. Brush the top of each bun with melted butter (to remove dryness) and then sprinkle with garlic powder.
5. Put it in an oven and let it bake for 15 minutes until the cheese is melted and the buns slightly toasted.
6. Garnish with chives and enjoy!
---
3. Classic Falafel
Classic Falafel is a Middle Eastern food that mainly features deep-fried balls made from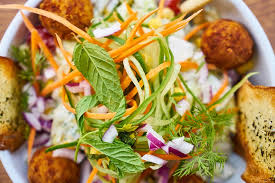 ground chickpeas and a host of other ingredients.
Making them is both quick and easy.
Ingredients:
15-oz drained chickpeas
3 to 4 cloves of garlic
1/4 tsp black pepper, freshly ground
1 tsp of ground cumin
1 roughly chopped shallot
2 tbsp of all-purpose flour
kosher salt
Vegetable oil
1tsp ground coriander
2 tbsp freshly chopped parsley
Sauce:
1/2 cup tahini
Kosher salt
2 tbsp lemon
2 tbsp cold water
1/2 tsp garlic powder
Serving:
Pitas
Cherry tomatoes halved
Chopped lettuce
Cucumbers, thinly sliced
Method:
Combine the chickpeas, shallot, garlic, cumin, parsley, coriander and flour in a food processor that's fitted with a metal blade. Season with pepper and salt and then blend the mixture until it forms a thick paste.
2. Form the falafel mixture into round balls (about the size of walnuts) using Falafel Balls Scoop Tool
3. Pour a sizable amount of vegetable oil into a shallow pot and let it heat for some time. Dip the falafel balls in the oil and let them fry till they are golden brown. Transfer to a plate lined with paper towel.
Sauce:
4. To make the sauce, put garlic powder, tahini, lemon and cold water in a small bowl and whisk vigorously. Season the mixture with salt.
5. Serve the falafel balls in pita together with tomatoes, lettuce, cucumber and sauce (drizzled).
Enjoy!
---
4. Italian Chicken Skewers
A perfectly marinated and roasted chicken placed on skewers can simply make you love the
seafaring life the move even as you take a bite, one piece at a time.
Making it is a breeze as only a few ingredients are required and the steps to follow are minimal.
Ingredients:
1 lb chicken breasts, boneless, skinless and cut into fairly large cubes
Black pepper, freshly ground
Kosher salt
3 garlic cloves, finely minced
2 tbsp tomato paste
1 tbsp Italian parsley, freshly chopped
1/4 cup extra virgin olive oil
I baguette of French bread, sliced into cubes
8 skewers soaked in water and tapped
Method:
Season the chicken with salt and pepper.
2. Combine tomato paste, garlic cloves, olive oil and chopped parsley in a sizable bowl to make a marinade.
3. Add chicken into the marinade and toss till it's fully coated. Refrigerate it for about 30 minutes.
4. Preheat the grill to a medium-high level. Skewer the chicken and bread pieces and then drizzle with olive oil. Season it with salt and pepper.
5. Put the skewered chicken on the grill and let it roast as you turn occasionally till it's fully cooked. 10 minutes should be enough for the chicken to cook.
6. Garnish with parsley and serve
---
5. Stuffed Peppers with Corn, Black
A few scoops of corn, black beans and pepper jack with peppers can make a perfect dinner meal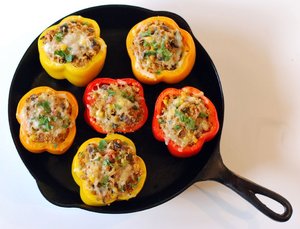 for you and your friends at sea.
Making the meal only takes 20 minutes hence it can be a great option if you are looking for a quick fix for dinner.
Ingredients:
4 bell peppers, all sliced off on top
2 tbsp of chili powder
Cans of rinsed black beans
2 ears of corn with kernels stripped
Kosher salt
3 thinly sliced scallions
3/4 cup of grated pepper jack
A few dashes of hot sauce
Method:
Preheat the oven to 350 F
2. Put peppers in a pot of simmering water and steam them until they are tender about 5 minutes. Drain and put them aside to cool. Upon cooling, cut them into halves and arrange them in a fairly large baking dish.
3. In the meantime, combine corn, black beans, pepper jack (1/2 cup), chili powder, two scallions and hot sauce, all in a large bowl and then season with salt.
4. Scoop the mixture into bell peppers and then sprinkle with cheese. Put it in the oven and bake for about 10 minutes, until the cheese is melted and the mixture is warm.
5. Garnish with scallion and enjoy
---
6. Creamed Spinach Chicken
Making creamed spinach chicken for 4 will take you less than 35 minutes.
And it looks amazing just as it tastes great.
Ingredients:
2 tbsp extra-virgin olive oil
4 chicken breasts, bones and skinless
Kosher salt
2 cloves of garlic, minced
Black pepper, freshly ground
2 tsp paprika
1 cup of shredded mozzarella
3/4 cup low-sodium chicken broth
1/2 cup freshly grated parmesan
1 cup heavy cream
Crusty bread (optional) for serving
Method:
Heat 1 tbsp of oil over medium heat in a large skillet
2. Meanwhile, season the chicken with salt, pepper, and paprika. Put it in the pan to cook until it is golden brown. You should let each side cook for at least 8 minutes before transferring to plate.
3. Heat the remaining 1 tbsp oil, add onion and let it cook for about 5 minutes. Add garlic and allow it to cook for 1 more minute. Proceed to add some spinach in batches till it is wilted.
4. Pour the cream over the spinach and add chicken broth. Let it simmer for about 3 minutes. Add parmesan and mozzarella and then stir till melted.
5. Return the chicken to skillet and allow it to simmer for 5 minutes. Serve the chicken, with the spinach spooned over it, with bread.
---
7. Chicken Fajitas
Dinner celebration aboard a yacht can just be super awesome if you choose to include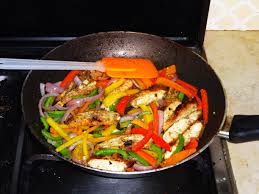 chicken fajitas on your menu.
While the dish requires simple and readily available ingredients to prepare, it is extremely delicious!
Ingredients:
For making the marinade:
1/2 cup extra-virgin olive oil
2 tsp cumin
1/4 cup lime juice
4 chicken breasts, boneless and skinless
Black pepper, freshly ground
Kosher salt
1/2 tsp red pepper flakes
For the Fajitas:
1 tbsp of extra virgin olive oil
1 medium-size onion, thinly sliced
3 bell peppers, all thinly sliced
Guacamole
Sour cream
Tortillas
Method:
Put olive oil, red pepper flakes, lime juice and cumin in a large bowl and whisk them. Season the chicken with salt and pepper and put it on a bowl and then toss to combine.
2. Cover the chicken and refrigerate it for a period of between 30 minutes and 2 hours
3. Meanwhile, heat olive oil over a medium-sized skillet over medium heat. Add chicken and let it cook till it is golden brown. 8 minutes for each side is just enough. Remove it from the skillet and let it rest aside.
4. Put onions and peppers to the skillet and sauté it until it softened. Slice the chicken into strips and then throw it back into the skillet. Toss a bit to combine.
5. Serve the fajitas on top of the tortillas together with eth sour cream and guacamole
Enjoy!
---
In Conclusion
With all these recipes at your disposal, you can never miss enjoying a decent meal while on a boating trip. The ingredients for these foods are almost readily available and you don't have to break a bank to get them. So the next time you go out sailing, be sure to delight everybody aboard your yacht with the foods listed above.
Want More Boating Recipes?
Sign up for Cruising Sea newsletter to receive every two weeks the latest post straight to your inbox!
Is there a recipe you would like to add to this list? If so, feel free to share it in the comments below.