The British Virgin Islands are made up of dozens of islands, big and small. The best anchorages in the BVI are well protected from the wind and other natural elements but are not necessarily the most popular tourist destinations.
I can't say I've visited every island in the BVI, but I like to believe that I've been to some of the best and discovered some of the best anchorages. Some islands are busy, and others are quiet. Depending on your mood or state of mind, you can choose which one is right for you at any given time.
1.Great Harbour 
My first excursion to Jost Van Dyke introduced me to The Bubbly Pool, and I now visit this out-of-the-way natural hot tub the first chance I get when I arrive.
We usually spend at least one-day snorkeling and haunt the Soggy Dollar Bar most nights to listen to the local bands and sample their drink specialties.
2.Norman Island
Norman Island is a smaller island that used to be a pirate haven centuries ago. Now, it's an ideal location for snorkeling and viewing wrecks sitting on the bottom of the ocean.
We make a point to visit Willy T's for dinner at least a couple of times when we are in the BVI, and are never disappointed by the amazing fresh fish served on this converted fishing boat.
3.Little Harbour
Little Harbour on Jost Van Dyke is our private getaway spot. There is a central lagoon that is breathtaking, and we can eat at one of the local restaurants if we get tired of preparing our own meals in the galley.
Karla's Grill is a favorite of ours and I recommend the ribs to anyone who will listen. The wonderful thing about all the restaurants in Little Harbour is that no matter where you eat, you will have a spectacular view.
4. White Bay
A hot tourist spot, White Bay is also part of Jost Van Dyke. Once you enter the bay, you will find a safe harbor to anchor and enjoy your time next to a reef. I enjoy the beach in this area, and there are plenty of places to stop and grab a drink whenever the mood strikes.
5.Marina Cay
Marina Cay has been privately owned since the 30s, but that has not stopped tourists from swarming to this little island. The biggest draw for me is the local rum, which I make a point to buy a bottle of each trip.
I've been known to buy 3 or 4 and give them as presents for Christmas. We always have lunch at Pusser's Road Town Pub and visit the local shops during the afternoon.
6. Soper's Hole
Soper's Hole is located on the western end of Tortola. Anchoring in this area always makes for a calm night in the sheltered water.
This section of Tortola is one of my favorite shopping destinations. Sunny Caribbee Spice Shop & Art Gallery is usually my first stop to buy fresh spices and browse new art pieces. I try to end each visit with a trip to the spa for a much-deserved massage.
7.North Sound
North Sound is surrounded by many islands with colorful names. I have a friend who loves to tell scary stories about the dreaded Cockroach Island (which lives up to its name), but these interesting islands, known as "The Dogs," are prime diving and snorkeling spots for adventurous tourists. If you prefer to stay dry, take a tour on one of the glass-bottom boats.
8. Salt Island
Salt Island is known to be the watery grave of the RMS Rhone, a steamer that sank during a hurricane in the 1860s. I've been diving at this site and have to say you need to experience it for yourself. It's a quiet spot to anchor for the night and enjoy the peace of the barely inhabited island.
9. Deadman's Bay
Located on the private Peter Island, Deadman's Bay has white sand beaches and sea turtles. It's an oasis for sailors to escape from the most touristy parts of BVI.
We always drop in at the Deadman's Beach Bar and Grill for lunch or a quick bite to eat at some point but stick mainly to the luxurious beaches.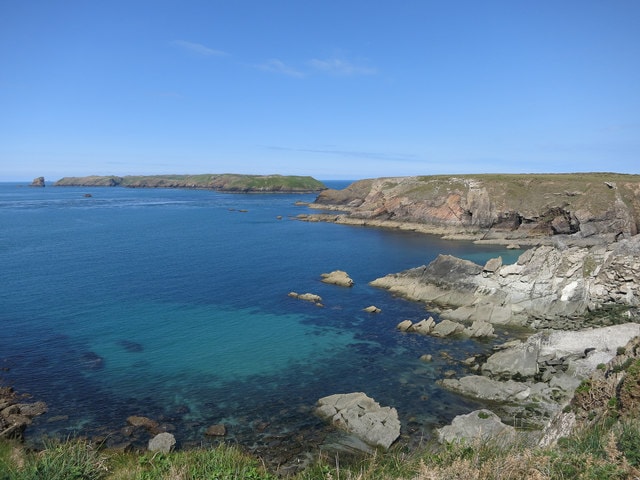 The BVI is one of my dream destinations and, in my opinion, has some of the safest and calmest anchorage spots a sailor can find. If you like a strong local flavor and a lot of location options, head to the British Virgin Islands and witness the magic of the cays and bays yourself.
Sailing holidays in the BVI is an experience not to miss out. Waste no time and choose one of our beautiful yachts now to take you and your guests on a sailing getaway you'll never forget.
Want to more anchorages?
Subscribe to Cruising Sea newsletter to receive every two weeks the latest post straight to your inbox!
Have you anchored in one of these beautiful anchorages? Would you like to share your experience by leaving a comment below, I'll be glad to hear your feedback!
Daniella has been passionate about travel, the sea, and nature for many years. As a child, she frequently traveled throughout the Mediterranean and continued with her journeys throughout her adult life.
Her experiences have created the desire within her to share her love for traveling with other passionate and adventurers who want to discover beautiful horizons and new cultures.