Snorkeling is one of the most exciting activities you can enjoy during weekend or while on holiday to Maui. Every year, thousands of visitors flock Maui Island to snorkel, swim, windsurf, kite surf and basically have a good time. A visit to the best snorkeling beaches Maui offers you a once-in-a-lifetime opportunity to explore Hawaii's beautiful aquamarine waters, abundant marine life, and flourishing corals. Snorkeling in Maui is simply a must-do activity for any serious snorkeler visiting this part of Hawaii.
---
About Maui 
Maui Island, popularly known as The Valley Isle', is the largest island in Maui County and the second-largest in Hawaii State.  Covering an area of about 1,883 square kilometers, the island is famous for its stunning natural beauty, black sandy beaches, and high-end holiday resorts.  Maui boasts of more than 30 beaches and bays, where holidaymakers and honeymooners can find solace. The island is particularly a haven for snorkelers, divers, and windsurfers. A holiday trip to Maui Island can just never disappoint.
Here are some of the best beaches and bays in Maui that you can snorkel in:
1. Honolua Bay
Located on the far end of northwestern Maui, Honolua is a sheltered bay that offers visitors plenty of amazing snorkeling options. While it's surrounded by rocky cliffs from both sides, entry into the bay is quite easy, especially from the middle of the beach where the depth ranges between 15 and 20 feet.
An adventure into the waters of Honolua can be rewarded with sights of thriving corals like cauliflower, mound, sandpaper rice, lobe, thick finger and more.
While underwater, you can encounter scores of unique marine fish including butterfly fish, cornetfish, Moorish Idol, Parrotfish, wrasse, puffer, triggerfish, and Tang among others.
You might also be lucky to spot other beautiful sea creatures like turtles, sea urchins, and Zoanthids. To enjoy the best of the spectacular underwater scenery, you should launch into the waters to the right side of the bay.
---
2. Ahihi Cove
Ahihi Cove is one of the most coveted snorkeling spots in Maui. Lying within the protected Ahihi-Kinau Natural Area Reserve, the cove is home to a number of flourishing marine lives.
The coastline here is made up of lava rock that's intermixed with coral, something that makes it a great place to snorkel.  Water at Ahihi Cove is usually clearest in the morning when the wind has not picked up.
Some of the fish you can spot when snorkeling at Ahihi include damsel fish, parrot fish, triggerfish, wrasse, snapper, goatfish, needlefish and the famous Humuhumunukunukuapuaa Hawaii State Fish. There are also a number of turtles, crustaceans, and invertebrates that can be great to view under the Ahihi waters.
Entry into the bay can sometimes be difficult in low tide because water is shallow at this time. When the tides are high, you can get enough clearance to enjoy snorkeling over the coral. However, avoid swimming out of the bay as the current can be stronger sometimes.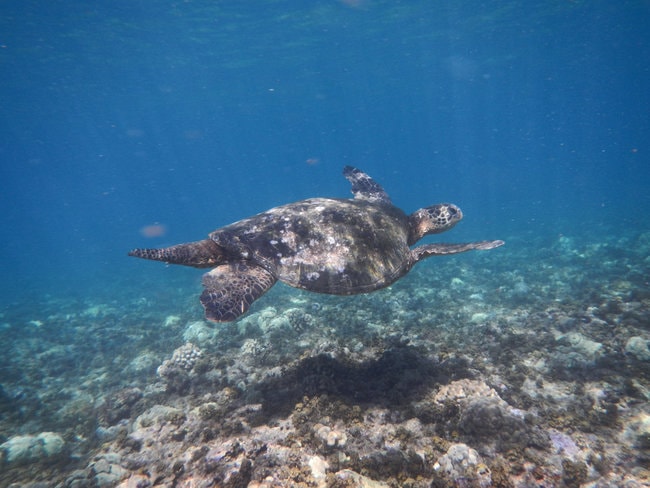 ---
3. Black Rock 
The Black Rock beach is one of the busiest beaches in Maui, hosting thousands upon thousands of veterans and visitors every year. The picture-perfect sandy beach is a popular spot for snorkeling, swimming, and hiking.
Snorkeling is usually done on the northern end of the beach around the rocky Black Rock point. Water clarity here is fantastic even in the deepest points (about 30 feet down).
Over the sandy areas, you can spot the amazing Spotted Eagle Ray. When you get deeper into the waters, you can enjoy seeing tons of fish including boxfish, chromis, eel, goatfish, Moorish Idol, parrotfish, triggerfish, wrasse, unicornfish and more.
You can find other magnificent sea creatures like Eagle Rays, Sea Urchins, and Turtles. There are also plenty of colorful corals in the Black Rock waters that can be amazing to look at.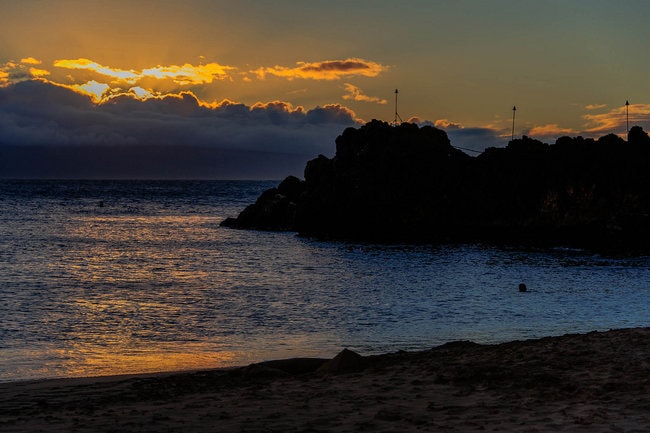 ---
4. Lanai 
Lanai Island is located right in the middle of the Hawaiian Islands and is particularly separated from Molokai Island by the Kalohi Channel to the north of Maui. It's a perfect spot for those who are looking for seclusion, romance, and immense water sporting activities.
South Lanai can be a great snorkeling place to visit as it is endowed with crystal clear waters and plenty of marine life. If you're a beginner in snorkeling, then the Hulopoe Bay can be a perfect recommendation for you as it has calm waters and boasts of a sizable number of colorful fish.
While in Lanai, you can also head to the Lanai Cathedrals (First Cathedral and Second Cathedral).  The two were formed from huge underwater lava tubes. Diving in this area can simply give you an opportunity to witness firsthand, the wonders of Lanai.
---
5. Kapalua 
The Kapalua Bay is located on the northwestern side of Maui. The crescent-shaped cove features a gorgeous sandy beach, crystal clear calm waters and abundant marine life. This makes it a perfect spot for beginner snorkeling, swimming or just lazing around. Snorkeling can be fun here, especially if you can swim to the right side of the cove along the rocky point.
At Kapalua Bay, you can enjoy snorkeling to depths of up to 20 feet with excellent visibility. While underwater, you can explore a range of marine fish including Blenny, Chromis, Filefish, Puffer, Surgeonfish, Tang, Trevally, wrasse, Dascyllus and more.
There is also a range of other sea creatures you can look out for like oysters, turtles, urchins and zoanthid pillow. The underwater scenery here can just never be more spectacular.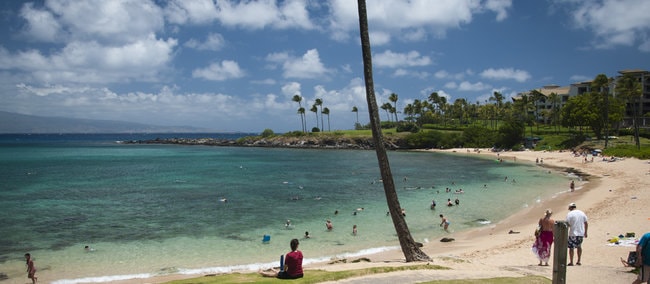 ---
6. Po'olenalena Beach
Located to the South of Maui, the Po'olenalena Beach can be a great spot for anyone interested in snorkeling. The southern end of the beach, where there are rocky outcroppings, is the place to snorkel. You can access this spot by walking a short distance through the famous Makena Surf Resort.
The water depths here range between 5 and 25 feet, which offers visitors numerous opportunities to snorkel. There are plenty of beautiful marine fish, turtles, sea urchins and thriving corals that can be exciting to see. You can always carry along your underwater camera to help you capture and document the amazing moments at sea.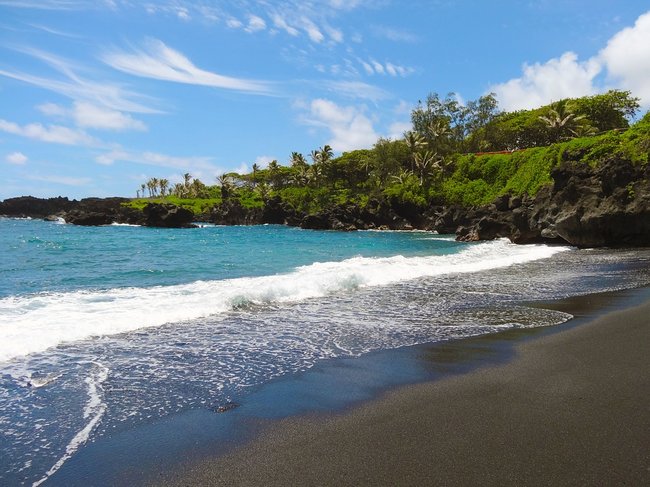 ---
7. Chang's Beach
Chang's Beach is a small beautiful beach that's hidden behind the Makena Surf Condos. Entry into the waters here is easy with lots of sand available on the beach.  There are lots of fish and turtles especially to the left side of the beach following to the left side along the reef. Though the beach is never that crowded, you should come snorkeling early in the morning when water is in its clearest condition. The beach can really be a great place for a family or group snorkeling experience.

---
8. Mokule'ia Bay
Mokule'ia Beach also known as Slaughterhouse Beach is a sandy beach that's located on highway 30. It forms part of the Honolua-Mokule'ia Bay Marine Life Conservation District.
During summer months, when waves are smooth and the ocean tame, you can enjoy a great snorkeling experience, especially along the northern point stretching all the way to Honolua Bay.
The marine lives found in this beach are similar to those in other popular Maui beaches and bays; hence you can be sure of getting the most out of your underwater adventure.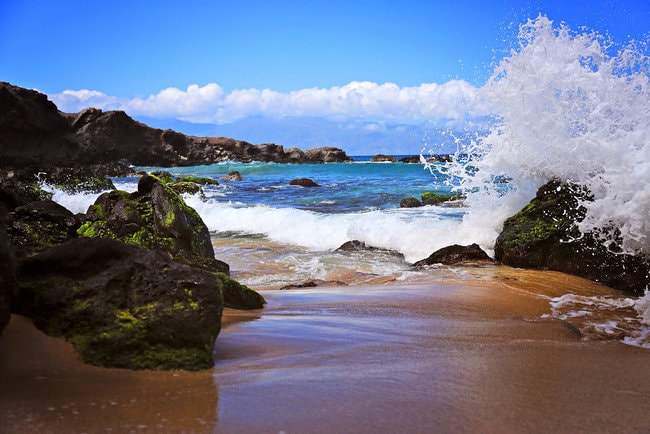 ---
9. Honekeana Bay
Honekeana Bay is a small charming bay located south of Napili Bay. This hidden gem is particularly a great spot for those who would want to snorkel with Green Sea Turtles. The waters of this bay are also endowed with plenty of tropical fish and magnificent coral formations.
You can always hire snorkeling gear from the dive shops located several blocks away, to the north of the beach. The turtles here are amazingly large; hence swimming with them can just be ultimate fun.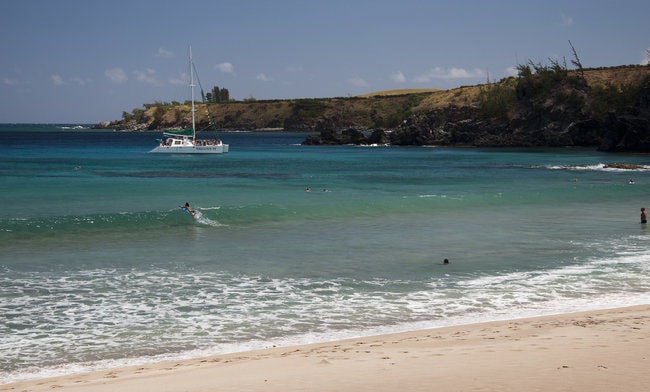 ---
10. Makena Landing Beach Park
The Makena Landing Beach Park is located in the untamed town of Makena, South Maui. A larger part of the beach is rocky with sand only covering a small stretch. Makena Landing Beach Park is a great place for beginner snorkeling and diving because of its calm waters.
The area stretching to the right side of the park is the best for snorkeling. While snorkeling you can encounter with schools of fish and turtles that are unique to this area. Venturing into the water at this park can be as much fun as you can imagine.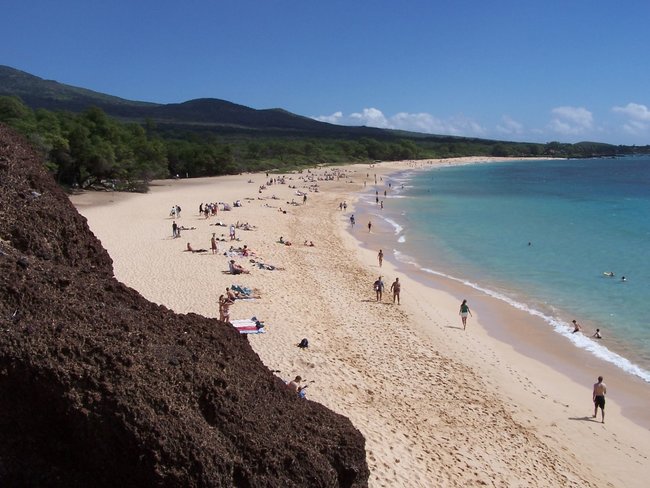 ---
What to Bring
If you're coming to snorkel on your own, then you might need to carry
Snorkel.
Fins, and other snorkeling gear.
Swimsuit, float vest.
Biodegradable sunscreen.
Note: If you've booked a snorkeling tour with a resort or tour provider, then it might not be necessary for you to carry these items as they are mostly included in the snorkeling package.
---
Tips To Remember When Going Snorkeling
Before you venture into the waters, make sure you have the right skills and equipment to snorkel.
2. Since most of the beaches in Maui are rocky and hard to access, it might require you to be a bit more experienced to maneuver through the strong currents, especially when getting out of the water.
3. Never snorkel alone especially in waters you're venturing for the first time. Snorkeling as a group will allow you to monitor one another to ensure safety in case of anything.
4. Also, be sure to check whether there are any lifeguards where you would want to snorkel, so as to set your limits.
5. Lastly, you should carry extra money to buy some snacks after a long and tiring snorkeling session. The money can also help you rent some snorkeling gear if need be, and/or hire an underwater camera to take underwater photos.
---
In Conclusion
A snorkeling trip to any of the beaches or bays in Maui can just never disappoint when planned properly. Make sure you research and have as much information as possible about an island or beach before visiting.
For public beaches, you don't have to worry about costs, as you'll only need a few bucks to hire snorkeling equipment. But if you have some extra cash to spoil, you can always visit private beaches or resorts for an all-inclusive and more spiced up snorkeling experience. There are simply plenty of options when it comes to snorkeling in Maui.
Want More Snorkeling Spots? 
Subscribe to Cruising Sea newsletter to receive every two-week the latest post straight to your inbox
Have you already snorkel in Maui? If so, you are welcome to share your experience in the comments below.
Daniella has been passionate about travel, the sea, and nature for many years. As a child, she frequently traveled throughout the Mediterranean and continued with her journeys throughout her adult life.
Her experiences have created the desire within her to share her love for traveling with other passionate and adventurers who want to discover beautiful horizons and new cultures.