Going out boating with a bunch of friends or family members on a typical summer is always a good time. But as you enjoy the soothing breeze from the sea, the magnificent island scenery, and the warm conversations on the decks, there's, even more you can do to make your adventures more rewarding.
Perhaps having a set of the best summer boat drinks onboard can do the trick. The good thing about making nautical cocktails is that you don't need plenty of ingredients, and mixing them up is just a breeze.
Post Updated: 23 January 2023
---
Here are the best summer boat drinks that you can find amazing to try while at sea:
1. Tropical Rum Margarita
Margarita recipes don't always have to be defined by tequila and Curacao liquors.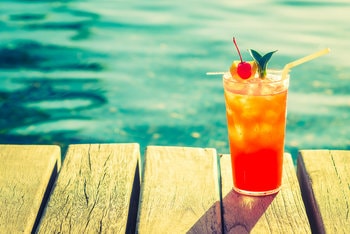 You can actually make a refreshing ice-cold cocktail using tropical Rum, papaya, and cantaloupe.
This cocktail isn't too sweet and is somewhat strong, which makes it perfect for any seafarer.
Ingredients:
1.5 oz Captain Morgan Rum
Ice cubes
0.3 oz lime juice
3 oz Jose Cuervo Margarita
1 oz Agave Nectar
Papaya and Cantaloupe slices
Method:
Put the rum, lime juice, Jose Cuervo Margarita, agave nectar, and plenty of ice in a cocktail shaker. Secure the shaker with a lid and then shake the ingredients vigorously for about 30 seconds. Strain the mixture into a highball glass full of crushed ice.
Proceed to garnish your cocktail with papaya and cantaloupe fruit slices. Enjoy.
---
2. Pineapple Breeze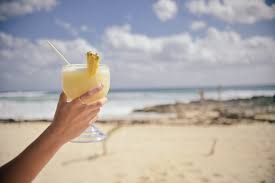 A chilly Pineapple Breeze cocktail is all you need to make your afternoon summer cruising tour a soothing one.
If you have Malibu Rum, pineapple fruit juice, and sprite aboard your boat, you are literally good to go.
And making this summer cocktail is a breeze too.
Ingredients:
1.5-ounce Malibu Rum
1/4 cup (2 oz) pineapple juice
1/4 cup (2 oz) orange juice
1/2 can (12 oz) Sprite
1 cup of ice cubes
Method:
Put the ice into a 16-oz glass and then pour in the rum, sprite, pineapple juice and orange juice. Gently stir for a few seconds. Serve.
---
3. Tropical Sangria
The Tropical Sangria is a drink that brings together white wine and a blend of refreshing juices and tropical fruits.
With insanely good flavors and vibrant colors, Sangria can be a great drink to try when out on a summer sailing tour solo or with a couple of friends.
Ingredients:
750 ml bottle of white wine
1 cup white rum (like Malibu Rum)
3/4 cup pineapple juice
1/2 cup orange juice
1/2 cup passion fruit juice
Fresh mango, orange, papaya, strawberries, guava, and kiwi, all sliced in large chunks
Method:
Build up all the sliced fruits in a large pitcher and pour the run over them. Proceed to add the white wine and fruit juices. Chill it in the fridge for about 6 hours. Serve while cold.
---
4. Cherry Bourbon Slush
Cherry Bourbon Slush is a chilly cocktail that can make a perfect drink for any summer sailing party.
Combining Bourbon Whisky, cherry juice, and a host of other ingredients, this cocktail is as tasty as it is refreshing.


Ingredients:
1 to 2 cups of water
3-ounce bourbon whiskey
4 oz lemon-lime soda (like Sprite)
2 oz cherry juice
Ice cubes
Lemon and/or orange slices


Method:
Put all the ingredients in a pitcher and stir gently. Cover the pitcher and place in the refrigerator for about 3 hours till mixture is very cold. Put some ice in a blender and pour in a sizable amount of the mixture. Blend it until it's slushy. Pour it into a highball glass and garnish with orange and lemon slices.
---
5. Grapefruit Crush
A boating tour or expedition can never go wrong with the Grapefruit Crush cocktail on the decks.
Combining grapefruit vodka, grapefruit juice, lemon-lime soda and other ingredients, this cocktail can make you feel refreshed and tipsy at the same time.


Ingredients:
4 oz grapefruit juice, freshly squeezed
1.5 oz grapefruit vodka (like Deep Eddy Ruby Red)
1 oz orange liquor (Triple Sec)
1 to 2 splashes of Sprite, 7-Up, or any other lemon-lime soda
Grapefruit slices




Method:
Pour into a cocktail shaker, the grapefruit vodka, orange liquor, lemon-lime soda and grapefruit juice. Shake vigorously. Strain the mixture into an ice-filled cocktail glass or highball glass. Garnish with a grapefruit slice.
---
6. Blood Orange Moscow Mule
Combining Vodka, freshly squeezed blood orange, ginger liquor, and other refreshing ingredients, Blood Orange Moscow Mule has all the qualities of a summer boating cocktail.
It's simply all you need for an easy-going sailing tour with friends.


Ingredients:
1/2 cup squeezed blood orange juice
2 oz vodka
5 oz ginger beer
Crushed Ice
Blood orange wheel(s)
Mint sprigs for garnishing (optional)



Method:
Put the vodka, blood orange juice, and ginger beer into a cocktail mixer and add some ice on top. Secure the shaker with a lid and shake for about 30 seconds. Strain the mixture into a copper mug or highball glass filled with ice halfway. Garnish with blood orange wheels and/or mint sprigs.
---
7. Kentucky Lemonade
If you are looking for a refreshing summer cocktail that's both easy to make and alter into a non-alcoholic drink, the Kentucky Lemonade might just be the ideal.
The ingredients required are minimal and making it can take about 10 minutes.


Ingredients:
1/2 cup granulated sugar
1 cup water
1/2 cup Bourbon or Jack Daniels whiskey
1 cup lemon juice
5 cups ginger ale
1/4 cup fresh mint leaves
Lemon slices for garnishing


Method:
Combine sugar and water in a small saucepan and heat the mixture over medium heat till it is clear. Let it simmer for 1 to 2 minutes, and remove it from the heat afterward. Add the sugar solution, lemon juice, mint leaves, and whiskey (if desired).
Pour the resulting mixture through a strainer (fine one of that matter) into a highball glass so as to remove the solid particles and mint leaves. Put ginger ale into the glass and stir. Add ice on top and garnish with lemon slices. Serve while cold.
---
8. Yellow Bird Rum Cocktail
The Yellow Bird is a rum-inspired cocktail that's both easy to make and fun to drink.
A typical summer afternoon cruising tour can just never be any better with this cocktail.


Ingredients:
1 oz dark rum (Appleton Special)
1/2 oz (45 ml) Creme de Banana liquor
6 oz orange juice
Pineapple slice


Method:
Build up all the ingredients in a cocktail shaker. Shake vigorously for 30 seconds or so. Take the mixture and pour it over a glass filled halfway with ice. Garnish with the pineapple slice. Enjoy your cocktail!
---
9. Easy Mai Tai
The easy Mai Tai cocktail has that classical taste and flavor that blends perfectly with the beach experience.
It's simply all you need to make your beach boating tour even more memorable.


Ingredients:
2 oz Rum, Appleton Special
1 oz Orange Curacao
1 oz dark rum
1/2 oz lime juice
Dash Grenadine
Orange wedge


Method:
Pour all the ingredients into a cocktail shaker and then shake vigorously. Pour into a highball glass filled with ice and garnish with an orange wedge.


Note: You can always reduce the lime juice in half and top it with Club soda for an even more refreshing flavor.
---
10. Loconut Colada
Loconut Colada is a one-of-a-kind cocktail that combines Captain Morgan spiced rum, Captain Morgan Loconut, and pineapple juice.
This cocktail has a refreshing yet punchy feel that will truly make you feel like a captain while on the decks.


Ingredients:
3 oz Captain Morgan LocoNut
1 oz Captain Morgan Original, Spiced Rum
1 oz Pineapple juice
0.5 oz Cream of Coconut


Method:
Combine all the ingredients in a cocktail mixer or shaker and put some ice on top. Shake vigorously for 30 seconds. Strain the cocktail into a glass full of ice. Garnish with pineapple slice or wedge.
---
11. Mimosa Drink
Nothing beats the test of a delicious mimosa drink, especially in the summer. It's delicious, refreshing, and easy to prepare. 
All you need is orange juice and sparkling wine. That's it! They are all different types of sparkling wine and orange juice, and if you want the best result, which I'm sure you do, you need to make the right choice. Cava or Prosecco are both delicious sparkling wines that go well with orange juice. Those brands don't cause any headaches, and they are affordable.
However, one of the best parking wines to mix with orange juice is Freixenet Cordon Negro Brut Cava. As for the orange juice, opt for high-quality, pulp-free, not concentrated juice, and that's because pulp doesn't mix well with sparkling wine. If you don't like oranges, you can alternate and use watermelon or grapefruit juice. So here we go.
Ingredients
Chilled bottle off-dry sparkling wine
free pulp, not concentrated chilled orange juice
orange slice for decoration
Method:
Step 1 first, you want to pop the cork using a towel, so the cork doesn't fly across the cabin or, worse, on someone.
Step 2 Pour the dry sparkling wine into a glass while holding it at a 45° angle to keep the bubbles in control. Start with a 50/50 ratio; if you want the Mimosa to be sweeter and juicier, you can add more orange juice.
Step 3 Do the same with the orange juice and have a tasty mimosa drink.
Step 4 (Optional) Garnish the glass with a slice of Orange
---
Final Words!
A summer boating tour or expedition can just be super fun all through if you have all these summer cocktail recipes with you. Making the cocktails is fun in itself as you only need fewer ingredients and less time to prepare.
And the resulting tastes and flavors are so amazing that you'll long to come back to the beach for a summer boating experience. Why don't you just try these cocktails for your upcoming summer boating tour?
Want More Recipes? 
Subscribe to Cruising Sea newsletter to receive every two-week the latest post straight to your inbox
Is there a cocktail you would want to add to the list? Feel free to share it in the comments below.
Daniella has been passionate about travel, the sea, and nature for many years. As a child, she frequently traveled throughout the Mediterranean and continued with her journeys throughout her adult life.
Her experiences have created the desire within her to share her love for traveling with other passionate and adventurers who want to discover beautiful horizons and new cultures.