Whitsundays is that part of Australia that just never disappoints its visitors. It literally has an amazing weather all-year round with different seasons that play along well with what different holiday-makers are looking for.
Several beautiful white sandy beaches, tiny secluded coves, and deep seaways lie across the 74-island Whitsunday, which makes the sailing experience here like no other. The warm turquoise waters, the abundant marine life and the beautiful scenery around also add to the thrill of sailing in this region.
But if you would want to make your holiday more memorable and devoid of any regrets, you need to know the best time to sail in the Whitsundays. And here some of the important things to note before visiting these amazing islands:
General Weather
The Whitsundays are located in the tropics, where there's a good balance between wet and dry seasons throughout the year. Summer, which typically runs from December to March, features hot and wet climate. You can expect very high temperatures (both on land and at sea) at this time.
Winter season starts in June and ends in August and usually features a much drier weather with maximum temperatures hovering around 25 degrees Celsius.
September is the beginning of spring, whose tail end in November. This season comes with moderate temperatures (maximum 26C) and features sunny and low-humid days.
So regardless of the kind of sailing holiday you are looking for, you can always find it in Whitsundays. However, perfect timing is important because the weather changes very fast in between months.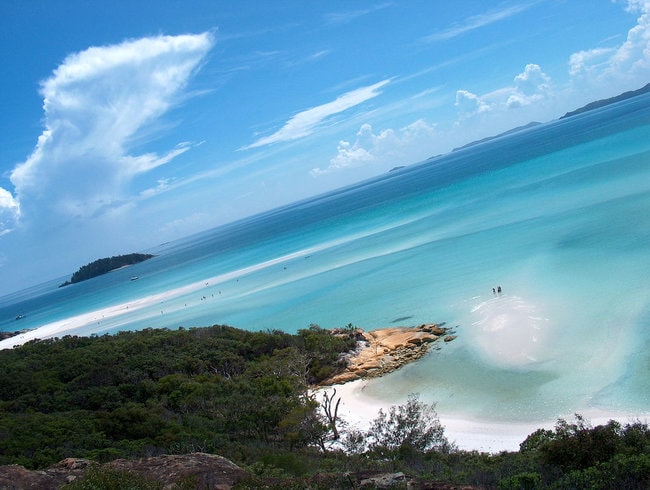 ---
May and June
May marks the end of autumn (which typically begins in April) and the beginning of winter. Temperatures may range between lows of 21C and highs of 26C. As you move towards June, the weather becomes cooler with the average minimum temperatures being 18C while the maximum hover around 24C. The waters might be a bit chilly at this time.
Pros
The day temperatures at this time are great for sunbathing, swimming and other watersports
These months usher in the dry season, which makes sailing quite interesting
Crowds begin to disappear at this time, making it easier for sailors to move around
Cons
Evenings are quite chilly
Occasional bad weather can sometimes spoil the fun
---
July and August
The average minimum temperature in July is 18C while the maximum temperature is 23C. In August, the average daily temperatures hover around 22C with the water temperatures being at 25C.
The two months fall under the official whale season, which begins in mid-June. It is at this time where humpback whales, minke whales, and pilot whales migrate to the Whitsundays to give birth and enjoy the shelter of the islands.
Pros
The waters are calmer in between these two months, making it ideal for sailing
It's a perfect time to spot whales while sailing
Skies remain clear most of the days, which means no umbrellas or jackets when sailing
Average temperatures are still great for swimming and snorkeling
Cons
Many destinations in Whitsunday may be crowded since it is whale season
Nights are very cold, which means you have to carry loads of sweaters
---
September and October
Sunny days and low rainfall typify September (early spring) with maximum temperatures being 26C. Humidity is also low at this time and the waters are still warm enough for swimming and snorkeling.
This weather persists till mid-October. Spring is one of the best times in the Whitsundays to enjoy a bareboat yacht charter. The numerous tides, beautiful full-moon nights and clear skies that typify this season make sailing as beautiful as it is exciting.
Pros
The minimal rainfall and low humidity make the season perfect for sailing
September doesn't coincide with school holidays, which makes the islands less crowded
Cons
Temperatures begin to soar, something that can be uncomfortable for sailors
---
November to April
The period between December and April is one of the busiest and hottest in the Whitsundays. Many tourists flock to the area at this time to enjoy the sun and humid heat.
The season is also typified by monsoons and heavy rains but people still love to spend time in the islands. Maximum temperatures can hit 31C while the lowest temperature that can be experienced at this time is 23C.
Pros
Many people are cruising through the island, which can be an exciting affair if you love crowds
Boat tours still run at this time and tour operators continue to entertain their guests on the islands
It's the best time to go snorkeling deep into the waters as sea temperatures are perfectly warm
Cons
The temperatures are at their all-time high, which is a recipe for sunburns
The crowds are too many, which can be limiting for those looking for privacy
Chartering a boat can be expensive at this time as demand is very high
---
When Is The Stinger Season?
In the northern Queensland coast, the Stinger Season' officially begins in October and runs through May. The season is characterized by the presence of box jellyfish (Chironex fleckeri and Irukandji), which deliver a painful and sometimes potentially fatal sting.
Much as this is the official season for these stingers, there no many fatalities reported in the Whitsundays. However, when going swimming or snorkeling the islands, you should wear protective stinger suits to prevent the deadly jellyfish tentacles from piercing through your skin.
It is also important to pay attention to any posted signs in the beaches like Stingers' so you are aware of the kind of waters you are about to venture into.
If swimming and snorkeling isn't really your thing, you can always feel free to lounge on the boat decks, do some fishing, shop around the island towns or explore the island bushlands.
The good thing about the Whitsundays is that you can enjoy a great sailing experience at any time of the year including the stinger season.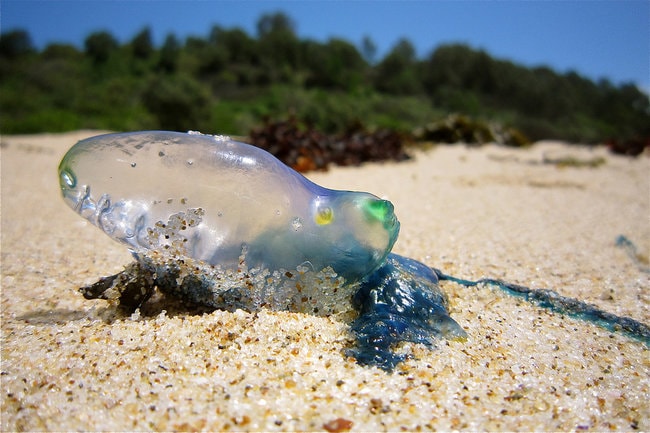 ---
Peak And Off-Peak Periods For Chartering
The peak chartering season in Whitsundays, just like many other holiday destinations, is witnessed during the holiday break.
The Christmas/New Year period, which typically runs from 21st December to 10th January, records the highest number of charters. Most yacht charters are usually fully booked at this time.
August Hamilton Island Race Week (starts from around 19th to 29th August every year) also attracts many boaters to the Whitsunday islands, which also results in total vessel bookings.
Easter-from Good Friday to Easter Tuesday- and the June Outrigger Cup, though short, attract massive boating activities that get people scrambling to charter boats.
Off-peak seasons include May to June, 16th July to 17th August and Mid October through December 20th. This is when schools are open, no major activities are taking places within the Whitsundays and the temperatures (both land and sea) are not that appealing.
---
So…When Is The Best Time To Sail in the Whitsundays?
Any time of the year is really a good time to visit the Whitsundays, but it all depends on what you are looking for. If you would like to sail in sunny and wetter days, the January to March can be an ideal time.
The period between April and June usually features cool weather and less crowded beaches (because school holidays are over) so it's perfect time for families, couples, honeymooners, and backpackers to sail the Whitsundays.
The period between July and September constitutes cooler, sunny days and it is the exact time when whales are migrating to the Whitsundays. This is also the period within which events like Hamilton and Airlie Beach Race Week are happening. So if you are looking for a more thrilling sailing adventure, this is among the best times of the year to visit the islands.
If you are thrilled by warmer and longer days as well as by huge crowds, then October through December can be a great time to visit as a sailor. In fact, this is the best time to go to Whitsundays for sailing holiday with family, friends and/or partner for most people.
---
---
What to Pack
If you are going sailing in Whitsundays on hot sunny days, then carrying a sunscreen, a hat and a pair of sunglasses is a must. The ultraviolet rays can be so damaging to your skin and eyes, so you should come fully armed with these accessories.
2. If you'll be sailing in winter and are planning to go swimming or snorkeling, then a wetsuit should be on top of the list of things you need to carry. And a stinger suit can really come in handy if you'll be getting into the water during the stinger season.
3. Winter can be chilly, especially in the evenings, so carrying a warm sweater can really do you a huge favor.
4. You might also need to carry a camera in order to document your sailing adventures and watersports activities. That way, you'll have a chance of living with the Whitsundays memories for a lifetime.
---
Tips
Before setting out to the Whitsundays, you may need to first understand the seasons and how each of them will impact your sailing experience. If you would like to sail the islands during the peak season, making early yacht charter booking can be great to avoid missing out on a vessel.
2. If you would want to save more on your yacht charter yet ensuring you have a great time, it is best if you choose to sail the Whitsundays during the off-peak seasons, more especially during winter and spring.
3. Always ensure you sail, swim or snorkel as a group as it is not only fun and exciting but is also great in terms of safety.
4. And to guarantee a more fun-filled and memorable holiday experience, make sure you have a list of all the things you need to carry and make a commitment to get all of them in your backpack.
---
In Conclusion
Whitsundays is such a great destination that any enthusiastic sailor would fall in love with. Apart from the beautiful beaches, the turquoise waters and the pleasant weather, it also has amazing people whom you can find fun to interact with.
So if you've been wondering where in Australia to take your sailing adventure this coming season, then the Whitsundays could just be the best place to visit.
Want More Tips?
Sign up for Cruising Sea newsletter to receive every two weeks the latest post straight to your inbox!
Did you visit the Whitsundays? If so,  you are welcome to share your experience in the comments below.
Daniella has been passionate about travel, the sea, and nature for many years. As a child, she frequently traveled throughout the Mediterranean and continued with her journeys throughout her adult life.
Her experiences have created the desire within her to share her love for traveling with other passionate and adventurers who want to discover beautiful horizons and new cultures.