If you are reading this article, it is certainly because you are worried about taking your precious little one on a boat trip, especially if it's the first time. Having a baby change life completely for the better, of course, but it doesn't have to stop you from having fun! You must organize the trip according to your baby's needs so that the whole family can have a fantastic getaway on the water and most importantly, sail in complete tranquility! Boating with a baby can be incredibly fun if you know what to do! So…read on!
---
Does Your Baby Need to Wear a Life Jacket?
Yes, he does, but it depends on his weight. Any approved life jacket won't fit an infant if his weighs less than 18 pounds.
It is up to you if you want to put a life jacket on a new baby born, but it just won't perform as expected on him since they don't have a neck at that age. So, take your precautions.
---
Baby Life Jacket Check-List
There are many types of life jackets for babies. So, be sure you choose the right one. For recreational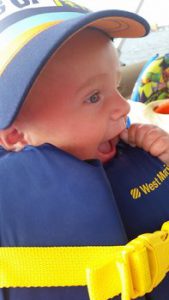 boating, you need a U.S Coast Guarde approved life jacket. Don't just lay on the label indication, make sure it fits your baby as well.
Many parents make the mistake of buying a bigger size for their children hoping it will suit them in the following years. A life jacket will not provide enough protection for your infant if it does not fit correctly!
Get him used to it! Make your baby wear his life jacket as often as possible and try it in a pool first to see if it fits properly.
---
How to Get the Best Out of Your Sailing Trip?
Even at home, you need time for yourself to recharge the batteries but on vacation, you will require it much more than usual because you'll just want to enjoy as much as everyone else does. And if you are the only one onboard with a baby, you may feel excluded from the group. The best option is to sail with other couples that have babies as well, or with family so that they can have an eye on the infant while you are busy with something else. Another alternative is to take a nanny to accompany you on the sailing trip.
What If there isn't the possibility to sail with someone that can help you?
There is much debate on this subject, and some people will disagree with this but Imagine you need 4 hands to handle the boat, a car seat will be of great use to you. It really helps, but don't overuse it!
---
What to Bring
Don't take too much with you. Keep it simple!
For my two babies, I have used cloth nappies as we are green and our interest is to keep the ocean healthy! Here is a list of what you should bring for an extended trip
Diapers + Bags
Baby birth certificate
Long sleeve swimsuits
Several wide-brimmed hats
Clorox Disinfecting Wipes
Fold away baby bath
Little swimmers
Medicines – Infant Tylenol – Neosporin – thermometer
Lightweight travel strollers
Bottle washer baby + bottles
Baby soap
Baby sunscreen
Insect repellent for baby
Baby flotation device
Ziplock bags for snacks
Few Clothes
Nonmarking sandals
---
How to Get Your Baby Used to The Boat
Try to keep trips short for the first times and gradually extend the tours. As mentioned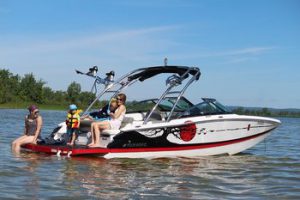 above, try to bring someone, like a grandmother or someone else you feel safe with to help you.
Make a lot of stops and spend time on the beach. Children love playing in the sand, and in the water, so do we:)
---
Best Option For Sleeping
The sea air makes us tired, and after a long day swimming and playing on the beach, you can be sure that your baby will have a good night sleep! Also, kids fall asleep very quickly on board a boat due to the gentle rocking motion.
However, when booking your boat make sure the charter company you sail through have security bed for your baby. Ask them if it's possible to get one. We've always used a kids air mattress for all our trips, and for us, it was the best option. We've found it easy to carry, and it was comfortable for our children.
---
What Boat is Best for Sailing With an Infant?
Babies need a lot of space to run and play around. So you'll need a boat that suits your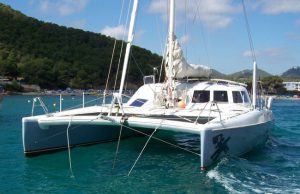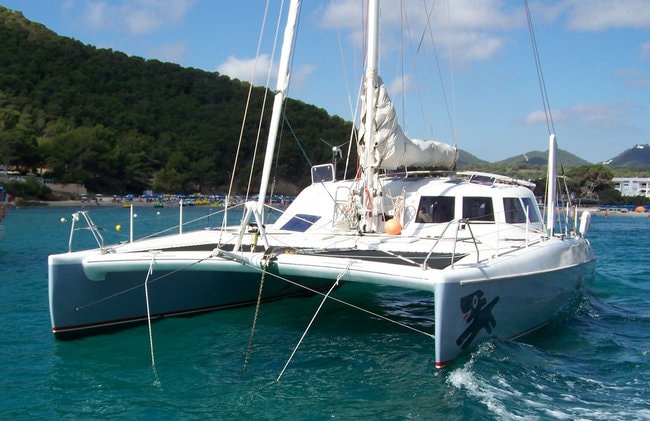 needs. Consider renting a catamaran so that you can have plenty of areas for the storage and the whole family. Plus catamarans are extremely comfortable and more stable than any other vessel.
These are excellent for big groups such as couples, and family with children.
---
Tips For Boating With a Baby
Make him drink a lot of water to avoid dehydration.
If you sail for few days, try to make a lot of stops.
Don't forget sunscreen, hats, insect repellent and polarized sunglasses.
Bring some toys beach sands to keep him busy on the beach
I always carry small music instruments like harmonica, even though my babies don't know how to play, but they just love the sounds of it, and it keeps them busy for a while:)
Check if there is a bimini on the boat before renting it so that you and your infant have the option to sit in the shade while sailing.
Even if it's not sunny or you are in the shade, always put sunscreen on your baby skin.
---
In Conclusion
It might seem risky and challenging at first for someone who has never sailed with a baby, but once you are on board, it won't take long to get addicted to the sea:)
Want More Useful Tips?
Subscribe to Cruising Sea newsletter to receive every two-week the latest post straight to your inbox
Have you already sailed with your baby? If so, please, feel free to share your experience in the comment below.
Daniella has been passionate about travel, the sea, and nature for many years. As a child, she frequently traveled throughout the Mediterranean and continued with her journeys throughout her adult life.
Her experiences have created the desire within her to share her love for traveling with other passionate and adventurers who want to discover beautiful horizons and new cultures.