What to bring for a bareboat charter is a question that often comes up to mind when planning a sailing trip especially if it's the first time!
I used to pack ten times more stuff than I really needed and after sailing a few times I've finally got my lesson well. I wished I would have learned from others' mistakes; I would have sped up my learning curve:)
So, you would agree with me that to having a free stress sailing holiday, it is a must to take only necessary belongings and, of course, avoid over packing. Read on!
How Much Stuff Do You Need?
Many charterers over pack when going sailing for the first time. Like me, as mentioned above, I made this mistake a few times:) Be aware that most of the time you'll be swimming and sunbathing, and even if you go ashore, you will certainly wear light clothes with a pair of flip-flop with no makeup on, girls:)
What Type of Bags to Bring?
Waterproof Bag
Since the storage on a boat is restricted, and the deck is quite delicate, it is better to use
soft bags that are easy to fold and without wheels to avoid scratching the deck. The Duffel bags are the most appropriate as they have all the features required to be stowed away on board efficiently.
Waterproof Backpack
You will also need a waterproof backpack for an excursion on shore with some stuff in it like sunscreen, and small accessories. You will surely need it!
Travel Documents
Passport and visa
Driver license
Bareboat Skipper license
Single-use credit card
Cash for small expenses
Travel Assurance
Medical prescription if needed.
Toiletries
Waterproof Drawstring Mesh Bag to put all your toiletries such as:
Hair brush + Hair ties
Brush teeth
Toothpaste
Prell Shampoo for salt water
Conditioner
Body lotion
Deodorant
Face cream
Waterproof Sunscreen
Electric razor for men
Clothes 
Polarized sunglasses will protect your eyes from the sun
Sailing gloves. Remember? You are the one who navigates the boat.
2 to 3 sailing hats as it is easy to lose them with the wind
Non-marking shoes is a must on any boat as they grip well the deck, thus prevent you from slipping and hurt your feet as well.
Flip flops to go onshore. (Nylon dry faster than leather)
Sandals for boating or spend time on shore (The same as flip flops, try to take only nylon, they dry faster)
2 swimsuits are more than enough as you'll be mainly swimming, snorkeling and jumping in and out of the boat.
4 T-shirts fast drying which two of them with long sleeves to protect your arms and shoulders from the sun.
3 Shorts and a pant. For women, a skirt, a light beach dress, and a beach pant will be great.
1 underwear per day
Sarongs have become extremely popular lately. These lovely piece of textiles are versable, allowing you to use them as a dress, cover up, and even as a thin towel to rest on. These can be for men and women as well. Highly recommended!
Dinner outfits: Keep it as casual as possible. For women, a summer dress, airy beach pants matched with a light top, and sandals. As for men, casual short or a light pant with a t-shirt and sandals or flip flops will be perfect for the evening.
Bring 2 beach towels only if you think you'll use them. They take a lot of space. Think about it!
A Light Jacket: it gets cooler in the evening.
Electronic
Waterproof camera to take memorable pictures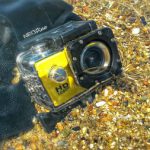 Batteries and Recharging
Phone: It is possible to rent a phone or a sim card at the airport. If you want to use a laptop or a cell phone, check the rate for an internet access plan before you start your sailing trip. However, many islands offer Internet connection (WI-FI) if you decide to use your own.
Useful Stuff 
Ziploc Bags, there are very helpful to store laundry, wet stuff, and document.
Clothespins, you will surely need a few to dry some clothes on the boat.
Aloe Vera cream lotion for the sunburns
Soft-sided Cooler as it sounds is a bag to keep drinks and foods cold. You can easily bring it with you as it is light and foldable. It is very helpful when taking a dinghy to go to the beach or to bring some provision to your charter or even as an alternative to a refrigerator.
Snorkeling equipment. Although most charter companies provide a wide choice of snorkeling equipment and in any sizes but some people are picky and would rather bring their own gear.
Provisioning 
Some charter companies will offer you the option to deliver the food to your boat, but this can be more expensive than if you do it yourself.
There is a proverb that says: You are never as well served as when you serve yourself:)
What You'll Find on The Boat
Life jackets
Safety equipment
Bed linens
Dinghy
Cooking utensils
Snorkeling equipment
Biodegradable Soap
CD player
Cruising Guide
What You Should Not Bring
Travel check ( You may run the risk to lose them)
Jewelry or valuable things
Hair dryer
Hair straightener
Makeup unless it is waterproof
High heels
Tips
Make sure you label all of your bags with the name and the phone number of the charter company you sail through
Roll your clothes instead of folding them. You'll save much more places in your Duffle Bag
Bring insect repellent. Mosquitoes love humid conditions, especially early in the morning and at the sunrise!
Get a travel insurance when you book the boat charter holiday.
Bring Sea bands with you. Sea Sickness is very common on boats. So..do not forget them! Or Bring Ginger, it is very effective!
I've mentioned it in a few articles, and I will do it again. Drink a lot of water to avoid dehydration, particularly at sea!!
I am getting bored of playing cards every time I go sailing:) To me; music is much more fun! It is very relaxing, and it brings people together. So don't hesitate to bring a small music instrument to play on the boat like a harmonica, flute, mandolin, Ocarina, Kalimba, or a Jew's Harp.
In Conclusion
So, remember, when you'll pack for your bareboat charter, keep it light, simple and most importantly, have a wonderful sailing holiday! Still didn't book your bareboat charter?
Want More Packing Tips?
Subscribe to Cruising Sea newsletter to receive every two-week the latest post straight to your inbox!
What about you? Do you know what to bring on a bareboat? If so, feel free to share it in the comment below.
Daniella has been passionate about travel, the sea, and nature for many years. As a child, she frequently traveled throughout the Mediterranean and continued with her journeys throughout her adult life.
Her experiences have created the desire within her to share her love for traveling with other passionate and adventurers who want to discover beautiful horizons and new cultures.