Nova Catamaran is an ideal and popular yacht for those who seek the finest in the luxury yacht charter industry. The Nova was designed in 2011 by a French company and launched in the same year.
It measures about 19m, long and can accommodate 8 guests. It comes with a professional crew of three, who has impeccably maintained it to standard. Nova catamaran has ample interior and exterior space facilitated by 10m beam and wide design.
Accommodations
Cat Nova has great accommodation which can host up to 8 people. It's designed into four en-suite where you can comfortably sit and relax; the four can each accommodate two people thus summing up to 8 people in a single board.
There is an optional entrance, private lounge with some well-organized couches in them, and pride and a king size beds offering the kind of comfortability that every sailing enthusiasts longs for.
On the port (right side), there are two guest cabins and starboard containing vanities and king/queen size beds. In addition, there is a guest cabin and they offer lower and upper single beds and vanity as well. In the hull, there is a one-way glass panel that offers sufficient natural lights.
Interior
Nova catamaran has a fantastic interior that can easily provoke you to extend your vacation just to spend some more time in it. The interior has ample space, making it airy and luminous with Alpi woods throughout.
On the panels, you will notice light oak which has been elegantly balanced with wenge floors. The dining and the salon adopt an open plan with a lounge and a dining reservation on the starboard.
The vertical glass windows and doors offer a 360 light infusion while cream shade on the soft interior furnishing provides an organic and serene ambiance. There is a well-organized bed for both the king size and the queen size. The en-suite and the outer view experience offers incomparable comfort and scenery.
Exterior
A quick glance at NOVA's exterior will reveal sun pads and extra seating space. This particular model has flush decks which make it effortless to access all points. If you're a water enthusiast, then you will appreciate two swimming platforms that make the best use of the offered water toys.
You will find the fishing rods, snorkeling equipment, windsurf and the water surf. The breeze that one gets while on the outer of the Nova is awesome, and you will not like to leave for anything. There are an outside dining table and a large cockpit, with relaxation area in place.
Entertainment
The experience in Nova is awesome, and it has a lot for you. There is a color LED TV for your viewing pleasure –the TV is on the electrical lift in the salon. For the love of music, the yacht is well equipped with the sound system that will keep you entertained all through.
You will get to surf the internet and stay updated thanks to the Wi-Fi and the Iridium satellite phone. Kids have their entertainment sorted too –the yacht has a play station that will keep the kids busy playing different kinds of games. Besides all that, there is a printer and a scanner just in case you are in need of something.
Performance
Nova's performance is exceptional, the speed is very appealing as it can cruise at a speed of 8-9 knots and the maximum speed is at 10 knots. The services, destinations and overall experience rank high among other established luxury catamarans in the Greek waters.
About the Crew
The professional crew of three on board (captain, hostess, and chef) are the best at what they do.
Captain Costa, as you will come to learn, is one of the top-most experienced skippers in the Greek waters.
The chef is always ready to whip up exquisite and tantalizing culinary creations of your choice. He has years of experience from serving in luxury restaurants and hotels in Greece and USA.
Additionally, he has been a personal dietician and chef to famous music and sports stars. He specializes in Mediterranean cuisines, but he can take care of pretty much all your culinary cravings and desires.
Features and specification summary.
Nova catamaran has some of the best features that even other fancier and more luxurious yachts don't have. Some of the most notable features here include.
• Accommodation – 8 guests.
• Maximum Speed-10 knots
• Engines -two VOLVO 150HP
• Salon TV/VCR
• Deck Shower
The interior contains LED light placed at the center with an overhead stringer lighting up the cabin. Cleaning is generally done by using water pressure and a garden hose, and after that, they typically are whipped out with a dry cloth.
They have an ample space in the deck that you can comfortably walk around. The ventilation is in the cockpit ensuring that you get plenty of fresh air at all times.
Where Does Nova Sail?
Nova has many routes in which they can navigate you through; there are those that glide through Greece while others cruise through Turkey. The preferred pick–up location is Athens, but you can also be picked at East Med where you can then go and enjoy the beautiful scenes in Greece or Turkey.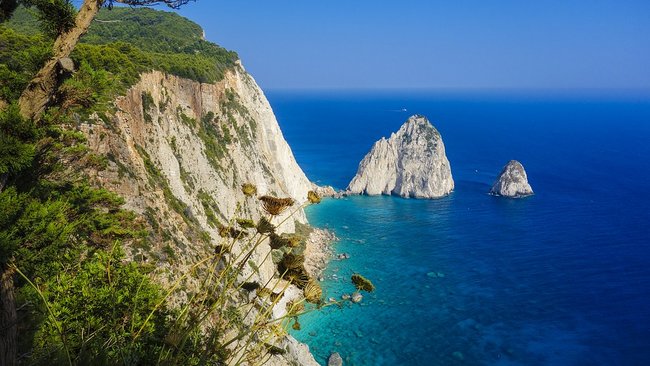 Why Charter Nova
As you can see, Nova Catamaran is the epitome of sailing enthusiasts as well as anyone who has ever dreamed of exploring the beautiful waters and surrounding fascinating landforms.
The yacht itself has a fine touch of style and luxury with every bit of both the interior and exterior designed to exceed common standards. With well-experienced captain and chef, you will automatically love the adventure as they fulfill your every desire at a whim.
We can confidently say that the design, maintenance, offered services, and available routes are areas that have been well covered by this yacht's operations and design.
Conclusion
Sailing is an excellent vacation experience as it is fun and relaxing. You don't have to worry about anything just sit back and enjoy. The only thing you truly have to worry about when planning to take a sailing vacation with the Nova is that bookings for the next season are coming in real quick and you may miss a spot on your favorite day if you delay.
For more information on Nova Catamaran contact:
Boatbookings.com
USA +1 954 892 5009
Email: charter@boatbookings.com
---
Specification
Type: Cat
Beam: 32,10 Feet
Draft: 5,10 Feet
Year Built: 2011
Builder: Lagoon
Cruise speed: 8.5-9
MaxSpeed: 10
Engines: 2 X VOLVO 150HP each Genset Onan 17,5 Kwa
---
Contact the broker for the Nova Catamaran charter:
Boatbookings

The information you enter in the form will be sent directly to Boatbookings yacht broker. We don't share your information with any other person. For more details, please see our Privacy Policy.
Have you sailed on Nova? If so, you are welcome to share your experience in the comments below.
Daniella has been passionate about travel, the sea, and nature for many years. As a child, she frequently traveled throughout the Mediterranean and continued with her journeys throughout her adult life.
Her experiences have created the desire within her to share her love for traveling with other passionate and adventurers who want to discover beautiful horizons and new cultures.