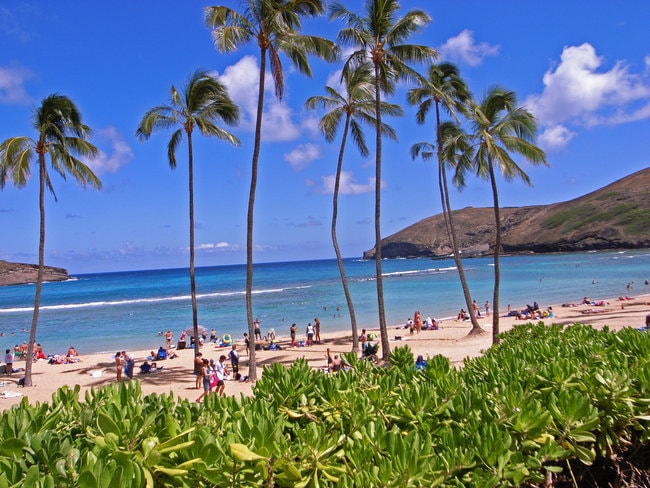 A trip to Hawaii won't be completed without snorkeling in Oahu Hanauma Bay as it is undoubtedly one of the most beautiful spots in Hawaii! Obviously, no one would want to miss this experience, and there are good reasons for this! So without further ado, let's see why this fascinating Bay attracts so many visitors from around the world every year!
Overview
Hanauma is a Nature Preserve in the shape of a ring that is located on the famous volcano island named O'ahu in Hawai Kai. As I've mentioned above, this is by far one of the most famous destinations in Hawaii, which is not surprising as it welcomes around three thousand tourists every single day!
---
What to Expect in Hanauma Bay?
Departure
After eating a good breakfast, you will be picked up by a Viator's van from one of the selected Waikiki hotels. You have the option to choose three departure times in the morning, which are from 7:00 AM, 8:30 AM, and 10:00 AM. It gives you the possibility to prepare yourself without rushing around. Also, if by mistake you miss the van, you can always catch the next trip. The same applies when you come back, you can choose your own schedule!
Getting There
First, when you arrive, you will be invited to watch an informative video about Hanauma Bay's background to get to know this type of environment better and also to ensure that snorkelers respect and continue to preserve the Bay. Some people may find the movie a bit boring, but this is something you can not escape from as it is a part of Hanauma Park rules. However, the movie is only 15 minutes duration for those who are impatient to go snorkeling:)
Entering the Water
When the movie is over, the only thing left for you to do is to walk down to the bay or (shuttle – $ 1.25 per person) from the center to the beach and enjoy your snorkeling adventure. There is a snorkel rental store on the beach, but you won't need it as Viator company provide you the complete snorkel equipment, which includes a silicone mask, a snorkel, and a pair of fins.
---
What is the Snorkeling Tour Duration?
The snorkeling tour lasts 5 hours, giving you ample time to watch the movie, snorkel, and rest. I am not going to tell you that few hours are enough to enjoy because once you get there, you won't want to leave the place!
---
Best Time to Snorkel in Hanauma Bay
The best time to arrive in Hanauma Bay is around 7:30 in the morning when the sun hits the water. Also, in the morning the water is less agitated, and the place is still empty, making the snorkeling experience more pleasant.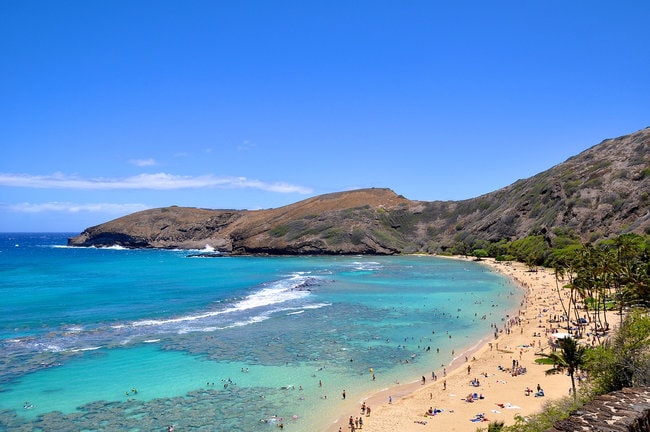 Facilities Available at Hanauma Bay
You will find some handy services in Hanauma Bay, such as a snorkeling gear rental store, bathrooms, tables for picnics, showers,  lifeguards, some educations stands about ecologist education, and a great snack bar on the hill!
---
Sorts of Fishes to See in Hanauma Bay
There are about 400 types of fishes and plenty of green sea turtles to explore. According to what many reviewers say on Viator, fishes are not afraid of people when they get approached because the place is always filled with snorkelers almost every day and therefore, are already used to them. You won't see all the fish species, but you will surely meet many of them. Make sure you take your GoPro with you! So let's take a look at what you will see the most in Hanauma Bay.
Type of corals:
Rice – Cauliflower
Sorts of Fishes:
Snapper – Bluestripe- Orangespine – Ringtail – Blue-lined – Bird – Saddle – Lavender – Sailfin – Convict – Blackspot – Bullethead- Palenose -Barred – Manybar – Goatfish – Pale Rock-Boring – Mullet – Sharpnose – Boxfish – Spotted – Ornate – Raccoon – Threadfin – Filefish – Redlip – Spectacled -Sergeant – Sea Urchin – Sea turtles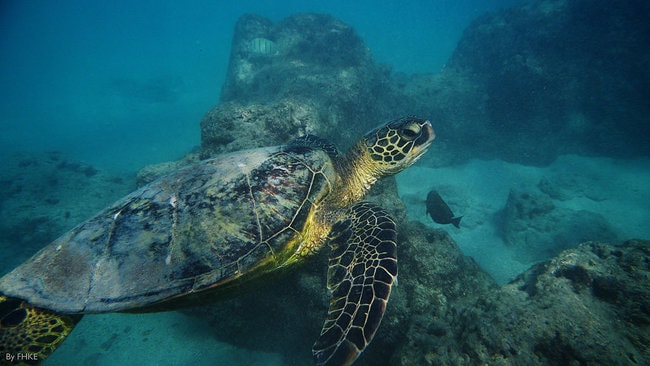 What if You Book a Hotel That is Not on Aviator List?
To be part of the snorkeling trip, you don't necessarily need to book a hotel from Viator list. You can choose a hotel that suits you the best, just make sure to contact Viator operator so that they can find another alternative to pick you up!
---
Who is the Hanauma Bay Snorkeling Tour For?
This snorkeling trip is for anyone who wants to enjoy the most beautiful underwater world in Hawaii. Children, like adults, can safely swim in Hanauma Bay. It is a friendly snorkeling spot for everyone as the water is shallow and quite calm behind the reef. Know that the out reef is a bit more agitated, thus more suitable for experienced snorkelers.
Book Your Oahu Snorkeling Tour Now!
---
Why Should You Go On This Trip?
There are few good reasons for this, below you will find the Top 4 ones!
You will discover the most beautiful aquarium in Hawaii.
You don't have to do the queue to rent your snorkel gear as Viator provides you high-quality snorkel equipment.
You don't need to rent a car and struggle to find parking as there is a van at your service to pick you up and drop you off!
You can choose the hours you want to go.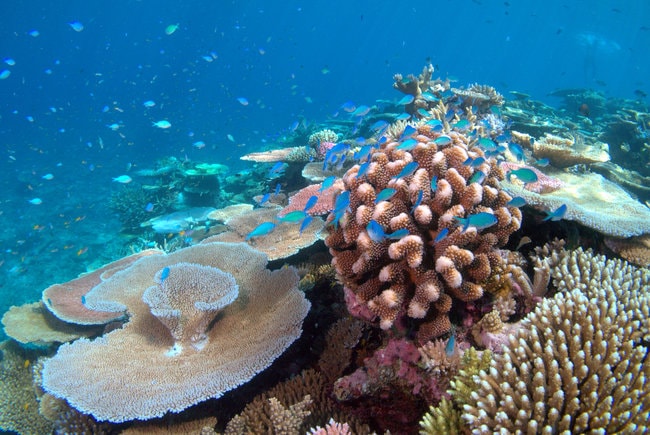 What's Included
Local taxes
complete snorkel set
Transport service back and forth from the hotel
What's Excluded
Beverages and Food
$7.50 for the entrance to Hanauma Bay
If you want your own snorkel kit, you will have to rent it.
---
Hanauma Bay Entrance Tariff Without Using Viator Service
Entry fee of the Park: $7.50
Rent snorkel gear: $20.00
Small Locker: $8.00
Large Locker: $10.00
Parking fee: $1.00
Shuttle service to go down: $1.00
Shuttle service to go back up: $1.25
Under 12 year old: Free
---
Opening Time
Hanauma Bay is open all year round from 6 Am to 7 Pm in the summer. In the winter it closes at 6 Pm.
New Year, Christmas, and Tuesday the Park is closed!
---
Tips
Drink a lot of water to prevent dehydration
Take some cash with you for the snacks and the entree
Always wear long sleeve t-shirt while snorkeling to protect your skin from the sun.
Use only bio sunscreen to preserve the sea!
A cooler will be of great use to keep your beverages and food fresh.
Pros
Beautiful Bay
Wide variety of tropical fishes and corals to explore
Fantastic customer service
Excellently organized trip
Pleasant drivers
Inexpensive
Calm and safe for children and adults
Cons
The place gets busy in the afternoon
Not enough Shady spots
In Conclusion
A snorkel tour in Hanauma Bay is something that everyone should experience at least once in a lifetime because it is without a doubt the most spectacular place for snorkeling. So take advantage of this opportunity and book this trip! You'll be so happy you did!
Have you already been snorkeling in Hanauma Bay? If so, share your experience in the comment below.