The best time to sail in the Bahamas for many people is all year round! There are some factors you may wish to take into consideration when planning your sailing activities in the Bahamas, though.
Weather, hurricanes, and seasons are all important aspects to consider for your comfort and enjoyment of a Bahamas sailing experience.
You can opt to avoid the highest temperatures and humidity and choose the cooler, wetter months for your visit, or you may prefer those higher air and sea temperatures.
The Bahamas has a distinct off-peak season with many advantages and some disadvantages for you to consider.
The islands have experienced hurricanes in their history, but landfall is not as common as you might fear, as more hurricanes actually hit the mainland than the Bahamas.
1) The Climate All Year Around
The trade winds give the islands a warm and agreeable climate all year around. The cooler period of the year, when temperatures average 70-75F (21-24C) is from December through to February.
The rest of the year is generally warmer, with temperatures between 80-85F (and 27-29C). You may find it is cooler in the early mornings and again in the evenings, so you may find a light jacket or cover that makes you more comfortable.
At any time of the year, you should be unwise though to avoid sunstroke and sunburn under the most intense rays of a Bahamian sun.
On average, you can expect 300 sunshine days per year! It does rain on occasion, and lower rainfall levels are generally experienced between November and April, with a greater chance of rain in the summer and fall.
Sailing is pleasant, with average wind speeds between 5 and 20 knots throughout the year except in a hurricane, of course!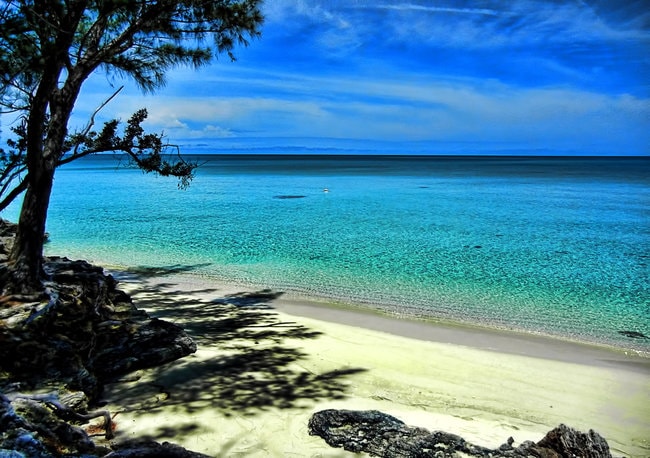 2) Hurricanes?
Yes, hurricanes have hit the Bahamas in the past but there is no cause for panic. Many more tropical cyclones head for the United States mainland than the Bahamas.
With improvements in weather forecasting and hurricane tracking, there is plenty of advance warning so that precautions can be taken.
There is statistically a 1 in 5 chance of a hurricane hitting the Bahamas during the official hurricane season between June 1st and November 30th.
The National Weather Service at www.nws.noaa.gov is a good source of up-to-date information on weather advice for the Bahamas, or you can check out the Weather Channel at www.weather.com for an online 10-day weather forecast.
If you do plan a trip to the Bahamas during hurricane season, then travel insurance becomes an essential cost to factor in.
Hurricanes do happen in this region and do threaten the islands, having caused damage in past years.
Even a tropical storm can have quite a damaging impact on homes, boats, and the islands – just make sure you have that travel insurance.
3)Starting Point
If you are planning to bring your yacht across from the mainland, a favorite departure point is Miami, where many yachts wait for favorable conditions to venture across to the islands.
The best advice from seasoned sailors is to wait for a weather window. It is best not to cross when any northerly winds blow or if the wind is more than 10 knots from the east or 15 knots from the west.
It is approximately 30 hours to sail from Miami to Nassau, for example. You may well find that many yachts make the passage together utilizing the same 48-hour window of predicted settled weather.
4) Peak Season
Peak season is the most expensive time to visit and runs from mid-December to mid-April (Winter).
Winter is busy as that is when people are escaping from the colder, snowy weather further north and getting in their Christmas break.
Although the island weather is drier in the winter, the many islands of the Bahamas are still a pleasant sailing ground, even in the official off-season.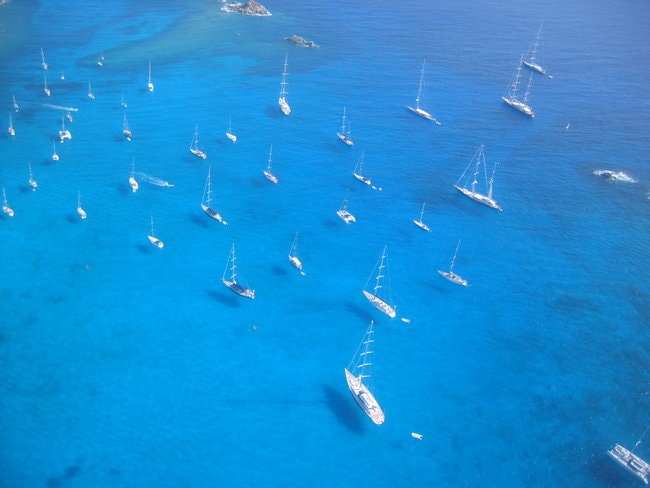 5) Off-Season Advantages
There are many advantages to sailing the islands of the Bahamas in the off-season.
*The beaches and resort pools are more deserted (some of the marinas have resorts with pools, and you can use the facilities as a marina guest or resident).
*Prices are cheaper, even the boutiques have summer sales!
*Tours and activities are often discounted in the off-season. Once the winter crowds have left the Bahamas can take on a more relaxed and cosmopolitan atmosphere.
*As resorts will be quieter, you will be able to choose dining options without necessarily having to reserve a table first.
*Likewise, waiting times for land-based activities will be reduced should you wish to take in a game of golf or tennis.
6) Off-Season Disadvantages
The advantages far outweigh the disadvantages, but there are some:
*Resorts and marinas are more likely to carry out maintenance and repairs during off-peak times.
*If your marina choice is resort-based, you may find that some facilities are limited as they undergo repairs or upgrades.
*In some instances, services may be reduced also, such as fewer immigration officials on some of the less populated islands.
*Services such as banks, post offices, government offices, some restaurants, and stores observe public holidays and close.
7) Beach Party Time!
Spring break (throughout March and extending into mid-April) is when the college and high-school students descend upon the island resorts.
This time is probably best avoided unless of course, you are into noise, crowds, and endless beach parties!
There are enough islands in the Bahamas and some of them are less popular among those on spring break, that you should be able to find somewhere nice and quiet to anchor your yacht, though.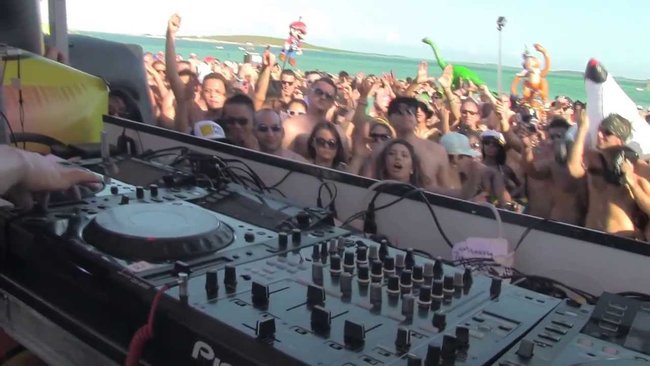 8) When to Avoid Sailing in the Bahamas?
The sea, sand, surf, and lots of sunshine will always be there no matter when you choose to visit. The best time to visit the Bahamas is when suits your schedule, although it is a popular winter destination for many.
The islands are busier in winter and more expensive to visit, as I've mentioned above. If you prefer the quiet, more relaxed side of island life, then avoid the winter and visit in the off-peak season when things are cheaper too. There is no bad time to visit the Bahamas!
The weather is pretty consistent all year round, with temperatures only rarely dropping below 60 degrees (15C), even in winter.
In Conclusion
The Bahamas is made up of numerous islands, many with marinas. It is easy sailing between them in the relatively calm waters as the islands are protected by reefs.
Along the way to your next secluded beach, you will meet some of the wildlife of the region. There are many sheltered bays to explore, with numerous opportunities for snorkeling and fishing, should you choose to venture away from the marinas.
Local weather forecasts will assist you with planning, and friendly locals will be more than happy to share suggestions for favorite destinations.
Related articles
Want to More Tips?
Sign up for Cruising Sea newsletter to receive every two weeks the latest post straight to your inbox!
Have you sailed to the Bahamas? When was the best time for you? You are welcome to share your experience in the comments below.
Daniella has been passionate about travel, the sea, and nature for many years. As a child, she frequently traveled throughout the Mediterranean and continued with her journeys throughout her adult life.
Her experiences have created the desire within her to share her love for traveling with other passionate and adventurers who want to discover beautiful horizons and new cultures.