Palm Cay Marina is one of the pristine vacation destinations in the southeast of Nassau. Once you are here, you will realize why this is the top-rated marina in the Bahamas.
The marina is 28 miles from a renowned district of the Bahamas, Exuma, an area with more than 365 islands which are also referred to as cays. Palm Cay is one way of getting to the islands of the Bahamas.
Another thing visitors love about Palm Cay-it is surrounded by 700 islands in total and also has a dockage area massive enough to fit a range of boat sizes and yachts as well as five-star hospitality with all the amenities you could ask for.
Boaters, cruisers, and holidaymakers all find the marina to be a perfect destination for the Caribbean vacation of a lifetime. Here is more ;
Special Features 
It is not only one of the largest marinas but also one with a lot of space for boaters looking to enjoy their holidays on the water.
The fully serviced marina includes 194 slips, 24-hour security, full electric connection, fuel dock facilities, a fish station, boat cleaning services, water, and Wi-Fi connection, among many other amenities.
The marina has the capacity to handle vessels of 35 to 110 feet. Water depth at low tide is usually about 8 feet going down.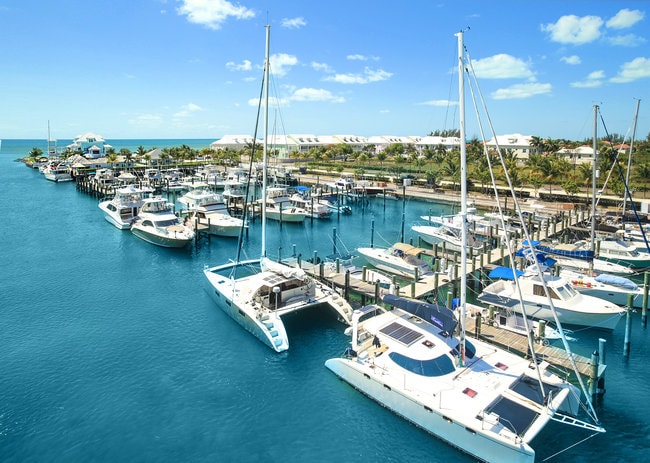 ---
One Marina properties
Vacationing families can enjoy marina-front properties during their stay at Palm Cay. These properties are sprawled across 69 acres of immaculate white sands. All of these are designed as ocean-front luxury apartments.
Holidaymakers have the chance to be part of this community of beachfront property on the fun-filled marina in this part of the world. Enjoy fun in the sand at the beach with 1,200 linear feet of white sand.
---
Residency at One Marina
You can give yourself the Caribbean getaway you have always wanted with your own small piece of the fun at One Marina. Property specifications such as size and pricing can be found online for all interested clients.
Nobody says you have to keep the property strictly for your own use. You can always maximize the demand for such holidaying homes by renting your property.
You get the most out of your investment by taking up a rental program which is offered to every client when acquiring their residence.
Enjoy picturesque gazes at the marina and oceanfront from your residence. Each condominium is designed with grand and spacious extravagance fit for a holiday home.
You will also enjoy the interiors, which infuse a blend of sophistication and charming contemporary designs that extend to the outdoor space.
With all the luxury at your disposal, you will soon understand why the rental option was readily made available. You don't have to work yourself up with the stress of managing
a luxury home while increasing your ROI. These residences are perfect for investors looking to buy and rent.
You will also appreciate the proximity to many amenities. There are a number of international schools, restaurants, high-end shopping outlets, and malls. The marina is also just an hour's drive from the Bahamas International Airport.
---
Beach Club 
Residents of One Marina as well as owners, can enjoy membership at the beach club. Boaters are also allowed at a small fee. All boaters with boats of up to 100 feet can enjoy a full range of services from the club.
In the club, members can enjoy culinary delights ranging from local preparations to international cuisine. With a renowned restaurant at the club, members are sure to enjoy a local dining experience like no other.
Members will also be able to enjoy ocean views and amenities such as a dockside café, tennis courts, swimming pools, a fitness center, a spa, a barbecue, a beach bar and grill, a boutique, and an entertainment area.
For the more adventurous resident, there is always the community park which is part of the beach club. Here, you will be able to enjoy a host of water sports and lots of social activities that will make networking and getting to know your neighbors much easier.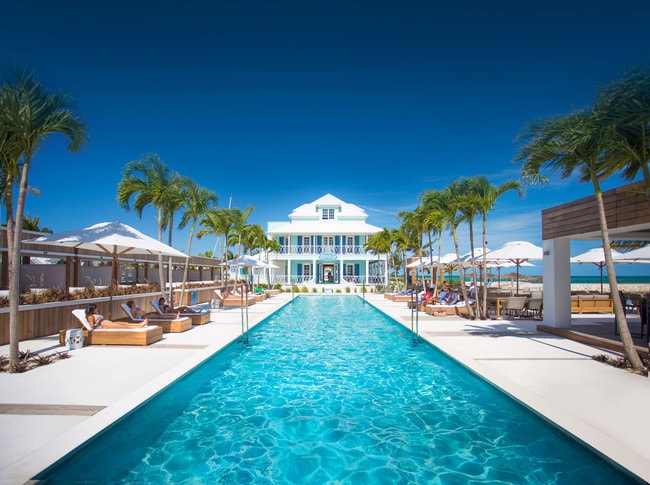 ---
Vacation Village for Renting
Do you want an accommodation that gives you the best marina holiday experience? You can always find space in the villas available around the marina. There are a number of amenities and miles of white sandy beaches. Enjoy a private clubhouse, fine dining, and spa treatments, among other amenities.
You can rent one of four luxury rental options.
1. Hummingbird Villa
The villa has enough room for 6 people. This luxurious property is located in a safe and child-friendly area. Some of the noteworthy amenities include; 3 spacious bedrooms with elegant designs, a balcony opposite the white sandy beach, 2.5 bathrooms and other shared amenities such as pools, tennis courts and a playground.
---
2. Heron Villa
If your definition of an enjoyable holiday involves spacious living, then this is the villa for you. The Heron Villa has four beds and 3.5 bathrooms just next to the beach. You can easily house eight people in this villa whose notable amenities include landscaped gardens, fast internet, AC and high-impact windows and doors.
3. Osprey Villa
If you are going for the luxurious townhouse, then this is the villa for you. The villas have breathtaking views. You will enjoy the host of luxurious features of the villa such as granite countertops, luxurious bath fixtures, Dual Zone AC, walk-in closets and 9-foot ceilings. The
villa has enough accommodation for 8 in 4 bedrooms.
4. Sandpiper Villa
This is a luxurious 3-bedroom villa fit for the holidaymakers out for a month-long vacation at most. With 2.5 baths and bed space to fit 6 individuals, Sandpiper is ideal for a family getaway in the Caribbean. You will also enjoy the stunning view of the beach from the balcony. The villa is the closest to the clubhouse.
---
Activities
With all Nassau has to offer and all there is to do at Palm Cay, you will enjoy your vacation. You can explore Nassau and find out the different charms of the islands or you could also take part in a gamut exhilarating water sports like snorkeling and diving.
The vibrant nightlife that includes gambling at one of the big casinos is also one way of the fun-loving holidaymaker to enjoy themselves.
For the shopaholic visitors, there is a lot of duty-free shopping to be done. Find great deals for all the top clothing and accessory brands. Don't forget to get yourself some souvenirs at the Straw Market.
---
Boat Tours
Palm Cay offers some of the most enchanting boat tours you will go on while you are in the Caribbean. Boat tours vary in terms of distance, pricing, destinations and departure times. Some of the popular tours include;
1. Swimming with the Pigs
It is a world famous tour that gives you the chance to actually swim
with pigs. It also includes beverages and an optional lunch. The tour
lasts for 8 hours and also includes a stopover at a private island.
2. Rose Island Boat Tour
You get to visit Rose Island which is all white sandy beaches just a few kilometers off the coast. Your choice of the tour includes a half day or full day experience. The full-day tour lasts 8 hours while the half day tour lasts 4 hours. Part of the tour is rendezvous to Gilligan's Isle and McTaggart's Beach. You will also enjoy activities such as snorkeling, swimming and get the chance for some epic vacation photos all through the tour.
3. Spanish Wells Tour
This is the tour for holidaymakers looking forward to some fishing. Spanish Wells is known to be the ultimate stop for fishing expeditions in the Bahamas. Learn how to catch lobsters and crawfish. It is an 8-hour long tour which includes beverages and the options for lunch.
4. Highbourne Cay Tour
There are 8 pristine beaches to enjoy at Highbourne Cay. The island is privately owned and is only a few kilometers from Palm Cay Marina. On your way, you will get to see the huge iguanas synonymous with Caribbean vacations at Norman's Cay. There are numerous sights to enjoy at Highbourne that will make it a memorable tour. Vacationers can also enjoy beverages and lunch, which is optional.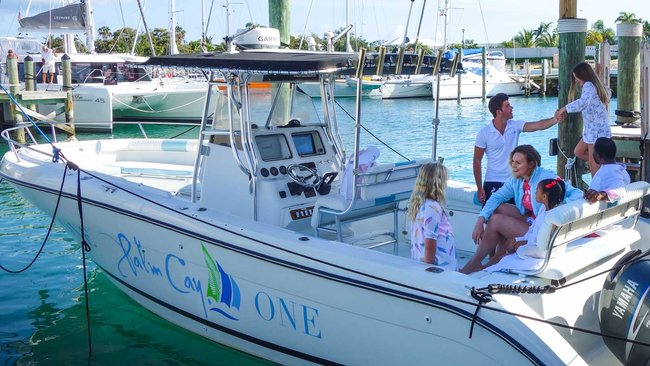 ---
In Conclusion
Palm Cay is the perfect vacation destination for a Caribbean vacation for the ages. When you come to the Palm Cay Marina, you are at a central destination that offers easy access to the rest of the Bahamas for you to enjoy in a way you have never done before.
Want More Marinas?
Sign up for Cruising Sea newsletter to receive every two weeks the latest post straight to your inbox!
Have you been to Palm Cay Marina? If so, you are welcome to share your experience in the comments below.
Daniella has been passionate about travel, the sea, and nature for many years. As a child, she frequently traveled throughout the Mediterranean and continued with her journeys throughout her adult life.
Her experiences have created the desire within her to share her love for traveling with other passionate and adventurers who want to discover beautiful horizons and new cultures.